Everything Middletown
I've been exploring and writing about Connecticut since 2006. After a decade, I began compiling CTMQ guides for each town in the state. I plan on "completing" Middletown CTMQ-style… as well as the other 168 towns, cities, and boroughs in Connecticut. That is the ultimate goal of CTMQ.
If I've missed anything in town or if anything has closed or changed, please let me know.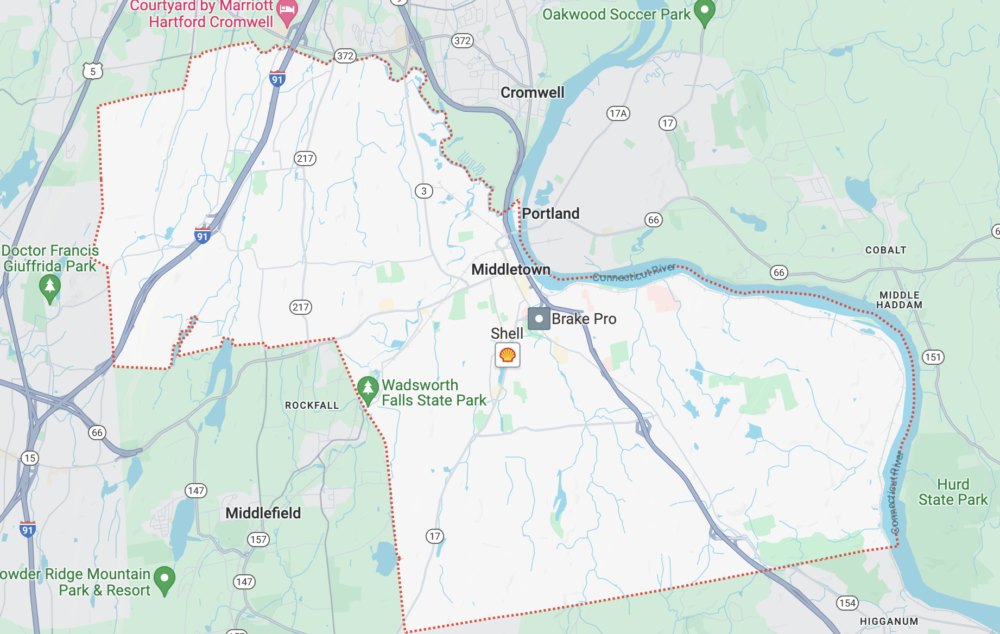 Museums
Adath Israel Judaica Museum
General Mansfield House
Greater Middletown Military Museum
Kid City
Middletown Sports Hall of Fame and Museum
Pegasus Gallery & The Niche at MCC
The Rockfall Foundation and C.S. Wadsworth Living Museum
Submarine Library and Museum (Closed)
Wadsworth Mansion at Long Hill Estate
Wesleyan
Davison Art Center
Ezra and Cecile Zilkha Gallery
Freeman Center/E. Asian Studies Gallery
Joe Webb Peoples Museum
Rick Nicita Gallery & Cinema Archives
Hikes, Bikes, & Paddles
Dart Island State Park
Wadsworth Falls State Park – Intro, Covered Bridge & Trails
Cockaponset State Forest – Intro
CFPA's Highlawn Forest Trails
CFPA's Mattabesett Trail – Intro
CFPA's Scoville Loop Trail
Middlesex Land Trust – Intro
Harris Preserve
Highland Pond Preserve
Longworth Preserve
Shailor Ledges Preserve
South Farms Preserve (possible future trail)
Eversource Land Trust – Intro
Nature Conservancy Trails – Intro
Higby Mountain Preserve
Spiderweed Preserve
Middletown's Town Trails – Intro
Brock Family Farm Conservation Area
Daniels-Schwarzkopf Area
Guida Farm Conservation Area
Higby Mountain White Trail
Hubbard Park
Jablonski Property
Katchen-Coley Mountain Laurel Preserve
Long Hill Estate
Marino Property
McCutcheon Park & Wildlife Sanctuary
Middletown Nature Garden
Pistol Creek
Ravine Park
Smith Park
Tynan Memorial Park
Veterans' Memorial Park – Palmer Field
Multi-Use/Rail Trails
Mattabesett Trolley Trail
Newfield Corridor Trail (Proposed future trail)
Westlake Multiuse Trail
Water Trails
Mattabesset River Canoe/Kayak Trail
Food & Drink
Roadfood List: Steamed Burger at O'Rourke's
CT World Food Tour, Hippie: It's Only Natural
CT World Food Tour, Tibet: Tibetan Kitchen
CT Classic Diner Trail: O'Rourke's Diner
CT Chocolate Trail: Tschudin Chocolates & Confections
CT Cider Trail: Spoke + Spy Ciderworks
CT Beer Trail: Forest City Brewing
CT Beer Trail: Powder Hollow Middletown (Closed)
CT Beer Trail: Stubborn Beauty Brewing Company
CT Mead Trail: Bergen House
Looking for your favorite restaurant? Here is an explanation as to why it's not here.
Everything Else
National Historic Landmark: Richard Alsop IV House
National Historic Landmark: Samuel Wadsworth Russell House
World's Largest: Wacky Wobbler (Gone)
World's Largest: Jack-in-the-Box (Gone)
US First: Subdivision laid out by a black man for black homeowners
CT Freedom Trail: 2 Sites
CT Underground Railroad Trail: 2 Sites
CT Dinosaur Trail: Intro & Joe Webb Peoples Museum
Middletown Heritage Trail: Intro & 20 Sites
Seven Falls
Westfield Falls
Colonel C.S. Wadsworth Arboretum
Shoyoan Teien (Japanese Garden)
Wilcox Island
Summer Brook Valley Farm Alpacas (Closed)
Crazy Color Neighborhood
Route 9 Through Middletown
Joseph Barratt's Grave
Sergeant Stubby Statue
Thomas Mutter Gravesite
The Eclectic Society
Wadsworth Falls State Park Covered Bridge
West Bradley Brook Covered Bridge
Wesleyan Labyrinth
CT Cool Library Trail: Russell Library
Amato's Toy and Hobby
Middletown Roller Skating Rink
Northeast Taxidermy Studios
Wild Bill's Nostalgia Center (Closed)
Empower Leadership Sports & Adventure Center
Collegiate Football Tour: Wesleyan Cardinals
Lady Katherine Cruise
Giant Adirondack Chair
ET Progressive Signs
Billy Joel's River of Dreams
PCU (1994)
Town Essay: Middle of What?
Middletown Wrap-Up
Completion Celebration TBD