Mattabesett Trail (New England National Scenic Trail)
Berlin to Middletown, 50 miles
Began: May 2008
Completed: November 2008
Post-2009 is an exciting time to hike the Mattabesett Trail! Why? Because our Federal government finally stopped worrying about trivial matters such as war, terrorism, and the economy and started doing important things like designating National Scenic Trails! The Mattabesett (along with the Metacomet and Menunkatuck Trails) now form a good chunk of the 233-mile long New England National Scenic Trail!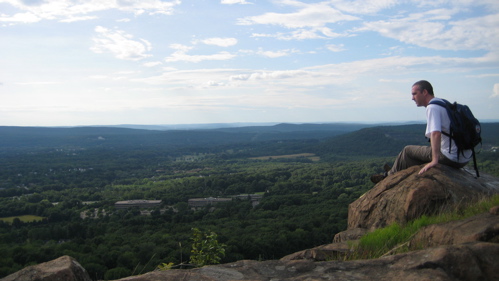 And don't think for one second that this 50-mile trail is somehow not worth hiking because of its location in the center of the state. It is… it totally is. From it's western terminus on the Berlin Turnpike (The Metacomet's southern terminus), the Mattabesett immediately ascends to one of Central Connecticut's traprock ridges and takes in stunning views (above). The number and quality of viewpoints along the U-shaped trail does not diminish at any point.
The bottom of the U is in Guilford, near Bluff Head (and the Menunkatuck's northern terminus) and the Eastern end is along the Connecticut River in Middletown. There is much history along the way as well as other cool little curiosities.
Again, as with the Metacomet and other trails in the middle of the state, I'm continually amazed at the remote-feeling vistas one can obtain very, very quickly. So many people live so near this (and other) trails and yet, hiking here is still often a solitary pursuit.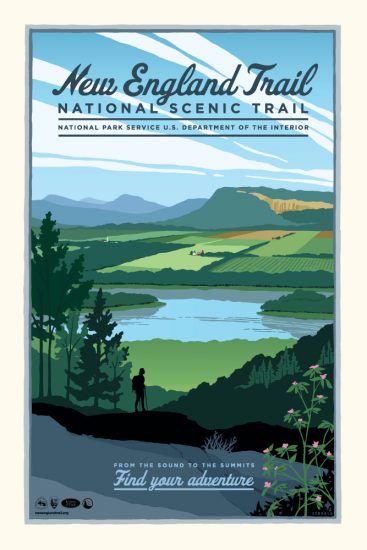 Notes: These hikes were done a long time ago and therefore the pictures, when viewing on a desktop, are often tiny and bad. Hikes are numbered beginning from the Berlin Turnpike in Berlin to the terminus near the Connecticut River in Middletown.
Section 1: Berlin Tpke to Country Club Rd, Berlin, Meriden, Middletown
Section 2: Country Club Road to Route 66, Middletown & Middlefield
Section 3: Rtes 66/147 to Rtes 68/157, Middlefield, Meriden, Wallingford, Durham
Section 4: Routes 157/68 to Stage Coach Road, Durham & Wallingford
Section 5: Stagecoach Rd to Lone Pine Trail, Durham, N. Branford, Guilford, Madison
Bonus: Lone Pine Trail, Madison & Guilford
Section 6: Lone Pine Trailhead to Harvey Rd, Guilford, Madison, Durham
Section 7: Harvey Road to Seven Falls (Route 154), Durham & Haddam
Section 8: Seven Falls to Brooks Road, Haddam & Middletown
Bonus: 3 Middletown Mattabessett Loop Trails, Middletown
Section 9: Bear Hill Road to River Road, Middletown
Mattabesett Trail Afterward
CFPA Trails Map
CTMQ's CFPA Blue Trails Challenge
CTMQ's Hikes, Bikes, and Paddles