Chaugging Along
Coginchaug Cave, Durham
November 2023
I'd been to this fake cave before, way back in 2008 when it was right along the Mattabesett Trail. In fact, it was on the main trail for many decades, until a 2021 reroute put in onto the "Coginchaug Cave Connector" trail. This reroute is an excellent one, as it took the Mattabesett off a rather long roadwalk and added over four miles of woodland trail.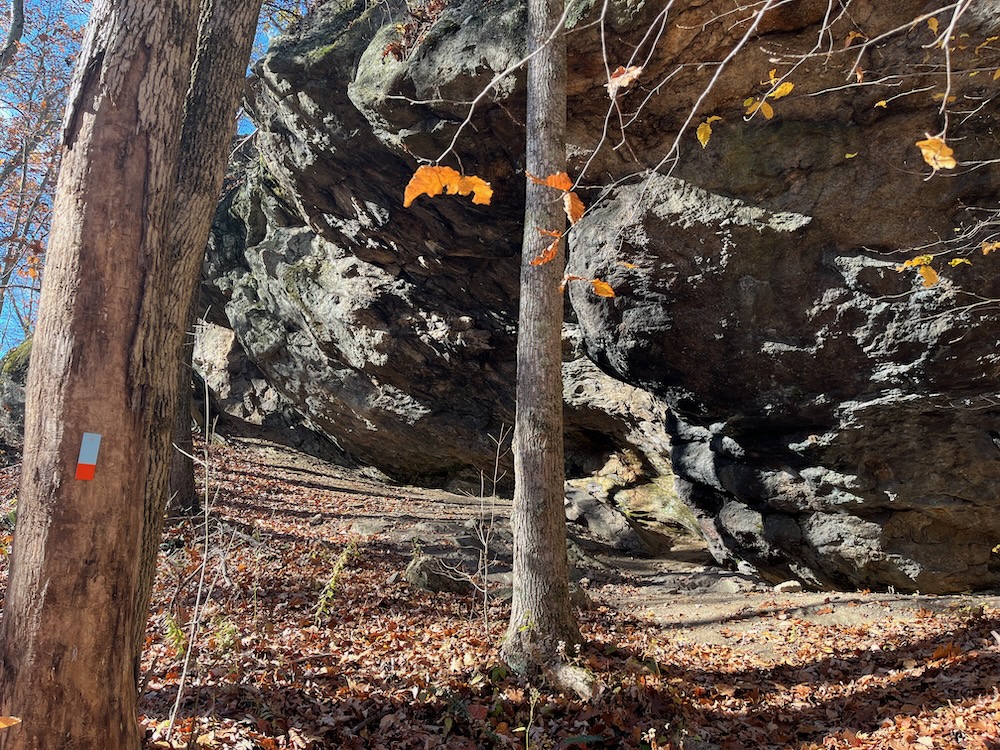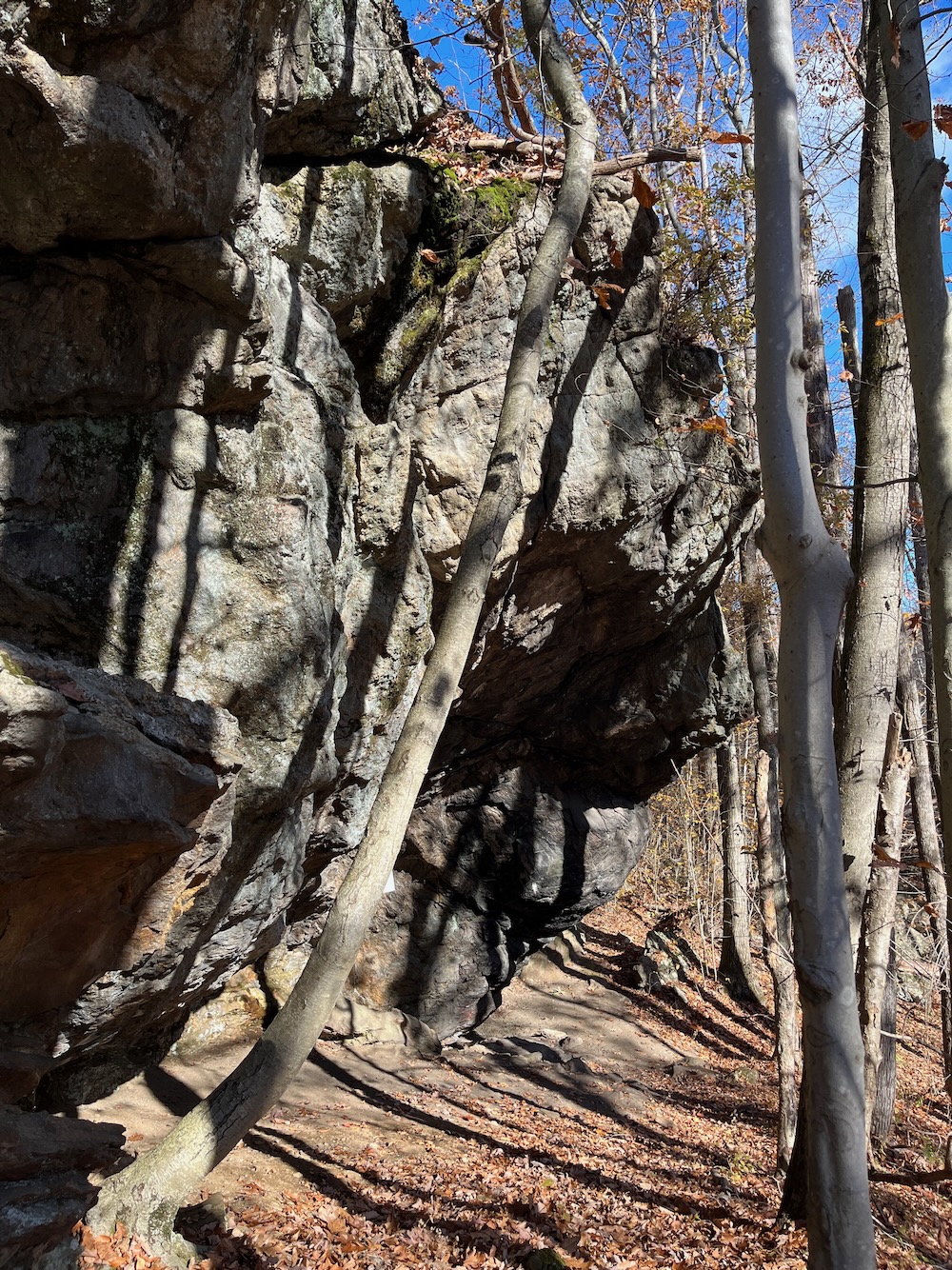 What we're left with is a mile or so former piece of the Mattabesett that takes in the fake cave and several fun little hills and rock features from Old Blue Hills Road east to the current main Mattabesett.
As you've gathered, Coginchaug Cave is not a cave, but a large rock overhang. It's a lovely large rock overhang, but man… calling it a cave is quite the stretch.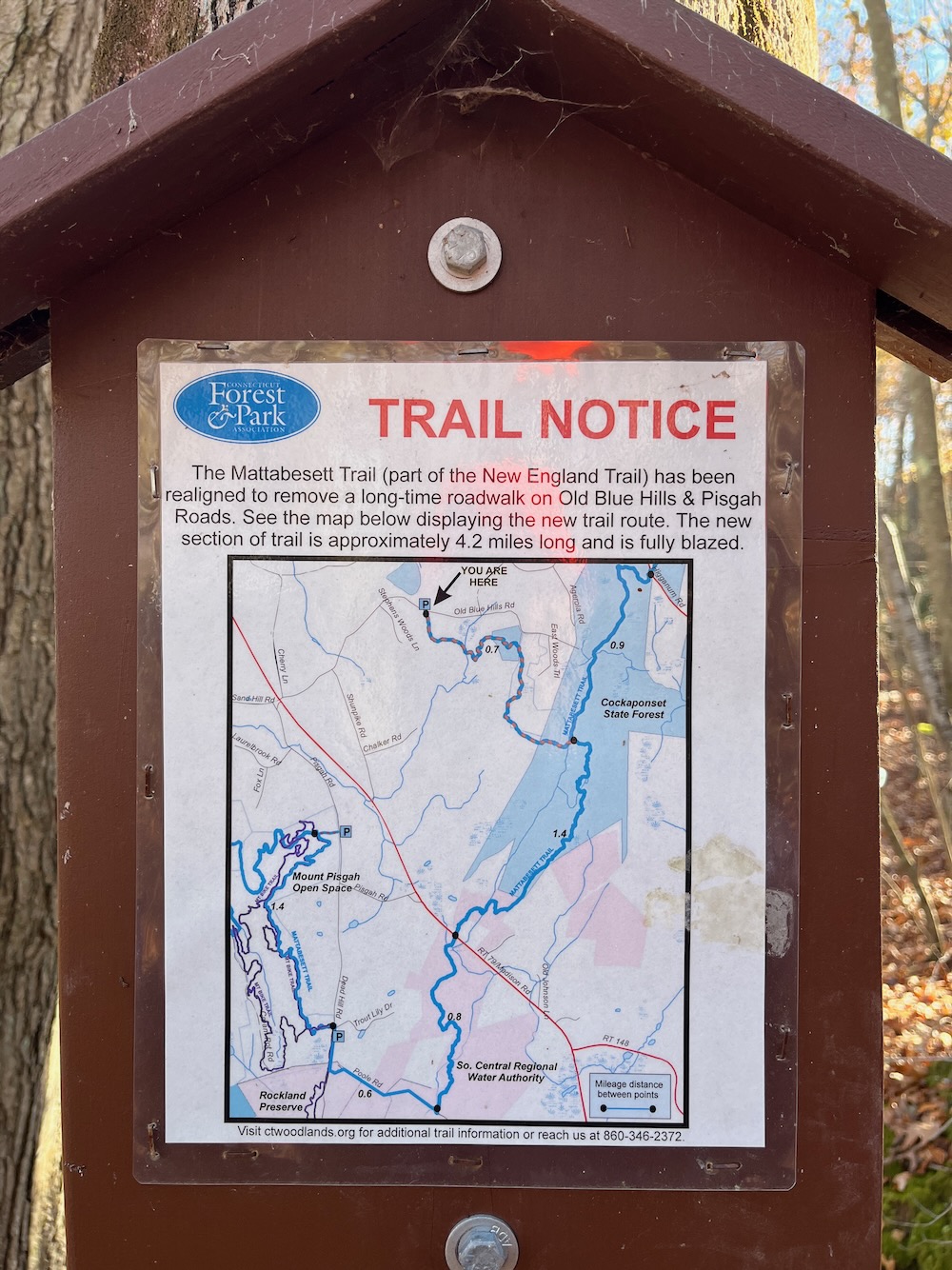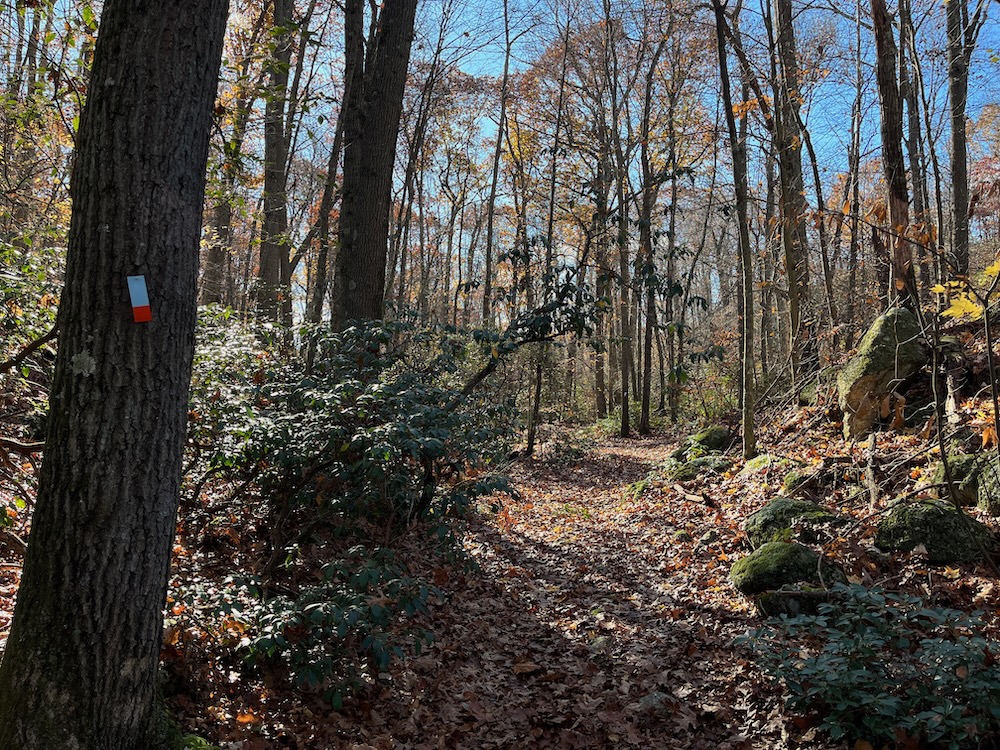 You know what a cave is, but what's a "Coginchaug?" Historically, it was the Native American name of the area used by the Mattabesett tribe for hunting. It is said to have meant "Great Swamp" or "Long Swamp." This trail crosses a stream at one point, but I don't recall any swampy areas. But I do recall passing the greatest street name in the entire state of Connecticut, which is only a couple hundred yards from the trailhead. (Hellgate Road is very near here too, if you're into such things.)
Speaking of the trailhead, there's still a sign that was there in 2008 urging hikers to drive up over the curb and park in the muddy grass area rather than just on the street. It's not on a blind curve and the road is plenty wide… I can only imagine this is an artifact of when they were building the new houses here and large trucks were passing by all the time.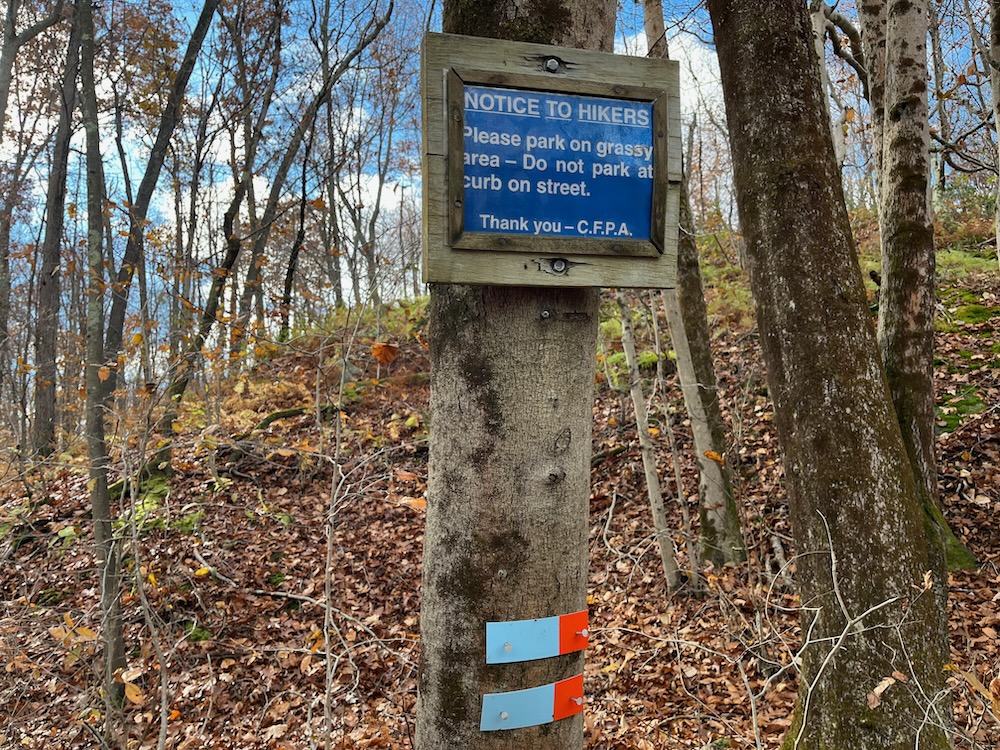 I chose to break the rule with my minivan, as minivan owners are wont to do.
The connector trail is really nice – as it should be, since it was the main Mattabesett since, like, 1922 or something. There are a surprising number of large rocky outcrops and humps here in Durham. If you're used to the traprock ridges in the center of the state, or the large, round hills out west, this part of Connecticut offers something very different.
There are some very steep, yet very short, ups and downs approaching the "cave," so if it's icy or snowy or there are wet leaves, you will slip and fall at least once or twice. And just as you approach the fake cave from this direction, a slip and fall could be quite traumatic.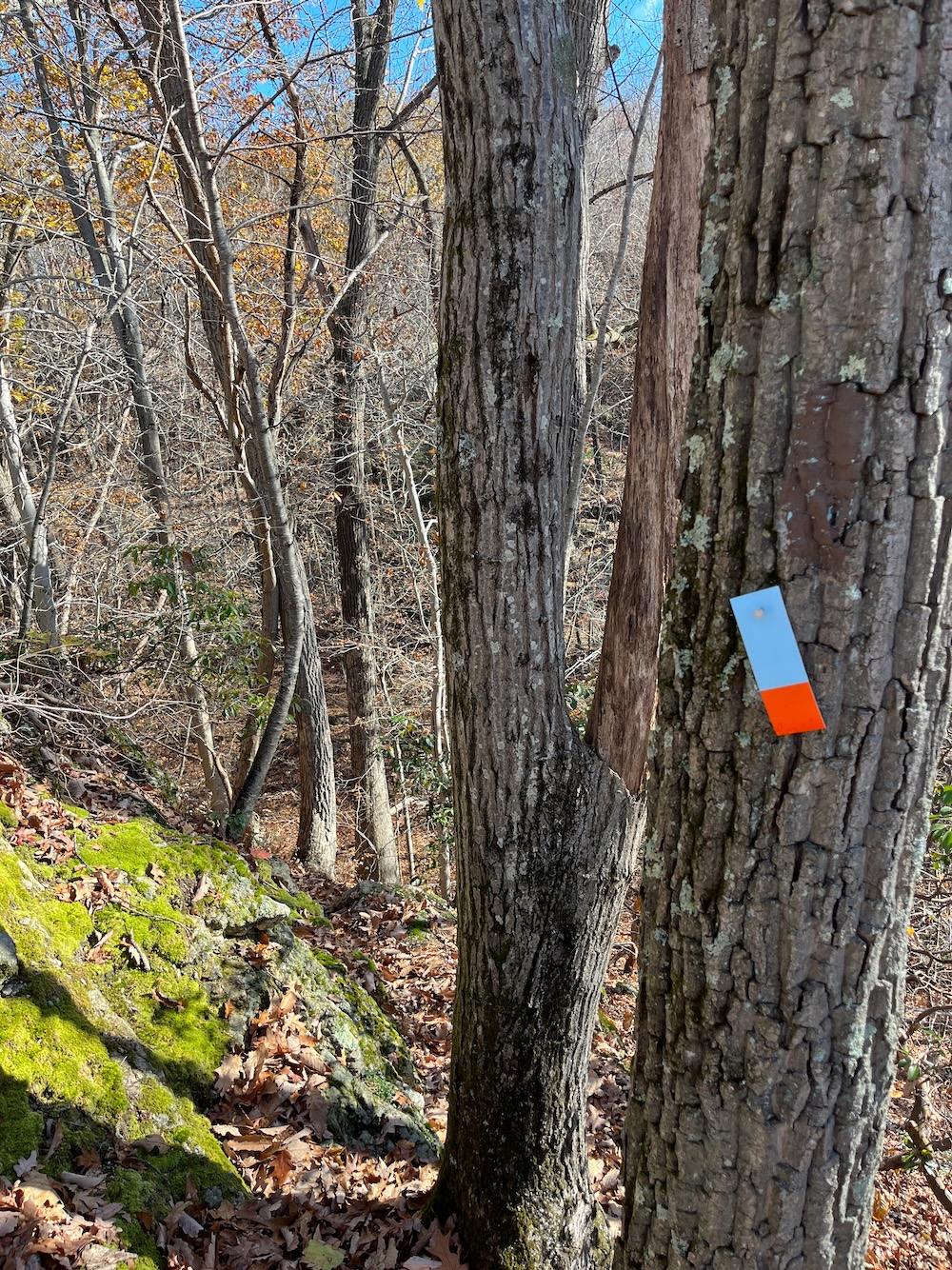 You will not miss Coginchaug Cave, as the trail literally goes "in" it. Under it? Through it? By it? Whichever preposition is correct, you'll get the full Coginchaug experience, don't worry.
There was evidence of a campfires and other high school shenanigans, but it wasn't too bad. Being relatively close to a road must make this a challenge to keep clean. It's a very nice fake cave and it is about halfway along the connector trail.
Continuing on to the Mattabesett offers more of the same open woods and short, punchy climbs and descents. Once at the junction with the main trail, you can head north towards Millers Pond State Park or south towards all sorts of stuff, but either way, you'll need a car spot if you do that.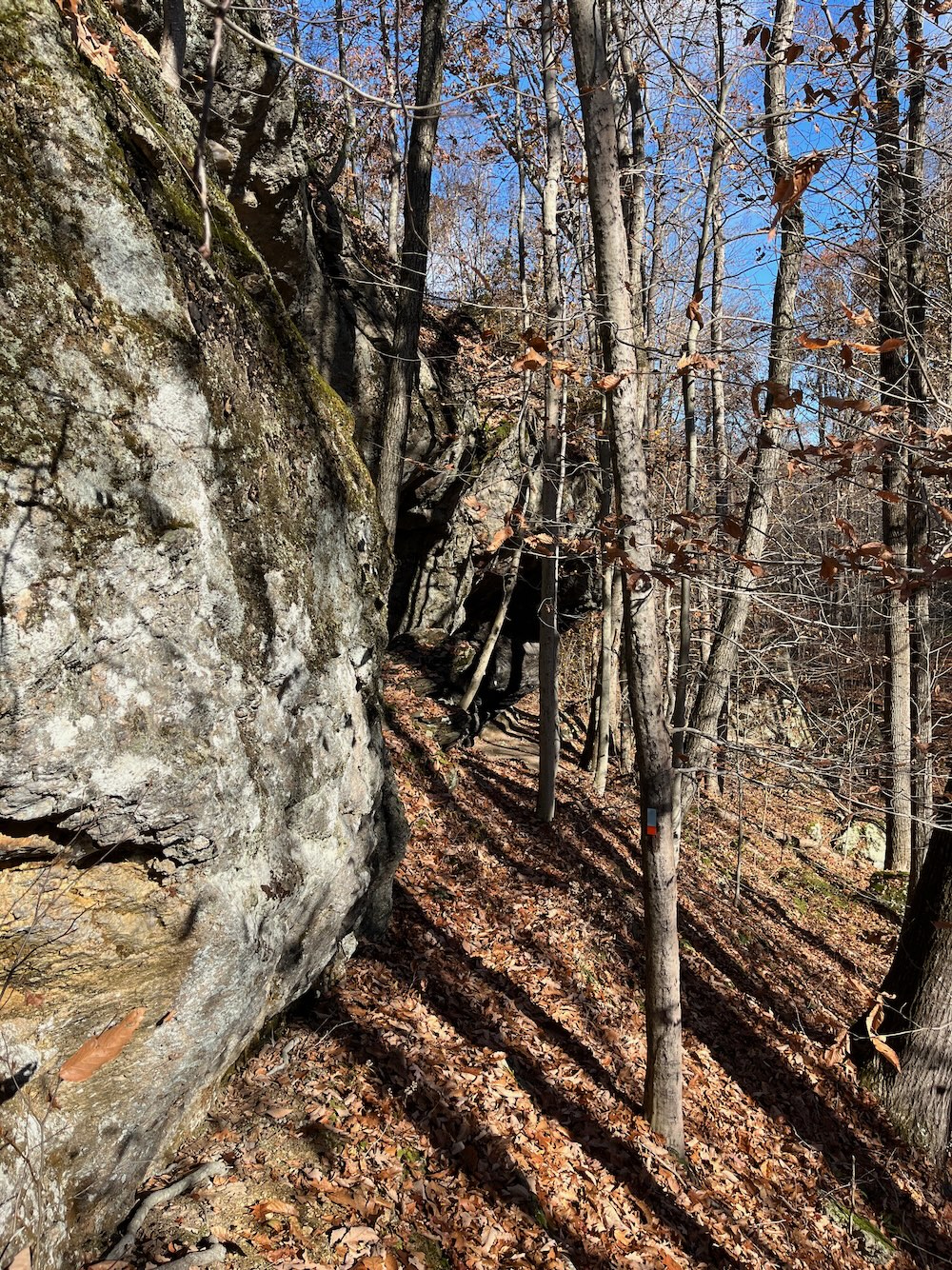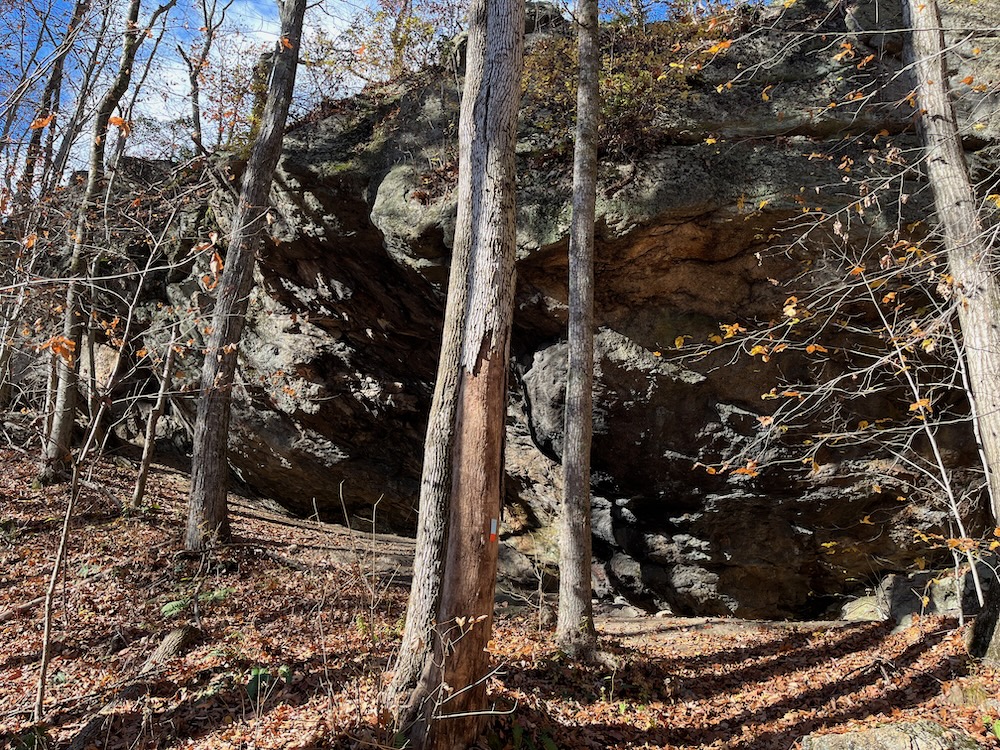 CTMQ's Caves, Dens, & "Caves"
CTMQ Hikes the Mattabesett Trail