Fun and Games
Those Guys Have All the Fun: Inside the World of ESPN, James Andrew Miller & Tom Shales (2011)
I'm exceedingly upset with myself. I read this book several years ago and because it's so long and so dense and so chock full of great Connecticut-centric nuggets, I kept putting off reviewing it. So now here I am, years later, staring at a blank white screen not knowing where to begin.
I'm sorry.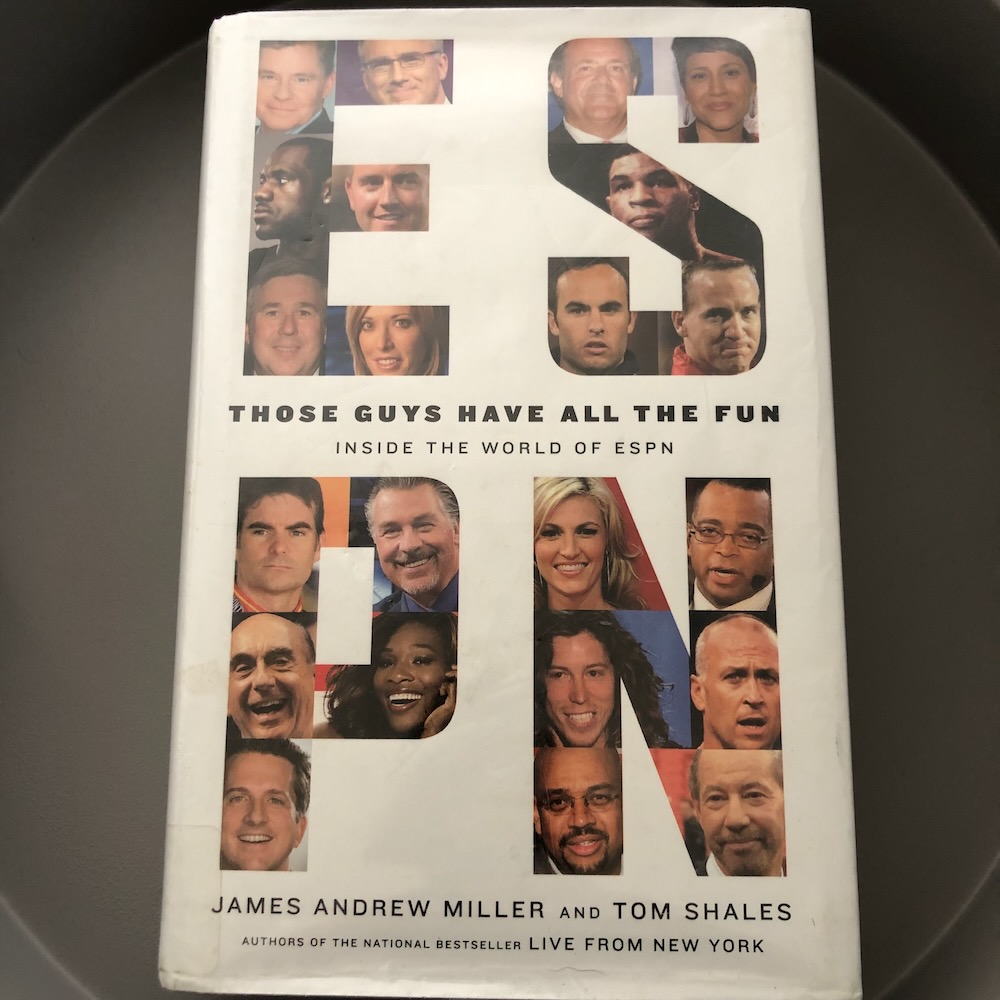 Especially because if you like oral histories and have even a modicum of interest in sports or business or television or in ESPN itself, this book is fantastic. All 784 pages of it. And while that is a lot of pages, it's not enough.
Why do I say that? Because it ends with ESPN on top of the world; blackmailing cable and satellite providers into surcharges to carry their package of channels. Nothing could go wrong! But as we know, a lot has gone wrong with their model since then, and I'd love another decade's worth of material. The downfall of cable and satellite and the rise of streaming services. The decrease in sports viewership in favor of YouTube clips and highlight reels ESPN's president going on a bender and being removed. That sort of thing.
(Like, as of November 2021, ESPN reaches approximately 76 million television households in the United States — a drop of 24% from exactly a decade prior when this book was written.)
But why am I talking about what what's not in the book when there's 31 years worth of material within?
The earliest years of ESPN are crazy. The initial idea at the time was crazy and the first years of existence were crazier. ESPN began as Entertainment and Sports Programming Network and was founded in 1979 by Bill Rasmussen along with his son Scott Rasmussen and Ed Eagan. There's an account of Bill and Scott stuck on I-84 in Waterbury on their way to vacation in New Jersey when the plan was hatched.
They had heard about this new cable television thing and had ties into the Hartford Whalers – Bill and Scott had both recently been fired from the organization. The idea was to create a channel for the Whalers, UConn, and other random Connecticut sports.
They didn't have much money but rented a building in Plainville to get the thing off the ground. Unfortunately (ultimately, for Plainville), the town had an ordinance prohibiting rooftop satellite dishes so they found some space up the road in Bristol and, well, you all know they're still there today.
The story of how they got Getty Oil to invest in them in 1979 is amazing – lots and lots of drinking and Getty family lunacy. How they got Anheuser-Busch to pay them a million bucks to advertise is bonkers. Now all they needed was infrastructure, cable providers to sign on, and, y'know, actual content.
ESPN launched on September 7, 1979, beginning with the first telecast of what would become the channel's flagship program, SportsCenter. It was a mess, held together with duct tape and shoelaces and was broadcast to 1.4 million cable subscribers throughout the United States.
Then they began broadcasting early NCAA basketball tournament rounds in 1980 with some recently fired NBA coach named Dick Vitale. Then they broadcast the NFL Draft. Those two things were thought to be joke content at the time, but are now billion dollar must-see events.
Getty, who employed my father for decades, opted out and ABC bought the station in the 1980's when it was still losing money. Getty had diversified into all sorts of things beyond the oil business, and the ONE thing that would have made them hundreds of millions of dollars… they missed the boat. The book goes into lots of detail regarding the ABC years which then became the Disney years of today.
Drawing upon over 500 interviews with the greatest names in ESPN's history and an All-Star collection of some of the world's finest athletes, bestselling authors James Miller and Tom Shales take us behind the cameras. Now, in their own words, the men and women who made ESPN great reveal the secrets behind its success-as well as the many scandals, rivalries, off-screen battles and triumphs that have accompanied that ascent. From the unknown producers and business visionaries to the most famous faces on television, it's all here.
That's all true. It's so good. And throughout the book, our fair Bristol is crapped on time and time again. Over and over we hear from the famous and not-so-famous ESPN personalities and their impressions of working in the small city. Keith Olbermann pulls no punches. The executives from ABC and Disney mock the place. It's pretty funny, if a little sad.
I particularly enjoyed the stories where I know some of the players. The infamous ESPN2 launch party was an all night Bacchanalia that led to divorces, fights, affairs, and who knows what else. (I know someone who knows what else, and let me tell you, ESPN was quite the party in the 1990's.)
I can only find two pictures from my reading. One is above, and here's the other one:
So stupid. That was a quote from Greg Gumbel and for all that man has experienced, that road name sticks in his head. (For more on Climax Road, go here.)
Those Guys Have All the Fun is a fantastic read. Really, it is. I mentioned to another friend who is currently the Vice President of Communications there and even he gave the book his seal of approval, noting that they did a great job leaving certain things out. (This friend has been there for decades, starting as an intern more or less.)
The rise of ESPN from a kernel of a crazy idea in 1978 to the international behemoth it has become is impressive, funny, lucky, and fascinating.
I've got to say that it's cool living in central Connecticut and not only seeing some of the faces of the channel around, but since they are so entwined with the state, you can actually get to know some and befriend them. Well, at least I've been able to do so. They're just people with jobs after all. I'd guess all of us middle-aged central Connecticut suburbanites have at least a couple stories about SportsCenter personalities over the last 30 years.
Whether you do or you don't, I highly recommend this book. Don't be daunted by its length; it's totally worth your time.

CTMQ's List and Reviews of Connecticut Books