Almost There…
Climax Road, Avon/Simsbury
Every state has certain roads that elicit chuckles from the kids in the backseat. I grew up snickering at place names like Blue Ball and Intercourse in Pennsylvania. We don't have too many here in Connecticut, but Climax Road in Avon and Simsbury is certainly one.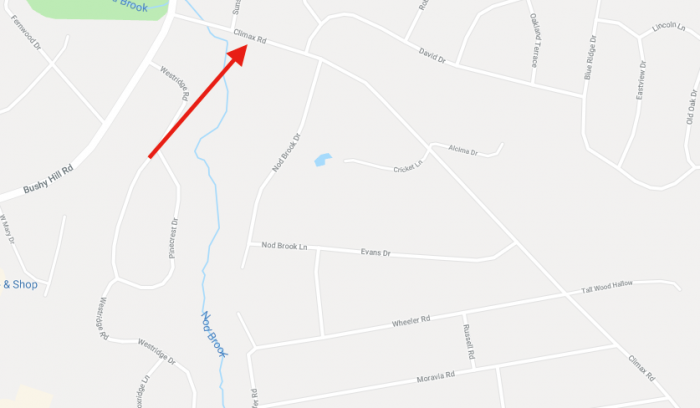 But why does it deserve a page on CTMQ? Because I live near it and it's in the local news this week because those MONSTERS are taking our West Hartford Whole Foods away and moving it to a new mixed-use shopping area on Climax Road in Avon? Leaving West Hartford with only ONE Whole Foods, a full TWO MILES away from the one leaving? MON. STERS.
August 2020 Update: They are NOT taking away our little neighborhood Whole Foods after all.
Anyway… yeah. Climax Road. Here's a funny tidbit from the book Those Guys Have All the Fun: Inside the World of ESPN, which I really enjoyed. Although, man, there's a lot of Bristol hate in it. From anchor Greg Gumbel:

Yup, our little Climax Road has stuck in Gumbel's memory for decades. For what it's worth, I've never heard anyone say "Climix" Road, but maybe they do. And he's right, Climax Road does connect to Bushy Hill, but Greg, that's a prurient stretch that even 14-year-old boy wouldn't find funny. C'mon.
The name of the road has a fairly important historic connection, but I can't seem to find an explanation as to why that historic connection was named Climax. Probably because in the 19th century, that word wasn't a thing. From the excellent ConnecticutHistory.org folks:
The Climax Fuse Company manufactured safety fuse, a type of fuse consisting of a tube of gunpowder surrounded by a water-proofed and varnished jute rope. Invented by William Bickford in 1836, the safety fuse quickly became the most reliable and safe method for igniting mining explosions.

The origins of the Climax Fuse Company date back to 1852 in Avon. It was then that Romeo Andrews established his fuse business, R. Andrews & Sons. After the company folded in 1870, one of Romeo's sons, Albert Andrews, reformed it in 1880 and resumed production. During this time, H.S. Chapman of the Metallic Cap Company recognized the importance of quality fuses for mining and purchased an interest in Andrews's factory. He named his new enterprise the Climax Fuse Company and made Albert Andrews its first president.

…

On September 15, 1905, the Climax Fuse Company experienced a horrific explosion and fire attributed to a careless employee's use of a hot iron meant for cleaning out debris from the machinery. Fifteen workers died in the fire—considered to be the worst in the industry's history.

The company quickly rebuilt and remained a significant enough force in the industry to be included in a sales agreement with Toy, Bickford & Company. This agreement established quotas among the participants and divided-up the available fuse sales market. With this relationship in place, it was only a matter of time until the companies reached an agreement to merge Climax into the Ensign-Bickford Company.

Today, Ensign-Bickford is an aerospace and defense corporation headquartered in Simsbury. It is a leading producer of precision systems used in military demolition, vehicle protection, and tactical weapons construction.
Ensign-Bickford and Climax Fuse and all of its tentacles have left scores of buildings and evidences all around Simsbury and Avon. (Not to mention its headquarters noted above.) All those buildings behind the Avon Police Department on route 44? Like The Farmington Valley Arts Center? Those are the former Climax Fuse buildings! So you can visit them and take an art class in them!
Furthermore, following its practice in Simsbury, Ensign-Bickford erected housing for its workers in Avon, including a number of houses built around a small green called Farmington Court. Unusually for the time, these were mostly single-family homes instead of multi-family tenements. This was part of a new movement in which industrial companies began erecting suburban-type neighborhoods for their workers. Farmington Court was renamed Columbus Circle in 1930, but which time the residents were primarily Italian-Americans. (From Historic Buildings of Connecticut.)
From fuses to explosions to Greg Gumbel to art galleries to Whole Foods. Now you know the story of Climax Road.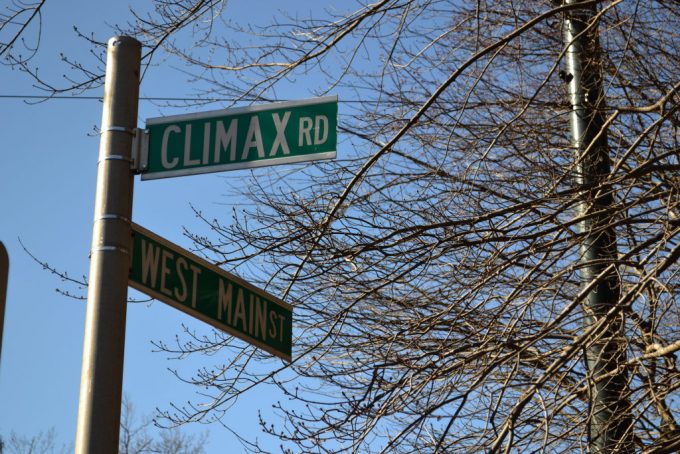 CTMQ's Towers, Bridges, Tunnels, Roads, Canals, Dams, Fishways, Airports, & Ferries
CTMQ's Firsts, Onlies, Oldests, Largests, Longests, Mosts, Smallests, & Bests