EnField of Dreams
Enfield (Google Maps location)
December 2016
CT museum visit #338.
Easiest punned title ever? Certainly one of them, yes.
This is yet another little place on my massive list of museums that we all agree is not a museum. But as you now know, I don't care. I made the effort to go there (and it actually required talking to humans) and am now writing about it, so it's a CTMQ "museum."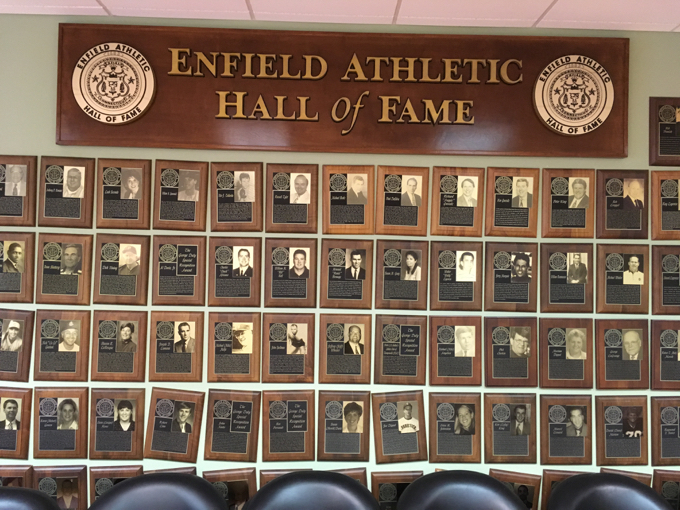 Lots of towns have little athletic halls of fame and I've visited a few. They are never very interesting to outsiders like me, but people put the effort into them; maintaining them, having induction ceremonies every year or two… so I like to honor them on the vaunted pages of CTMQ.
Enfield's version is in the town's Senior Center. It's a huge Senior Center and appears fairly new. The Center is only open on weekdays though, so therein lies some of my "effort." Since I work on weekdays and all.
No matter; this was important, so I made it happen.
Upon arrival, I saw no evidence of an athletic hall of fame, so I inquired at the front desk. The very kind woman there stared at me like I was the first visitor in history to mention it (she may have had a point) and suggested such a thing might be at the town hall.
"I'm not sure," I replied. "The website clearly states that the Enfield Athletic Hall of Fame is indeed in this very building."
She offered to "ask around" and promptly did exactly that. Fortunately for me, and all of us really, another woman there sheepishly offered, "is it that thing with the plaques?"
Sure, that sounded promising. Take me to that thing with the plaques!
And she promptly did exactly that.
I was walked across the large atrium where octogenarians were warming up for yoga class. I smiled and said "namaste." They stared at me like I had just spoken a foreign language. I was beginning to like this place.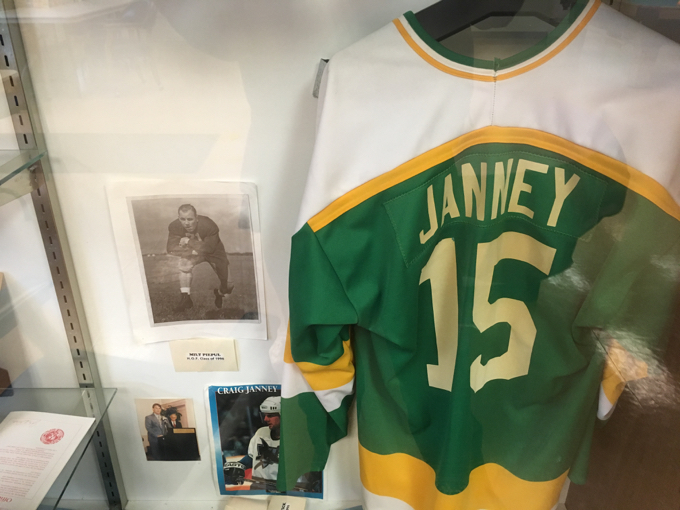 We entered some back room where two elderly men were engaged in a lively game of pool. My hostess said, "here it is. The room with the plaques!" I thanked her for her efforts and lied about my purpose: "My friend said his dad is an inductee and I promised to find the plaque and take a picture. I might be a few minutes."
"Oh fiddlesticks," she said (I think… maybe), "take all the time you need!" and then she went on her way. She smelled of Jean Nate and wore Easy Spirits. She was awesome.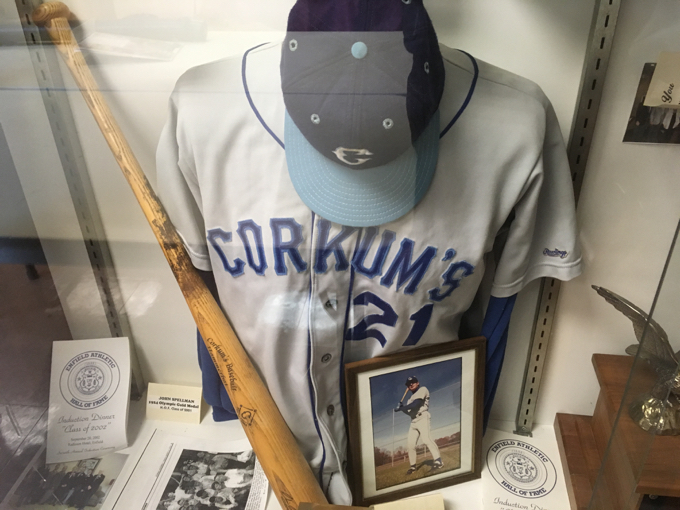 Now alone, other than the two men playing pool who didn't really seem to notice my presence, I began to enjoy the mighty Enfield Athletic Hall of Fame. I initially figured I wouldn't recognize any Enfield sporting stars of yore, but I was quickly disabused of that notion.
Why, there's the three-time state field hockey champion teams of the early 90's!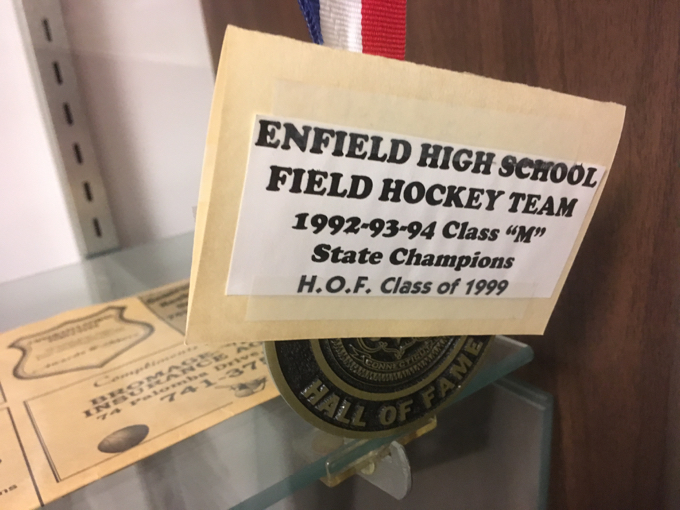 You think I'm kidding, but as a three-time state champion myself (shout out to my Brandywine High School Men's Volleyball homies of 1989-91), I tend to care very much about three-peating state high school champions.
Bump, set, and spike.
There were a bunch of inductees I was not familiar with. Minor league baseball players, bowlers, a NASCAR driver named Jerry Marquis. Unlike three-peating field hockey teams, I know nothing of NASCAR or its multi-tiered structure.
But I just Googled this Jerry Marquis guy and he raced at different NASCAR levels but mostly at something called Modified and his home track was in Stafford. I found this quote on Wikipedia:
Marquis has won 7 NASCAR Busch North Series races putting him 16th on the all-time list in the Busch North Series. His home track was Stafford Motor Speedway. Jerry Marquis was also infamous for NASCAR's former commentator Bill Weber and the "bodyguard to the stars" incident. He spun out Tony Stewart who was racing a NASCAR Modified race car that day with five laps to go and when the race was over a personal friend was pulled away by Weber and was to do an interview.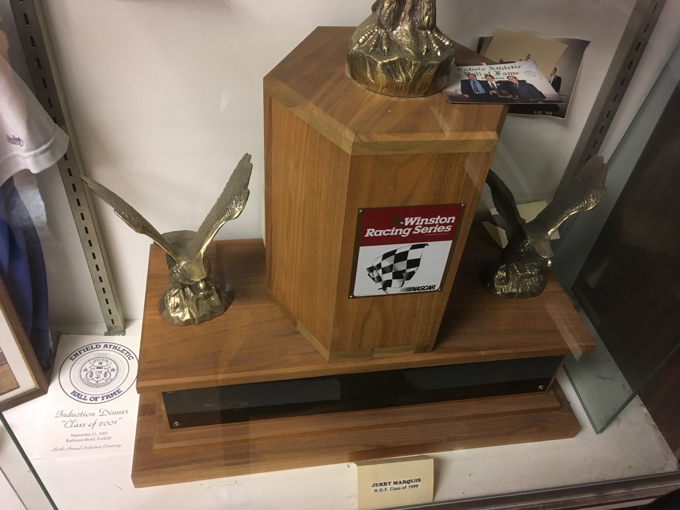 I have no idea what that means, and this article about the incident [Article is gone, 2023] didn't help much. And didn't Tony Stewart murder accidentally run over a guy on purpose at a lower level race for daring to cross him a few years ago?
Yes. Yes he did. Hats off to Mr. Marquis for not being killed by Tony Stewart. I find it very weird that these top tier drivers still go and do these lower level races.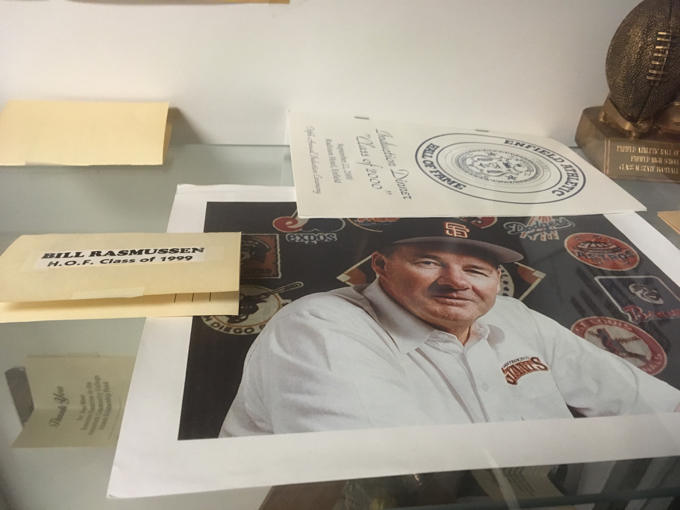 After perusing a dozen people I've never heard of, I came across three famous inductees. Craig Janney (attended Enfield High for a year or two… oh, he's a former NHL player and he was pretty good), Peter King and Bill Rasmussen.
Peter King writes for Sports Illustrated and anyone who reads or listens to sports stuff knows who Peter King is. He was a three-sport athlete at Enfield High in 1975. I believe he actually lived in town for many years; perhaps up until fairly recently.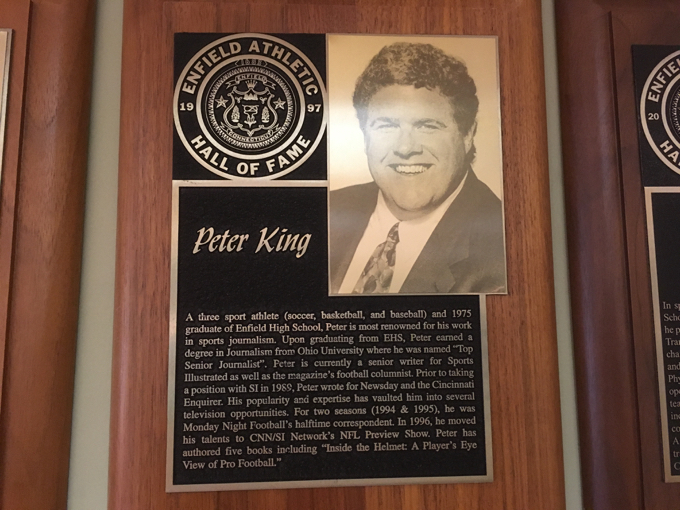 And Bill Rasmussen. From Enfield, he founded something called the Entertainment Sports Programming Network. I guess they call it ESPN now or something. But get this, Rasmussen was the radio play-by-play announcer for the New England Whalers of the WHA (pre-NHL Whalers) in the 70's. No one ever mentions that when they talk about the father of cable sports. (They do in the great oral history of ESPN, which I reviewed here.)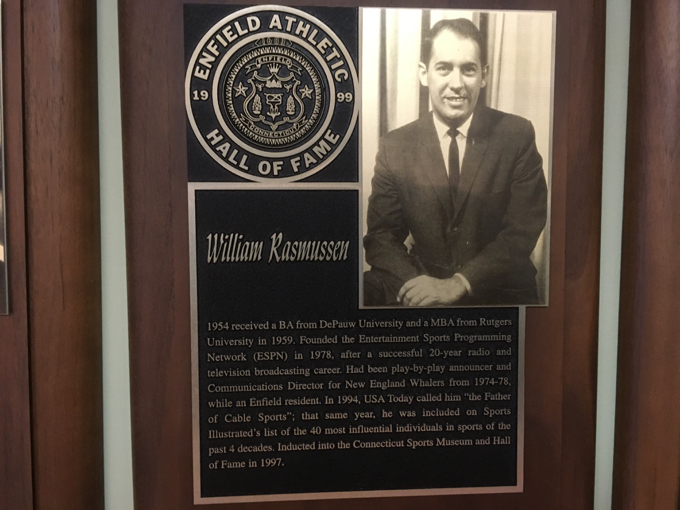 There are probably nearly 200 inductees, of which only a handful are "famous." And that's fine, as this is the Enfield hall of fame and just as some people are "twitter famous" or whatever, these people are Enfield famous. If someone played a season of a sport, any sport, professionally at any time in history and spent some time in Enfield, they are an inductee.
And good for them.
I saw myself out but was sure to thank my helper. "Did you find what you were looking for?" she asked.
"Oh yes, ma'am, yes I did."

Enfield Athletic Hall of Fame
CTMQ's Museum Visits