As They Say: "Home of Strange Things"
Middletown
January 2, 2009 & February 20, 2016
Wild Bill's Closed in 2018
I figured a revisit to Wild Bill's was in order, so that's just what I did with both of my sons in early 2016.
I'm writing this quick post because if I don't, someone will surely say, "Hey man, if you're blogging about Connecticut's more unique retail stores, you better do Wild Bill's!" So here you are.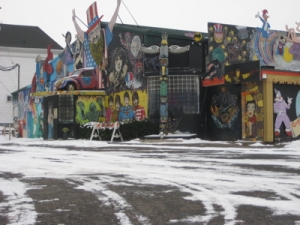 The first wacky thing about this wacky store is that it was open on January 2nd this year – that's when I visited with Damian. January 2, 2009 was a Friday and every single thing in the world was closed. Except for Wild Bill's. Good ol' Wild Bill.
Anyone who has ever driven down Route 3 (Newfield St) in Cromwell/Middletown has surely noticed the place. It's the insane fun-house looking mess just past all the car dealerships. Heck, before you even go inside you can check out the world's largest Jack-In-The-Box and the World's largest bobble-head. Good ol' Wild Bill.
Since my original visit, they've added a tribute to Carhendge which is an artistic tribute to Stonehendge. Here, it's a Yugohendge: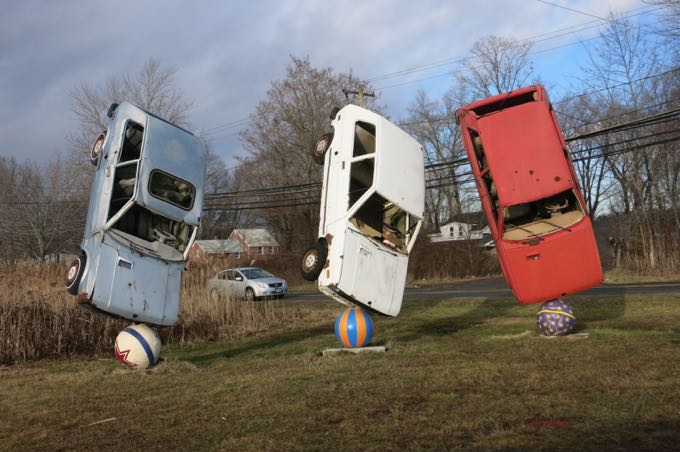 There's also a giant tire.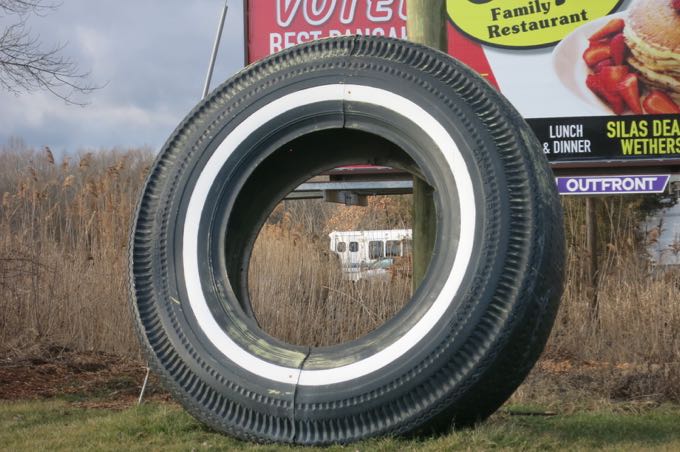 Yeah, this place is wacky. They've also added a huge funhouse. As with all things Wild Bill's, finding reliable information on this thing is difficult. They started building it in 2012 or so, and have all sorts of WILD and wacky plans for it. It seems to be a bunch of cobbled-together secondhand… stuff. But they also say that it will be "the world's largest walkthrough funhouse thing" or something. I sent an email to Wild Bill asking about the funhouse and here is what he said:
It will not be completed this year. We are unsure when it will be completed. The Laff in the Dark Book and Record store will be finished first and all proceeds from there will go towards finishing the funhouse.
Yeah, I don't know what that means either, but there you go.
During our 2016 visit, we saw some guy lazily painting a board. Calvin wanted to go inside sooooo badly, but IF it's even completed at some point, I think it may only be open in October or something. Who knows. I must admit, it does look pretty cool.
Wild Bill's is essentially a giant garage sale for fanboys and ComiCon devotees. Oh sure, there's a part of me that likes that stuff, but it's a very small part. The folks who run the store seem to be aging hippies who clearly love what they do and sell. Their tagline is that Wild Bill's is not a store, it's a "way of life."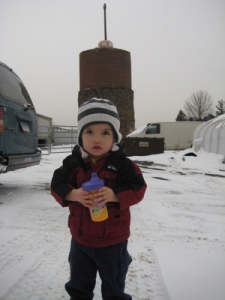 For a rather large store containing everything from old comedy records to black light posters to hippie stuff for your VW van, it's fairly well organized and clean. They seem to specialize in "Wacky Wobblers" which are very similar to bobbleheads. I've been in places like this before that are just a huge mess. I know there is a huge market for this stuff around the world, and it's cool to see a store specializing in something that is almost exclusively web business now.
I was intrigued by some of the original Star Wars stuff, but Damian wasn't in 2009. At least Calvin was in 2016. In fact, Calvin was begging me to buy him something from Wild Bill's, but really, there wasn't anything in his wheelhouse. Sorry kid.
I did buy some $8 contraption that I later learned required all sorts of building and special glue and paint. We don't have those things and it would probably not even work anyway. But hey, because Wild Bill's is wacky, I got a $2 bill for change.
Readers of this site may find it hard to believe, but I have absolutely no interest in collecting tangible things. When I was profiled a couple months ago for a magazine article, the journalist was perplexed by that fact. It's just never been my thing at all. I rather hate "junk" and "stuff" and so does my wife, so Wild Bill's is more of a curious tourist destination for me, not a shopping trip.
In the end, we were there and it was wacky and I wish Wild Bill and the gang much success. I can hardly goof on the store or what they are trying to do – after all, one man's CTMQ is another man's Wild Bill's.
C'est la vie.

CTMQ's Interesting Companies & Businesses
CTMQ's Firsts, Onlies, Oldests, Largests, Longests, Mosts, Smallests, & Bests