Bumper to Bumper… Because There's a Red Light!
Route 9 Through Middletown
Since writing this, I've come to lean of a 2011 Hartford Courant article all about the stop sign merge. I'm happy to have learned that the stop sign IS actually worse than the lights. More at the bottom.
I'm going to do my best to focus on what's important here and not get bogged down in the history of Route 9. Because once you go down the Route 9 rabbit hole, you quickly wind up in the I-291 rabbit hole which is deep and contains so many paths you'll never escape it. We'll just say that Route 9's history is deeply entwined with the proposed I-291 beltway around Hartford that was never built. As the indispensable kurumi says:
The original planned I-291, a 20-mile western bypass from Rocky Hill to West Hartford to Windsor, is one of Connecticut's most famous unbuilt highways. Opposition began in earnest around 1970, and that highway was cancelled in March 1979. There's probably enough history with this road for a 200-page book.
Calvin and I have explored the stack interchange in Farmington that still stands, largely unused. And that's where today's northern terminus of Route 9 is. From there, it's a perfectly normal highway that heads southeast to I-95 in Old Saybrook. 42 miles of concrete and asphalt.
With traffic lights in the middle of it. The CT DOT had this to say in 2018:
Connecticut Route 9 is a north/south running freeway except for a short section of non-freeway in the downtown Middletown area where it overlaps with Route 17. This section of Route 9 stretches for approximately 0.36 miles (from exit 15 to exit 16) and includes two at-grade signalized intersections. These signalized intersections contribute to significant delays and crashes. The most recent three year crash history (January 2015 to December 2017) shows that there were 313 crashes within the project limits.
It's not just the traffic lights here, of course. The exit ramps are lunacy, the routing to get on and off the Arrigoni Bridge is bonkers at best, and then there's the whole bit where pedestrians would like to get across Route 9 to the riverfront.
The state has been trying to correct this monstrosity for at least as long as I've been writing this website. By 2020, they've whittled the corrective action down to two options and while this doesn't portend driving fun for years through Middletown, it needs to happen.
I notice the roundabout was removed. Americans can't handle roundabouts. The proposals obviously take into account what this will do to downtown Middletown traffic flow and patterns and I have no dog in this fight. I, like everyone who ever travels this stretch of freeway with traffic lights, just wants it to get done.
And as of 2021, it appears that it will before the decade is out.
But something's missing in all these plans and renderings. Another impossibly unsafe bit of highway engineering just southeast of the above renderings. You know what I'm talking about… the Route 17 north to Route 9 North "merge." Look at it – looks perfectly normal, right?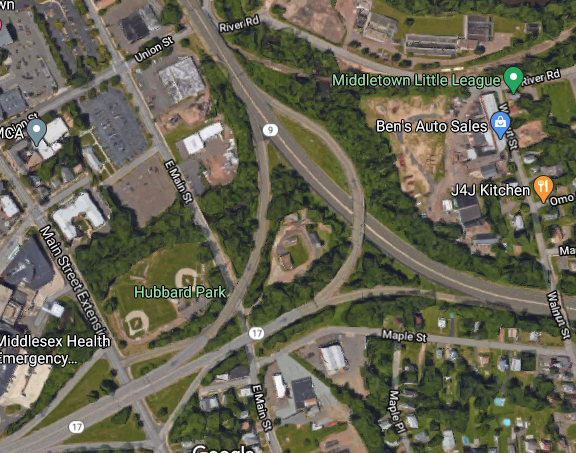 Up 17, do the flyover, swing left around the curve and merge with the righthand lane of Route 9. Simple. Hold on, this is Route 9 in Middletown we're talking about here. As we know, there are traffic lights in the middle of the highway. This can't be so simple.
If you're not familiar with this merge, here's what happens: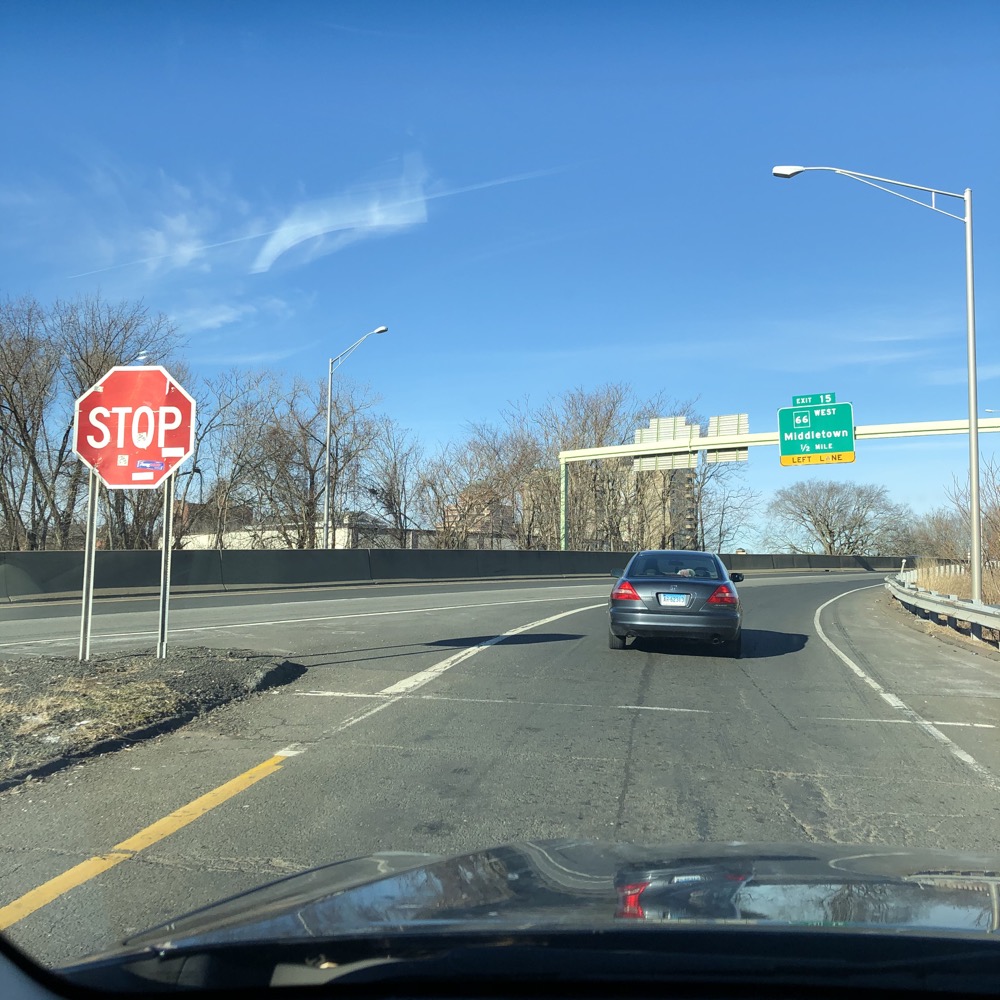 Cool, cool. A stop sign. And look, we all know the Merritt Parkway and the Wilbur Cross have stop sign highway entrances. But the state has slowly been making them all better and even where they're not, Merritt drivers are the best drivers in America, so it's more like sport down there than anything.
Yes, Merritt commuters are the best drivers in America. But that's an argument for another day. Back to Route 9… which is different than the Merritt because trucks are allowed here. Massive tractor trailers. So you get things like this, from Google Street View: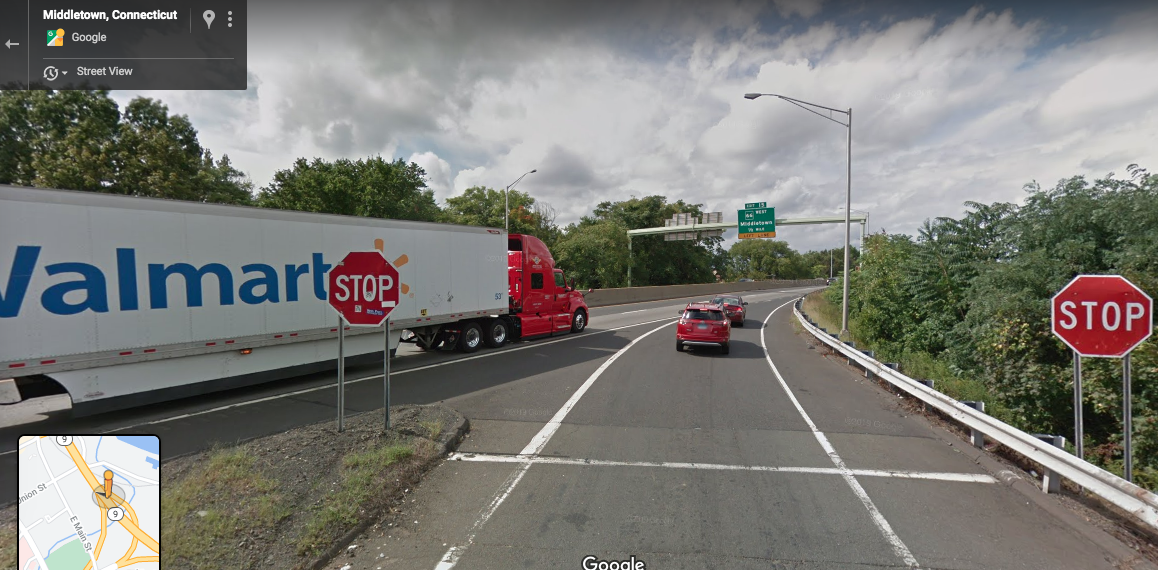 Fun. And that truck is going down a fairly significant hill. And it just came around a curve as well, so cars trying to enter, after stopping at the stop sign, really didn't have a far line of sight for oncoming traffic.
Which is bananas. Also notice that that line where mergers are supposed to stop? If you stop there, you literally cannot see oncoming traffic. Here's what drivers on 9 North see as they approach this area: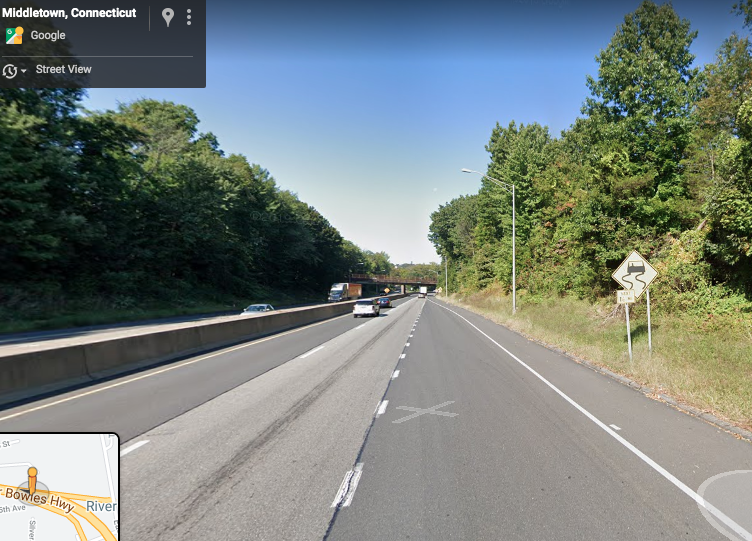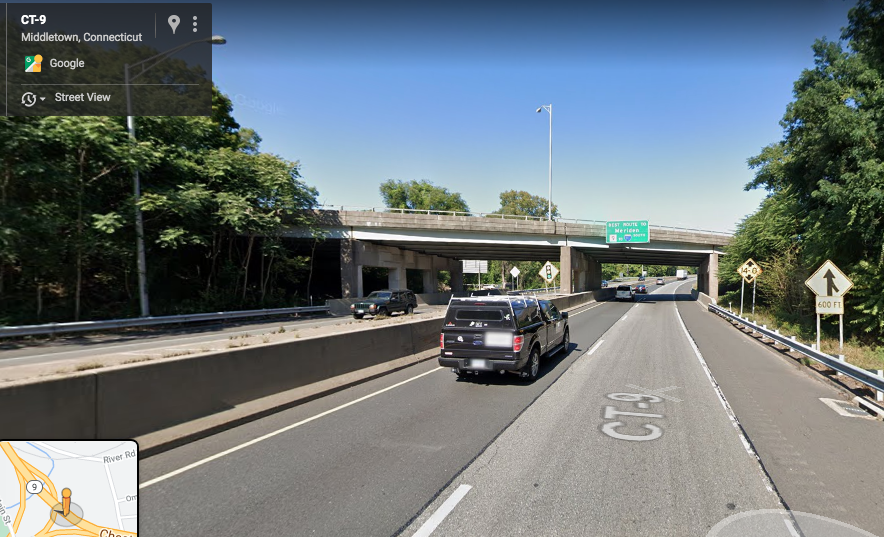 The ol' squiggle road sign. That'll slow 'em down. And hey, if it doesn't, the traffic lights in a mile or so will. That second picture with the merge in 600-feet – that's the stop sign merge. Notice how it's around a curve.
Why did I write this page? I don't really know. We all hope the state will remove the traffic signals and I would hope that they'd take a look at this stop signed entrance ramp. It's fairly terrifying in rain or snow or darkness. On the Merritt, drivers are looking for cars coming on slowly from the right. Here, I imagine that many are not.
I remember chatting with my friend a few years ago when his daughter got her learner's permit. He lives in Portland so I suggested that for her ultimate test, she should have to navigate this stop sign and then take 9 through Middletown to the Arrigoni Bridge and home to Portland. I can't think of another 4-mile journey with as many deathtraps than that.
He did not agree with my plan.
Courant writer Matthew Kauffman wrote an article in 2011 about "Connecticut's Worst Roads" and the merge I've written about featured heavily. Some highlights:
About every three days, a motorist on Route 17 trying to merge onto Route 9 in Middletown cranes his or her neck to look for an opening in the traffic, hits the accelerator when a gap appears, and in the blink of an eye plows into the back of another car that was merging onto the highway.

That well-traveled on-ramp is, according to state Department of Transportation records, the most reliable accident producer in the state. In 2008, there were 120 rear-end crashes serious enough for state police to respond, and fender-benders there have climbed into the triple digits nearly every year going back a decade.

The state DOT has a multimillion dollar plan to fix the dangerous Route 17 merge and deal with the frustrating and curious traffic signals that bring Route 9 traffic to a halt in Middletown. But in annual reports on the state's most hazardous roads, the agency offers a sobering prognosis: "Due to funding constraints, this project is on hold."

It's not for lack of criticism of the merge. Almost everyone in Middletown is familiar with the perilous ramp. And even within the Department of Transportation, there is no bureaucratic coyness when it comes to trashing the spot.

"Would we build this today? No," says Kevin Nursick, a DOT spokesman. "People have a genuine and legitimate gripe about the interchange. But short of closing it, there's not a lot we can do about it right now."

There is near universal agreement that the design of the ramp is a horror for drivers. There is no merge lane, so drivers must race onto the highway between cars driving 60 mph or faster. And the on ramp is parallel to the highway, requiring drivers at the stop sign to turn their heads nearly 180 degrees to look for an open spot in the traffic.

On a regular basis, a merging driver at the stop sign lurches ahead, gets cold feet as cars race by, and comes to a halt roughly 50 feet further along the ramp. Meanwhile, the next driver in line — staring backward at the traffic and assuming the first car is long gone — races forward and crashes into the first car's bumper. About a quarter of the accidents that bring police also result in injuries.

"It's dangerous for everybody involved," said Dan Barry, a Middletown resident who's car has been hit at the intersection. "Whenever I am talking about it to a local, most everybody has some variation of: I have hit someone on that ramp, someone hit me on that ramp, I know somebody who was hit or hit somebody on that ramp, or my friend is a police officer/firefighter/public servant here, and says that this ramp is a nightmare."

A year ago, Barry posted a complaint about the intersection on seeclickfix.com, a website that airs local concerns. It soon became the most popular thread on the Middletown section of the site, with twice as many votes of support as any other.

"It's not a matter of 'if' you'll get in an accident on that ramp, it's a matter of 'when,"' one poster wrote.

"I have never seen a more messed up area of highway than what is Rt 9 in Middletown," added another.

The merge is ranked No. 1 on a list of troubling roadways the state is required to send each year to the U.S. Department of Transportation.
Again, that was written 10 years before I wrote this page. And likely could be written again 10 years from now. So stupid and dangerous.

CTMQ's Highways, Roads, and Tunnels