*For Informational Purposes Only*
The Stack, Farmington
This page is, um, purely hypothetical. It describes what I'd imagine a visit to the ghost highway ramps of Farmington would be like.
First, some very real background. Remember the first three dozen times you drove on I-84 through Farmington and thought to yourself, "Man, what's up with this giant stack of highway ramps I'm driving under?"
Incidentally, the picture above is just a few minutes east of what I dubbed the worst I-84 onramp situation from Portland, Oregon to Hartford, Connecticut.
This stack of ramps vexed me for years. I'd notice the fenced off ramps to nowhere when driving past them. But I never really gave it much thought. Looking at Google maps as much as I do didn't really inspire anything:
But c'mon. This is what's been known as the I-84 Stack or the Farmington Stack or the Neverpass for longer than I've been alive!
Let's turn to the wonderful Kurumi for some insight:
In Farmington rises Connecticut's only four-level stack interchange. It's impossible to miss as you're driving by on I-84, and even Connecticut residents with no professed interest in highways probably know a fact here and there: that it stood completely unused for more than 20 years; that it was intended for a beltway that was later cancelled; that the state is now using part of it.

The word "cyclopean" comes to mind as you approach the interchange (if you've read a little H. P. Lovecraft). It dwarfs other highway features in the area, and has the look of an ancient ruin rising out of the forest. This effect was even more acute when no part of it was in use; now that Route 9 connects to I-84 here, there are some signs of life on connector ramps.
Accessing the empty ramps is way, way easier than you'd imagine. In fact, some access points are so open and easy that you'd have no idea you were accessing an empty stretch of highway. No signs telling you not to, well-defined paths, no fencing… nothing.
If this weren't a purely hypothetical exercise, you might even find this particular statue below of some readers' Lord and Savior at a certain place in Farmington, having legally parked, and make the all-of-3 minute walk to the end of the empty ramps.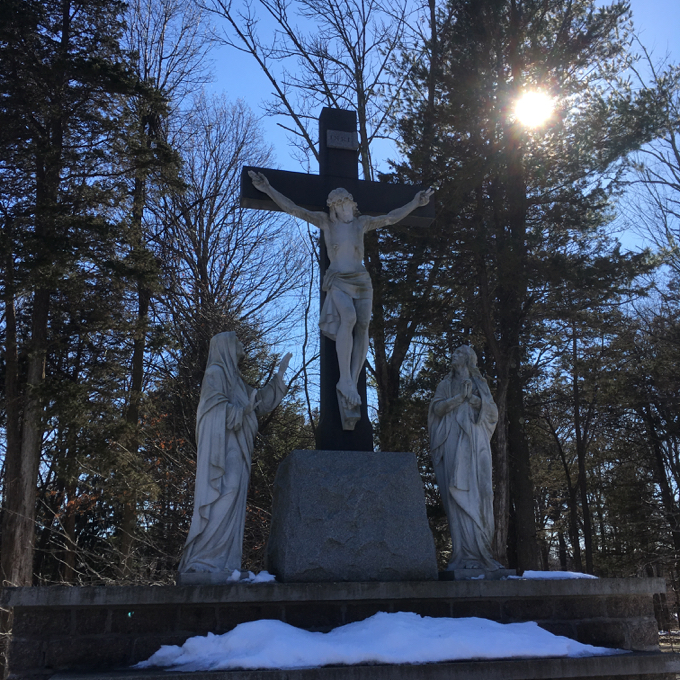 More Kurumi:
Plans for I-84 in the area — the East – West Expressway — date back to the 1940s. Plans for a circumferential freeway, I-291, date to the late 1950s. Existing roadways in the area were US 6 (the Colt Highway and New Britain Avenue) intersecting Route 71 at a rotary at Corbins Corner. By 1962 the alignments of I-84 and I-291 were well defined in the area, and there was a plan for the state's first four-level stack interchange.

As the late 1960s arrived, Interstate 84 was nearly complete in Connecticut; the last segments to be built were between Plainville and Hartford, including the Stack area in Farmington. Bids for the stack interchange were let in fall 1967, and work was completed one to two years later. At this time, plans for I-291 were quite active, and the beltway was expected to be finished around 1972. The Stack was constructed in anticipation of being needed in a few years.

In 1970, however, I-291 ran into some big problems, primarily with the MDC reservoirs in West Hartford, north of I-84 and the Stack. Some alternate routes were discussed, but by 1973 I-291 north of I-84 was cancelled. In late 1973 work on the southwest quadrant was halted, and soon that segment was cancelled as well.

The Stack was orphaned, and for more than 20 years I-84 passed beneath three levels of unused roadways.
In 1992, as many of you probably remember, route 9 was connected to a few of the Stack's tentacles and it has been in partial use since.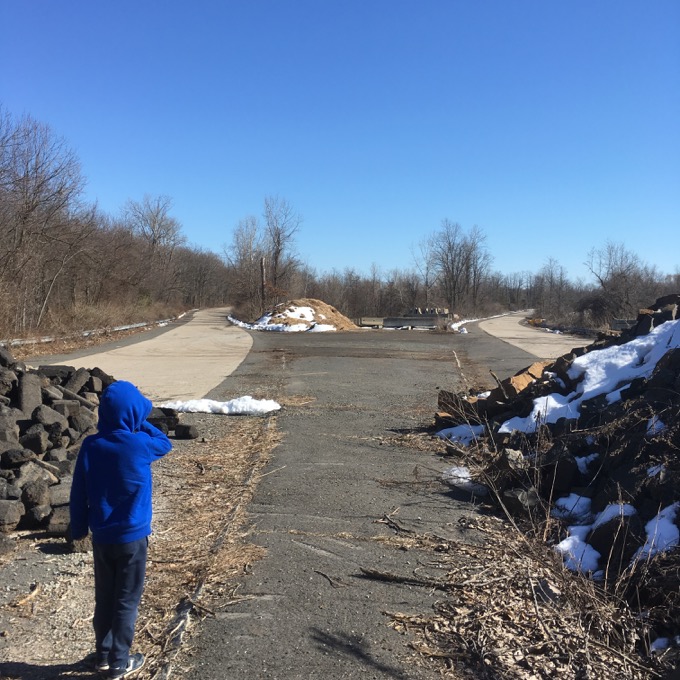 Well, it's still kind of in use today – as a dumping ground for felled trees, huge hunks of concrete and asphalt… that sort of official use. It also sees a lot of unofficial use; I'd guess pot smoking, underage drinking… but I saw a dad teaching his daughter how to ride her bike when I, um, when I heard about someone else walking the ghost highway.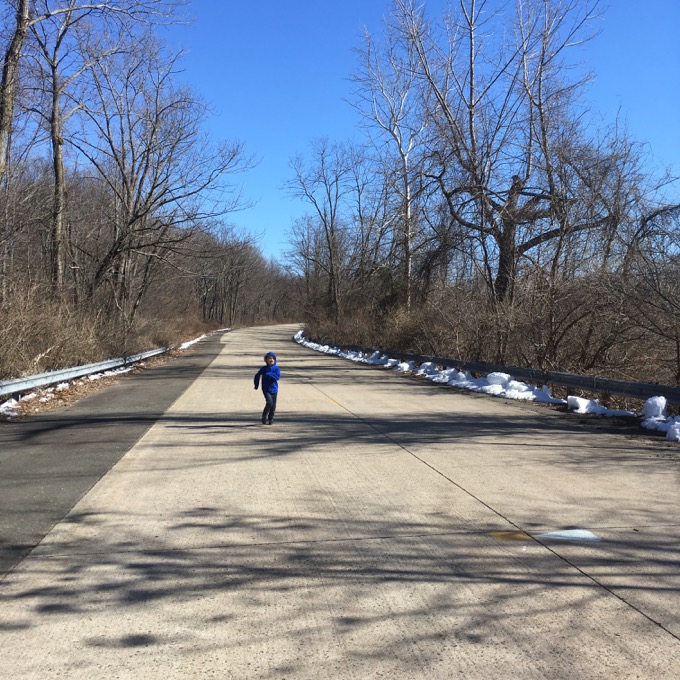 If I were here – and what kind of monster would bring a six-year-old here if he thought it might technically be off limits? – I would have marveled at how well the concrete has held up for nearly 50 years with no traffic. And how funny it was that the state created a spray paint sign that urges parties to not break glass bottles on the empty roads out of respect for state vehicles who must use it.
I do not recommend you go here. I can't say that the rather unique shot of Hartford is perhaps one of the most interesting pictures a photographer could ever get. Or that a lot of the graffiti here is actually pretty funny. Or that there's some sort of wistful dystopian pall that descends upon visitors as though they are walking an abandoned road from The Stand or The Road. Or that standing on a stack with traffic swirling above and below while you are completely safe on a section of highway is oddly exhilarating and slightly unsettling.
I'll leave you with a letter to the Hartford Courant from 1962. Shout out to Mr. van Zelm, who knew what was up back in the day.
Typical of the double talk that seems to dominate the local scene is Gov. Dempsey's urgent appeal to preserve our open spaces for posterity while at the same time letting his highway commissioner run rampant through community after community with his bizarre, expensive, idiotic, and utterly useless highway patterns scattered all over the pleasant countryside.

The can of worms concept in East Hartford and the concrete and steel beanstalk laid on its side east of Constitution Plaza are bad enough. But now comes the ne plus ultra, the ultimate goal of the highway fanatics — a replica of the famous (or infamous) Los Angeles "stack"… a four-level monstrosity soaring up to the height of a five-story building — three bridges stacked above the other and spread over more than 200 acres of land — larger than some 18-hole golf courses and about the size of Disneyland…

Henri B. van Zelm, West Hartford
He was right, y'know.