Plainville's Death Trap
Plainville
There are seemingly hundreds of horribly designed highway interchanges, onramps, and off-ramps in Connecticut. The 84/91 interchange is pretty much the poster child for terrible highway design. (Well done on the new 91/95 New Haven interchange, by the way!) Connecticut's odd penchant for left-lane on and off-ramps is quite a thing for out-of-staters driving here for the first time.
In fact, our left-hand exits made Jalopnik's Worst Exit Ramps in the US and UK list!
At least the state is fixing the idiotic exit numbering system. They've finished on 395, but no one knows that because no one drives on 395. Perhaps we'll see a day when you will pass sequential exit numbers assigned by mileage… like every other state in the country.
And let's forgive the still-existing (charming and historic!) 120-degree Wilbur Cross/Merritt off-ramps and stop sign on-ramps. That still leaves dozens of dangerous and downright moronic highway sections. I can't say if this one in Plainville is the most stupid, but it has to be close.
Upon thinking, I'm going to have to give Worst Section of Highway in CT to Route 9 through Middletown. You know, because there are traffic lights in the middle of a highway. And we can't ignore that stop sign on-ramp going north 9 from route 17. That is just pure insanity.
But for now, let's focus on Plainville's special piece of stupid. Getting from route 372 in Plainville to 84 East. Keep in mind that for many hours of the day, these roads are far, FAR more crowded than when these pictures were taken.

1. Traveling west on 372 and underneath route 72, there are actually two left hand turn lanes to get you to the highway: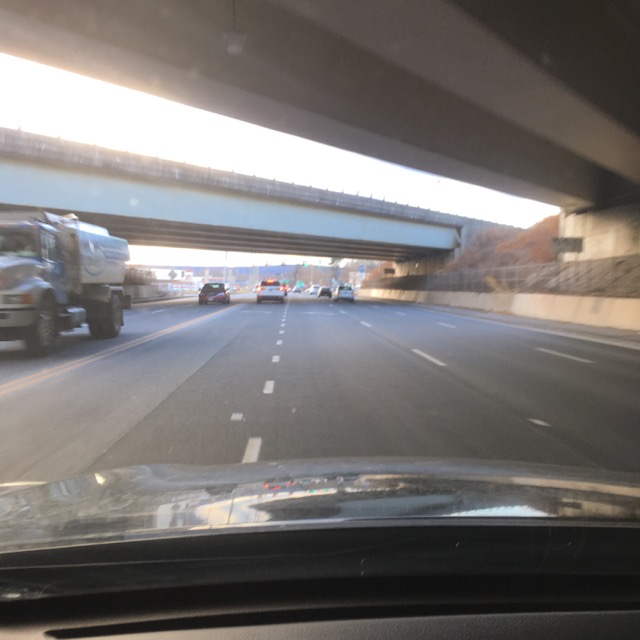 2. Except that this isn't an on-ramp at all. It is a four-lane road called Hooker Street. Bet you didn't know that. This is probably weird for first timers: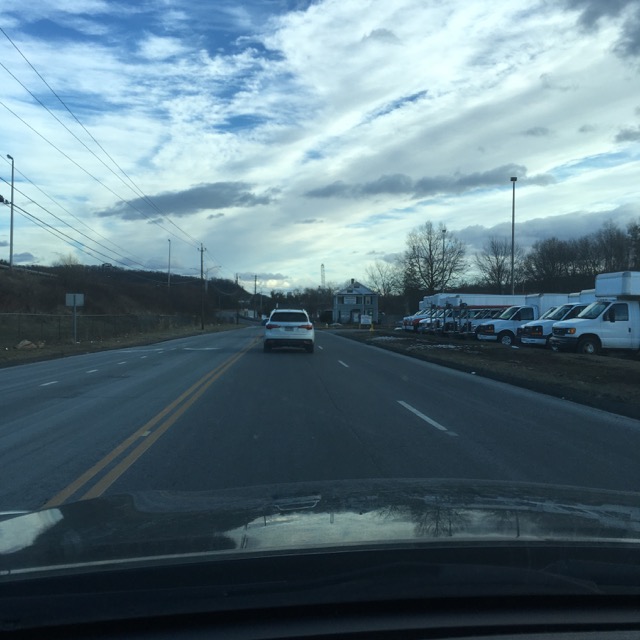 3. What's that? Half of Hooker Street is Hooker street and going straight will crash me into some business? Yes. You better have been in the left lane, which veers towards route 72: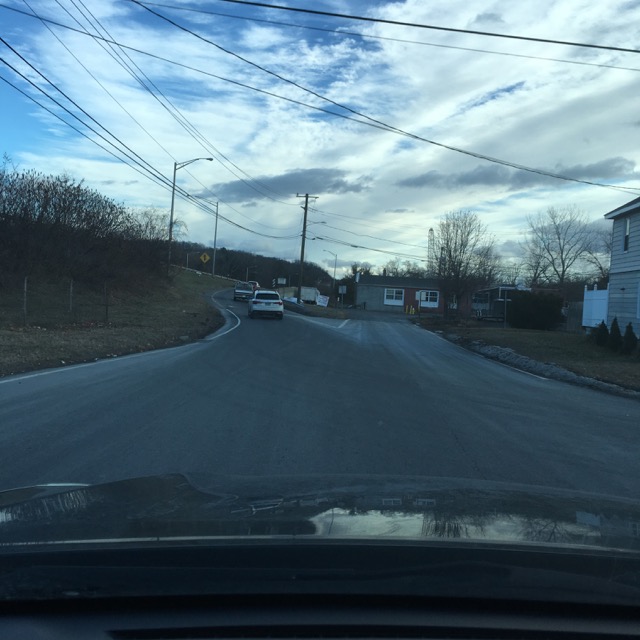 4. Ahh, nice. Wide open 4 lanes of highway, cruising along:
5. Oh crap! What?! I have to cross over two lanes and into a third in about 100 yards with 70 mph traffic blowing by me because I just entered the highway on some weird little curvy on-ramp thing?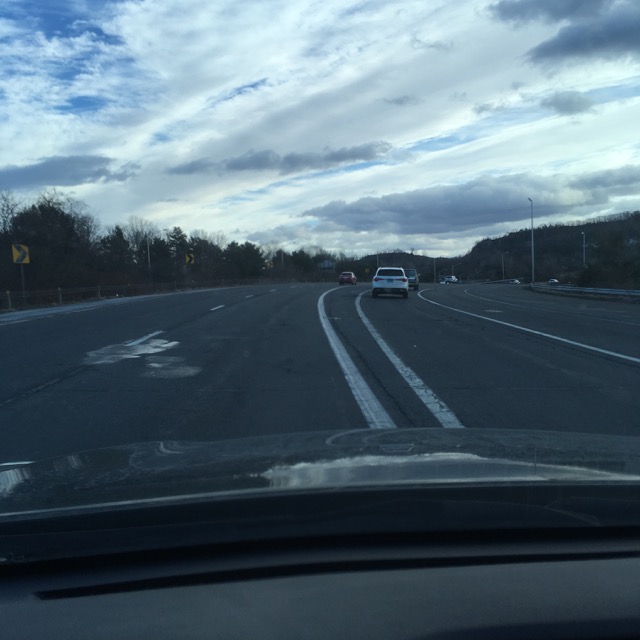 6. Phew! Just made it. Crusing along again on what is now a lovely 5-lane stretch of highway. Hold on, What now? This was actually a left-lane merge with I-84? And now I have to merge right with 70 mph+ traffic? But I just went around a sharp curve and no way am I even close to that speed. And the split is happening in another way-too-short 100 yards? My word.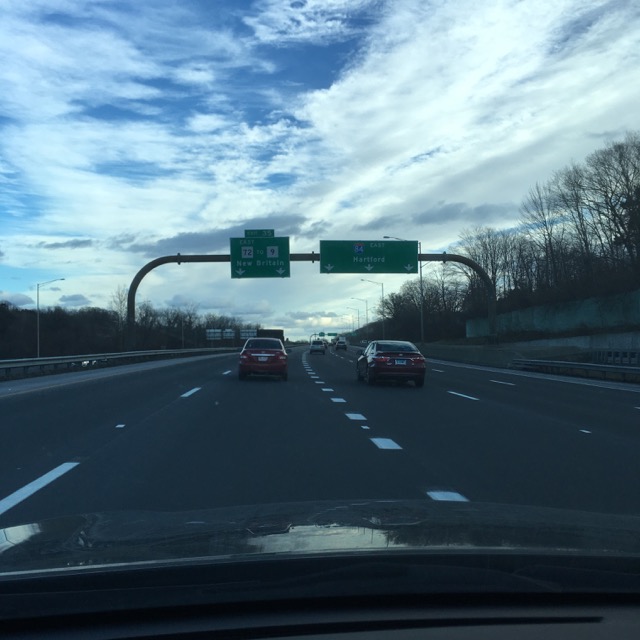 7. Okay. I'm good now, having crossed into New Britain. Up to speed, stuck in the left lane, around a left-hand curve and… what's the hold up? Oh. Just another partially hidden, sharp left-hand exit we love so much here in Connecticut.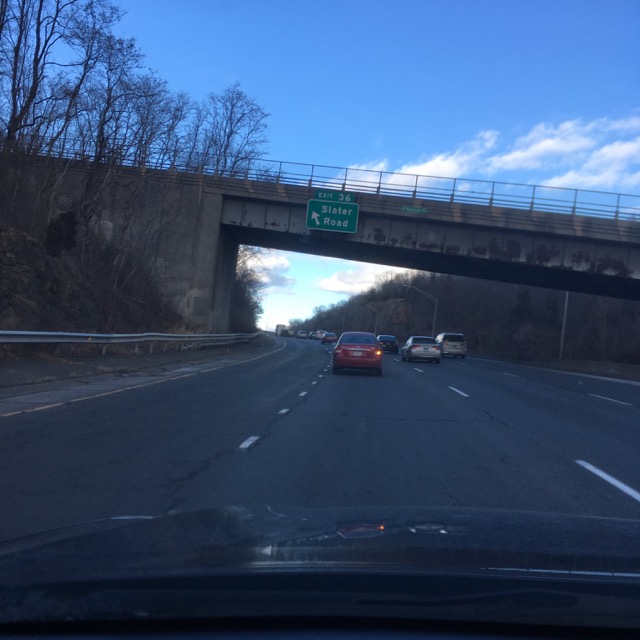 Glory be. Note: A few minutes later I would be exiting from another left-hand exit to go home. That would be exit 39… which takes some unfortunate souls through Farmington on route 4. I can't even think about that nightmare right now.