Wolcott: Complete!
Johnny B's Roadside Saloon
Here is the CTMQ Guide to Wolcott with my list and stories about everything I've done there!
After a decade of writing CTMQ, I decided to try to "complete" towns. In that decade of traveling and writing, I had already done a lot of stuff in many of our towns already. However, I have been continually surprised by how much more there often is to do. This page includes my "town completion celebration meal" and recap of my Wolcott experiences.
Let's get to it.

Wolcott, New Haven County
Population: 16,680 (69th)
Founded: 1796 (105th)
Size: 20.43 sq. mi. (117th)
Here's the Wikipedia page and the town page
Wolcott was my: 32nd town completed
First CTMQ Visit: Tunxis Trail Section 1, 2008

The Celebration Meal
Wolcott is, more than any other Connecticut town, TrumpTown. It just is. A higher percentage of voters in Wolcott voted for Donald Trump in 2016 than in any of the state's other 168 towns (68.1%). They solidified their MAGA credentials in 2020 when they were, once again, the top Trump town in the state (65.2%). Trump got trounced in the state overall (59% to 39%) but not in Wolcott.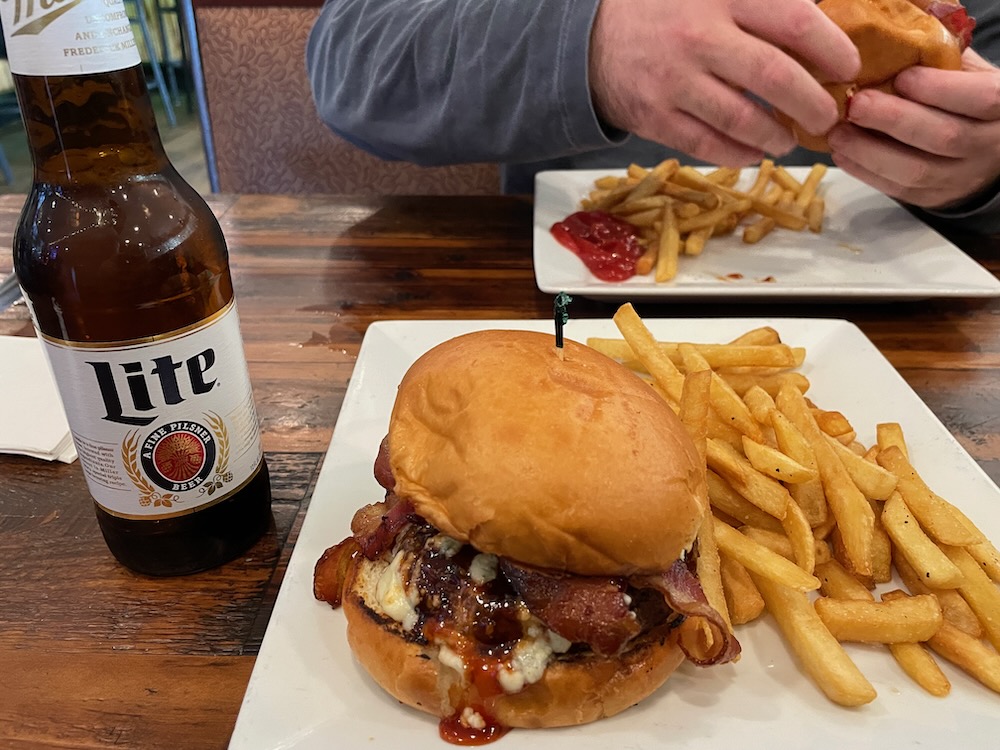 While driving around the town for this website in 2020, it was clear I wasn't in a typical "liberal elite" Connecticut town. Tons of houses were flying their Trump flags – which is, to me, one of the weirdest things Trump people do. What's with the flags? I would never fly a flag of any political candidate. Ever. Anyway, Trump flags, "Unmask our Kids" signs, that sort of thing. In 2021 I passed a house that was flying a very large "CNN LIES!" banner and MAGA flags and Gadsden flags and Punisher banners and "TRUMP WON" sheets hanging from the trees.
I'd have taken a picture but the owners were out raking leaves.
Wolcott occupies a special place in the pocket of Connecticut MAGAdom; Wolcott, Thomaston, Harwinton, Plymouth, Watertown, and Prospect. Heck, Wolcott is home to Klan Drive… just a quirky coincidence. Surely. (And if anyone is curious, the top Clinton/Biden town was Hartford which has plenty of issues, certainly more than any of the towns just mentioned.)
When it came time to pick where I'd celebrate my completion of Wolcott, I knew it had to be a place that captured this aspect of the town. I wanted a Trump burger and Trump beer surrounded by Trump voters. I scoured the map and found several candidates. What the heck?! There's a strip club in Wolcott? And it's been there for years? (The Rockstar Caberet, if you're curious.) It's on Route 69 near Cedar Lake near the Bristol line, but it's not in an urban area by any means. Is that weird to anyone else in 2023?
I settled on Johnny B's Roadside Saloon on the southern border of Wolcott. There are guns on the walls. It's a "saloon" in Connecticut. It's in a stripmall. It looked perfect.
I rolled up with my boy KO, feeling perfectly comfortable. I was excited to have completed another town for CTMQ purposes, I was starving after a hike along the Mattatuck Trail, and to be honest, I was giddy at the rich vein of stereotypical ore I expected to find inside.
I found it alright. While I looked the part, more or less, I'm fairly certain the crowd here – and Johnny B's was fairly well packed for one o'clock on a Friday – differs from me on many social issues. Which is fine! That's what makes A(merica), well, G(reat)! Let's take a look at the beer list: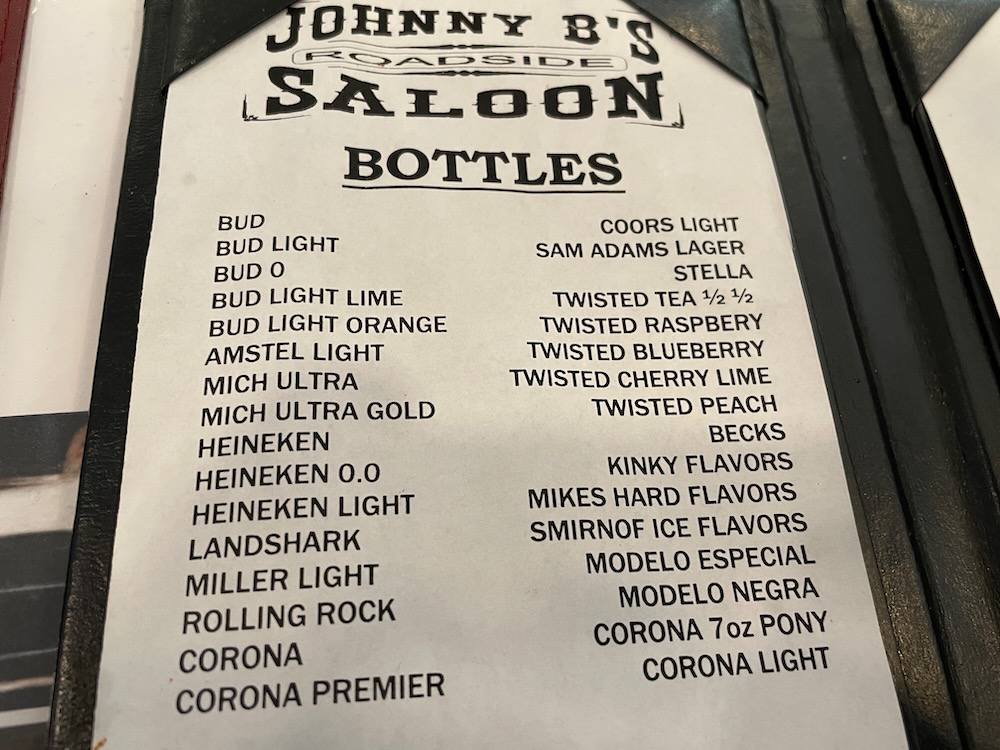 Holy crow. I couldn't have scripted this place any better. I was annoyed at myself for not noticing they also had cans available and that PBR was listed. That would have been the proper choice to pair with my 100% all-American beef bacon burger, baby, but I failed on that accord. Miller Lite it was. The Nuge was played on the jukebox.
The menu here is kind of bonkers. I'm wary of raw seafood at higher-end places, so I sure as heck wouldn't be eating raw oysters at Johnny B's. Nor would I plunk down $31 for a plate of King Crab legs. Who does that? Do people do that? And that's not a cut on Johnny B's, it's a cut on everywhere that puts frozen BJ's King Crab legs on the menu.
Anyway, KO and I both got "Secret Blu Burgers." The "secret" was the sauce which was essentially some sort of BBQ sauce. My "medium" burger came out well-done. Dry as the sawdust that should be on the floor here. No, I didn't even think of sending it back. Are you crazy?
The fries were good. And honestly, I loved it here. Truly. KO was probably very confused as to why I was so happy. I tried to explain that I'm happy anytime I "complete" a town, and I'm always happy to have lunch with a friend. I'm not sure I was to convincing though, especially when I would whisper, "dude, there are three people here wearing Punisher t-shirts! One repping the Three-Percenters! So much backing of the blue too!" (KO is a former cop, by the way.) I wanted a certain fairly rare tribalism in Connecticut, and I got it in spades.
Along with an overdone burger and fries. USA, baby, USA.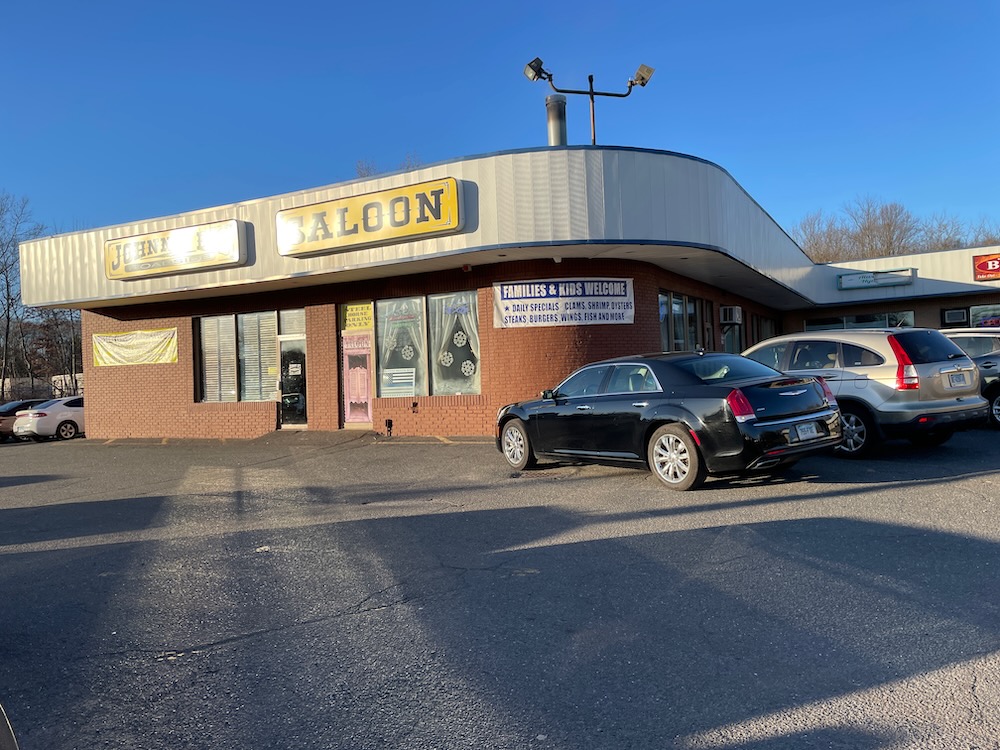 Wolcott Wrap-Up
Alright, look. I know it sounds like I have issues with Wolcott, but I really don't. After all, it's home to the highpoint(s) of New Haven County! I love my geographical extremes! It's certainly one of those towns I'd never thought much about until pulling back the curtains on it and discovering what's there.
And what's there is a perfectly fine suburban town with a nice smattering of lakes and hills. It's situated between Bristol and Waterbury, which some would say is between a rock and a hard place. Wolcott seems to have carved out its own identity, largely separated from those cities. Peterson Park is a gem. The Mad River that flows through here is clear and vibrant. The eastern fourth of the town is forested and is home to various arms of the Tunxis Trail. Waterbury and Bristol it is not.
I cannot account for why this particular town supported Donald J. Trump more than any other town in both 2016 and 2020, other than one town has to be number one, so why not Wolcott? Just because Wolcott was home to the infamous Shebeen Brewing and its daughter breweries shouldn't reflect poorly on Wolcott as a town. Every single person I interacted with here at the museums, the shops, the restaurants – and yes, at Shebeen and its daughter breweries – were nothing but kind and helpful.
I loved my hike around the Woodtick/Scoville Reservoir along Mill Pond Way. I loved my visit to Dragon's Breath Forge and the better town history museum is worth a quick pop in as well. I realize that I've certainly shown my hand when it comes to certain political topics here – something I try not to do on CTMQ – and of course I realize that Wolcott's special place in political history would be a draw for millions of people. And that's fine! The more people coming to and contributing to Connecticut the better.
And please, if anyone has issue with anything on this page, please know that the towns I goof on the most are, by far the towns like Darien and Greenwich and of course my own home town of West Hartford. My town is a dingdong town for so many reasons it's incredible.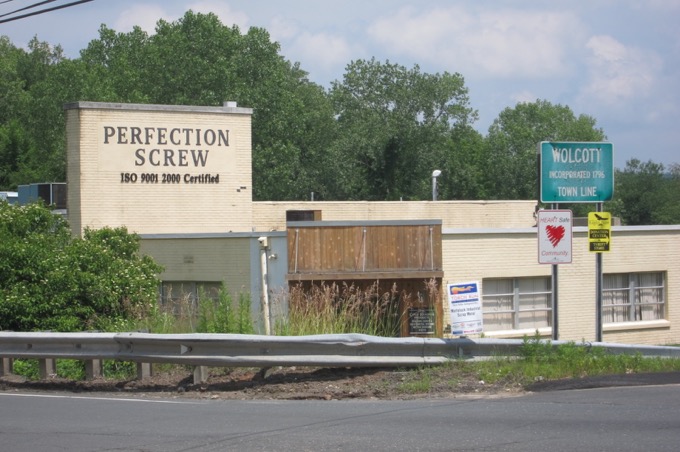 Thought exercise: If I had to send someone to Wolcott for a daytrip, I'd send them to the southern border with Waterbury on Route 69 to pour some out for Shebeen Brewing… and the CT Brewery Collective… and Velvet Libations… and Perfection Screw (all closed)… but then have an arranged knife-making class right up the hill at the awesome Dragon's Breath Forge. Spend the morning there and then go grab a bite to eat at any of Wolcott's Wolcotty restaurants to fuel up before a hike on the easternmost section of the Mattatuck Trail through Peterson Park and just beyond. It's a great stretch of trail and such a day is fine way to know the best of Wolcott.
Surprise: Driving past that fancy looking strip club (Rockstar Cabaret) blew my mind.
Favorite fact: Lt. Governor Oliver Wolcott cast the deciding vote in 1796 to allow the town to become independent from Waterbury so they named it after him.
Disappointment: Just change Klan drive's name already so the liberal beta cucks have one less thing to confirm their Wolcott biases.
Wolcott: Done!
Previous completed town: Union!
Next completed town: Durham!