Collective Failure
Connecticut Brewery Collective, Wolcott
Formerly Shebeen Brewing Company, this iteration of the brewery ceased operations in January 2022 before becoming Velvet Libations.
The Connecticut Brewery Collective was probably the smartest thing the owner has done with his brewing operations during his (as of today) 10-year General Sherman March through Wolcott. I say this without knowing who made any decisions or how those decisions were executed though. The decision seemed sound. The execution and success of it? Perhaps not so much.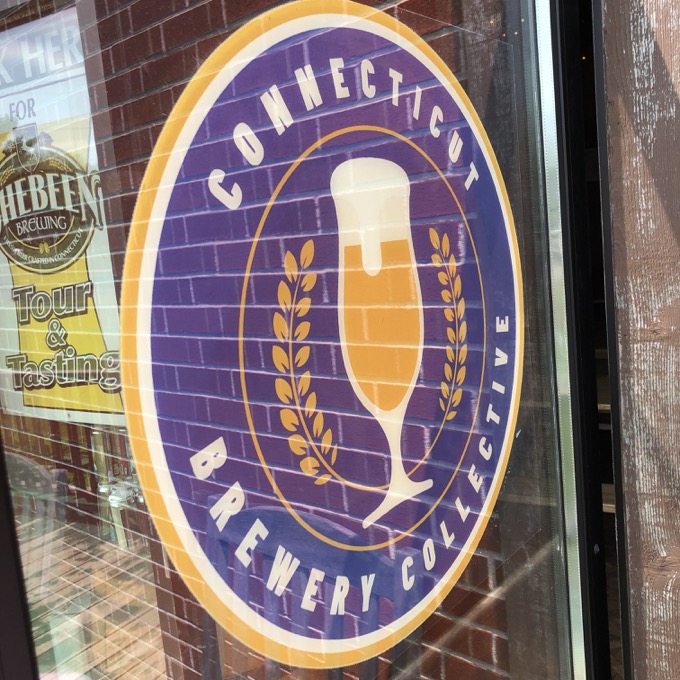 In the annals of 21st century brewing lore, Shebeen Brewing will be remembered as one of the more… interesting efforts in Connecticut. It was the 13th brewery to open during the Dannell Malloy brewery revolution of the 2010's. Shebeen was going to be mind-bending and brew whatever the owner darn well wanted to brew. This included all sorts of weird (at the time) beers like Grape Saison and the Cannoli beer.
I always feel the need to note that while the Cannoli beer was idiotic in 2013 for a whole host of reasons, it was also way ahead of its time. For, seven years later, the spiced beer with a sugared rim and some chocolate shavings seemed positively quaint and normal. (And, in fact, the Cannoli and several variants are still being brewed in Rhode Island and sold in 2023 under the Shebeen name.)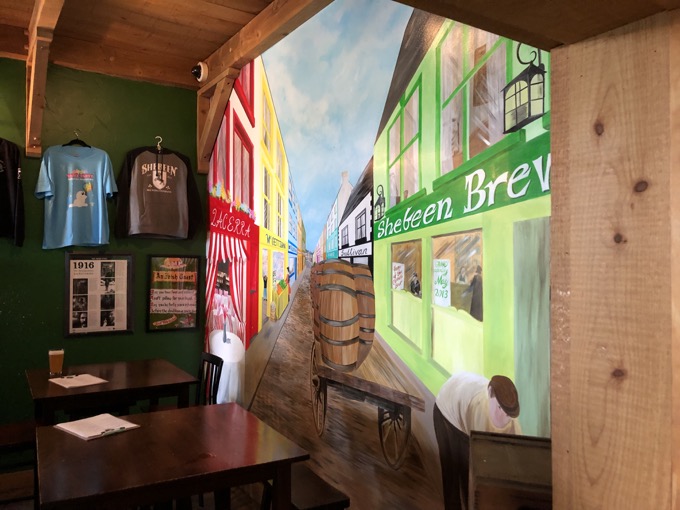 But the Cannoli beer was certainly not the reason to question what was going on at Shebeen for all those years. One could argue it was actually the most successful thing to come out of there. No, there were bad beers, bad ideas, bad press, and bad ju-ju. The owner, Rich Visco, had an uncanny habit of saying things that got the local beer bros apoplectic. Nothing was ever his fault.
Ever.
Bad beer was the fault of the endless parade of brewers and packagers. Bad sales was the fault of people like me who wrote barely-read little hobby blogs like CTMQ. Bad distribution deals were the fault of bad distributors. Bad business deals were the fault of the other parties. So on and so forth.
And everyone's favorite: unused tank capacity at Shebeen was the fault of "Connecticut beer drinkers" because they didn't support local breweries. Just ignore that New England Brewing and Hooker and Two Roads and Beer'd couldn't make beer fast enough at the time. Nope. It had nothing to do with the quality of the product coming out of Wolcott.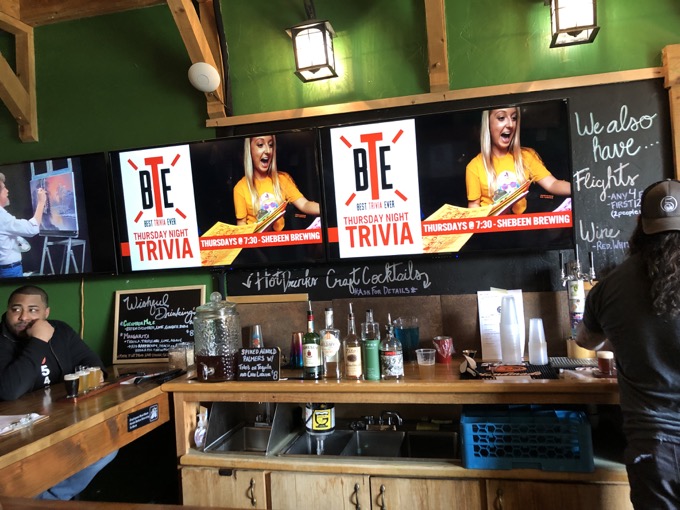 But it was that quote about supposed local disloyalty that created a firestorm in the dopey CT Beer Bro World which led to what was perhaps the first step towards what became the Collective a few years later: contract brewing.
I really don't feel like going through my reams of Shebeen files to figure out who was the first contract brewer there or when. My gut tells me it was Pioneer Brewing in 2016, but I have this nagging feeling there was someone before them. I know Fat Orange Cat had a two-month or so run there that ended poorly. But let's say Pioneer in 2016, especially since it's the only one anyone will remember was there anyway.
I cite the Pioneer Brewing contract as the seed that germinated to later birth the Brewery Collective. (I also cite The Beeracks Collective in East Haven since they were the first brewery with the "collective" model in Connecticut.) So there was Shebeen, only using 25% of its brewing capacity, floundering on the edge of bankruptcy. Enter the gypsy "Master Brewer" from Pioneer, who had ripped through three breweries before landing in Wolcott. To clarify, Pioneer was a brick and mortar brewery in Fiskdale, MA. Then the guy sold it to Rapscallion but still brewed his beers out of the very brewery he just sold. Then, for whatever reason, he moved his operation to Olde Burnside Brewing in East Hartford. Then he packed up and moved to Overshores Brewing in East Haven. Before he could get settled, vroom, he zipped up to Shebeen Brewing in Wolcott.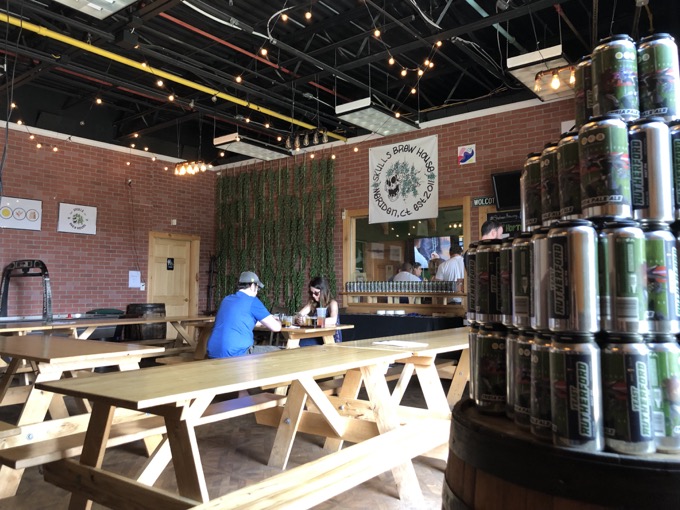 A perfect marriage.
Pioneer brewed at Shebeen for over a year before becoming Connecticut Valley Brewing and moving the whole shebang to East Windsor. (From where the Pioneer brewer was later fired.)
Pioneer brewed Trailblazer IPA, a truly awful sludgy burny beer that was sometimes really good. Shebeen took credit for the lines out their door, Pioneer gamed Untappd rankings, there was constant bickering over 'contract brewing" vs. "tenant brewing" and… oh to be a fly on the wall back then!
The void left by Pioneer was somewhat filled by a bunch of homebrewers and labels you've never heard of. Skulls Brewing (hoping to open a brick and mortar Berlin in 2023), Boondoggle Brewing (hoping to open a brick and mortar in Wethersfield in 2023), The Tipping Chair (out of business), Shakesbeer (I think they're all done), and My Best Friends Lunch, a bar in Stamford– the unluckiest contract brand in the land.
Why? Let's follow their contracting travels. From Shebeen (closed) to…



to… TBD in 2023. But wherever they land, I'd be wary, man. Very wary.
Shebeen as a brand had been through the wringer. The owner was at his wits end. So the decision was made to officially change the whole thing over to the Connecticut Brewery Collective in April 2019. Same owner. Same building. Same head brewer. Just a new name, new branding, an updated taproom, and hopefully a new direction.
The following was a blurb on the website and in press releases at the time: Shebeen has built a reputation as a 'go-to' contract brewery for popular breweries like Fat Orange Cat, Greater Good, Pies and Pints, Pioneer, Shakesbeer, and Boondoggle. Thanks Internet, I almost forgot about Pies and Pints (closed) and Greater Good (left Shebeen as quickly at Fat Orange Cat did – which is to say, in mere months.)
Anyway, on those bona fides, The Collective was born!
Calls went out to homebrewers and hobby brewers and nascent professional brewers – the Collective was going to be the brewer and brewer incubator for everyone! After all, look what they were doing with Skulls and Boondoggle and the other brands you never heard of.
The Collective, located in the former headquarters of Shebeen Brewing Company, is a taproom, a communal brewspace for homebrewers to learn and grow, along with a distribution network, resulting in a wide selection of beer offerings and styles including IPAs, lagers, sours and stouts.

What makes the CT Brewery Collective different from other brewer collaborations is that breweries in the Collective focus on "newer, home-based brewing," said Lauren Rua, CT Brewery Collective Director of Business Development, with access for distribution now through this new business entity.

"We're like an incubator. We help homebrewers scale up recipes, let them grow a bit and give them a hands-on launching experience in the world of brewing without having to spend millions of dollars on an investor or a leased space or taproom development," Rua said. "They can access our taproom as their point of initiation with the customer, which is huge. It allows these guys to have more opportunities to get their product out to more people. For the homebrew community, that's a big piece of the puzzle."
Cool. But here's the thing, The Collective failed miserably. The "big name" contracts like Pioneer, FOC, and Greater Good were long gone. Tipping Chair Tavern stopped being a beer brand a few months after Shebeen changed to The Collective. My Best Friend's Lunch moved over to Veracious pretty soon after as well.
When I visited in late 2019, It was all Shebeen beer, one Skulls, a Tipping Chair, and Shakesbeer, and a couple My Best Friends Lunches. In 2020? Maybe just Shebeen and Shakesbeer? The Collective was collecting dust. In other words, within months of become The Collective, they actually lost contracts and never gained a new one. Astounding.
But they tried. Oh, they tried. They brought in pinball machines. They had comedy nights. DJ's. Game nights. Cornhole tournaments.
They brought in "celebrities" like Ryan Gomes (a local dude who played for the Celtics in 2005) and some boxer guy. These events did not draw. They ran promotions like "$2 pints".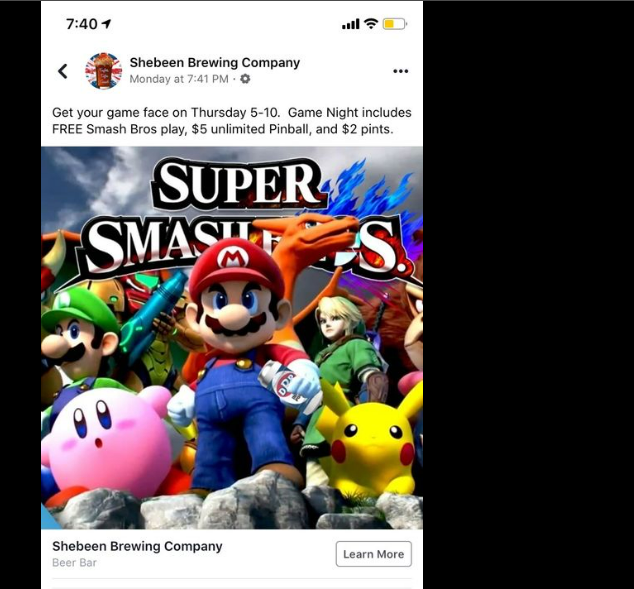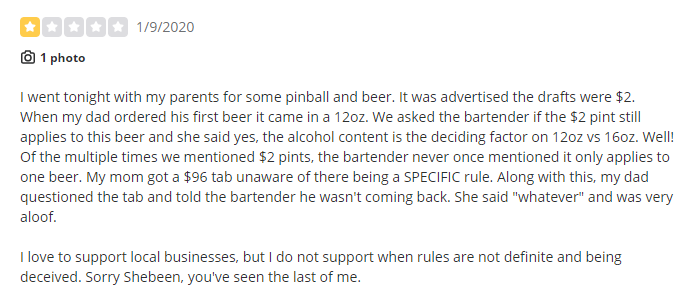 I know that says it was on Shebeen's page, but this was in 2020 when it was The Collective. You can't blame Shebeen for this sketchy promotion! It was the CT Brewery Collective! With the same owner and employees, but still. Not Shebeen!
I got a flight. Two Shebeens, a Skulls, and a Best Friends Lunch. I was going as much Collective as possible. And you know what? They were all pretty good.
Shebeen's beer improved immensely in the second half of its life in Wolcott. I'm saying that sincerely, not because it wasn't hard to improve from the garbage it was in the beginning. I legitimately had several Shebeens from 2016-2019 that were good, well-made beers. Unfortunately, the brewery just couldn't recover from its first three years of issues.
The Skulls Brew House CalliDora (not brewed since 2019) I noted as being "good enough." If and when Skulls opens its own spot, let's hope they learn their pallets from their palates – although at this point, I think getting it wrong happens more than getting it correct:
CalliDora is an Old 'Skool' top fermented beer that originated in Dusseldorf, Germany. This beer pours coppery-brown in color and will flood your mouth with a biscuity-malty treat and will satisfy any pallet!
Sigh.
The Best Friends Lunch beer was "Yeast Rutherford," a NEIPA. I noted that it was "thin as hell, but good flavor." I believe when they land at their fourth spot to contract at, they'll keep making this. If you care to seek it out for its creative, yet nonsensical name.
As for the Shebeens, I had the John Beer, a classic Shebeen IP theft label beer. This is a session IPA and it's really good! There was also a low alcohol blackberry wheat beer that, surprisingly, I loved. There was perhaps some nostalgia there for me, as it brought me back to Pete's Wicked Blackberry Wheat… back in the days when that was one of the few "cool guy who know's what's up and isn't afraid of a little flavor" beers.
All in all, the Collective space was decent and from what I could tell, the beers were fine.
The Collective should have worked – and, to be fair, as I write this in early 2023 it is still working in Rhode Island. The owner wound up in some financial situation where the owners of Shebeen – of which there were dozens, as back in 2013 people could buy shares of ownership for a few thousand bucks – were bought out and some wizardry happened behind the scenes and the majority owner, Rich Visco, bought Foolproof Brewing in Pawtucket, RI.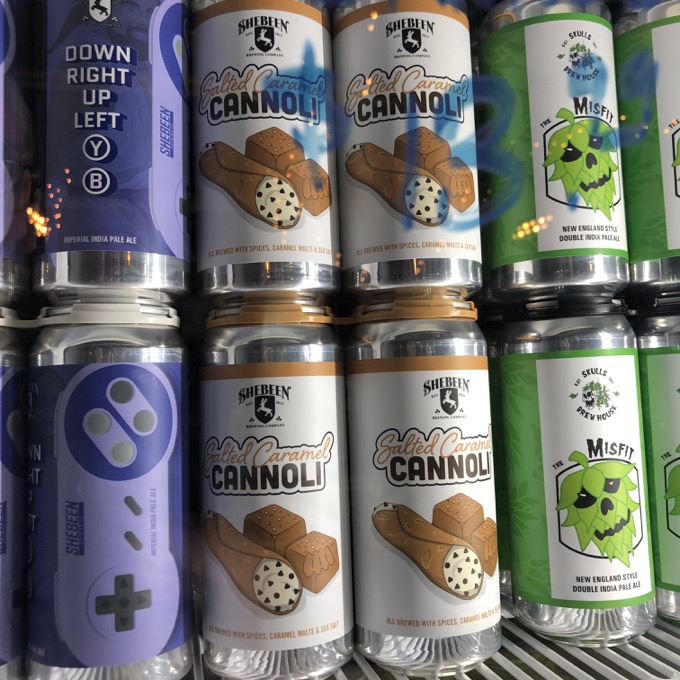 Previous to that, the guy sent out emails to those shareholders for six years claiming poverty and then bought a mid-sized brewery. Insert shruggie emoji.
Upon doing so, he created The Brewery Collective without the "Connecticut" part. Foolproof continues into 2023 along with the Shebeen brand, now in Rhode Island. The Collective has the Black Horse Garage Brewing in Bridgeport in their portfolio as well, slated to open in 2023.
As for the building in Wolcott, it was transformed into Velvet Libations in March of 2022. That confused effort lasted all of six months and the last drop of beer has been brewed at 1 Wolcott Road. What a run that building had.
What. A. Run.
When I visited The Collective, there was a sign on the wall that said "Póg mo thóin." Surely a holdover from the Shebeen days. That's "Kiss my ass" for those of you who don't speak Gaelic. I smiled up at it, thinking for a moment that Visco hung that specifically for me and others he felt were out to get him.
I was never out to get him. No one needed to "get him" in the early 20-teens, for he was really good at "getting himself," so to speak. I've no idea how the current iteration of The Brewery Collective will do, or who's involved beyond Visco. The only Connecticut connection anymore is the future brewery in Bridgeport, which I'm looking forward to.
And that's it. Another chapter of 21st-century local brewing lore… closed.
The story continues with Velvet Libations…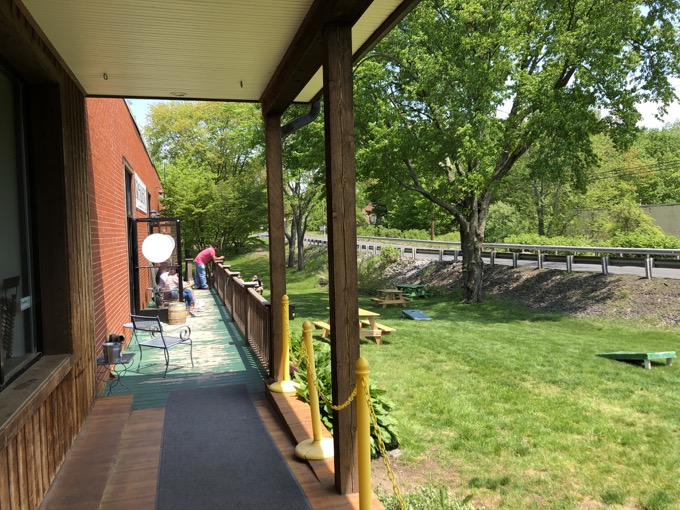 The Brewery Collective (RI)
CTMQ's Breweries and Brewpubs