Supply Your Own Hooker Witticism Here
Thomas Hooker Brewing Company, Bloomfield
Many, many visits
This page is kind of amazing. It highlights what makes writing CTMQ so difficult… and so easy. I'm writing this paragraph in June 2020 after realizing how hopelessly outdated the original 2009 Hooker page was. I've done my best to remedy the situation.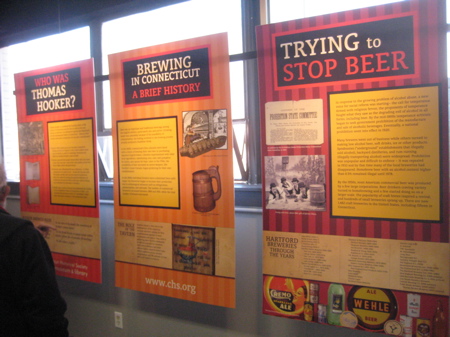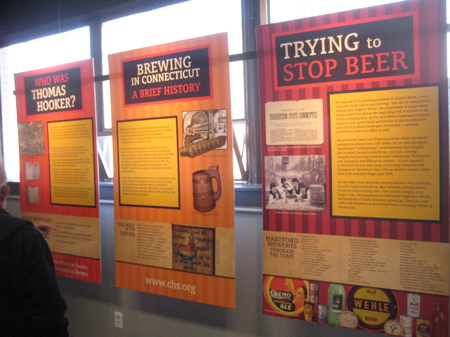 2016 Update – If you're reading this page now, please know it was written back in 2010 or so, when our state only had 4 breweries (Hooker, Cottrell, Cavalry (RIP), New England). It's all kind of silly to read now. But Hooker is still chugging along, doing their thing and doing it well. And I still like them – and the people who work there – very much.
From the looks of the various merchandise on sale here, they've pretty much used all the Hooker puns and allusions up. Yes, these Hookers are all used up. Okay, I'll stop now. Promise.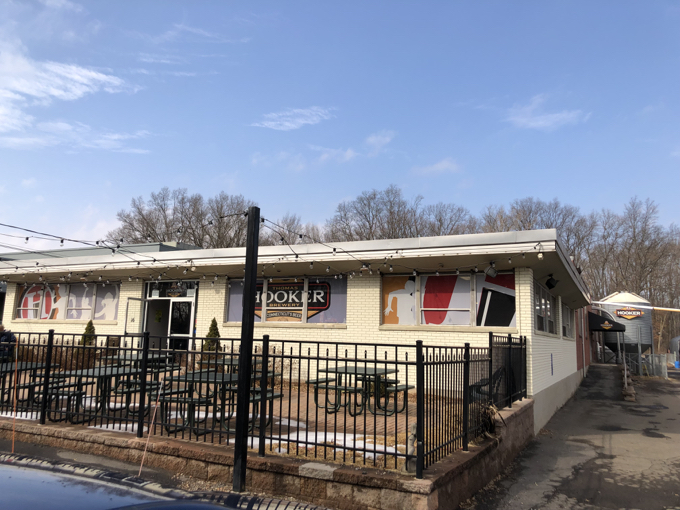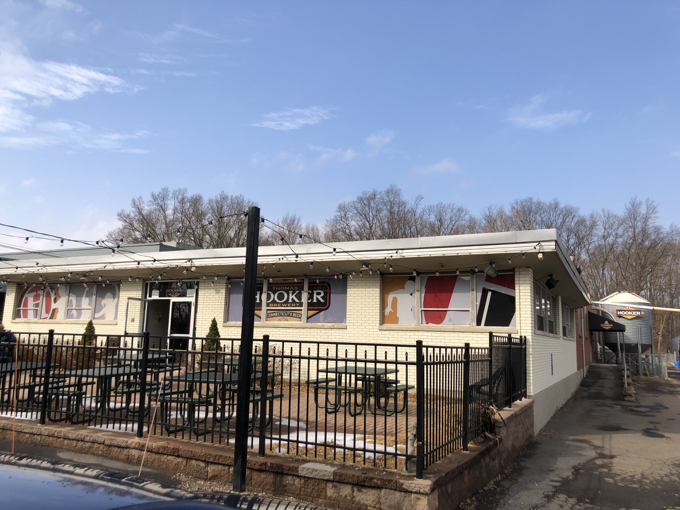 Let's dispense with the name right off the bat. As I told the guy serving the samples, "You guys should be pretty successful as you distribute further afield, if only for the name cache. And you'll always have the historic reference in your back pocket that makes it perfectly legit."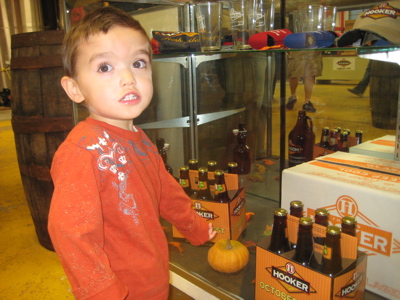 Although no one ever orders a "Thomas Hooker Ale" or references the "Thomas Hooker Brewery," that is the proper name. Notice they make the "Thomas" part a much smaller font. Anyway, as all Nutmeggers worth their nutmeg know, Thomas Hooker founded Hartford and essentially Connecticut as a result.
Ironically, despite his surname, Hooker was a hardcore Puritan. Thomas Hooker arrived in Massachusetts in 1633. For a time Thomas and his family settled there while he served as the pastor of the 8th church in that colony. The civil situation was not completely harmonious between the leaders. John Cotton, another leader, wanted to set up a community in which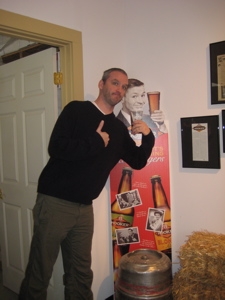 only men who were members of the church and held property could vote. Thomas Hooker, like Cotton, wanted to build a godly community, but he believed all the men should have a voice and a vote.
This difference was settled when Thomas Hooker led about one hundred people away to begin a new settlement, which is now, of course, Hartford, Connecticut. Later three settlements merged to form the Connecticut Colony. This colony put Hooker's principles into practice when it adopted the Fundamental Orders sometimes called the first written constitution.
You can read more about that whole hullabaloo here and an honorary Hooker statue here. And I can't forget Hooker Drive in my hometown of West Hartford that always gives visitors the giggles. Check it out.
Enough. What about the beer?
Oh it's good beer. Very good beer. They've won all sorts of awards and accolades from the industry but it seems like everyone has. So for my second visit, I brought along my brother-in-law who happens to be one of those weird beer guys who uses terms like "mouthfeel" and "big" when tasting beers. He's tasted thousands of beers from all over the world (it helps that his job sends him to Germany rather frequently), so he knows his stuff.
But I'm getting ahead of myself. I first visited with my family after chowing down on free cheesecake over at the David Glass Cheesecake factory. (Delicious CTMQ visit here) Damian had eaten a ton of the stuff and now it was getting towards nap time. But we soldiered on.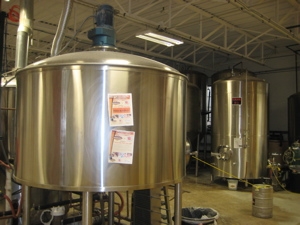 I wanted a tour and some samples, so I paid my five bucks and hoped Hoang could entertain Damian long enough. The whole plan went to pot within about 8 minutes so we had to leave prematurely. But I vowed to return someday… And I did. I mean really, on any Saturday I can drive 12 minutes to gorge myself on 10 different kinds of cheesecake for free, then drive 7 minutes back towards my house to pay five bucks to drink an endless glass of various Hooker beers. It's a wonder I ever go anywhere else!
What's lame about that shortened November visit is that I never tried their Oktoberfest. As it turns out, that's arguably their best beer. In fact, the New York Times tabbed it their top Oktoberfest in the world last year! And I could have had it fresh from the kettle! Are you kidding me?! Wow.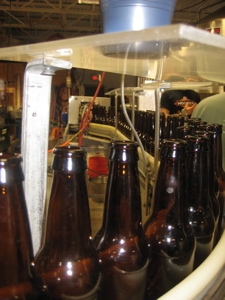 On my more recent visit with Brian, we left his four kids and my one little Damian back home. Ahhh… This was good stuff. They had four beers on tap and our first sample was the Watermelon Ale – a decidedly summer brew. Its watermelon aroma was nearly overpowering, but it drank much better. I'd still never buy it (ever). Hoang, on the other hand, would love it I'm sure.
Next we had their Blonde Ale. It was smooth and infinitely better than macro American lagers, but it was a bit boring. Brian agreed and we moved on to the IPA. Ahhh, now we're talking. Brian and I agreed, this is the stuff we came here for! Now we could enjoy our tour…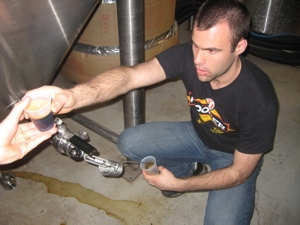 Led by a very well-spoken and professional guide, the tour took about 20 minutes. Again, like all my winery and brewery reports, I'm not about to explain how beer is made. There's the grain which is boiled and the wort and the hops and the yeast and the fermentation process. That's pretty much it.
Brian does actually care about this stuff and seemed pretty interested – that's not to say I wasn't interested, I was! But not enough to memorize the process or take notes. A fresh batch of Hooker's Liberator Doppelbock was ready for bottling but was still in the giant metal kettle.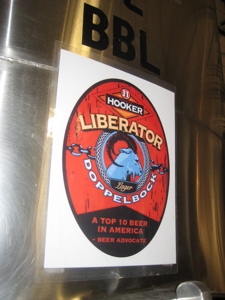 Fortunately for us, there was a little spout on it so we could have a cup of it. Brian was rather excited about all this… I don't think I'd ever had a "doppelbock" beer before. I must say, it was excellent.
This is pretty interesting: The doppelbock style of lager came into being in Bavaria during the Middle Ages, in what is today southern Germany. It was originally brewed by monks to provide a nutritious drink during the Lenten Fast when no solid food was allowed. This has earned doppelbock the nickname "liquid bread" because of its rich and filling quality.
Drunken monks. Hm. After the tour, we relaxed in the tasting room which is not a separate room at all. It's just some old chairs and couches but so what, our five bucks could have taken us to DUI levels in no time. We both stuck with the IPA after sampling the Irish Red Ale.
[I just received an email from Brian after sending him the NYT Oktoberfest article. Some choice bits: "A neat read, and dead on w.r.t. the trend toward golden ofest brews in the homeland. I personally like the copper examples of the style. The more pilsner like they become, the more snore factor for me. Hooker is at the top of my ofest brew list with Paulaner right behind it.
The Dos Equis and Negra Modela brews are related to ofests, but are actually dunkels, dark lagers, normally dryer with darker malts (even chocolate) more heavily featured. A similar style, but definitely different.]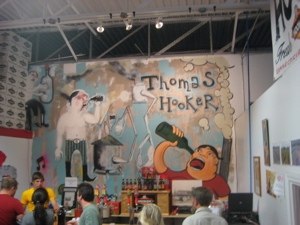 I told you the man knows his beer.
We struck up a conversation with the guys working there and learned that Hooker has a new hop farm out in New Hartford. They're trying to keep the operation as local as possible, which is definitely cool. Brian kept mentioning Hooker's Old Marley Barleywine as he's a huge fan of it, even though he can't buy it in Delaware where he lives. However, he's had it a few times and can't rave enough about it.
Hooker says, "We age our Barleywine in oak bourbon- casks to add vanilla and smoky notes, then blend these flavors into a full-blown sensory experience to enjoy on a cold winter's eve. Old Marley Barleywine is extremely complex and full-bodied in flavor. The drinker will be rewarded by first letting a small amount warm in a brandy snifter , then sipping it, similar to a fine sherry."
I guess I'll just have to visit again in a few months when it's on tap here to find out.
I'd like to try a lot of Hookers! Whoops, sorry.
…………………………………………………….
Return to CTMQ's Brewery page
Hooker Brewery