I Think I'll Always End up Back East Somehow
Back East Brewery Company, Bloomfield
Multiple visits
Now that Back East is an OG brewery, they get the fancy "review over time" treatment. And no, I can't do this for every brewery as it turns eight-years-old. Lots of dates and the ordering of certain events are guesstimated. That's just the way it is.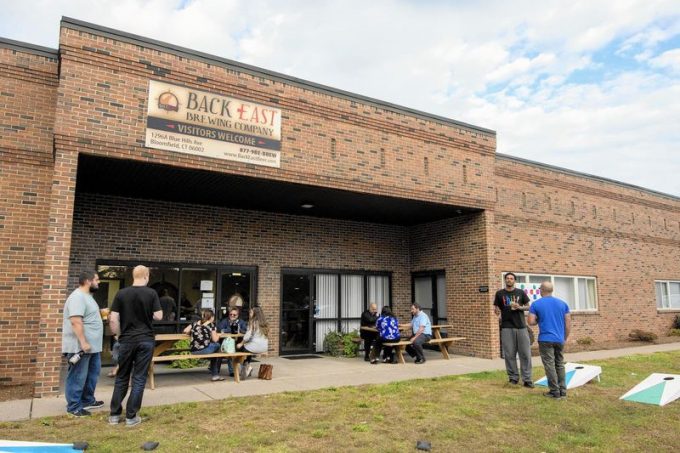 2012-2015
Most of this is what I originally wrote in 2012 after my first couple of visits, with edits to make more sense in 2020 and beyond.
2012 was a very good year for craft brewing in Connecticut. It was the beginning of the boom times. Several breweries opened and thus began the rise from four to over 100 in 2020. Back then, I was rather excited for the opening of Back East Brewery in Bloomfield.
Back East's introduction to the scene was pretty darn (2012) impressive upon opening. They had two beers in production for the first two weeks, rolled out a phenomenal Imperial Stout in their third week and followed thereafter with an IPA. Plans included an Imperial IPA and some seasonals as time moved forward.
Despite their newness, the guys behind Back East are not new to the craft beer game. They know their stuff and it shows.
First of all, their set up in an industrial building in Bloomfield, is super clean, organized and well thought-out. While they don't have a tavern license at this time (a new law in CT allows breweries to set up an actual bar area), they have the room to do so if they want. Not Hooker room, but room enough.
Tours are offered on Saturdays and I took the second tour ever given by co-founder Tony Karlowicz. I'm special. The tour here is worthwhile if only because Tony mixes in the rather personal history of the brewery with the usual stuff about hop provenance and wort temperatures.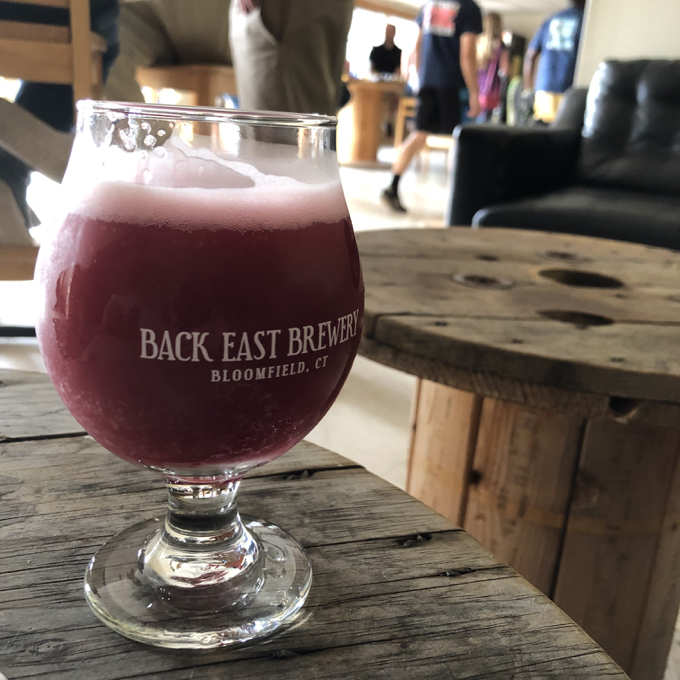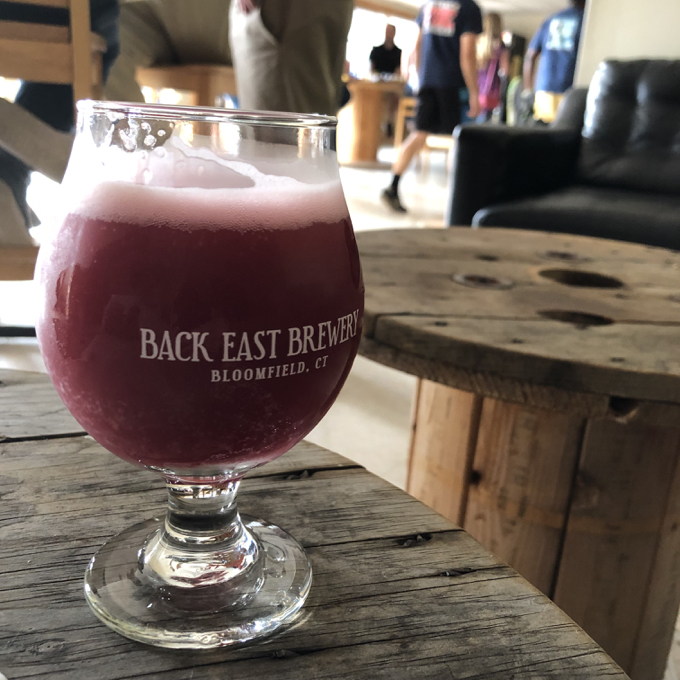 Back East is owned by Tony and his cousin Ed Fabrycki, Jr. Both are Connecticut natives and Ed is back after many years out in San Diego where he started home-brewing. In fact, the brewery name is derived from this fact; Ed moving "Back East." Clever, these chaps.
Part of the tour includes the old home-brewing rig these two used for years before jumping headlong into the craft brewery game. It still sparkles with newness and Tony said they still plan on using it for test batches in the future.
Despite being new and small, Back East has a bunch of (very expensive) tanks and shiny new equipment. Of course such a venture is a huge investment (Tony joked about how long it will be until he sees his first paycheck), but that terrible awful no good socialist governor and legislature of ours did provide the guys with a business development grant. Y'know, the things that help small business succeed.
I was joined by a very knowledgeable older couple for my tour. They asked great questions and were clearly excited for Back East. At one point, the woman said, "Your beer is great. A lot of Connecticut beer is great. Way better than Connecticut wine." I had to chuckle at that brutal truth.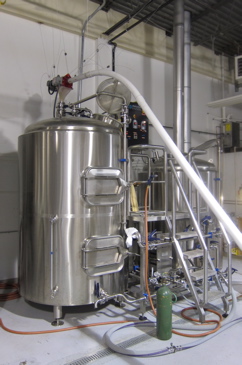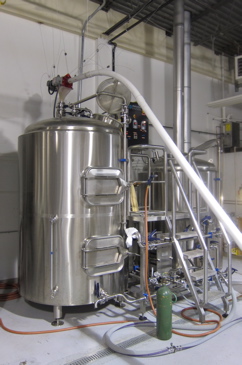 It was clear that Tony and Ed know their stuff. They've honed in on what they like and what the craft market is yearning for: very high quality beer, brewed locally and with respect for the beer drinker. Amen to that.
Here, read some more from their website:
As a Professional Engineer, Edward enjoys the technical aspects of brewing. Tony developed his appreciation for Craft beer during his college years in Vermont, and always imagined launching a brewery. An entrepreneur at heart and a CPA with extensive experience in accounting, auditing, and insurance, Tony loves building a successful business from the ground up. Tony and Edward began homebrewing and experimenting with different recipes in early 2006, and immersed themselves in all things Craft beer.

Over this time, they developed several exciting recipes that they are proud to put the Back East name on. Back East's beers will be brewed exclusively at our small, but state-of-the-art, brewery in Bloomfield.
Back out in the tasting room, I had the privilege of trying the three brews they have on tap: a golden ale, their signature Back East Amber Ale and a high-octane Imperial Stout. All three were smooth, refined and ready for market. I was, in a word, impressed.
Besides the good beer, Ed and Tony are easy going and just really cool to talk with. Hell, I'd consider them friends already. (I also ran into their brewmaster, Mike Smith, a week prior at the gas station across the street. He comes here after nine years as a brewer at Harpoon and a stint at Mayflower Brewing in Plymouth, MA. He was cool to talk with as well – I'll leave this sentence here wondering if ten years on, Tony can name all the head brewers he's employed. There have been a lot.)
As they are so new (at the time of this writing, anyway), their beers are probably a bit hard to find around Connecticut. But they have a great business plan and are hosting tastings at package stores and events all over the state already. I can't wait for the 750's of the imperial stout to be available (in a week, though, if you're reading this anytime after the end of July 2012, go get some.) For a 10.5% ABV stout, it is incredibly smooth and easy drinking, with chocolate malts and lots and lots of iterations I'm sure.
My friends know that I consider New England Brewing Connecticut's best. Their Imperial stout is great – and this compares very favorably. But keep in mind it's brand new too. Like I said, impressive.
But this isn't about New England Brewing. This is about a couple cousins with a few bucks, a vision, and many years of brewing experience.
Connecticut is a better place with Back East now on the map.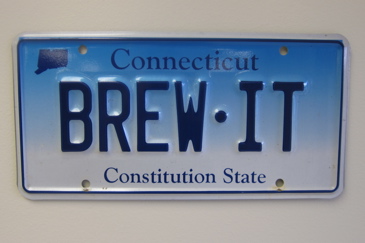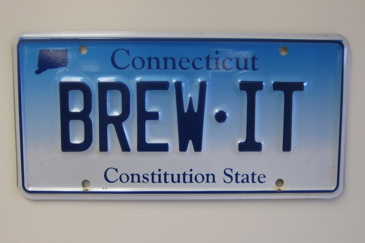 Back East Brewing Company
CTMQ's page on CT Breweries and Brewpubs