Back to Back East
Back East Brewing Company, Bloomfield
Multiple visits
Now that Back East is an OG brewery, they get the fancy "review over time" treatment. And no, I can't do this for every brewery as it turns eight-years-old. But Back East has gone through so many changes that I felt it was time to revisit this page.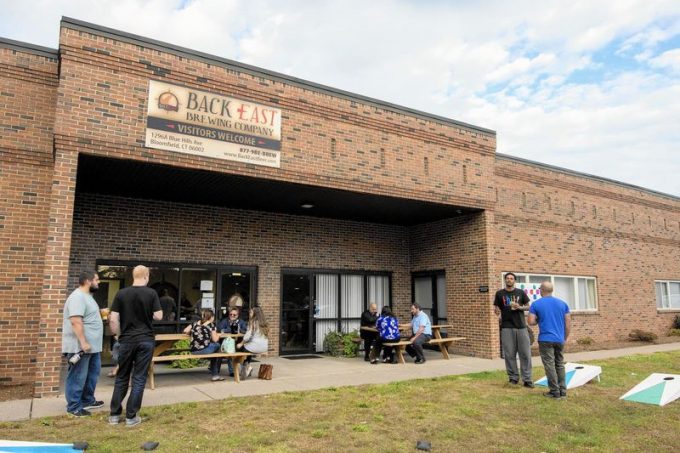 2012-2015
Most of this first section is what I originally wrote in 2012 after my first couple of visits, with edits to make more sense in 2020 and beyond.
2012 was a very good year for craft brewing in Connecticut. It was the beginning of the boom times. Several breweries opened and thus began the rise from four to over 100 in 2020. Back then, I was rather excited for the opening of Back East Brewery in Bloomfield as it is very near my house.
Back East's introduction to the scene in 2012 was impressive for the era. They had two beers in production for the first two weeks, rolled out a phenomenal Imperial Stout in their third week and followed thereafter with an IPA. Plans included an Imperial IPA and some seasonals as time moved forward.
Their original set up in an industrial building in Bloomfield, was relatively clean, organized and well thought-out. While they didn't have a tavern license at opening (a new law in CT at the time allowed breweries to set up an actual bar area), they have the room to do so if they want.
Tours are offered on Saturdays and I took the second tour ever given by co-founder Tony Karlowicz. The tour here is worthwhile if only because Tony mixes in the rather personal history of the brewery with the usual stuff about hop provenance and wort temperatures.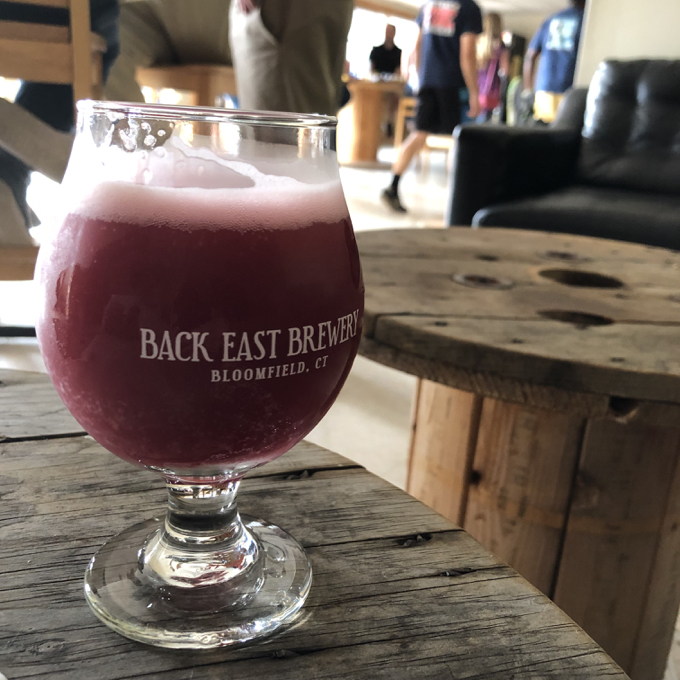 Back East is owned by Tony and his cousin Ed Fabrycki, Jr. Both are Connecticut natives and Ed is back after many years out in San Diego where he started home-brewing. The brewery name is derived from this fact; Ed moving "Back East." Clever, these chaps.
Part of the tour includes the old home-brewing rig these two used for years before jumping headlong into the craft brewery game. It still sparkles with newness and Tony said they plan on using it for test batches in the future.
Despite being new and small, Back East has a bunch of (very expensive) tanks and shiny new equipment. Of course such a venture is a huge investment (Tony joked about how long it will be until he sees his first paycheck), but that terrible awful no good socialist governor and legislature of ours did provide the guys with a business development grant. Y'know, the things that help small business succeed.
I was joined by a very knowledgeable older couple for my tour. They asked great questions and were clearly excited for Back East. At one point, the woman said, "Your beer is great. A lot of Connecticut beer is great. Way better than Connecticut wine." I had to chuckle at that brutal truth.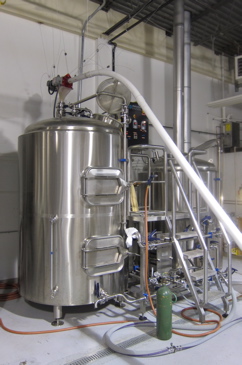 It was clear that Tony and Ed know their stuff. They've honed in on what they like and what the craft market is yearning for: very high quality beer, brewed locally and with respect for the beer drinker. Amen to that.
Here, read some more from their website:
As a Professional Engineer, Edward enjoys the technical aspects of brewing. Tony developed his appreciation for Craft beer during his college years in Vermont, and always imagined launching a brewery. An entrepreneur at heart and a CPA with extensive experience in accounting, auditing, and insurance, Tony loves building a successful business from the ground up. Tony and Edward began homebrewing and experimenting with different recipes in early 2006, and immersed themselves in all things Craft beer.

Over this time, they developed several exciting recipes that they are proud to put the Back East name on. Back East's beers will be brewed exclusively at our small, but state-of-the-art, brewery in Bloomfield.
Back out in the tasting room, I had the privilege of trying the three brews they have on tap: a golden ale, their signature Back East Amber Ale and a high-octane Imperial Stout. All three were smooth, refined and ready for market. I was, in a word, impressed.
Besides the good beer, Ed and Tony are easy going and just really cool to talk with. Heck, I'd consider them friends already. I also met their first head brewer, Mike Smith. (He was the first of many, many brewers at Back East.)
As they are so new (at the time of this writing), their beers are probably a bit hard to find around Connecticut. But they have a great business plan and are hosting tastings at package stores and events all over the state already. I can't wait for the bottles of the imperial stout to be available. For a 10.5% ABV stout, it is incredibly smooth and easy drinking.
My friends know that I consider New England Brewing Connecticut's best brewery in 2012. Their Imperial stout is great – and Back East's compares very favorably. But keep in mind it's brand new too. Like I said, impressive.
But this isn't about New England Brewing. This is about a couple cousins with a few bucks, a vision, and many years of brewing experience.
Connecticut is a better place with Back East now on the map.
2015-2019
Ah, the glory days of Connecticut breweries! Post legislation change, pre-pandemic. The above, the gist of which was written in 2012, is so quaint to read now. Long gone are the days of opening a brewery with nothing more than a golden ale, an amber, and a stout. My word, if someone tried that in 2020 they'd be laughed out of the business.
Since 2012, Back East has made a series of intelligent incremental steps towards success. They have followed industry trends while never forgetting their core line-up of standard beers – well, almost never. They don't brew the ol' Golden Ale anymore. Because no one brews golden ales anymore.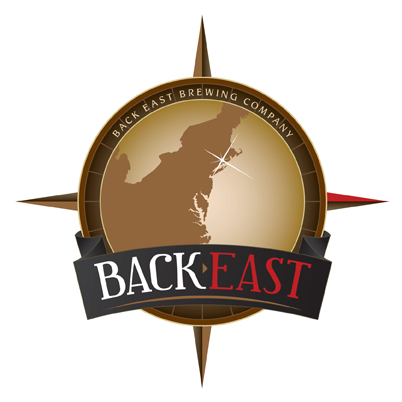 I wrote in 2012 that I'd consider owners Tony and Ed friends "already." Now, eight years later, I can confirm. Regarding Tony anyway… while I've met and chatted with Ed, I haven't really had the opportunity to get to know him. Tony handled the Back East Twitter account for several years, which helped foster our relationship.
Tony was at the forefront helping us with our two charitable brewfests and I'll always appreciate that. He and I developed a trust and he became one of my industry insiders back when I'd obsess over knowing everything there was to know in Connecticut Breweryland (ca. 2012-2017).
As the industry grew, so grew Back East. A series of equipment upgrades and a slow series of taproom expansions. Back East moved into the world of IPA's and then NEIPA's. All with success. The first iteration of their Summer Ale was a revelation – more or less a session Citra IPA, it was phenomenal.
Back East was getting tons of accounts and their cans were appearing in package stores all over the state. Then they hired Stephen Andrews.
Look, Back East would be successful today if they never hired Stephen. They've had a slew of decent brewers over the years. But I contend that it was Andrews who is largely responsible for Back East's initial ascent into the top group of Connecticut breweries.
After stints at Hooker, Brooklyn, and somewhere in Norway, Andrews returned home to Hartford County and to Back East. This kid knew what he was doing. I have no idea what he was directly responsible for, but we soon had the phenomenal BoMo pilsner, a series of great Berliners, and Rakautra.
For me, Rakautra was the best beer brewed in Connecticut in 2015. It was dubbed an "India Wheat Ale;" soft, pillowy, beautifully balanced with Citra and Rakau hops. It was also translucent. Ah, memories…
Suddenly, people were talking about Back East. They became a line-brewery shortly thereafter. It was a bit crazy to say the least. As we moved into the hazy daze of 2017 to 2020, Andrews moved to Fox Farm and helped them become one of the top breweries in the northeast. (He has since moved back to Norway, probably because the US has become insane.)
Back East won a gold for their porter at the Great American Beer Festival. Three of their IPA's (including Rakautra) placed in the Top 50 of a Draft magazine blind IPA taste test. They expanded their taproom yet again, adding a small space for musical acts and hanging out. A patio was added. Their required Citra-heavy NEIPA, Ice Cream Man, was an instant hit. Along with their required Nelson Sauvin beer-with-"Unicorn" in its name, Back East had lines every other week.
Back East did a lot of really cool stuff with various charities (beyond my own) and gained respect for their business acumen across many sectors. They partnered with Two Roads and NEBCO to share in-demand hops and contract brew. Heck, they collaborated with one of the best restaurant/bars in the state – J. Timothy's in Plainville – to brew the recurring Audacity Imperial Brown Ale. (As in, they had the "audacity" to make a "special" brown ale.) All the while, Back East kept losing head brewers.
I never asked why. I've heard rumors over the years that it can be a demanding place to work – but brewers are used to demanding. Bad luck? Bad pay? I honestly have no idea – nor do I know if the turnover numbers are even outliers. It could be that I have no awareness of how often this happens elsewhere.
I say this not as an indictment of Back East, but as a weird backhanded compliment. The brewery never stopped growing, producing, and gaining fans. I have noticed a few hiccups along the way – my beloved original Rakautra is now a hazy, sweet, run-of-the-mill 2020 IPA. The BoMo Pils seems to have disappeared – in favor "Czech Mix" lager with a label that smacks of IP theft. Ice Cream Man went from hazy NEIPA to murky gray sludge at certain times.
Of course, limited lagering, branding shenanigans, and hazy sludge are all things the 2019 market loved… so I can't begrudge them any of that.
2020
Global pandemic. Connecticut shutdown. Country falls apart. What better time to plan and execute a massive brewery expansion?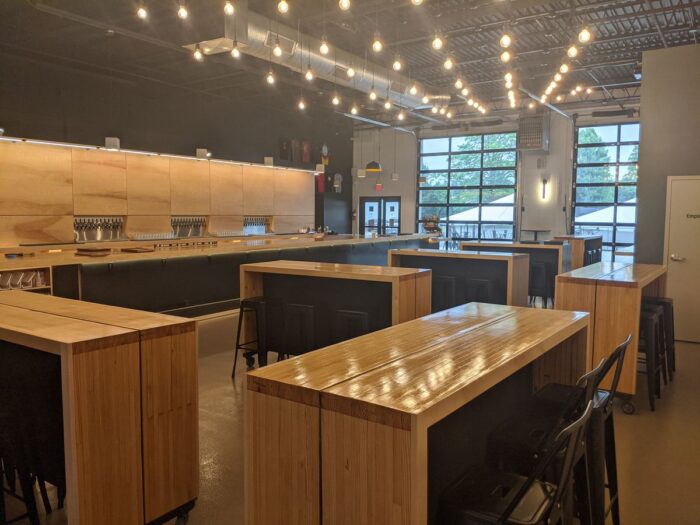 An amazing number of breweries in Connecticut have opened in 2020 during the pandemic and subsequent shutdown. I, for one, have been shocked at this fact. Additionally, many breweries have continued to survive and some have even claimed that they have thrived. For those with taproom only models, it has surely been difficult.
Back East, with a nice distribution footprint and lots invested already, unveiled their expansion in July. I knew early on it was going to be pretty sweet, as they partnered with Austin Design, the firm who designed the new Tree House, The Alchemist, Lawson's Finest, and Fox Farm breweries among others.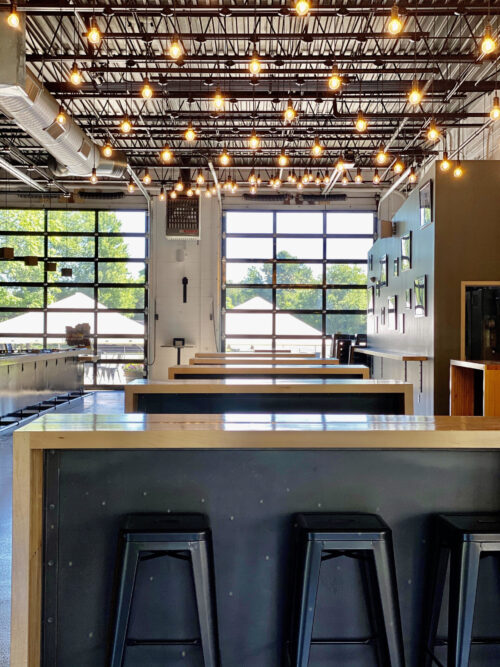 Back East took over the entire building they've always been crammed into. The entrance changed ends and a large patio was constructed out back, accessed via massive glass garage doors. The ceilings are high, the space is clean and modern. The look and feel is industrial, but it's still humble Back East. I love it.
It's also quite popular. I attempted to visit on a couple Saturday afternoons during the pandemic and never got out of my car because of large (socially distanced and masked) crowds. Good for Tony, Ed, and everyone at Back East. Recent purchases have allayed any fears I may have had of quality slippage. Back East has almost always been a consistently good brewery that – if you look beyond the fanboy beers – sticks to its traditional roots in the face of fleeting market forces.
They've remained humble through it all and appear to have always remained intelligent when it comes to business decisions. It speaks volumes that they've partnered with one of the most impressive restaurants with one of the most impressive beer programs (J. Timothy's) and by far the most respected brewery architectural firm with Austin Design. I, for one, am glad Ed came "back east" to make this all possible.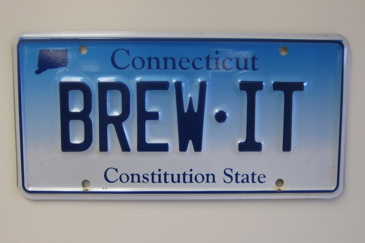 Back East Brewing Company
CTMQ's page on CT Breweries and Brewpubs