Robert Frosty Mug
Two Roads Brewing Co., Stratford
May 2019
When I visit and write about Connecticut's museums, I have a bad habit of procrastinating and avoiding dealing with the behemoths. Too many pictures, too much to discuss, too much history… I find them daunting to write about to say the least. I never feel as though I do a good job describing the large and great museums of our state.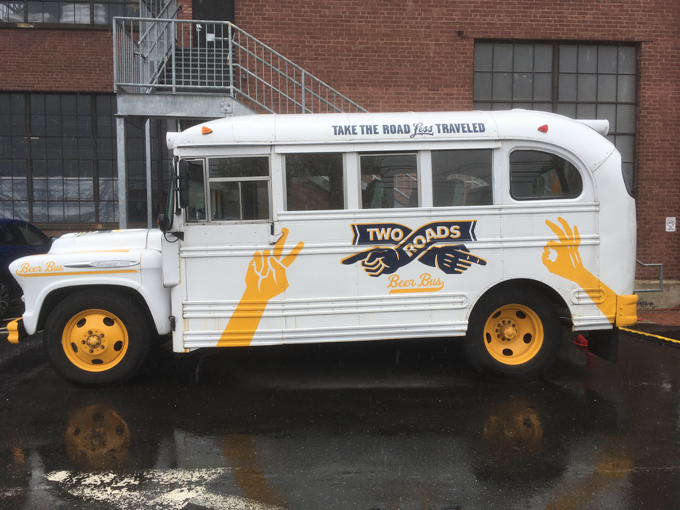 Ten years ago, when I began paying attention to, and writing about Connecticut's breweries, the few that existed were tiny operations making a few different styles each. I never would have thought we'd have a brewery equivalent of The Wadsworth or the New England Air Museum.
But here we are. At the massive Two Roads Brewing in Stratford. Far and away Connecticut's largest brewery, and probably the third largest in New England after Boston Beer and Harpoon. Its sheer size is hard to quantify here though, because the majority of what they brew is on contract. Roughly guessing, Two Roads produces more beer than the least-producing 80 state breweries.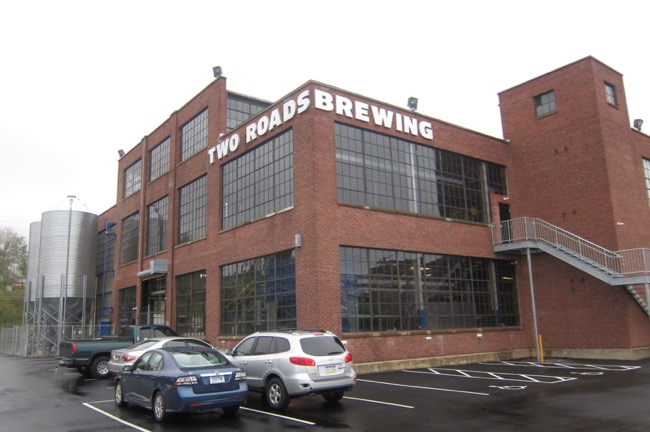 Two roads diverged in a yellow wood,
And sorry I could not travel both
And be one traveler, long I stood
And looked down one as far as I could
To where it bent in the undergrowth;
Two Roads' sheer size invited a lot of weirdly misplaced criticism when it first came to be. I was guilty of providing some myself. Looking back, the few comments I made against Two Roads were some of the more embarrassing things I've written under the CTMQ banner. Let me be clear: Two Roads is great for Connecticut beer and has been since before they opened.
Using their deep pockets, influence, and foresight, the owners worked with the state to loosen the ridiculously restrictive laws governing breweries and taprooms. I no longer remember the details, but Two Roads is credited for helping craft the legislation that essentially opened the door for the mountain of breweries that have opened since. Pint sales! Package sales! Heck, the mere existence of taprooms!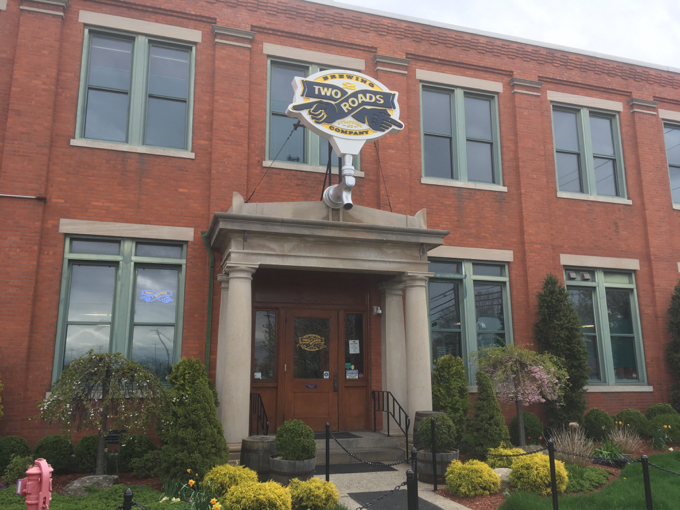 So when I read that first stanza of Robert Frost's The Road Not Taken, I think about the road the state could have taken. And of course I think about my own journey with Connecticut breweries. For years, I tread a crazy path of procuring and reviewing (literally) every beer produced by a state brewery. I fortunately stopped that nonsense once it became impossible.
But the path I continue to take is, I think, still a fairly lonely one. Dozens of others have started and ended beer blogging efforts in recent years. I forge ahead. As we approach out 100th Connecticut brewery in 2019, I've begun to think about the landscape and how much it has changed. And where Two Roads fits into it. And where they will be in five and ten years down the road.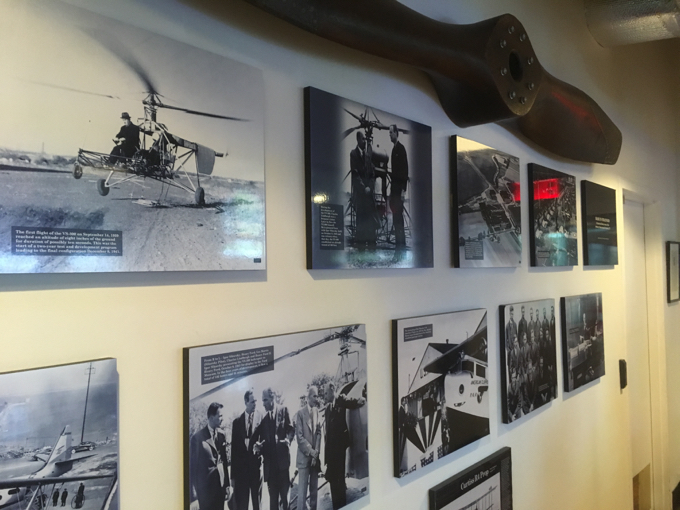 Then took the other, as just as fair,
And having perhaps the better claim,
Because it was grassy and wanted wear;
Though as for that the passing there
Had worn them really about the same,
What I do isn't all that unique. I visit breweries and write about my experience. However, I've heard many times over the years that what I do is appreciated simply because I'm "more honest" than others. I've forged friendships based on that honesty – and have acquired some detractors along the way. So be it.
There is a bit of irony with Two Roads building a business model that references Frost time and time again. What they do isn't all that unique either. In fact, their core portfolio of beers is purposely made to appeal to the average craft beer drinker. Head brewer Phil Markowski simply makes good beer. To the vast majority of consumers, no Two Roads beer is a standout. Nothing too wacky. (And importantly, nothing remotely "bad" either.)
A tiny percentage of insular craft beer fanboys and girls will say that Two Roads is therefore a terrible brewery. How dare our largest brewery not sell exploding cans with fermenting fruit! Why can't they keep up with the lactose trends and murky 15% IPA's? Where's my pecan pie guava puree triple soured IPA?
Here's the thing. Every Two Roads beer is good. Every style can sit in a distributor's warehouse for a few weeks and still be good when they reach, say, Colorado consumers' hands two months after canning. Even their NEIPA, Two Juicy, has a sustainable shelf life. Their hef and saison are sublime. A few of their beers are among the best available for their style. That small community of hazy fruit chasers are loathe to admit as much, but it's true. It's inarguable.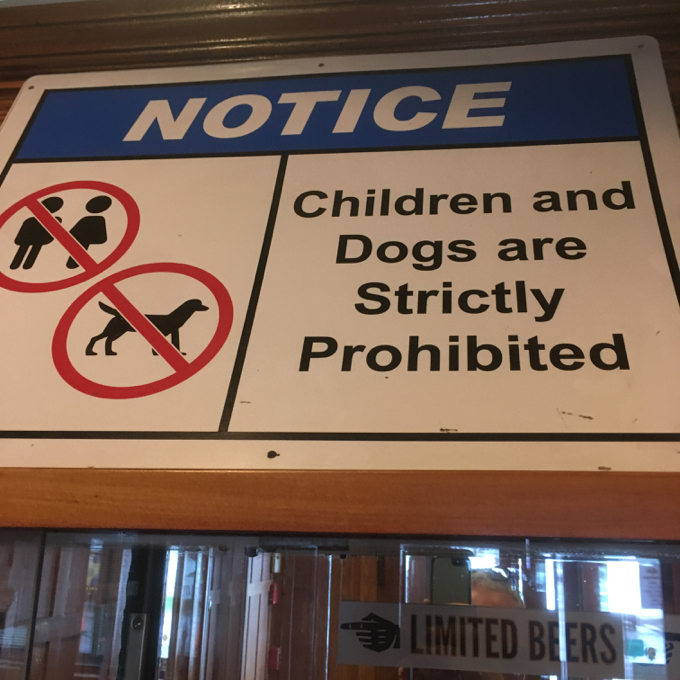 Two Roads does, in fact, make a bunch of envelope-pushing beers outside of their core lineup. Some ridiculously good ones too. I've had 40? 50? different Two Roads beers and only actively disliked two or three. And that was fairly early on in their existence. (Bog Wild, 20-Ton Blonde Barleywine, and Roadsmary's Baby if you must know. I don't care for Road Jam either, but that's just a personal preference… the previous three, I thought at the time, were just straight up bad beers. Okay, Roadsmary's isn't bad I guess… I just don't like it.)
And both that morning equally lay
In leaves no step had trodden black.
Oh, I kept the first for another day!
Yet knowing how way leads on to way,
I doubted if I should ever come back
The brewery is located in the US Baird Building, which used to make metal presses for 150 years. Despite the massive investment, Two Roads maintains the factory-look of the place. Walls of brick dominate and there is still a bit of a rustic, musty feel. It is decorated in a sort of shabby-chic way because really, there's no point in gussying up the joint.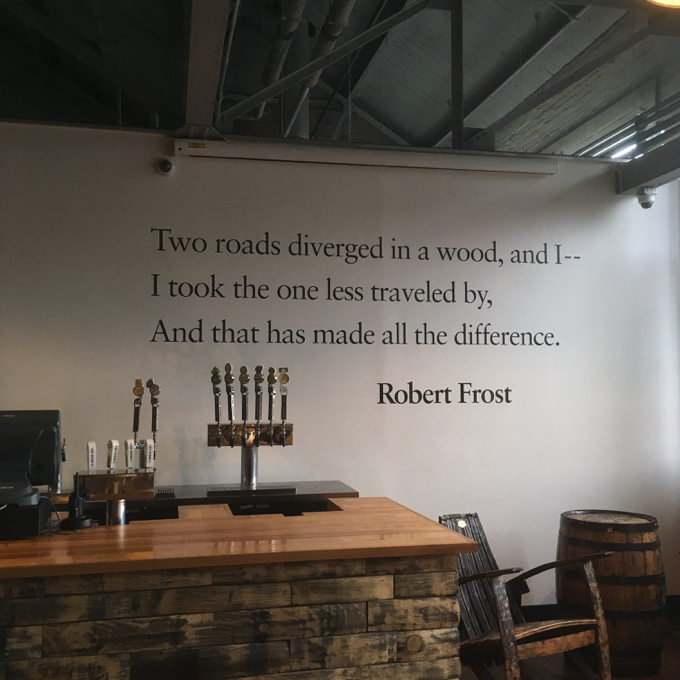 It's an old factory. Period. That said, it is far more clean and airy than you'd imagine while ascending the staircase up to the tasting room. Be sure to stop and check out some of the photos and artifacts on the wall. Stratford is also the home of Sikorsky, and Two Roads loves their Sikorsky tie-ins. Which really only makes sense.
These days (2019 and beyond), patrons have a huge array of beers from which to choose. The entire core line-up, plus maybe a dozen other options. Some are taproom only, some are limited runs… you get the point. Two Roads is a real brewery in the sense that you can assume you'll always know what you'll get here, plus there will be some interesting surprises.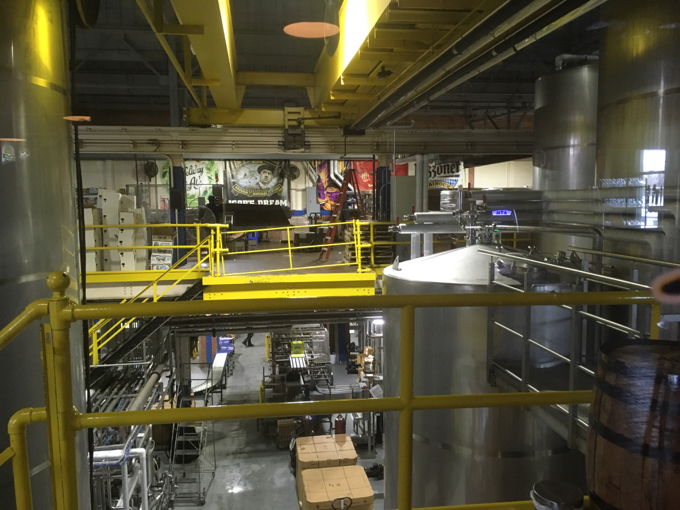 One surprise many people get is that the brewery disallows anyone under 21 and anything with four legs. As of this writing (again, it's 2019), they are the only brewery in Connecticut that has the "no kids" policy. And from what I understand, there is no wiggle room. No six-week-olds, no sixteen-year-olds, and no 20.99 year olds. I read once that they are following the suggestion of their lawyer(s) with this, and as a massive company with tens of millions of dollars at stake, they don't want to take any chances. I've no issue with the policy.
But for me, this meant a special trip was in order. No kids means a weekday brewery run. So on Easter Monday, when my family-owned Danish employer that observes Easter Monday, even for its American employees, I hit the road for Stratford. I ascended those stairs and took a seat at the handsome main bar. When Two Roads is jamming, which it regularly is, there are other rooms and spaces that become available – including the outdoor space.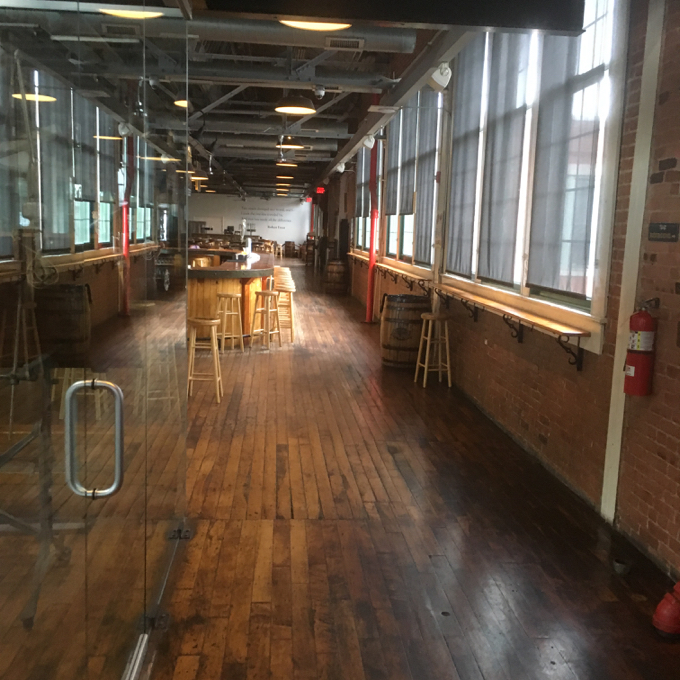 This place is BIG. I'd been here a couple times before, but since I'd arrived at their noon opening time, I wandered about on my own. Two Roads is probably the only Connecticut brewery that offers tours worth taking. No, not "probably." Definitely. I've never done it, but I've read about it enough to feel like I have. From the acres of tanks to the quality labs, this is a tip top brewery. Depending on one's criteria, one could argue that Two Roads is Connecticut's top brewery. I don't use that same criteria, but it would be tough to argue.
They are the biggest and widest reaching. They've never messed up. Phil Markowski is renowned for his brewing skills and has written a definitive book on farmhouse ales. (Heck, he has been awarded the prestigious Russell Scherer Award for Innovation in Craft Brewing by the Brewers Association, given to only one brewer each year.) They did a collaboration stout with Guinness… who doesn't do collaboration beers. They put on several well-run and well-attended events throughout the year. They opened one of the better airport craft beer bars in the US at Bradley and followed that with Area Two, a beautiful 15-million dollar sour/spontaneous fermentation brewery down the block. They distribute to Europe and to a third of the US. Their marketing is untouchable; from the beer names to the can art to their tie-ins to local history and charity. Again, I know lots of nu-skool craft beer drinkers will think I'm crazy, but I really do think Two Roads is pretty great.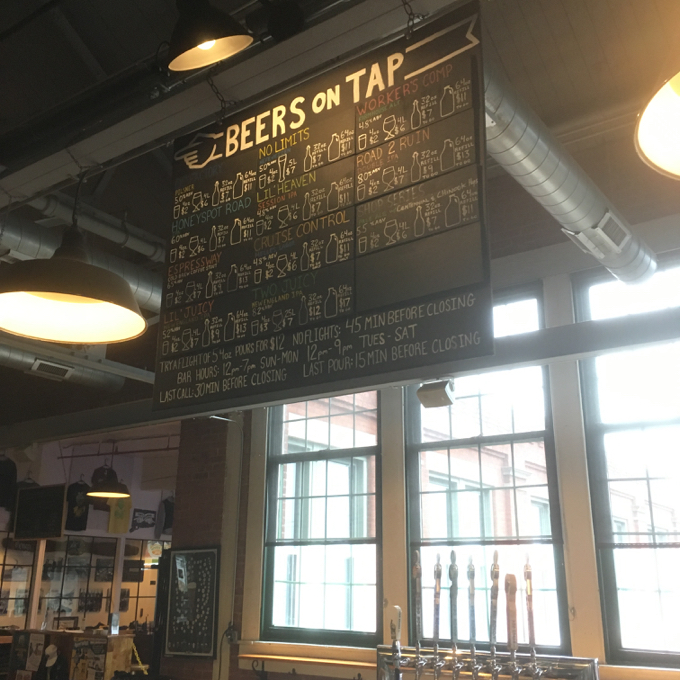 So, aside from the money and size, what's the thing fanboys love to hate about Two Roads? Contracting. But here's the thing – the massive contract brewing operation was all part of their initial business plan. Basically, their thinking went, if we build a top notch facility and offer up 85% of it to contracts, that will help us grow our brand and reach down the road.
And boy, were they right. Two Roads is one of the fastest growing breweries in the country. In 2017, they produced 53,000 barrels as Two Roads and 85,000 barrels for contract, which made them the 51st largest beer brand and 21st largest craft beer brand in the country. In 2018, a few of their contract customers left, so they upped their Two Roads production to 63,000 barrels and took their contracting down to 72,000 barrels. The plan is to reach a 50/50 split in 2020 or so.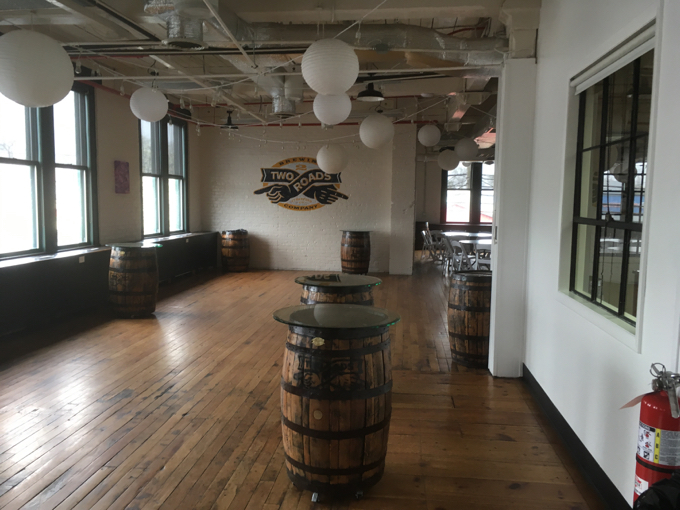 And while they've contract-brewed some junk, they brew some fantastic beers for other brands here. Carton, Lawson's Finest Liquids, Stillwater, Evil Twin, Terrapin, on and on. Now and again, they've helped out other Connecticut breweries like Back East and when they hit production limits. And just to say it for the 50-billionth time, Sip of Sunshine was always brewed at Two Roads – at least up until 2019. If you know someone guilty of saying "Sip was better when it was brewed in Vermont," you have license to punch them in their neckbeard.
I heard an interview with Brad Hittle, one of the owners, who said that they could have doubled their contracting capacity and had their tanks filled. That's… bananas. And hats off to them. (As for Brad, he's lived a fascinating life; from working on an offshore drilling ship in southeast Asia to helping revive Pabst Blue Ribbon, the man has done it all.)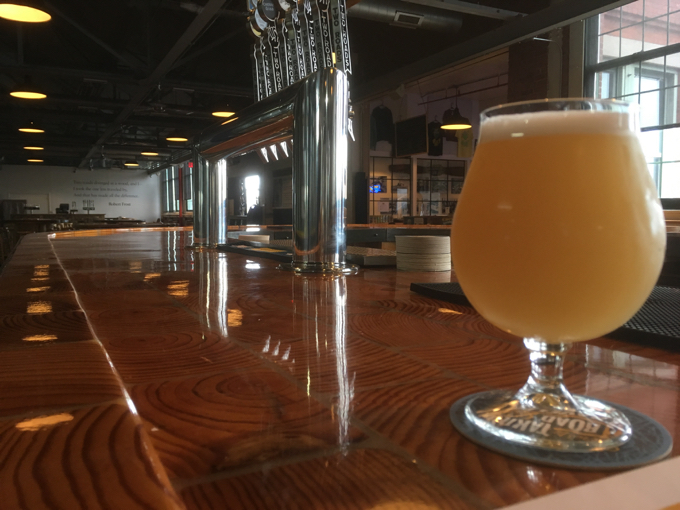 I shall be telling this with a sigh
Somewhere ages and ages hence:
Two roads diverged in a wood, and I—
I took the one less traveled by,
And that has made all the difference.
And I'll say this with a sigh… again: Two Roads is great for what wants to be. As one of the very few people you know who has made the effort to keep up with the exploding brewery scene, both on paper and on foot, I'm comfortable saying this. I'd be comfortable nudging anyone towards buying their beer, no matter the style.
Two Roads isn't trying to be Hill Farmstead or Allagash or Treehouse. It mostly makes accessible true-to-style beers for consumers who don't give a crap about what's "cool" in the world of craft beer. Their beer isn't going to blow fanboys away, but that's not the point. That's not their market. For every 32-year-old whale chasing, beer trading dude in a hoodie, there are 100 50 year-old dudes who wear socks with flip-flops who appreciate a well-made beer. Two Roads' market is the actual large market out there, and they seem to be succeeding within it.
Leave the kids and dogs at home, and perhaps for once veer away from the darling little breweries that now dot our state. Visit the monster that is Two Roads and just appreciate who they are and all they've done.

Two Roads Brewing
CTMQ's Breweries & Brewpubs