She Been
Shebeen Brewing Company, Wolcott
Multiple Visits
Shebeen Brewing was reimagined as the Connecticut Brewery Collective in April 2019. That brewery closed in January 2022, then changed hands to become Velvet Libations in March 2022 and operations ceased for good in September 2022. Shebeen continues to live on in 2023 as a "Brewery Collective" brand out of what was Foolproof Brewing in Rhode Island. This is an incredibly long read that cobbles together parts of previously published pages.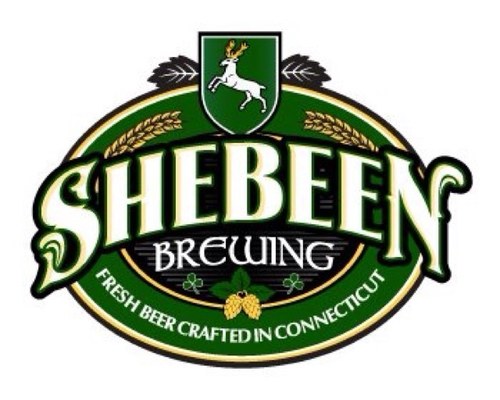 "A long time ago, in a brewniverse far, far away, we became the 13th brewery to open in the state of CT in May, 2013." Those words are from Rich Visco; owner, marketer, savior, builder, creator, "master brewer," and destroyer of Shebeen Brewing Company. Those words are also a bit more accurate than intended, as during its nearly 9-year run in Wolcott, Shebeen always seemed to be operating on a different planet. In a different universe.
I first visited Shebeen in June of 2013, a mere month after their grand opening. Spirits were high, as back then, every new brewery caused excitement across the state. And of course I wrote about that first experience. That old CTMQ page contained an overheard, throwaway yet unfortunate remark by owner Visco – and I had receipts via Untappd – about a beloved local brewery's beers. It was nothing, really, but it was the beginning of what became expected from Shebeen: years of gaffes, missteps, mistakes, and poor decisions.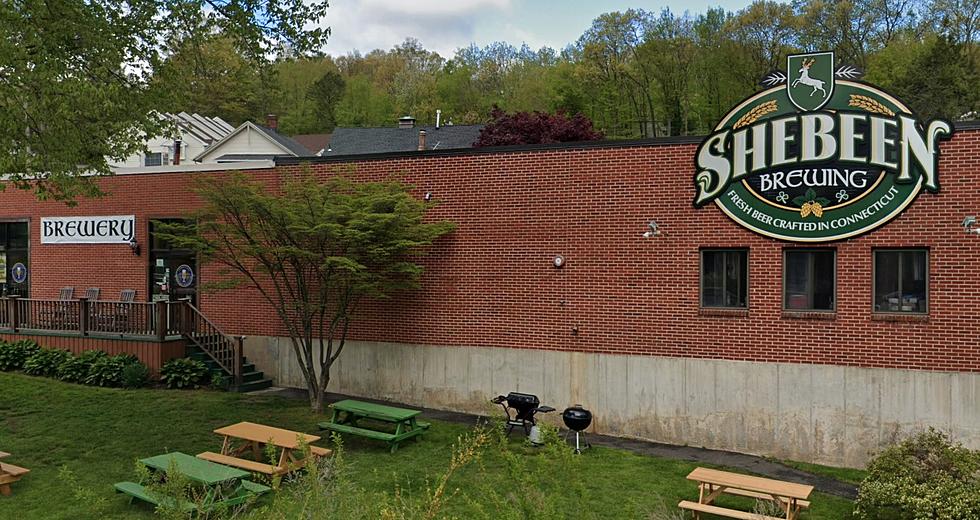 My role in any and all of Shebeen's foibles, I would argue, was next to nothing. I stopped writing and Tweeting about Shebeen in early 2016 – and the only things I wrote that year were generally positive. But the Shebeen story is fascinating to a lot of people, and since I deleted all my beer reviews (for every brewery) and haven't had anything on CTMQ published about Shebeen for years, I've decided it's time.
It's time to write the Cannoli Brewery's epitaph. Painful as it may be.
Of course I will do my best to only include things I know to be true. This will seem like I'm beating a dead horse, or kicking a man when he's down, but that's not my intent here. (Besides, as I write this in early 2023, Shebeen and its cannoli beers are still alive in Rhode Island; Visco owns a bigger, better brewery there (what was Foolproof Brewing), and his empire is expanding soon with an additional new brewery coming to Bridgeport. I have no idea, but there's a very strong chance he's in a better place now than at any time in the last decade. I hope he has found peace.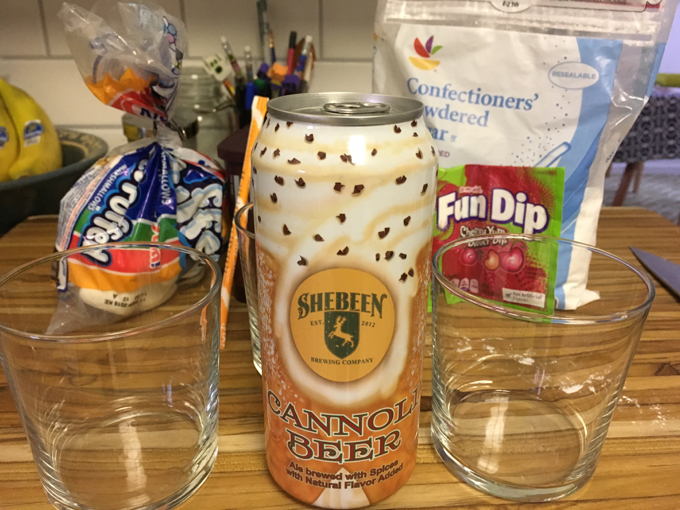 Pre-Opening
Local beer scribe Will Siss interviewed Visco before he opened his brewery. It was titled "On the Fringes" and described some of Shebeen's unique beers they had planned right out of the gate.
That includes some gems. There's the Bacon Kona, which includes coffee and crispy bacon that's added in a mesh bag toward the end of the brew for aroma.

There's also an Idaho IPA, which uses hops that come exclusively from the Gem State, as well as Betty Crocker instant potatoes.
A Mr. Pat Lacerra was noted as a partner in the venture. You'll want to remember that name. You'll also want to make note of the next Visco quote. Remember how I said Shebeen always seemed to be from another universe? A bit "off," perhaps…
While drinking a cannoli beer (an ale topped with powdered sugar and shaved dark chocolate), Visco put his weirdness in musical terms.

"I like to compare [brewing traditional beers] to singing a Whitney Houston song," he said. "If you can sing it incredibly, then you should sing the song. If you can't, you'll just look bad."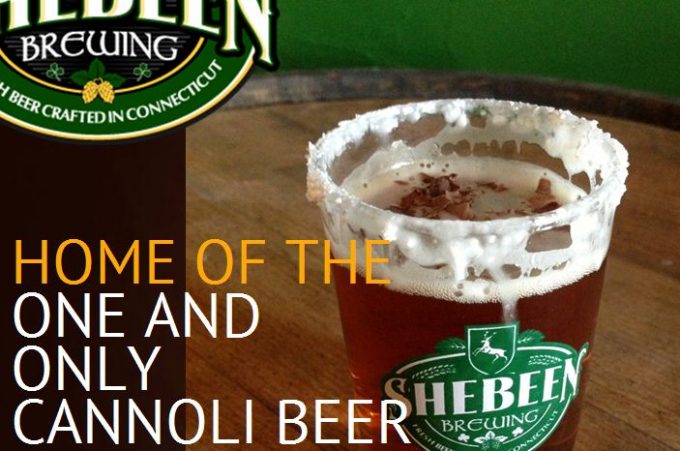 Reading that now, I'm taking it as an admission of sorts. In other words, Visco knew he couldn't brew good beer. So he brewed gimmicky, goofy beer with adjuncts that covered up his shortcomings. At the same time, he would always refer to "the brewery's 25 years of brewing experience." This was, I figured, his homebrew years added to other brewery employees' homebrewing experience. It was always a weird thing they did there.
He also liked to refer to himself as "master brewer," which is a term that became a sort of joke in the industry – not for Visco in particular, just across the board. And believe me, the parade of brewers that went through Shebeen between 2013 and 2015 was constant.
And almost every one of them left with axes to grind. And back then, some of them felt like grinding them to me. The sheer volume of stories I would be told was simply too much. I never made them public. I never even shared them. But I quickly learned that, yeah, Shebeen was a different type of brewery.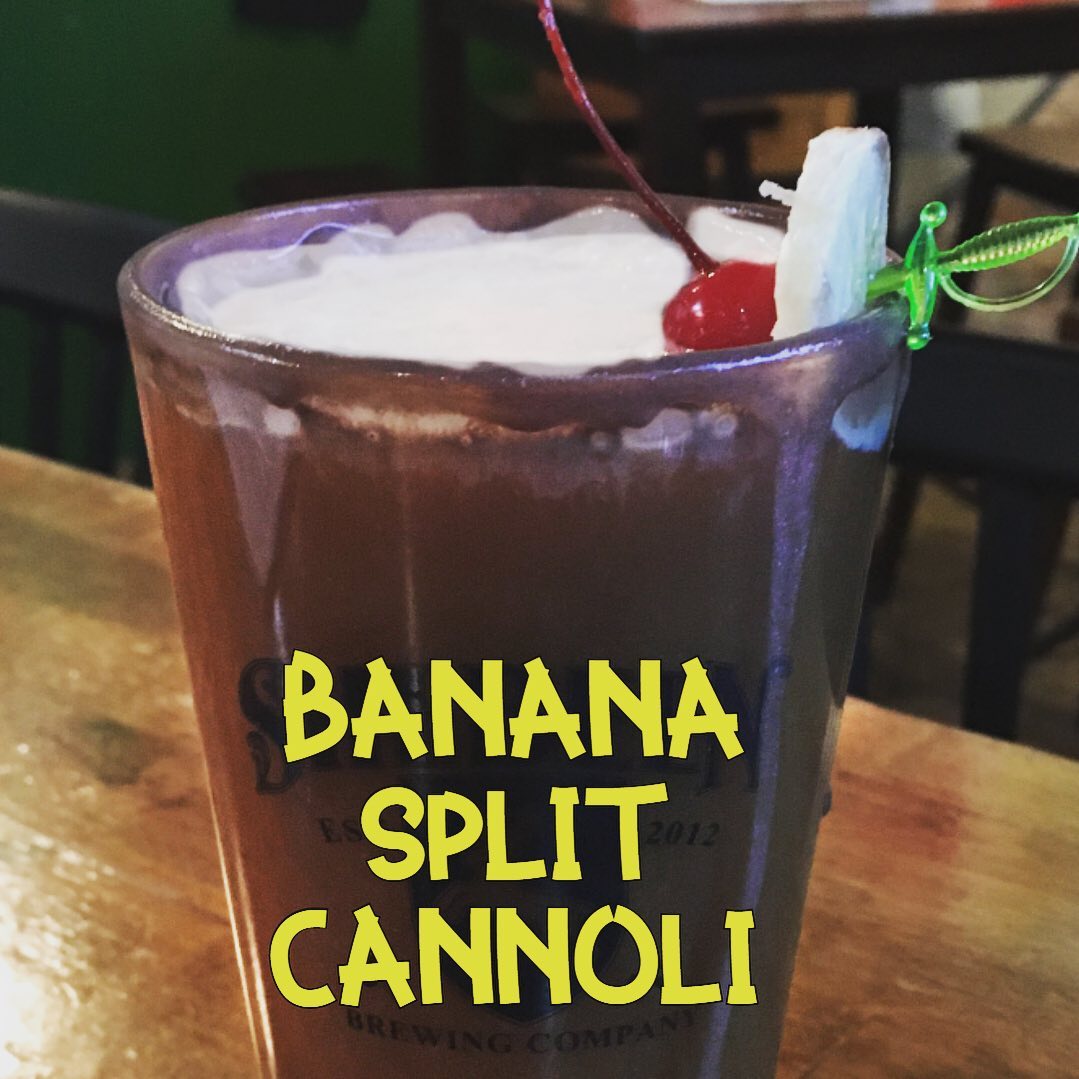 What is a "Shebeen?" Shebeen or síbín is Gaelic Irish for an unlicensed establishment or private house selling alcoholic liquor and typically regarded as slightly disreputable. I even found this to be a little weird. It's cute and harmless, but "unlicensed" and "disreputable?"
Prophetic? Perhaps. A bit.
2013: The Grand Opening
Shebeen's opening began perhaps the most tumultuous three years for any Connecticut brewery ever. Just bonkers. Remember, this was a time period when not only I cared about the industry and its growth, but a whole bunch of other people did as well. It was an exciting and quickly changing time. Taprooms were allowed by law, distribution changed, and the craft beer revolution really took off in Connecticut.
It was a time when all you had to do was have a few bucks and brew decent beer and you'd succeed. That's it. Heck, you could brew fairly crappy beer and still succeed. However, if you brewed fairly crappy beer and blamed everyone but yourself for its crappiness? That, Shebeen taught us, wasn't a successful business plan.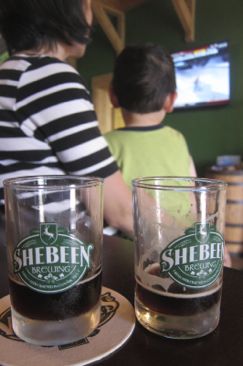 Many breweries opened after Shebeen and shuttered sooner. Each one has its own reasons for failure. The fact that Shebeen fought and fought through all the madness showed, in retrospect, an amazing amount of stubbornness, narcissism, and, perhaps idealism.
After my first visit I wrote:
The tap room was very clean and very nice. We were greeted with a friendly smile and the service was excellent. On top of that, Hoang and I had both boys with us – and that wasn't an issue at all. Our experience was wonderful. Huge props go out to the pleasant woman who guided us through the tasting of the six beers they had on tap.

According to their website, "Shebeen or Sibin in Irish is defined as 'An unlicensed establishment or private house selling alcoholic liquor'. In short, brewhouses. What we are is Connecticut's best brewery."

Whoa. Slow down there. To call yourself straight up "Connecticut's best brewery," in your second month of operation is crazy. Even if you actually believe that, in the insular world of Connecticut craft brewing, I'd advise against such bluster.
Holy cow, I don't remember that. That's kind of hilarious to read now. One month in, Shebeen was already expanding their taproom. They had big plans.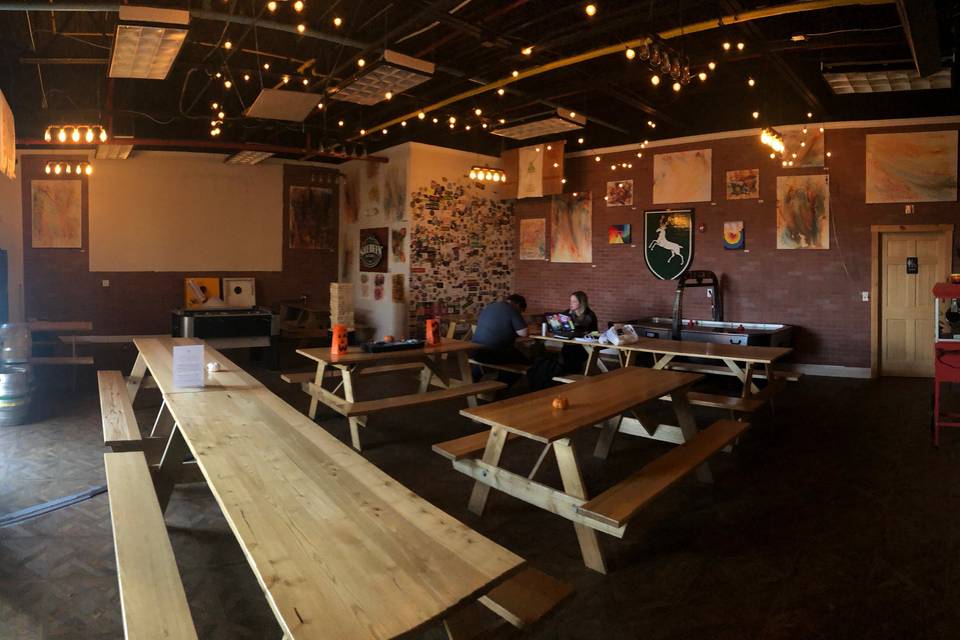 You know what else they had? Investor-owners. I don't remember the details of how the business was set up, but it was kind of like a public stock. Shares of the company were sold for a few thousand dollars (est.) each to friends, family, beer fans, and suckers. Visco and the aforementioned Lacerra (and someone else, perhaps another Lacerra, I forget) were majority owners, but then there were a couple dozen minority owners.
I don't know if this was smart or even unique. What I do know is that throughout the course of Shebeen's tumultuous life, several those minority owners grew to rue their investment. And they, like the parade of former brewers, were more then happy to send me the emailed diatribes from Visco.
Which, again, I never made public. I never used this "inside" information against the brewery. Even when things were really, really tough and Visco was screaming poverty and imminent bankruptcy for the 18th time to the minority investor owners, I just kept it to myself.
I didn't even know some of the people who would forward me those emails. I never met them and I haven't corresponded with any of them in many, many years. Back in the day, people just liked telling me stuff. Note to newer breweries: I no longer have any insight, information, or intel when it comes to the Connecticut brewing industry. Please feel free to leave me alone.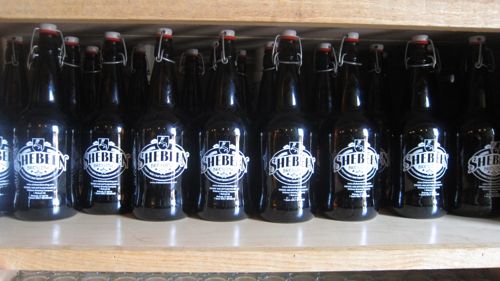 Back to 2013, I wrote that "you can plop down $18 and drink all you want all day long. They even have a TV here – Two Roads doesn't even have a TV!"
I have no idea if that first part was true? How was that possibly true? As to the second part, now that I'm old and wise, good on Two Roads. And the fact that I was comparing Shebeen to Two Roads in any way is kind of funny.
The beers on offer were not very good. Shebeen was pushing the envelope right out of the gate. That was their thing. Bacon, pineapple, cucumber, wasabi… and of course the cannoli beer. These adjuncts seem rather quaint now, as the industry went out of its collective mind many years later with the trend towards dessert and candy and lactose. In a way, Shebeen was too far ahead of the curve. In another way, the beers just weren't very good, and that's what really mattered.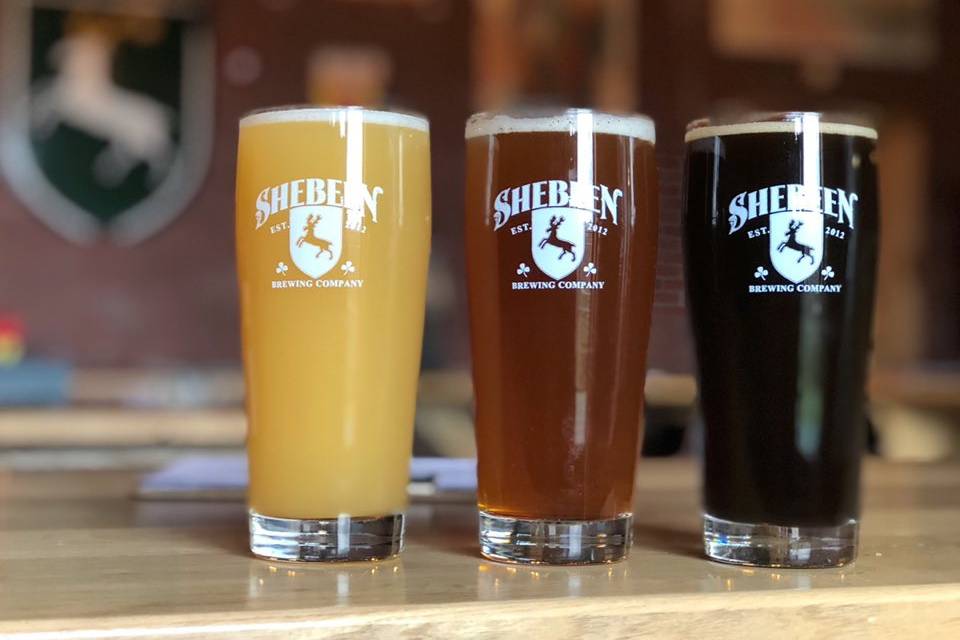 The infamous story from that day that I relayed was this: a guy showed up with NEBCO's just released Weiss Trash Culture sour beer. New England Brewing Company was king in 2013 – and is certainly still royalty today. Cans were passed around and I wrote the following:
…the next thing I knew, I heard caterwauling and exaggerated gags and whelps of disgust."

But then they continued and upped it to a new level. (I later learned that it was) Rich Visco, the owner, who charged across the taproom floor, tongue wagging, body in distress, begging the server for some of his own Black IPA, "stat!" (The black IPA is pretty good.)

Really? Really.

Now I was paying attention. Rich, another guy, the guy who brought the beer and some other guy gathered to compare notes. They universally agreed that this was one of the worst beers they've ever had in their lives.

This, from a brewery that serves a cannoli beer which is a spiced beer served with a bunch of chocolate shavings in a glass heavily rimmed with powdered sugar. But I digress.


I continued, on that original 2013 page:
The group of guys went on for a bit about NEBCO. Full disclosure: I was a bit of a NEBCO fanboy, but whatever. Everyone should be. My favorite part of the discussion was when someone brought up NEBCO's phenomenal Gandhi Bot DIPA and Rich, brewmaster and owner of Shebeen said, "I hate it." The guy who brought the six pack claimed that he held a blind taste test of various beers and the Bot was universally reviled. Another guy said he'd only merely heard of it.

Come ON. Shebeen is staying away from heavy hops and that's fine, but again… COME ON.

While it's absolutely true that a lot of beer geeks buy into reputation and therefore think more highly of certain beers… I totally get that. I do my best not to do that. But this conversation was insane. Who hates NEBCO?

So that was that. I found it highly unprofessional and unbecoming. Craft brewing in Connecticut is still a new and fraternal thing. I've never heard any other owner or head brewer bash a Connecticut brewery before. And know that I've spent a lot of time with a lot of them. As much as almost anyone in the state. It was also just stupid to put on that show in front of a few customers, no matter who they were.

I went home and this whole episode stuck in my craw. It would have annoyed me if it was ANY brewery talking about ANY OTHER brewery. Part of me thought, this is bound to happen with a rapid and large increase in competition in this space and Shebeen has a clear business plan this is just the natural order of things.

Then I poked around the Internet.
And that, my friends, started a whole multi-year thing. Should I have relayed that story on CTMQ? Probably not, but in retrospect, it didn't matter. Visco's penchant for saying the wrong things at the wrong times became his calling card. If I didn't exist, the story would have been the same. I'm 100% sure of that.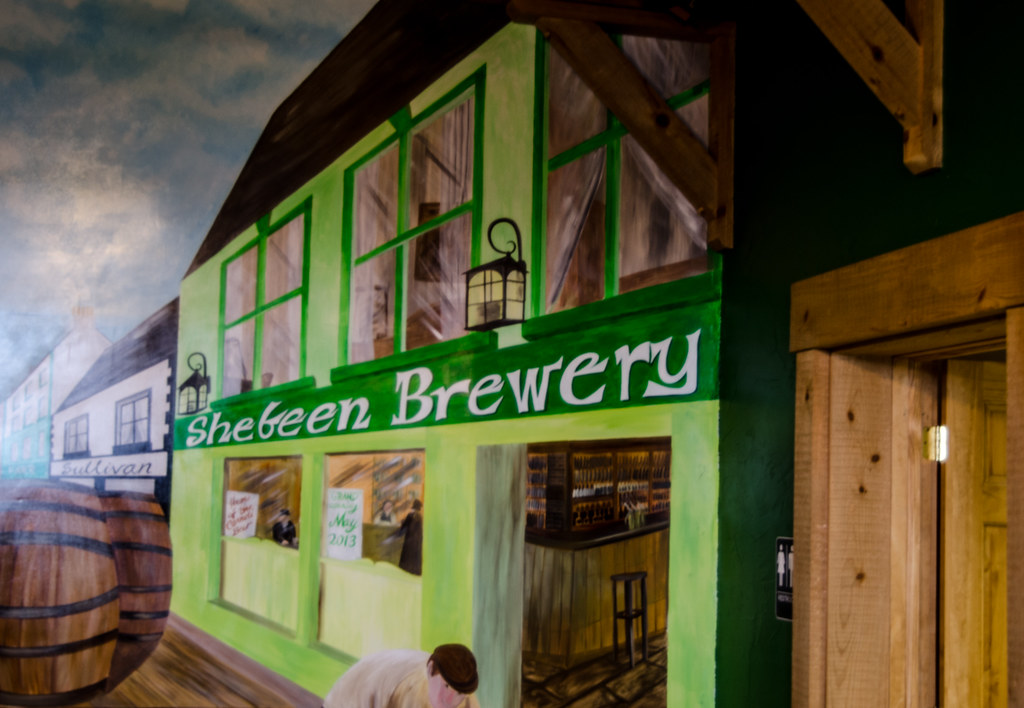 But that little scene that day at the brewery became indicative of things to come. I found silly little affronts back then that are ancient history by now. When I published my original page, I didn't think too much of it. Visco and his Shebeen were mavericks to be sure. Well ahead of the curve – too far ahead, actually – when it came to brewing wacky stunt beers. An IPA with instant mashed potatoes was the dumbest thing ever in 2013. In 2020 that would barely raise an eyebrow. Cannoli beer? Heck, in 2020 you'd need a "triple peanut butter fudge with Froot Loops and lactose cannoli DIPA" to cause a ripple.
Hats off to Shebeen for sticking to their weird beer guns.
I ended the original 2013 page with this:
I hated writing this page. I don't want to disparage any small business owner, let alone one in an industry I care about a good deal. I'm not a gossip, and as you can see, this thing isn't just about what I overheard one random day at the brewery… I'm hardly an angel. I can be a real jerk and I know this. But I don't own a business and my "independence" is sort of what makes CTMQ CTMQ.

Shebeen has a plan, a great space and some brewing skills. I'd like to only concentrate on those things going forward, should I be allowed into the brewery again.
That last bit was meant as a joke. I didn't realize at the time it really wasn't. As Shebeen's troubles mounted, Visco reached out to me via email twice (I believe) extending an offer to meet peacefully over beers at his brewery. The olive branches appeared sincere and well-intentioned. I never responded to either, however. I was comfortable with that at the time. (I've since grown a bit.)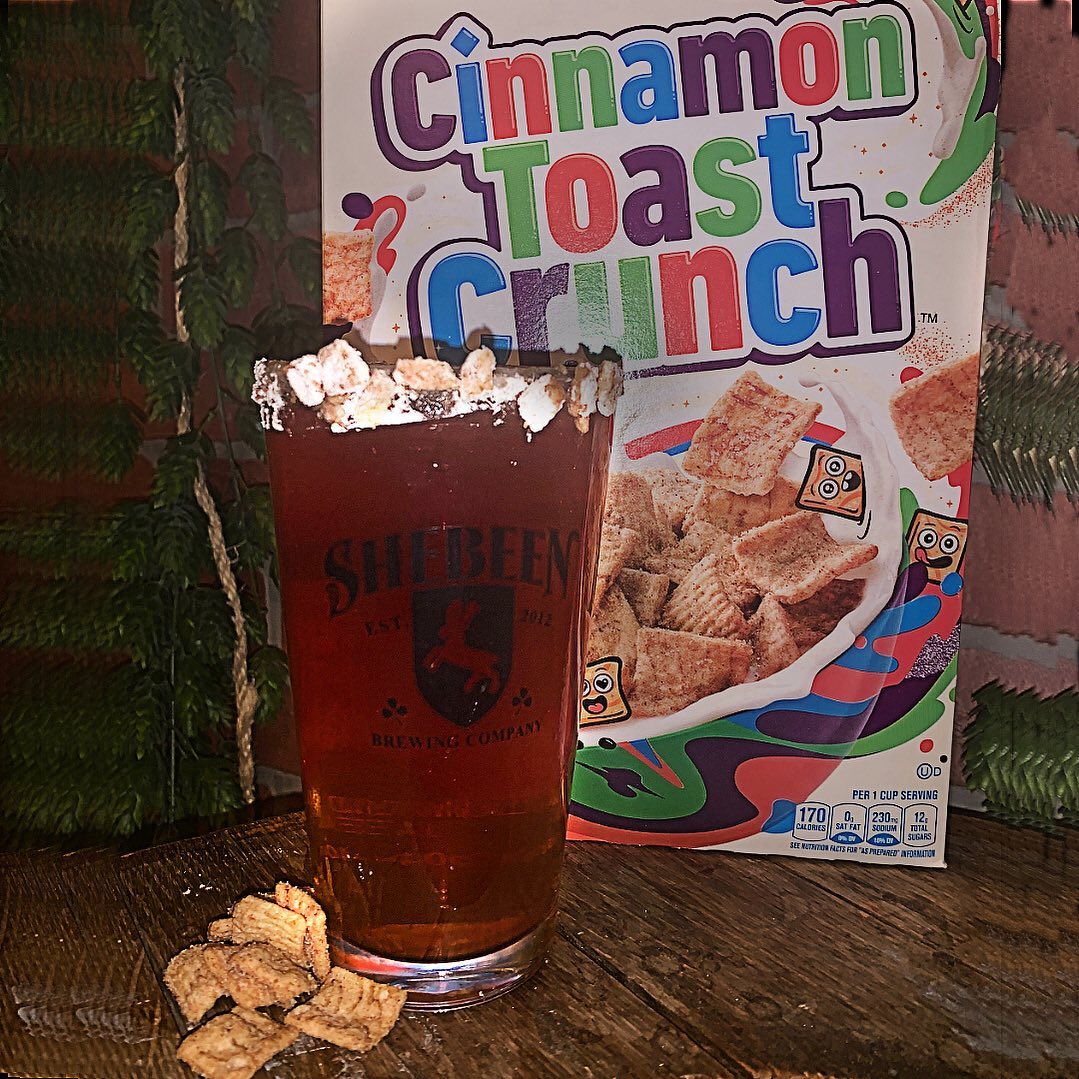 Visco also left a comment on the original Shebeen page. He wrote:
Rich says
July 31, 2013

Didn't mean to offend anyone. I do like NEBCO just the Weiss isn't my cup of tea. I was having a bad day and that's all I can say. I've tried dozens of Connecticut brews and Willibrew is my favorite in the state. I have had a mug at City Steam for years. I've even made public statements that Hooker makes the best Oktoberfest. But of course none of that showed up in the article did it? All I can say is sorry if anyone was offended.
Fair enough. I hope in the decade since that he – and all of us, really – have learned to straight up apologize though, not "sorry if anyone was offended." Big difference. I know I've changed in that regard and I think it matters.
2014, The Troubles Begin
Shebeen grew! They updated their taproom, spruced it up a bit, and inexplicably increased brewing capacity 10-fold (or so). Their issues also increased 10-fold (or so). The most egregious affront came from a Republican-American article in which it appeared Visco said that Connecticut beer drinkers don't support Connecticut breweries.
This was the first truly public statement in which the owner was blaming the consumer for his issues. What were his issues? Simply put, no one was buying his beer. I just so happen to have the quotes. Let's start with this absolutely bonkers excerpt: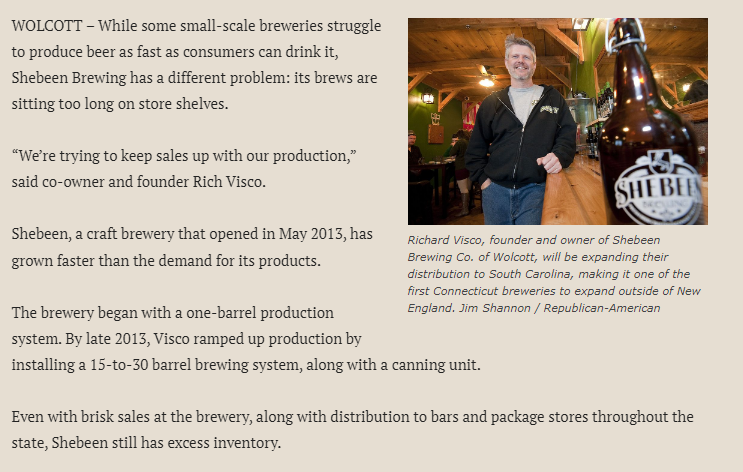 Read that second paragraph again. Absorb it. Think about that.
… right? Anyway, the article continued: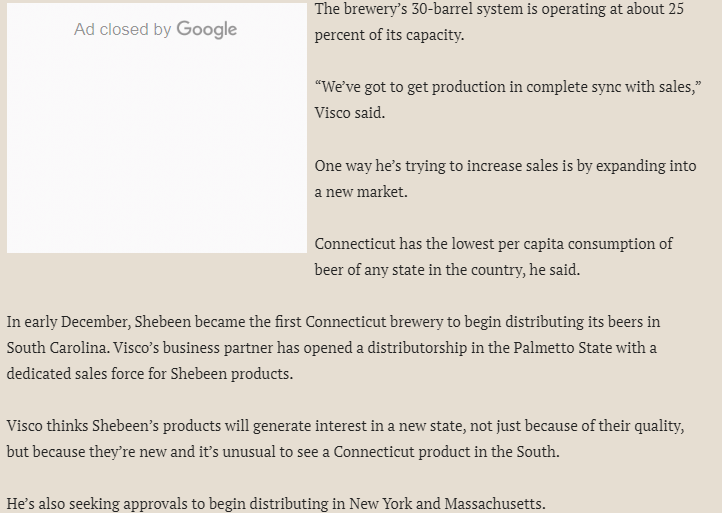 I still remember reading that all those years ago. Breweries at the time like NEBCO (since moved, and expanded massively) and Beer'd (since expanded massively and opened a second location) and Two Roads (since expanded massively) and… well, pretty much all of them, were operating at 100% capacity. They literally couldn't brew enough fast enough. Then this dude is quoted in a newspaper saying he's only at 25%! Holy crap! What was he thinking?
He was apparently thinking of distributing to South Carolina, among other states. Why? Lord knows. But the "business partner" mentioned was that Lacerra guy again. I believe he created a distribution company that existed to solely distribute Shebeen beer to, as it turned out, a couple bars in Myrtle Beach. (I'm sure it was more than that, but it certainly didn't go far.)
Continuing, this was the bit that got everyone so fired up: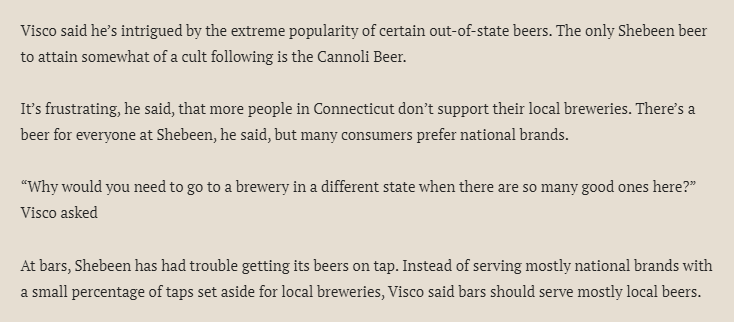 And y'know, that's not so awful. Certainly not as awful as I assume many beer bros selectively remember. The dude was bummed out. His beer wasn't selling while he watched people chase Sip of Sunshine and Heady and Maine Dinner I guess. No self-reflection. No redoubling quality control – from the rumors, there wsa almost no quality to control at all. In fact, the beer was getting worse as real brewers refused to work there, leaving Visco to his own devices.
And what were some outcomes of those devices? Here's an example:


Bruh. What I see there is a guy publicly admitting that a batch of beer was infected and terrible, but he was going to try to make it a thing. So as these types of things kept happening (bad beer in concept and execution), those other things kept happening (Visco inserting his foot deep into his mouth.) He tried some damage control on Reddit and promised positive changes, including hiring a new brewer.
It got really ugly and frankly, it never really stopped. Beer bros are a small and insular community – and they are also short-sighted and pathetically wed to groupthink. Shebeen was over before they began in their eyes. Visco poked the bear, and the bear never forgot.
Local beer writer Will Siss circled back for some post-mortem from Visco: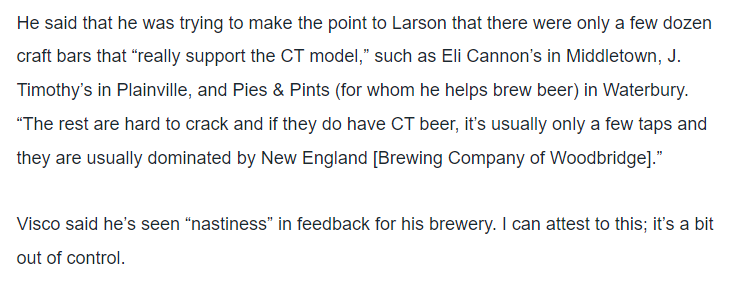 Oh, now it was the bars and restaurants who were at fault? Just kidding, just kidding. He was probably right in 2014. And the bars were probably right for only carrying limited Connecticut beers then too. (But Hooker and Two Roads were everywhere then as well.) The restaurant that did carry Shebeen-made beer was Pies and Pints in Middlebury and Waterbury – but it was labeled as a housemade beer. Pies and Pints closed long ago.
But that contract with Pies and Pints was the first of many for Shebeen. The brewery had found a way to fill those tanks: contract brewing.
2015, The Angry Year
At this point, I had been writing reviews of Connecticut beer for a few years, but I was slowing down a bit. There were just too many breweries making too much beer. I was pretty much over Shebeen, but found that some of their efforts by then were not that bad at all. They were distributing to South Carolina and New Jersey, and welcomed in Pioneer Brewing on a contract.
Although still sticking to their roots as a stunt-beer brewery to a degree, there was a definite shift in strategy. Notoriously against hoppy IPA's, Shebeen was pretty much drowning in hops in 2015 (and beyond). Wet hops, dry hops, these hops, that hops, red hops, blue hops, Deez Hops.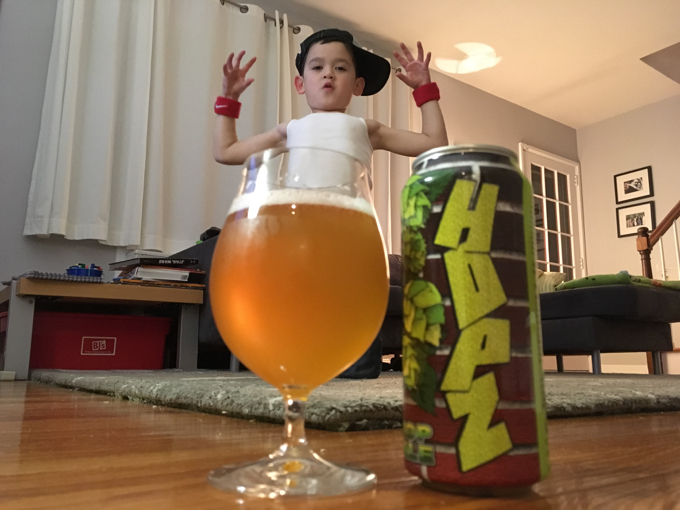 Eh, marketing. What can you do? Well, for one, they could have had better label art. That one above and this one below for the Turbo IPA label were just so bad. The Turbo label was changed at least a half dozen times over the years.
I called this one the "Hubcaps and Artichokes IPA." With its "14 hop infusions."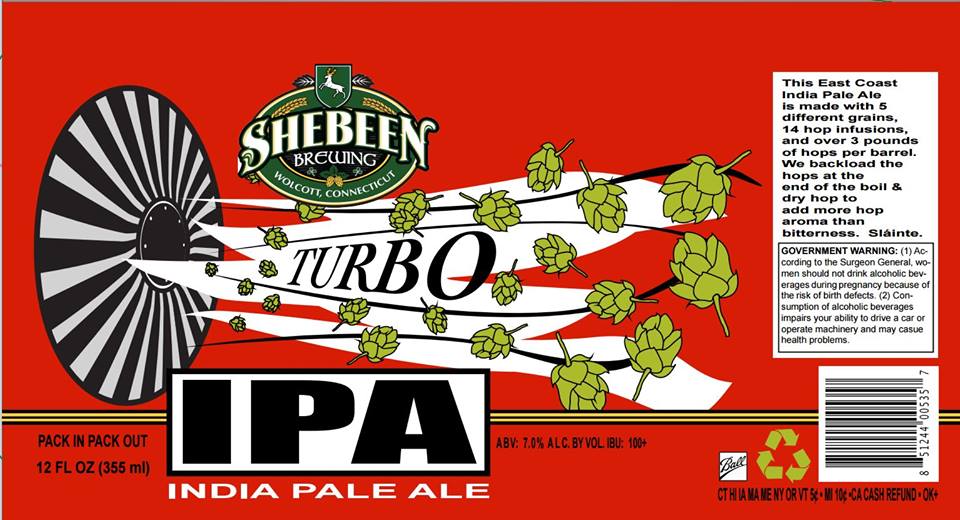 Labels? Let's talk labels for a second. While these next several span probably 2015-2018 or so (I don't care to figure it out), it's indicative of yet another… interesting Shebeen strategy. This was/is not unique to Shebeen at all, but boy do I hate it.
IP theft. With the massive proliferation of craft beer cans during this time, no one could keep up with all of them. Besides, so many beers were one-time releases anyway, what's a little thievery among beer drinkers? The worst that would happen is getting a Cease and Desist letter, and you cease and desist. No fine, no penalty, nothing. So many breweries thought, "why not just go for it?"
And Shebeen went for it:
Sigh. Just laziness.
You want more label fun? Okay. This one is just funny. They had a run of beers with this same typo – which implies that opposite of what the warning is supposed to state: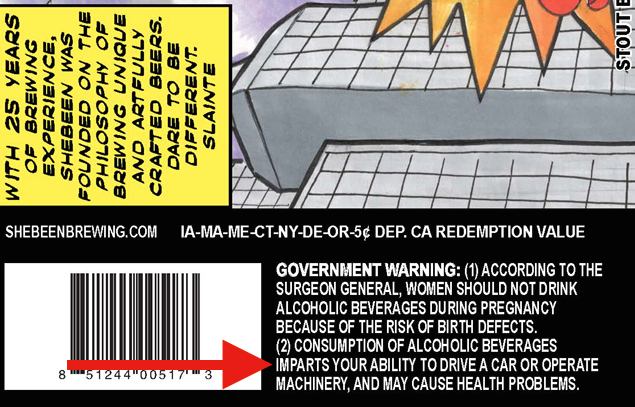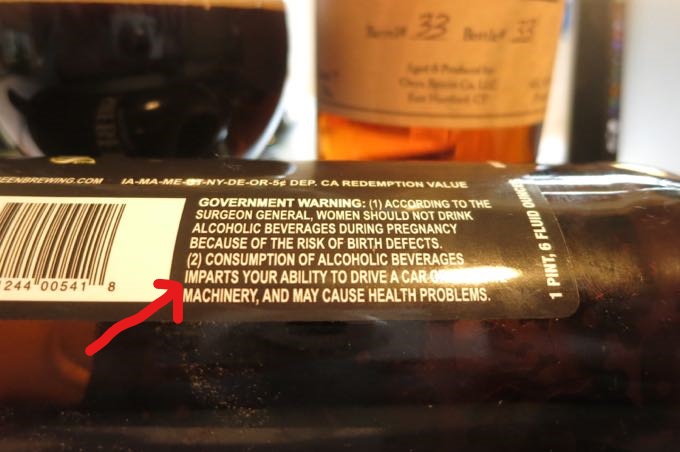 Cracks me up every time.
2015 was the year Shebeen was going to turn it around. Mistakes were admitted to (though blame assessed on others internally). They had a contract in place with Pioneer, Pies and Pints, Shakesbeer, and would soon bring in Greater Good (for a month) and Fat Orange Cat (for a month) and everyone was happy and – what's that? I'm sorry? This happened?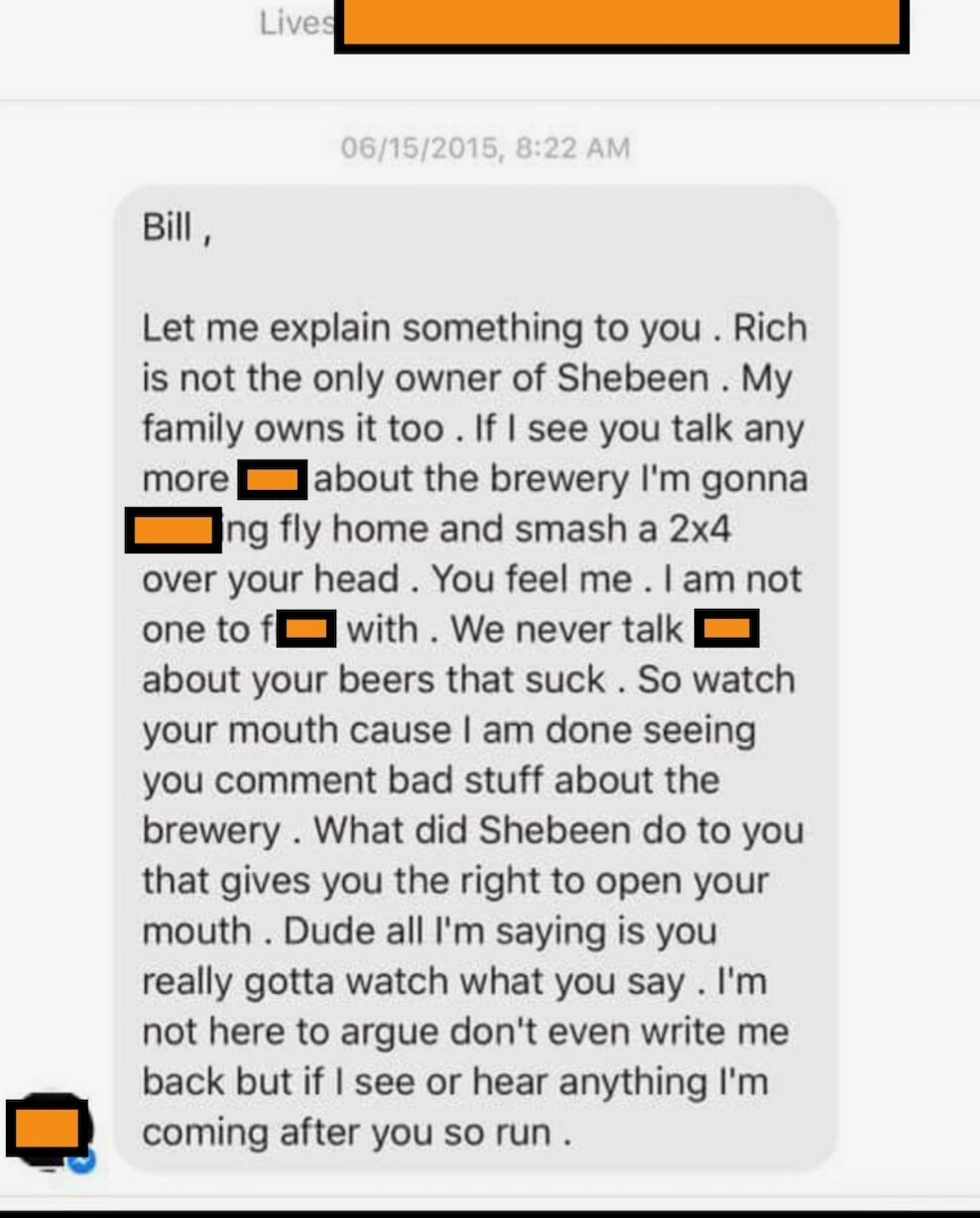 Note: That is NOT from Rich Visco! Remember, there were tons of "owners" of Shebeen at the time. The Bill that that was addressed to is a guy who volunteered there (I think?) and had some issues with the way things ran over there back then. Hoo-boy. Nice crowd.
Anyway, as I was saying, things were turning around at the plucky Irish brewery and – what's that? I'm sorry? This happened?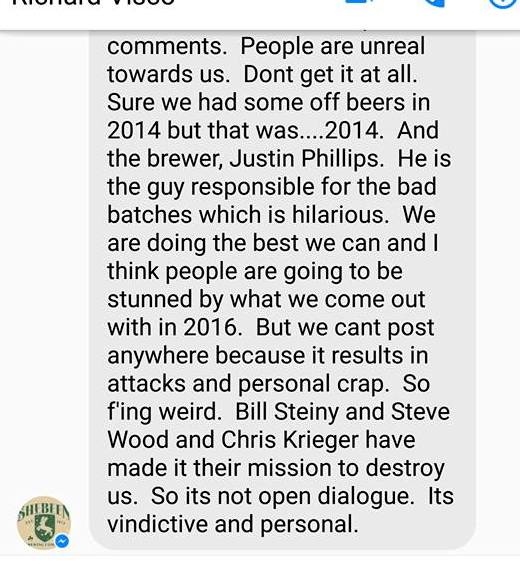 Holy crap! I was named as a co-conspirator to destroy Shebeen. Note: this was a private text message to some random guy. I had no clue who that guy was, but goshdarnit if he didn't post it publicly. I had never met Bill Steiny. And while Chris and I were friends, it's not like he had a social media presence or a website.
This was around the time that there was a two-week period on CT Beer Facebook when Shebeen-bashing became bloodsport. It got so ridiculous that I felt the need to DM a few of the participants to tell them to just stop. It was just bullying and childish piling-on. I felt bad for Shebeen and the folks who work and volunteer over there. It was really over-the-top.
For my part, I laughed the above accusation off. For one, I should never have seen it. Two, it was so patently absurd. I wrote a few things about the beers being crappy. In that message just above, he admits they were crappy. He blamed some other guy of course, but still, he admitted they were crappy. By this time, however, I'd stopped writing or saying anything about Shebeen anywhere. I was done with them and didn't need the headaches (or dudes threatening to beat me with a 2×4.)
Speaking of beating mammals…
Yeah. In the long line of questionable decisions at Shebeen, naming a beer "Baby Seal Clubbin'" was somewhere in the middle. But they quickly changed it. Progress.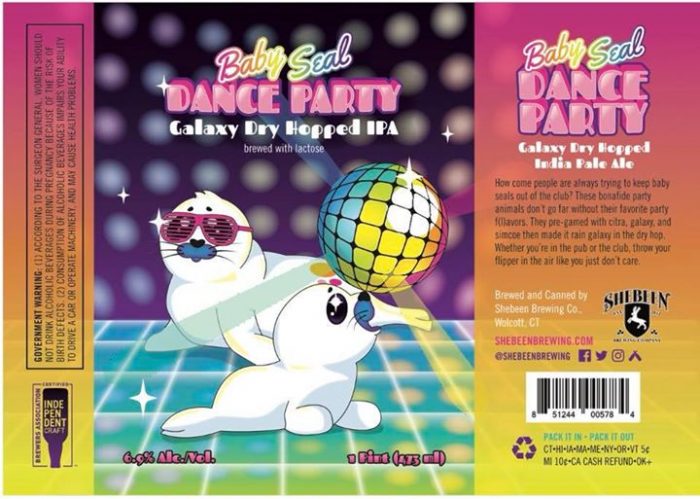 It appeared that things were turning around and looking bright heading into 2016. Right? Actually, yeah. For one thing, Shebeen took home the top prize at the first Onyx Moonshine Beer Bash. Shebeen got their barrels and later released the Fuligin IPA which I rather enjoyed. Shebeen went on to release a second Onyx barreled beer, the Golden Imperial Honey IPA.
Man, was Shebeen proud of their victory. Press releases popped up on Brewbound and elsewhere.
"It felt like a natural partnership. As a bit of a whiskey enthusiast, I have been a longtime fan of Onyx's handcrafted spirts." said Shebeen CEO Richard Visco.
C'mon, man. You're Irish. Irishmen don't drink that garbage. Anyway, 2016 brought some fire to Wolcott…
2016, The Year of The Trailblazer
A lot of this Trailblazer stuff was published in 2016 on a long deleted page. Believe it or not, it is edited for brevity. Much of it has nothing to do with Shebeen, really, but it all happened under their roof and, well, why not dump it here?
Throughout 2014 and 2015, Shebeen had been making a valiant effort to sort of "rebrand" without really rebranding. They'd gone through several brewers, built a strong partnership with gypsy brewers Pioneer, made outreaches to "the CT beer community," to repair any perceived previous damages done, began distributing to South Carolina and New Jersey, created new labels for old beers, and created new beers that better matched the market demand. All good stuff.
Oh, Shebeen was still trying to funny with dopey frat boy labels like this: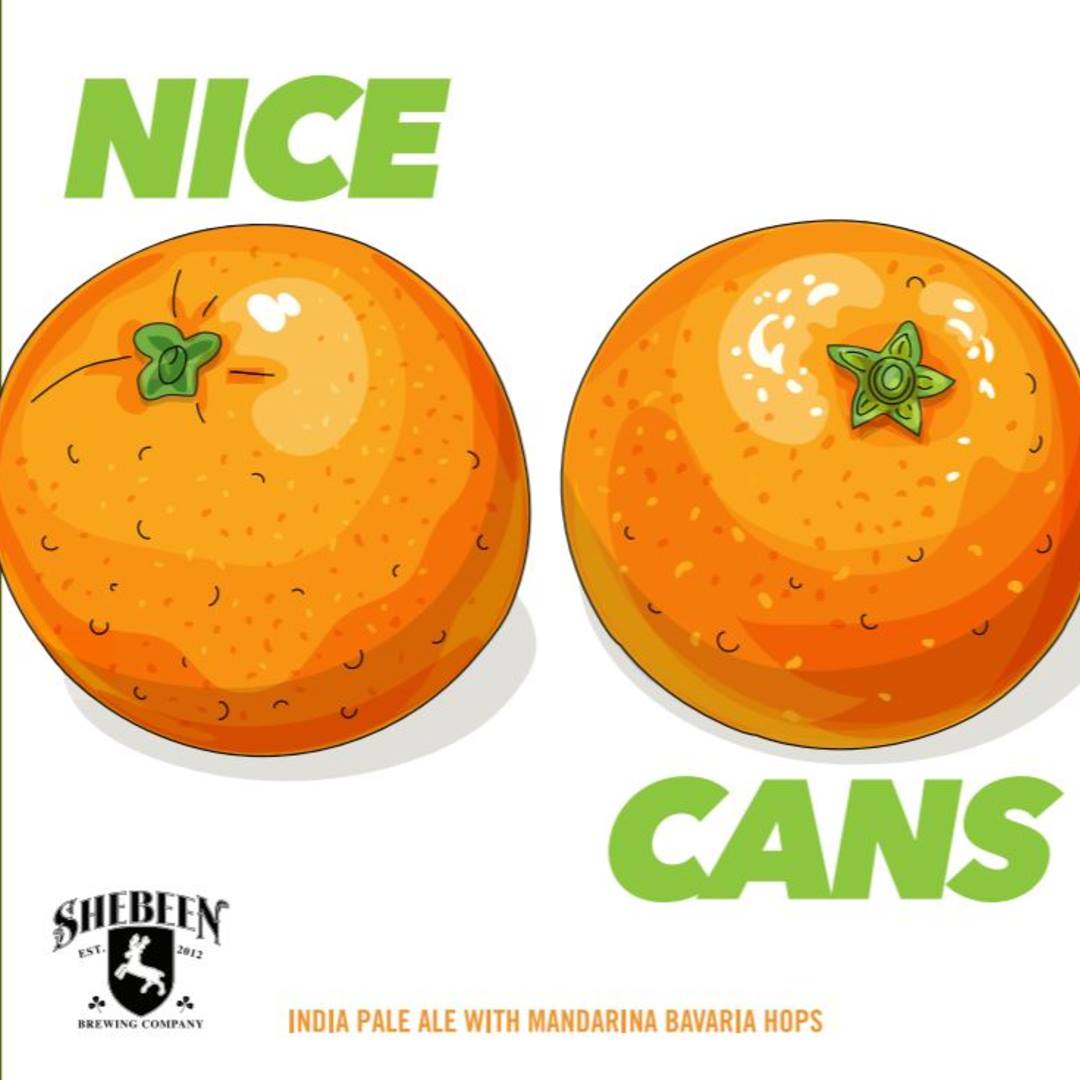 But that stuff was all forgotten when Master Brewer Todd Sullivan signed the contract to bring his Pioneer Brewing brand to Wolcott. If you think anything above is crazy, you don't know crazy.
By 2016, Massachusetts' Tree House Brewing was revered and beloved. Every two-bit brewer wanted to ape the Tree House secret sauce. This consisted of: 16 ounce cans, Citra and otherwise "fruity" hop forward opaque DIPAs, brewery-only distribution, deafening beer bro buzz, and scarcity. Pioneer had been a brand for a decade, pumping out halfway decent beers. But behind the scenes, a monster was brewing.
Pioneer moved rapidly from Rapscallion Brewing in Massachusetts to Olde Burnside Brewing in East Hartford to Overshores Brewing in East Haven to Shebeen. His stints at Burnside and Overshores were both very short and very contentious. At Shebeen, he found a welcoming home. At that point, Visco would have welcomed anyone to fill his tanks. Even a guy who had been burning though breweries every few months.
On the face of it, Pioneer Todd did exactly what he set out to do: he created a heavily-hopped DIPA that gained immeasurable buzz. It was only to be available at the source – Shebeen! Of all places! He teased the release. This beer, Trailblazer, was going to be the greatest beer brewed in Connecticut history. At Shebeen! Of all places!
And it all worked. Pioneer had midday weekday "releases." Each release was a "batch." And there were lines! For Trailblazer! Just like Tree House!
Actually, speaking of lines, let's get this bit of silliness out of the way:


Yeah. Shebeen posted a picture of a Trailblazer line and thanked the people for coming out to Shebeen's brewery. That's… awesome. Pioneer was a contract brewery that used Shebeen's equipment in Wolcott, but they are an entirely separate company from Shebeen and I'm pretty confident that Shebeen had nothing at all to do with brewing Pioneer beers brewed Pioneer's beers under Pioneer's direction or something.
Like I said, awesome.
But hey, I can't front on Shebeen too much. Just look! They give credit where credit is due: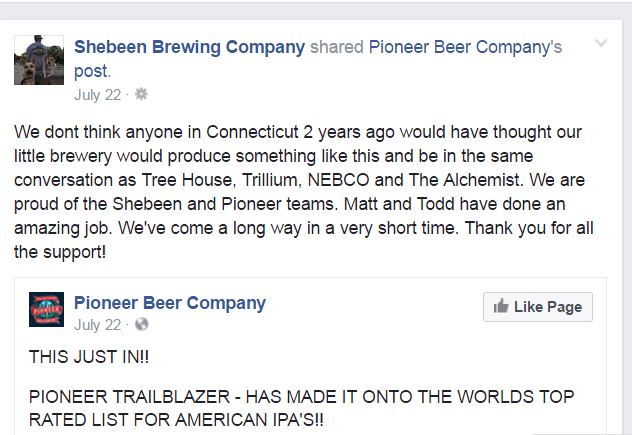 That's fantastic. The way Shebeen slides themselves into that conversation. That's art right there.
Imagine if Two Roads did the same regarding Sip of Sunshine? No, you can't, because that just wouldn't happen. (Lawson's Finest has always brewed Sip at Two Roads, which is a whole other meme-worth inside-beer thing that will live in infamy.)
Where was I? Oh yeah.
Let's take a moment to remember the halcyon days of Pioneer in Wolcott. There were surreal moments to say the least. The lines at Shebeen obviously, rumors of infighting, Shebeen boasting that a beer brewed on contract at Shebeen was the hottest beer in the state…
And it was that last one that people picked up on and snickered at. We had been told – or somehow "understood" – that Pioneer was a "tenant brewery" rather than a contract brewery.
This mattered to many consumers. As has been established, beer bros disliked the Shebeen operation for any number of reasons. But beer bros dislike all sorts of things for any number of (often very dumb and unfair) reasons.
Flame wars broke out about this whole thing, jokes at Shebeen's expense were made, "of course Pioneer doesn't let Shebeen touch the process!" So on and so forth.
And you know, I really don't know where the truth lies. I like to let the breweries speak for themselves. With that in mind, let's check in on what Pioneer had to say about this matter:
Okay! That's what everyone thought. That settles it then. The fanboys were right all along. What's that? Shebeen had something to say on Facebook about this?
I was told that the way these contracts worked by definition in 2016 anyway, means that yes, Shebeen actually "brewed" the beer. For what it's worth, that information came from a guy who had accepted contract brewers at his brewery. But Shebeen in the Facebook exchange above doesn't really do a good job clarifying the situation.
Anyway, none of this stuff really matters because if we know anything about people in the 21st century, it's that they really don't read anything. They believe what they believe and that's that. (Says the guy responsible for this ridiculous 7,400 word opus.)
Here's the thing: Trailblazer sucked. It was wildly inconsistent, often full of trub and literal chunks of hop particulate, often greenish in color, and earned the nickname Throatblazer due to its extraordinary hop burn. But Pioneer Todd had done something very clever at the time and Trailblazer still sold out at every release.
Brewing these "hazy" and "dank" so-called New England IPA's is, on the face of it, is pretty simple. Making them Tree House perfect is not. Pioneer Todd was trying, but something was off.
Then it hit him; an epiphany: It didn't matter. It's wouldn't be the beer that was "blazing a new trail," it would be the methodology of bringing it to market.
For in 2016, he had Untappd and he had "the scene". If you ruled Untappd in 2016, you could rule enough of the scene to succeed. And with Untappd, it's (or was) fairly easy to game the system from the get-go.
You need to know that the rather expensive beer pictured above sold out every time it was released in mere hours. You should be curious as to why people get in line for horrible sludgy beer.
Once Trailblazer was conceived, it started appearing on social media. No one had drunk it yet, but hoo boy, this beer was the best. It was labeled a "New England IPA;" perhaps the first beer to do so right on the can. (Trailblazing!) And oddly, dozens, if not hundreds, of people were loving it.
What I mean is… Untappd reviews poured in… before it existed. Unfortunately, Untappd makes it impossible to go back through 2,700 reviews to those first few hundred, but this is what went down. Seed Untappd with at least 150 5-cap reviews and boom, success.
Or at least the beginning of success.
I watched, fascinated, from afar. Pioneer Todd literally created Trailblazer hype out of thin air through social media and rating apps. It was amazing and downright impressive. "The next Julius" was one infamous proclamation – which may not have ever actually happened. (Several of these sort of mythical statements were deleted – if they ever really were written – after some backlash. This is one that people keep going back to, but I really have no idea if Pioneer Todd ever said such a thing.)
Pioneer built buzz and excitement. Random people commented on posts about how they couldn't wait to get their hands on this new brew. Short videos and pictures of the hazy orange beer kept popping up. A release date and time was set! "Get there early to secure you spot in line to get your hands on the next great beer!" It was, to me, totally and completely bonkers.
Though Pioneer had been around for years, it's not like they had set a precedent for a "line beer." Sure, their existing beers were pretty good, but no one was standing on line anywhere for them. Todd the Pioneer didn't care. He figured it out: Say there's gonna be a line and maybe, just maybe, there would be a line.
At Shebeen. (I know I've veered off the rails, but this whole saga could only have happened here.)
Perhaps, and I'm just making this up, get a bunch of your friends to plant seeds in the right online places: "Totally getting to the Trailblazer release at 9AM to be early in line!" "You gonna go to the Trailblazer release? I am! Early!"
Could this possibly work?
Did it work for Trailblazer? You bet it did.
In.
My.
Face.
There absolutely was a line. Sociology and human psychology are amazing things. Trailblazer had joined the Connecticut ranks of Fuzzy Baby Ducks, Igor's Dream, Imperial Stout Trooper, OEC Experimentalis, and … and… and yes, Tree House. Before anyone had tasted the beer! Amazing.
If anything, this episode was a lesson in marketing. Was it shady marketing? That's for you to decide. The bottom line is, it worked. Like a charm.
As you know, Untappd is a beer rating app. And it can be fun and useful. Personally, I've never used it, but I know plenty of people who do. For brewers, it can be anything from an annoyance to an obsession to the bane of their existence.
Or, in some rare cases, it can be a valuable marketing tool as I've mentioned.
A major piece of the math behind Untappd that I don't think it accounted for was "how many other beers has the ranker ranked." This opens it up to some of the tomfoolery Pioneer has been accused of. And surprisingly, this stuff matters. Bros are out there bro'ing it up based entirely on Untappd rankings.
Put it this way: we all agree that it is advantageous for a brewer to have a beer in the top ranks of similar beers on Untappd. But something few talk about is that it is also advantageous for fanboys to have "their" beer in the top ranks as well.
Highly-ranked beer was currency in the mid 20-teens, as stupid as that sounds. Traders and black market resellers had much to gain if and when a beer they had access to attained such lofty heights. Go ahead, find a reseller's Untappd profile. I'll wait. Look at their list of beers they most often sell for 1000% profit. Now go look at how many times they've rated those same beers 5 caps on Untappd.
The correlation is strong.
To me, the saddest part of this whole Untappd thing is the sociology aspect of it. This whole weird little culture has sprouted wherein consumers post pictures of their refrigerators and countertops covered in highly rated beers. Why? I have no idea, but for some people, it seems like they almost need to do this. They need to go stand in a line to buy a particular beer to satisfy something within themselves by posting pictures of their "haul." Like I said, this saddens me.
At the same time, if it gives validation and self-worth to some people who have struggled with such things previously, I guess I see the value in that. I just wish it was achieved through something better than line beer.
Trailblazer represented a new, weird, beer life-cycle: Hype -> Rate -> Promote -> Release -> Encourage Hype -> Promote -> Fridge/Haul Pics -> Hype Again, etc. Once a few fridge/haul pics get out there of a 5-cap rated beer, other people must then post fridge/haul pictures of the same beer, and since it's a 5-capper, it must actually be a 5-capper, on and on.
Books will be written about this phenomenon someday. It's downright freaky, and no beer exemplifies this whole thing more than Trailblazer. (Articles HAVE been written about this phenomenon. Basically, paying a lot of money and making a big effort for a beer or wine or whatever – makes it "taste better.") Pioneer Todd got a lot of crap for his Untappd shenanigans, and posted this mea culpa of sorts.

Cool. We all learn from our mistakes. Even if we're mad as a hatter.
At this point you'd rightly ask, "Dude. Really? Who cares? Do you really think Pioneer Todd cares THAT much about Untappd ratings? Like, he's running a business and has a family and has no time for that crap. Why do you think he's even remotely interested in this stuff?"
Fair questions. And I'd love for the answer to be, "I'm sure he's not." But then this happened.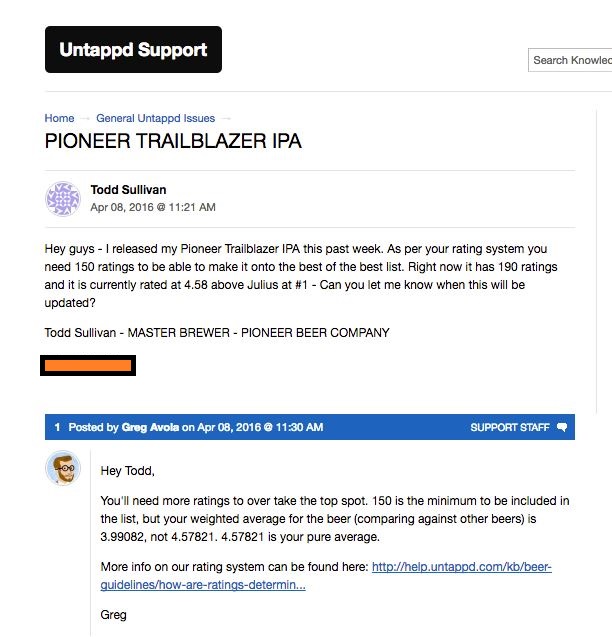 And that right there is pretty much everything. It ties together the Trailblazer story nicely, don't you think? While I've assumed some of what I've written above, I'm not the one jumping on Untappd mere days after my beer's initial release and asking why it's not rated above Julius.
I can't tell you how many people alerted me to this when it happened. People thought this was just insane.
Because it was.
Phew. Let's get back to Shebeen's 2016. They were still doing their thing and hoping that the Pioneer customers that were lining up outside their doors would boost Shebeen sales. I would hope that happened to some degree, but I don't think it was to any great extent. Pioneer's stay didn't last a year, as they were absorbed into Connecticut Valley Brewing in South Windsor as had been planned all along. The tanks were largely empty once again.
Also, a few months after Pioneer left Shebeen, Shebeen's website touted their contract brewing bona fides on their site:
Shebeen started the weirdest blog on their website and tried to become "consultants" and a destination contractor. They had experience with a white whale beer now. And could list local darlings FOC as a client. No one remembers that blog but me, and I'm mad I didn't save any screenshots. (I'm sure I did somewhere, but I'm tired of this stuff.)
There were only two entries that I remember, and they were so tone deaf and awkward. The only thing weirder along these lines was when Cold Creek Brewing hired that quirky British(?)woman to do little video vignettes for far too long. Oh no! Those videos are no longer on YouTube in 2023. I'm so sad.
Let's wrap this mess up already.
2017-2019: The End
Calm.
A calm fell over Shebeen as they approached their 5-year anniversary. Pioneer left, they had found a reliable brewer, Visco seemed to take a break from social media and, well, anything customer facing. Some decent beer was coming out of Wolcott. Beer Bros had moved on to other targets and/or were too busy chasing new beers all over the state and beyond.
Shebeen welcomed upstart brewers like Skulls Brewhouse, Boondoggle Brewing, Shakesbeer, and some others.
Behind the scenes, drama continued, but for once, it was largely hidden from the public. The various distribution efforts in other states all failed. More than one distributor was accused of thievery and/or incompetence by Visco. Remember that South Carolina distributor, created solely for Shebeen by one of the majority owners? Failed. All of this stuff resulted in Visco begging minority owners to help and put more money into the brewery and buy out that other majority ownership stake and various accusations were bandied about.
The partnerships with the Soccer team in Connecticut lasted mere months. Another with with a team in Lancaster, PA, not much longer. The Onyx win didn't do much and Onyx went kaput once people realized that whole operation was nothing more than shipping in ethanol from Indiana and putting fancy labels on it. A partnership with the now-defunct CT Beer Trail went nowhere because the CT Beer Trail went nowhere.
It did give us another winning Shebeen "We Don't Need No Proofreaders" label though: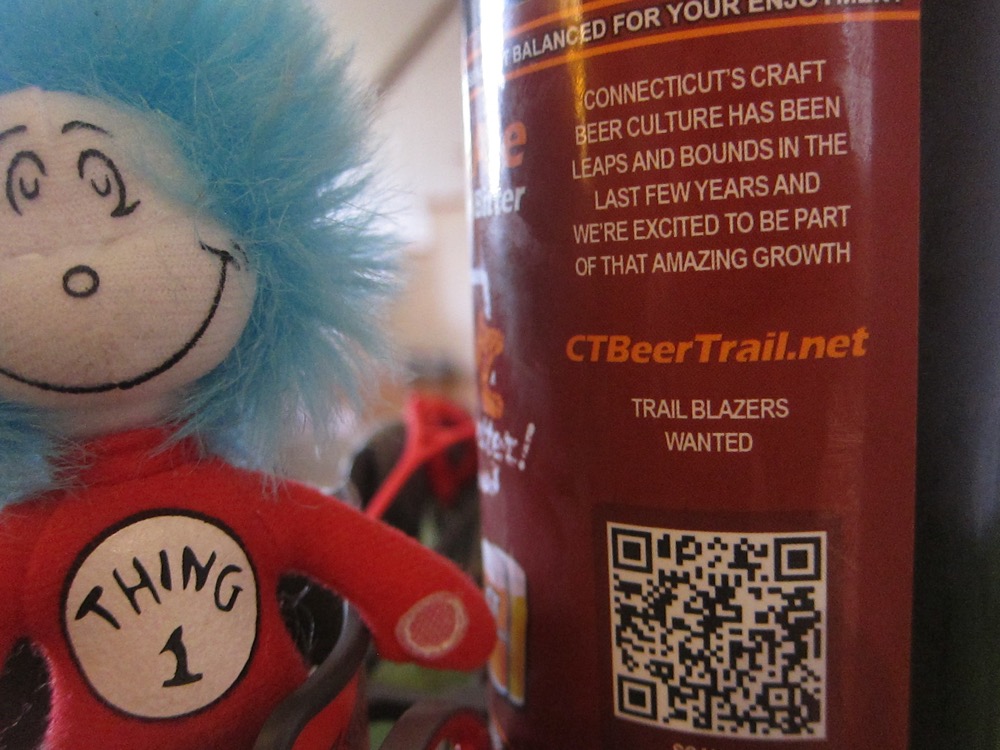 So while the face of Shebeen had settled into a decent rhythm of putting out decent enough beers, the business was not doing well. Or at least the owner continuously presented it as a dire situation to the minority owners.
With each email, for years, a few of these well-intentioned suckers minority owners would invariably forward me the missives. They offered a peek behind the scenes – of a scene I never wanted to peek behind. I never made any of the info I read in any of them public, ever – until now. Shebeen as a Connecticut business has not existed for four years now. This is ancient history. But, assuming all these claims are true – and there were many more – I can understand the stress the brewery was under.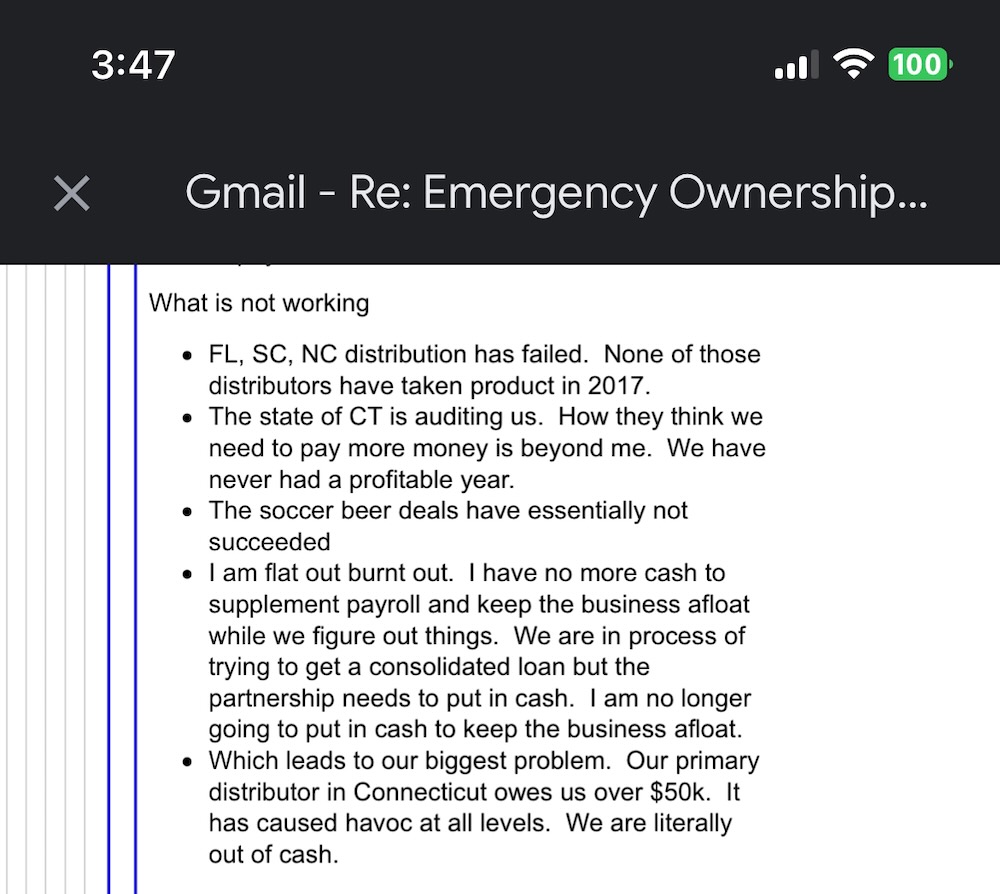 Oof. I don't know how Shebeen limped along. Their contract brewers weren't exactly rolling in dough. Years of difficulties hindered Shebeen's ability to get on taplines or endcaps in the state. The taproom was doing fine, and apparently that was enough to keep the ship afloat.
Until late early 2019 anyway. That was when Shebeen became The Connecticut Brewery Collective. Of course, since this is Shebeen we're talking about, nothing was as it seemed. Or least no one knew what was really going on. I do know that the smaller minority owners were given options and those I knew simply opted to be bought out. They all lost money on the deal, but none wanted anything to do with the brewery most had long forgotten about by this time.
Years of emails from Visco claiming abject poverty, repeated claims of insolvency and bankruptcy had worn them down. Then, magically, Visco went and bought himself another brewery: Foolproof Brewing just over the Rhode Island border. What's funny is that many were confused, no one even cared anymore. We were all completely and utterly exhausted by anything having to do with Shebeen.
The Collective, however, was still Shebeen. It brewed and sold Shebeen and the same smattering of small label contract brands. It claimed to be "woman owned" which would have meant that Visco sold his baby?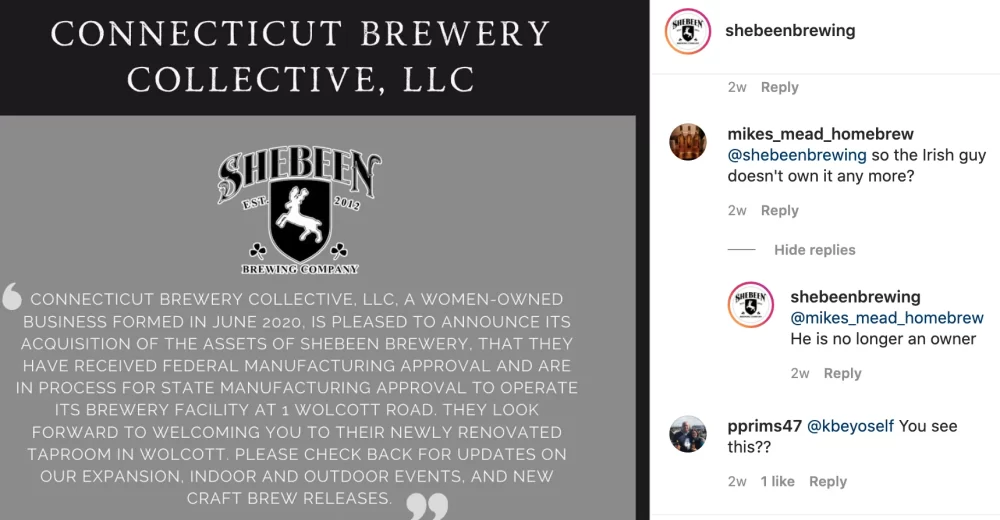 To this day, no one knows. No one cares. There was a rumor that it's actually bank owned. Or was bank owned and some developer bought it for cheap and that she's a she. What we do know is the Collective failed and closed in early 2022 before re-opening a few months later as Velvet Libations. Which also sold Shebeen beer. I think. I forget.
Velvet Libations couldn't make the cursed building work either and only lasted six months.
And that, my friends, is that. Mystery, intrigue, and a whole lot of craziness went down at 1 Wolcott Road. From contract brands to soccer teams, from distributors to Beer Trails, from relationships to moonshine brands, almost everything Shebeen touched failed – and so, so much of it was public. Like, very public. It's uncanny, really. Bad luck? Bad juju? Bad karma? Who knows. All I know is I will never write another word about this brewery and for that, I'm going to go have a drink. If you read all of this, you deserve three.
Continue the saga at Connecticut Brewery Collective