Snoochie Boochies
Cross Culture Kombucha, Danbury
November 2018
People who are into kombucha apparently call it "booch." I am not into kombucha, but I know a few people who swear by it. They tell me it tastes good and that it's good for their stomachs. Okay, fair enough.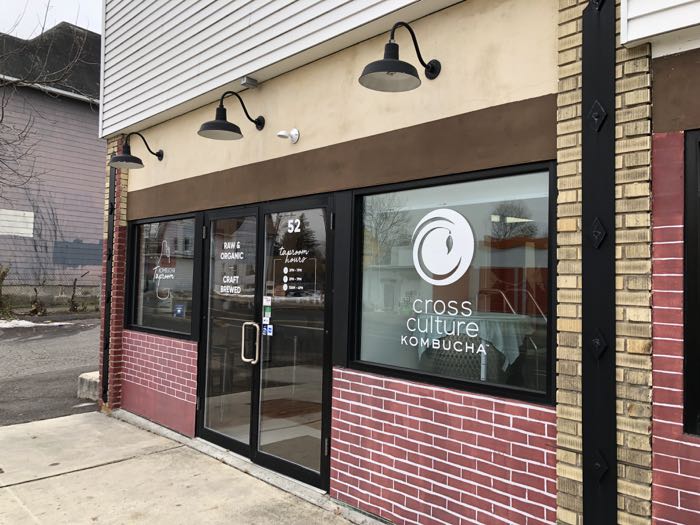 But anything I read about "booch" almost immediate raises red flags for me. The claims made regarding its health benefits are comically absurd. Fermented tea apparently cures everything from Diabetes to AIDS. (More normal claims keep it to things like gut health due to its supposed probiotic nature.)
So, yeah… Kombucha. I have no use for it in my life, but I like tea and I love unique businesses and I appreciate the couple that opened up the very first kombucha brewery and taproom in Connecticut. It is located on a busy street in downtown Danbury. Since every "boochery" is different, let's see what Cross Culture claims:
Kombucha is a delicious bubbly fermented tea that has existed for many hundreds of years. It is raw, non-alcoholic and made by fermenting sweet tea with a live kombucha culture. The culture of bacteria and yeast (known as a SCOBY) that is critical in brewing kombucha, is what transforms sweet tea into a beverage with completely different properties, and not just in taste.
Okay. Fair enough. You take tea, you drop in a SCOBY, and you ferment the tea. Really wish Cross Culture's site ended there. But it continues…
After fermenting, the beverage contains loads of healthy organic acids, beneficial bacteria, vitamins, antioxidants and enzymes. These works together in an adaptogenic tonic that supports nutrition absorption, digestion, liver function and detoxification, joint health, immunity, pH balance, and overall well-being.
No. Stop. Grrrrr, this is why I can't stand this stuff. Joint health? pH balance? Liver function? Friends, this is fermented tea. It is doing none of those things. Some of them literally make no sense from a physiological standpoint.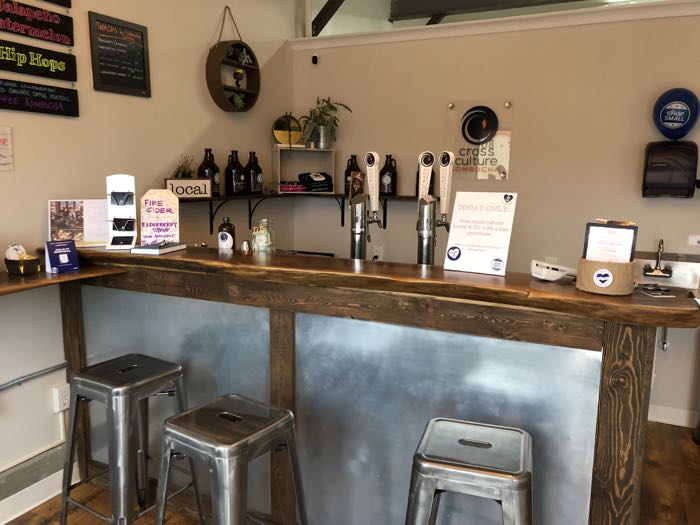 Ignoring the scientific silliness of the recent kombucha trend for the time being, I entered the tiny little taproom and met one of the owners. She was cordial and welcoming. Her pH seemed balanced and her liver appeared functional.
Being a "booch" novice, I had no idea what I even wanted to ask for here. I bumbled (honestly) with the owner and convinced her to let me try a few flavors. They start with four "core flavors: Jasmine Green Tea, Earl Grey Tea, Original Green Tea, and Black Assam and White Peony Tea. From those core flavors, as I understand it, they make variants by adding other flavors like watermelon or chocolate or spices or whatever.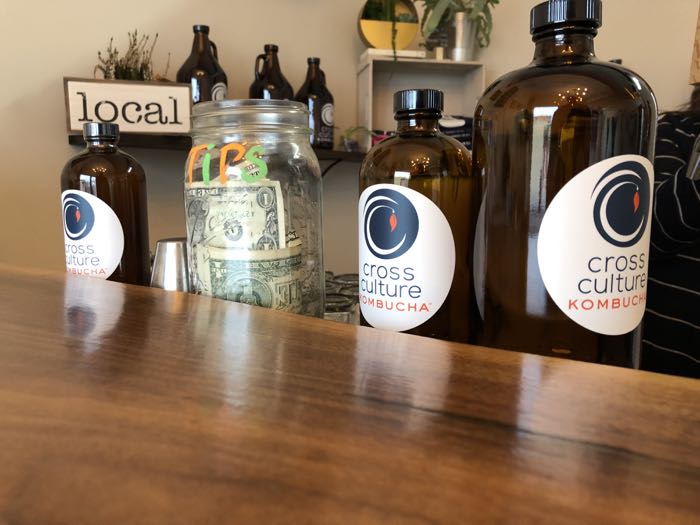 I think I have it right. Kombucha is made using the same process as beer brewing. You brew it, then you let it ferment. But the levels of alcohol produced are so low that it is considered non-alcoholic. I've heard some homebrewers say that it can get pretty boozy depending on your process. Again, I have no idea.
I tried a couple flavors – the Hip Hops Something which I was told had a taste very similar to an IPA (beer). It did not. But the tap handle featured Biggie Smalls which seemed discordant with kombucha culture – but I liked that.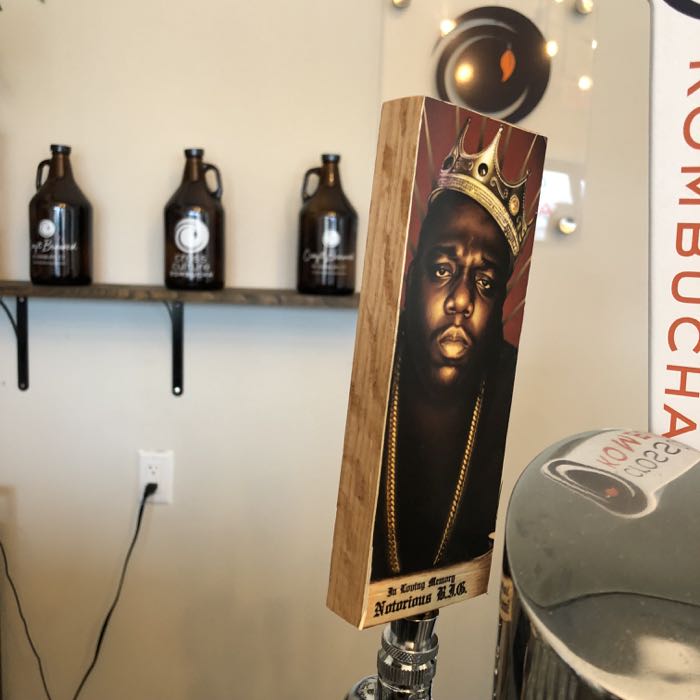 I wondered over to the window overseeing the production room and, LOL, each fermenter has a 90's hip hop star on it. Lauryn Hill, Cube, the Beastie Boys… Biggie again. Okay, okay, I'm warming up to this place. I don't understand it, but that's likely because I'm a curmudgeonly old guy.
Cross Culture has thus far (in late 2018) been very successful. They're "on tap" all over lower Fairfield County (protip: kombucha plays well in lower Fairfield County) and I think they even sell their bottles retail down there as well. The owner was really cool and helpful, taking me on my first "booch" journey.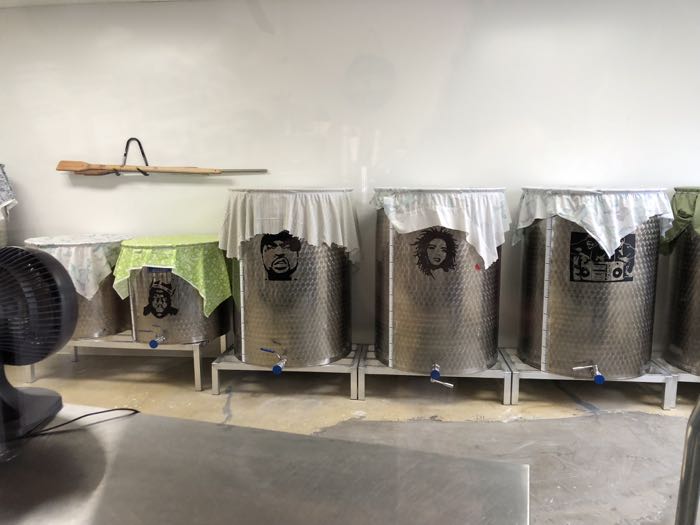 I bought a small bottle of Watermelon Jalapeño Kombucha. It was ridiculously cheap for some reason, especially considering I got a cute little bottle that I'll never use again with it. I offered it to my wife with excitement… you love watermelon, you love hot peppers, you like tea sorta… you've never had kombucha, but this is the first kombucha brewery in the state… she hated it.
Sorry. I'm with my wife here. It tasted okay, but it smelled awful. I know that a lot of "healthy" fermented drinks smell awful. Kefir smells awful. That other one from South America that was cool for a hot minute smells awful. And this particular "booch" just didn't do it for us. Cross Culture kombuchas smell like…fermented dead stuff. There's a reason many beers use aroma hops. Kombucha doesn't have that advantage I guess.
We dumped out the cute little bottle, opened the fridge and shared a gut-unhealthy, liver destroying beer. Speaking of which, the crazy blenders over at OEC in Oxford have released some sour beers that have been kombucha blends. I likely will never try them though.
We are terrible people.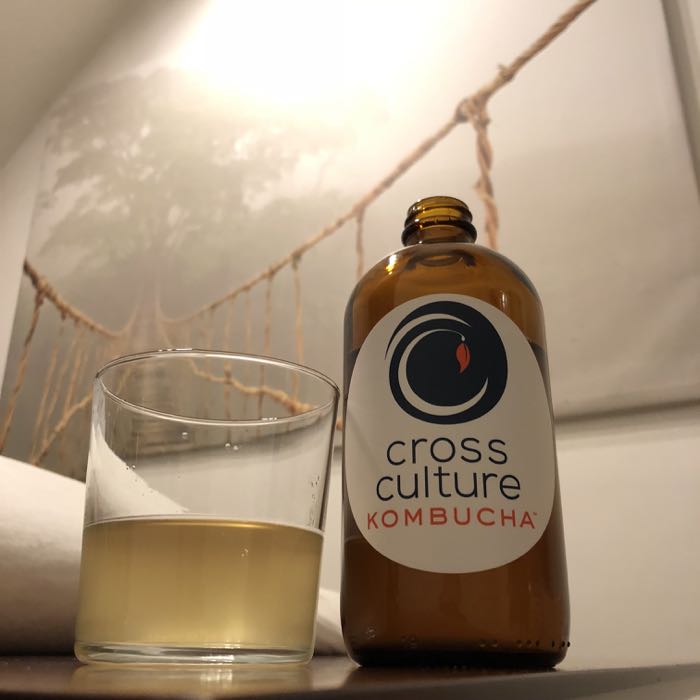 Cross Culture Kombucha
Cideries & Kombucheries