Everything Bridgeport
I've been exploring and writing about Connecticut since 2006. After a decade, I began compiling CTMQ guides for each town in the state. I plan on "completing" Bridgeport CTMQ-style… as well as the other 168 towns, cities, and boroughs in Connecticut. That is the ultimate goal of CTMQ.
If I've missed anything in town or if anything has closed or changed, please let me know.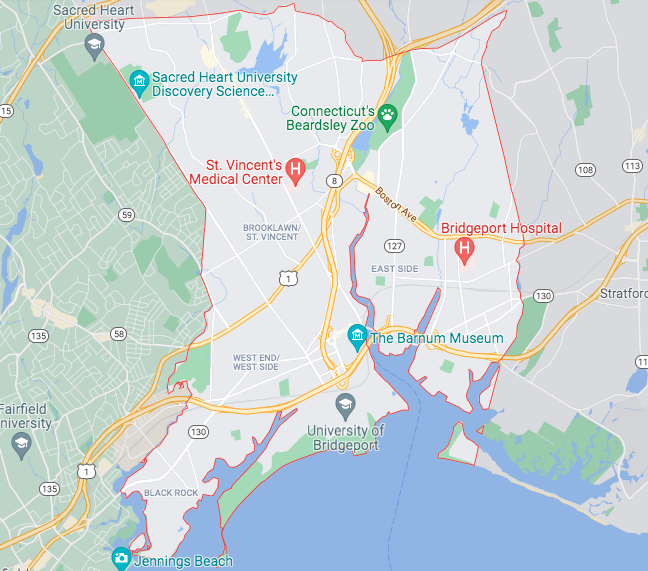 Museums
Artspace Gallery
Barnum Museum
Beardsley Zoo
Carousel Museum at the Beardsley Zoo
City Lights Gallery
The Discovery Science Center & Planetarium
Dundon House at Captain's Cove
First in Flight Museum at Captain's Cove
Housatonic Museum of Art
The Knowlton Art Park
The Mary & Eliza Freeman Center for History and Community (Potential Future Museum)
Schelfhaudt Gallery at UB
Hikes, Bikes & Paddles
Explore Connecticut's Bridgeport Outdoor Guide
Aspetuck Land Trust – Intro
Bridgeport's Town Trails – Intro
Beardsley Park
Elton Rogers Park
Ninety Acres Park
Seaside Park/Pleasure Beach Trail
Tunxis Hill Park
Multi-Use/Rail Trails
Pequonnock River Trail – Intro
Food & Drink
CT Classic Diner Trail: Merritt Canteen
CT Classic Diner Trail: White's Diner
CT Homemade Ice Cream Trail: Micalizzi's Italian Ice & Ice Cream
CT Homemade Ice Cream Trail: Timothy's Ice Cream
CT Spirits Trail: Asylum Distillery
CT Beer Trail: Aspetuck Brew Lab
CT Beer Trail: Brewport Brewing Company
CT Beer Trail: Berlinetta Brewing Company
CT Beer Trail: Black Horse Garage Brewing Company (Potential future brewery)
Tugboat Bar at Captain's Cove
Looking for your favorite restaurant? Here is an explanation as to why it's not here.
Everything Else
National Historic Landmark: Barnum Museum
CT Art Trail: The Housatonic Museum of Art
CT Freedom Trail: 2 Sites & Little Liberia
Father Panik Village
Pleasure Beach
Remington Shot Tower
St. Margaret's Shrine
Arnold Bernhard Center Egg
Fayerweather Island (Black Rock Harbor) Lighthouse
Tongue Point (Bridgeport Breakwater) Lighthouse
Bunnell's Pond Fishway
Peqauonnock River Apron Fishway
Angie's at Aqua Seafood Market
Black Horse Garage
PT Barnum & Tom Thumb Gravesites
PT Barnum Statue at Seaside Park
Elias Howe Statue
James O'Rourke Statue
Lewis Latimer Statue
Henry Bergh Monument
Abraham Lincoln Speech Plaque
Gustave Whitehead Fountain Memorial
Site of First Subway Sandwich Shop
The Archive
Beardsley Zoo Carousel
Bridgeport Sound Tigers (AHL)
Goofy Giant Cow
Bridgeport Wrap-Up
Completion Celebration at TBD