A Sucker Dies Every Minute, Too
PT Barnum & Tom Thumb Graves, Bridgeport
May 17, 2008
When people try to list some of Connecticut's most famous and/or important residents over the centuries, I should hope that PT Barnum is always remembered. From Bethel to Bridgeport, Barnum was heavily involved in state politics, land preservation, and landscape design.
Oh, and the circus stuff too of course.
Barnum was (and is) buried at Mountain Grove Cemetery on the north edge of town. The more I learn about Barnum, the more I love/hate him. A total huckster (who never really did say that a "sucker is born every minute,") Barnum played his foolish customers for all they were worth.
Designed to be a "get away" from the crowded cities, this "rural cemetery" was designed with gardens, rolling hills, winding roads, and ponds. Wikipedia tells us that Barnum designed the grounds, but I find that impossible to believe.
Also buried here is Charles S. Stratton, aka Tom Thumb, Barnum's diminutive meal ticket.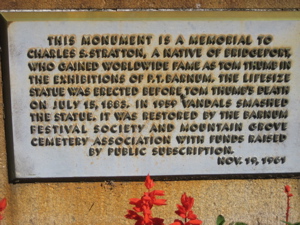 And what the heck, I might as well mention none other than Margaret Rudkin is buried here too. Who? Only the founder of Pepperidge Farms! Mmmmm, Mint Milanos… Chessmen… Brussels…
I really should have found her grave.
CTMQ Visit to the Barnum Museum, Bridgeport
CTMQ Visit to the Barnum Statue, Bethel