Bring Some Gin For This Housatonic
Bridgeport (Google Maps Location)
May 17, 2008
Housatonic Museum of Art is a Connecticut Art Trail site.
My first art museum! Finally! After only 50 other Connecticut museum visits! It's not that I've been purposely avoiding them… I did try to go to at least one other art museum previously that turned out to be closed upon arrival. Although, admittedly, I've often privately wondered how in the world I'd write about an art museum. This is because a) I'm not an actual "writer", b) My limited art knowledge will certainly hinder me, c) my desire to gain much more knowledge of art is also limited, and d) I'd guess most art museums disallow photography. That said, I have to give it up for the Housatonic Museum of Art – they made my first foray into art museum writing pretty easy.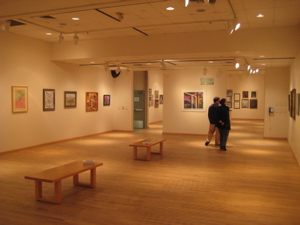 Why? Because there is not a single piece of "important" art there for me to pretend to know about for starters. And the fact that the current exhibit consisted of the college student's art certainly makes this report much more fun in a way. Future Van Gogh's these kids are not. I may not know art, but at least I know that.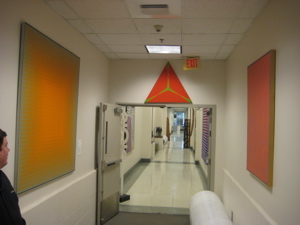 I was not alone for my trip, as this visit was an early stop during a full day of festivities with friends Rob C. and Yvonne – both up from NYC for the experience. It was a beautiful early Saturday morning – so beautiful that the fact that we were in downtown Bridgeport did not take away from our sunny dispositions. I parked on an empty street and we made our way over to the college campus.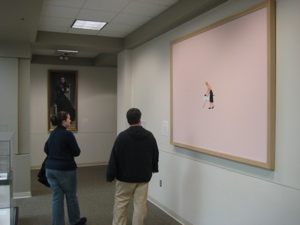 Granted, none of us had even heard of Housatonic Community College before, let alone it's little art museum. The place seemed rather deserted, but the door was open and we were immediately faced with… with art. The building that the main gallery is in is a very nice building. Bright, open, clean – and the Bert Chernow Gallery was equally welcoming. Hey, this place was pretty darn cool!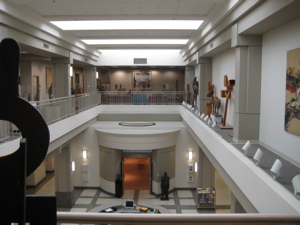 Once in the main gallery, we were confronted with the student's art. Now, over the years there have been some very impressive exhibits here; it just so happens that we didn't get so lucky.
Of course, there's certainly something to be said for "Faceless objectified clichéd woman ripping the heart out of the poor, innocent bloody crying guy" run-of-the-mill stuff: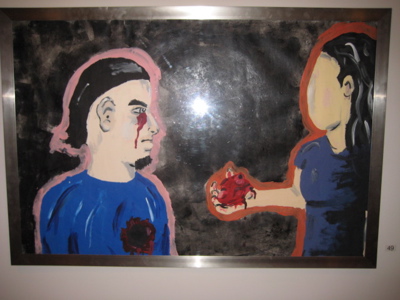 I guess now would be a good time to say that I cannot paint or draw and all this stuff is better than I could ever do. Yes… even "80's Rocker sketch that I saw a million times on the back of notebooks in 5th grade" drawings: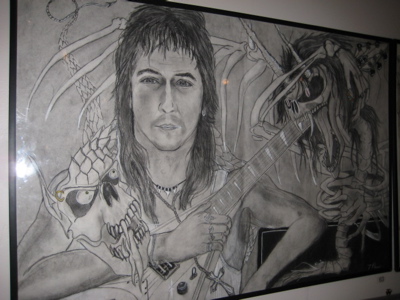 To be fair, I thought this sculpture of Wendy's straws lit from below was the coolest thing at the whole museum: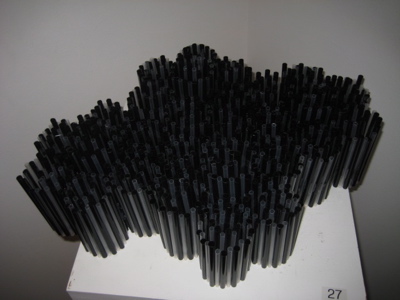 Of course, there are permanent exhibits on display as well, in a somewhat unique setting. They seem to sprawl around the building – in stairwells and hallways and side alcoves. Which I sort of liked. We poked around and made our way upstairs to check out some of the more established artists. And trust me – there are plenty. I really liked the work of Julian Stanczak – so much so that he's the only artist's name I took note of during my visit.
Let's get some facts from the gallery's website:
The Housatonic Museum of Art, founded in 1967, has one of the largest permanent collections of any two-year college in New England.

The Museum collection represents the realization of a philosophy that makes art a daily part of the life of every student and staff member at Housatonic. The Museum collection is primarily composed of outstanding examples of 20th century paintings and sculpture, art and ethnographic objects from the Far and Near East, Africa, and Oceania. Drawings, prints and photographs are well represented.

From the moment one enters the College campus, one continuously encounters paintings, sculpture, prints, and art objects in lounges, hallways, and offices. In addition, The Burt Chernow Galleries are open to the public and schedule changing exhibitions each year that may initiate from the permanent collection, show the work of established or emerging artists, or feature traveling exhibitions.

Among those artists represented are: Pablo Picasso, Henri Matisse, Marc Chagall, Joan Miro, Auguste Rodin, Giorgio DeChirico, Mary Cassatt, Milton Avery, Everett Shinn, Richard Lindner, Larry Rivers, Ben Shahn, Victor Vasarely, Andy Warhol, Andre Derain, Marisol, Robert Rauschenberg, Leonard Baskin, Roy Lichtenstein, Alex Katz, Tom Wesselmann, Paul Jenkins, Saul Steinberg, Isamu Noguchi, Alfonso Ossorio, Jim Dine, Christo, Jean Dubuffet, Gustav Klimt, and Alberto Giacometti.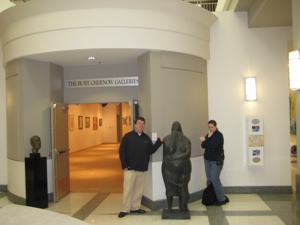 Really? We spent a good amount of time here and I happen to be familiar with many of the artists named above and saw none of their work. I'm sure, though, that I just missed it – or more likely they were in storage or on loan.
In the end, I did enjoy the little art museum even if I didn't really learn anything. Well, anything other than the fact that Housatonic Community College exists and that smoking baby monkeys crack Yvonne up: