Black Rockin'
Aspetuck Brew Lab, Bridgeport
July 2019
Journey with me, won't you, to bucolic Black Rock, Connecticut, home of Aspetuck Brew Lab. Or, as we fancy boarding school Connecticutians say, "Ahhspehtuhck Brew Lahhhhhb in Blahhhhck Rohhck, Cohhhnecticuhhht." No brewery in the state sounds fancier.
~ Record scratch ~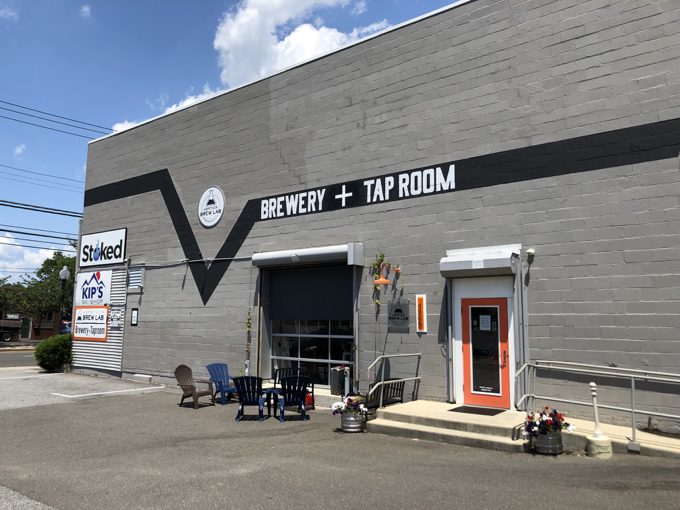 This place is in Bridgeport. As much as Black Rocksters like to pretend that their section of bankrupt and beleaguered Bridgeport is actually in Fairfield, it is not. And while the Algonquin word "Aspetuck" correctly evokes a pristine New England of yore, we're still in the BPT, Connecticut's most populous city; a city that loves voting for felonious mayors.
While all of the above is true, it's also a bit unfair. Black Rock is generally quite nice, with a growing restaurant and cultural scene. It does have waterfront on the Long Island Sound and, as if you haven't gathered by now, its home to Aspetuck Brew Lab. Of course I want Bridgeport to thrive and hope these small steps pave the way forward. While the "Brew Lab" part does sound a bit pretentious, it's sort of the brewery's whole thing, so just go with it.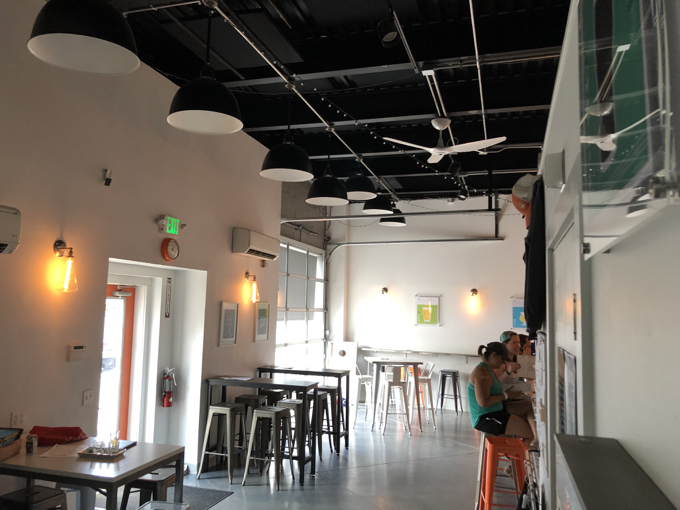 And as for the Aspetuck part, the water that serves as the base for their beers comes from the Aspetuck watershed, fed by the Aspetuck River in the hills of Redding and Easton, Connecticut. The brewery says that the river is one of the cleanest in the state and produces exceptional brewing water that allows them to brew fantastic beers across many different styles. (For what it's worth, the Aspetuck Land Trust is a great organization, sprawling across several Fairfield County towns. And that water is just Bridgeport city water, which is fine.)
Asptuck Brew Lab is a fairly small operation. I was somewhat surprised when their cans started showing up in my neck of the woods, at the better beer shops in West Hartford. And such attractive cans too!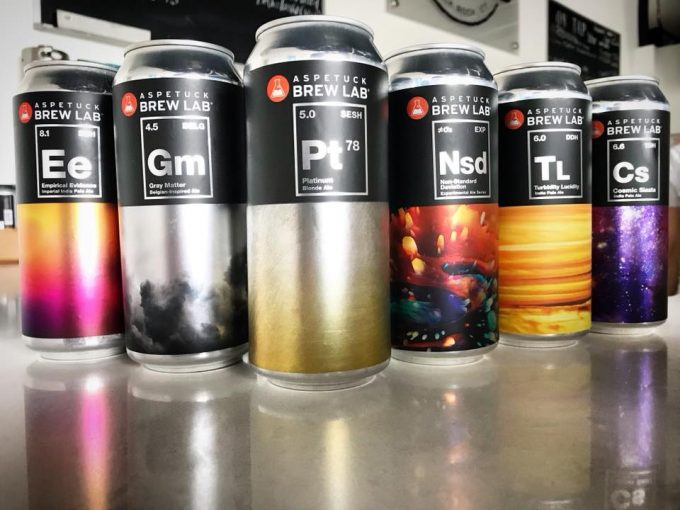 I love Aspetuck's branding. The can art is done by none other than Nick Gamma, a hugely successful and awesome graphic designer. Aspetuck's cans carry a theme across the line-up; attractive metallic graphics with a fake periodic table notation. I can read the name of the beer and the style! Heck, the brewery's name is even readable! Glory be.
They aren't the cheapest option, so they better be good, right?
Right.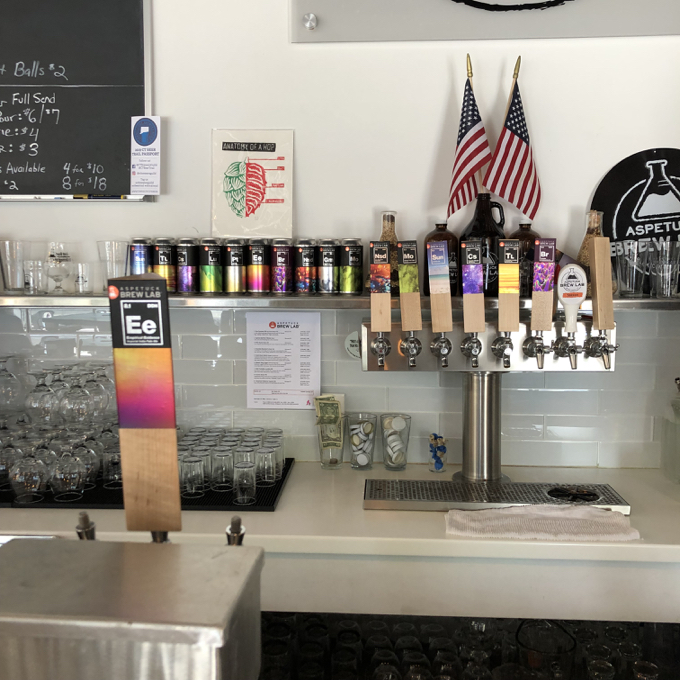 I had bought and enjoyed several cans over the year preceding my visit. An IPA or two, a blonde (!), a stout, and a DIPA were all top notch. Aspetuck has very little social media presence, and they fly under the radar. That's just who they are and I respect that; some would argue that's not the best marketing strategy these days, but perhaps their beer is good enough on its own to make the brewery successful? (I'm sure they're on Instagram and facebook though; just not on Twitter at all.)
The cans I'd had were good, now let's check out the brewery.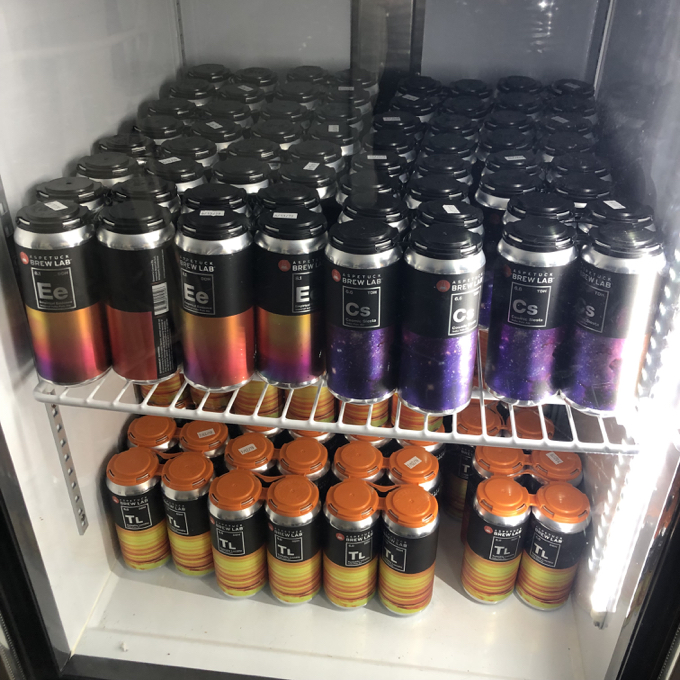 At the Aspetuck Brew Lab, there is no shortage of excellent, award-winning beers. With 17 years of amateur brewing experience prior to starting the Brew Lab, founder and chief beer scientist Peter Cowles has racked up medals in some of the most prestigious and competitive brewing competitions in the US. Along with 25+ years of marketing and business strategy experience and an MBA from The Stern School at NYU, he brings a creativity and energy to the Lab that will result in some of the most creative, flavorful and well-made beers available. Anywhere!
You see what I mean with the "Brew Lab" and "beer scientist" stuff? And as for my earlier comment about social media, as one with 0 years of marketing experience, I'll shut up now.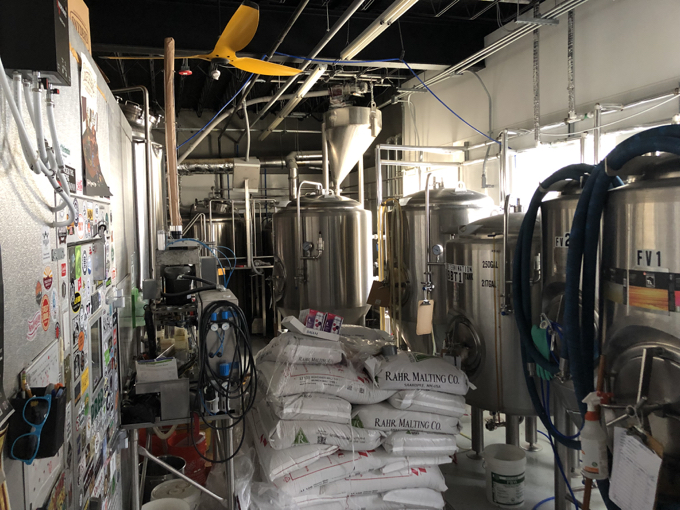 The taproom space is really quite small. But you know what? I love it. Very few breweries – be it Connecticut, New England, America, or the world – integrate clean modern design into their visitor spaces. A couple others in Connecticut approach the aesthetic, but they slide a bit more into the Pottery Barn realm than going all in on the more austere modern approach.
And if my wife ever goes to Aspetuck, she'll swoon over the color palette. With so much competition these days, these things matter now. While this place is tiny and I don't really see much room for expansion, at least there's a Blind Rhino across the parking lot to stretch your legs and get some food.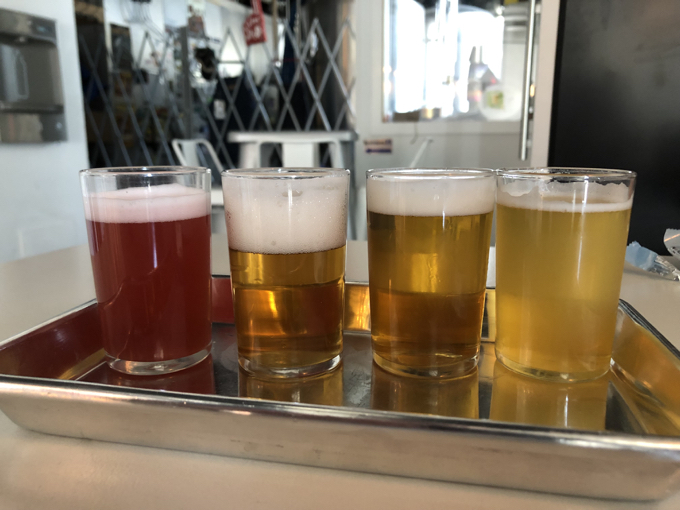 To us, good beer is elementary. We take a scientific approach to the brewing process, respecting heritage and classic styles, while pushing the boundaries by embracing a healthy appetite for experimentation. Above all, we believe in fresh, local and flavorful beer of the very best quality. We are having fun brewing up the future in Black Rock as the first brewery in Bridgeport since 1940!
I ordered a flight of four for 10 bucks. Again, like the cans, a bit steep but not a big deal. Up first, the Bramble Blackberry Sour Ale. As is de rigueur these days, this "sour" contained lactose to sweeten it up a bit. I get it; sweetened kettle sours sell, but it's always been a bit ironic to me. At least Aspetuck's effort here wasn't ridiculously sweet at all; in fact, it was properly tart and pretty darn good.
The transition to the Field Share Saison was a bit rough on my palate, but once I had made the shift, I found it to be a traditional effort as good as any saison currently in the local market. Or at least bottom of the top tier.
The all-Mosaic Nut Lugger pale ale was sublime. Just a straight up pale ale. The Nut Lugger is a transluscent (hallelujah!) pale ale with the appropriate amount of hops. Properly aromatic, bitter, and citric. Well done, Beer Scientist!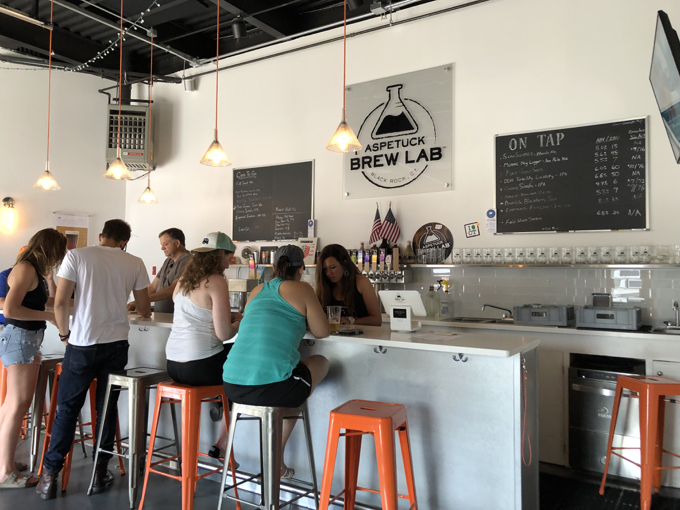 My last taster was the "double-dry hopped" Turbidity Lucidity IPA. Oddly enough, a beer with the word "turbid" in its name is nowhere near as turbid as the myriad of murky and sludgy NEIPAs out there these days. Sure, it's a little less clear than the Nut Lugger, but it – get this – still looks like a beer. Amen, Beer Scientist!
And with Simcoe, Mosaic, and Citra – pretty much the classic NEIPA hop bill – it was fantastic. Everything about the beer was "just right;" where so many breweries just get stupid with overly hopping or lactosing or fruit pureeing, Aspetuck keeps the beer beery. Yes, of course it's citrusy and lush, but that's fine! Great, even! I'd had this in a can a while back, and I was pleased that it was just as good, if not better, on tap at the source. Aspetuck's beers stay within the realm of what beer should be, and I very much appreciate them for that.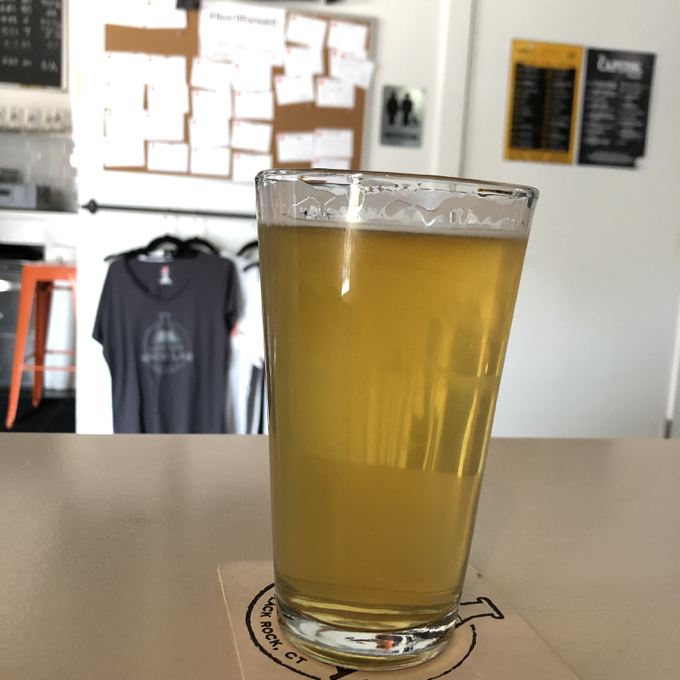 I enjoyed a conversation with a guy working there. It was a normal "two guys at a brewery" conversation; not too nerdy, not too pushy, and not needy like so many seem to be for me in 2019. We talked about the cool labels and the fact that Aspetuck's beers are never stupid or over the top with adjuncts and hop bills. I learned the owner and brewer, Peter Cowles, lives (lived?) in West Hartford and we knew some people in common. Perhaps that's why I was able to buy his beer in town.
I was inspired to order a full pint of Sun Summer Ale; another traditional beer made well. Just a blonde ale! That's it! Straight up. And it was refreshing and delicious. Seriously, I'm impressed Beer Scientist.
Impressed enough to think that little Aspetuck of Black Rock is definitely one of Connecticut's most underrated and underappreciated breweries. So sayeth I, Steve the Research and Data Scientist.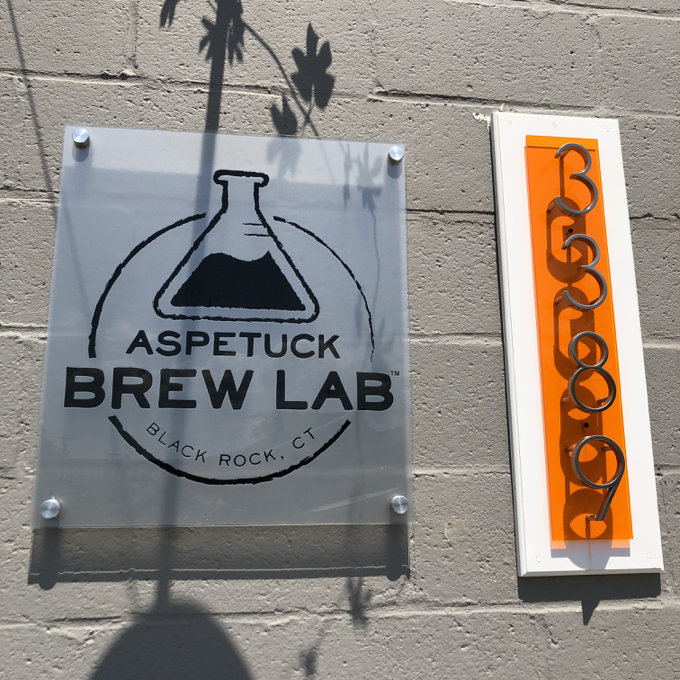 Aspetuck Brew Lab
CTMQ's Breweries & Brewpubs