Still a Showman
PT Barnum Monument, Bridgeport
May 17, 2008
Phineas Taylor Barnum's life is intertwined with the history and layout of Bridgeport. This surely comes as a surprise to many, as Barnum is certainly not the first thing people think of when pondering the issues of the BPT.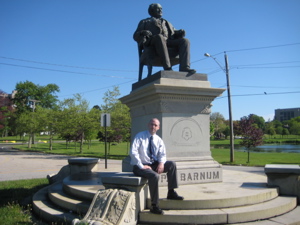 Although, I guess people do refer to the city's politics, correctly, as a three-ring circus. Bridgeport, however, is certainly not the Greatest Show on Earth. As is explore the city more and uncover all of the present day places and things that are owed to the former mayor – yes, Barnum was mayor of Bridgeport – it's pretty crazy just how much influence he had on the town. He certainly deserves the huge statue at Seaside Park.
Barnum owned the land where Seaside Park is, and donated it to the city in 1865. An excerpt from the History of Seaside Park:
Bridgeport's most famous resident, the 19th century circus impresario PT Barnum is largely responsible for the development of the park. Once pasture land, wood lots and salt marshes, Barnum envisioned the first marine "rural" park in the United States.

Barnum meant for Seaside Park to be his legacy for future generations, and the strollers, bathers, athletes, fishermen and picnickers who enjoy the park today owe a nod to his memory. In his autobiography he expressed the hope that:

"When the hand that now pens these lines is stilled forever, and thousands look… across the water to Long Island shore and over the groves and walks and drives of the beautiful grounds at their Feet, it may be a source of gratification and pride to my posterity to hear the expressions of gratitude that possibly will be expressed to the memory of their ancestor who secured to all future generations the benefits and blessings of Sea-Side Park…"
Cool. Barnum sits on a tall pedestal overlooking his Seaside legacy near the coastline. It's a nice tribute to a man who certainly deserves one.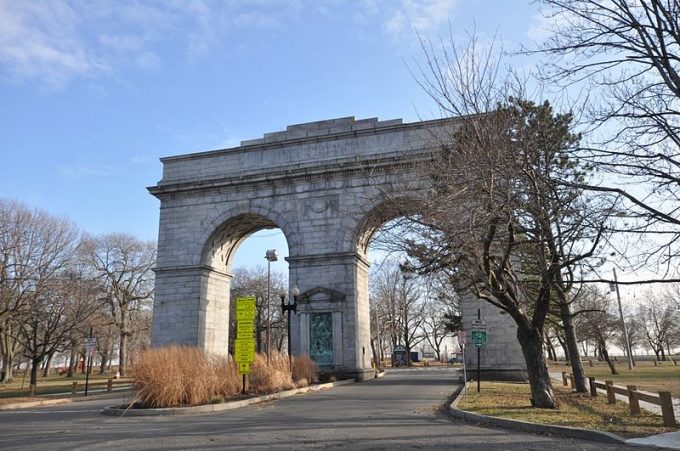 CTMQ's Page on Seaside Park
CTMQ's Page on the Barnum Museum
CTMQ's Visit to Barnum's Grave