I honestly have no idea how many goofy giant things populate our fine state. I know there are a bunch of giant goofy chairs and I'm sure there are other goofy giant things that I will find on my travels. Some will have stories, some will not.
Without further ado…
Goofy Giant Animals
Goofy Giant Chairs

Goofy Giant Animals
Mystery Malacostracan, Southington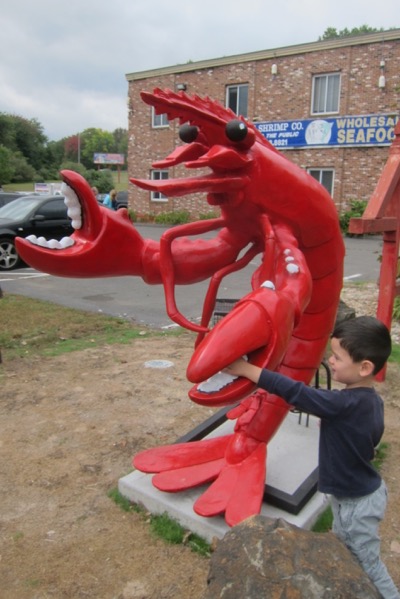 There are at least two goofy giant shrimp/lobster/crawfish/hybrids in Connecticut. This one is in front of Gulf Shrimp, Company in the Plantsville section of Southington. The above picture was from 2014 or so.
I'm sure they call it a shrimp here. And this goofy giant "shrimp" has suffered an injury recently – on a return visit in 2018, we noticed that it is missing a claw:

Mystery Malacostracan, Wallingford
This goofy giant shrimp/lobster/crawfish hybrid resides more comfortably inside Westbrook Lobster in Wallingford. Which isn't a goofy restaurant at all. In fact, I rather love the place… especially since it's owned and helmed by a good friend of mine.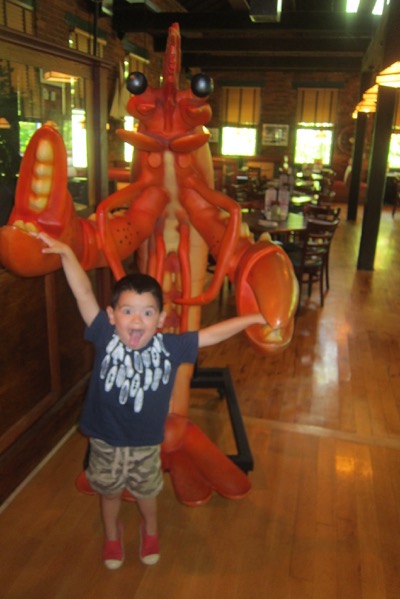 I went to the source and asked which animal it is supposed to be:
It's "supposed" to be a lobster. But, after years of careful scientific research, I have determined it to look more like a crawfish or a hybrid lobster/shrimp
And there you have it. It's giant. It's goofy. And it's an amalgam of malacostraca.

Cow, Bridgeport
Despite having been to Beardsley Zoo 4 times now, I never thought to capture the magic of their giant cow in a picture. So here you are, contrasted with my two not-so-giant boys.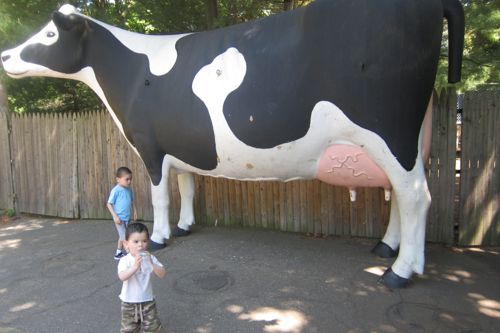 The Beardsley carries on, doing what they do, in the face of budgetary woes and such. It's not the greatest zoo in the world and doesn't have that many exotics, but in a way, that's a good thing. No one needs to see a polar bear in a box in Bridgeport.
So I applaud them for having a farm exhibit area with all the animals we see elsewhere around Connecticut (to some degree.) And this cow welcomes visitors to that area.

Gorilla & Goose, Cheshire (Gone)
And thanks to my Cheshire cop friend, I became aware of a giant gorilla, sitting in a yard on Rt.70 near the intersection of Moss Farm Rd. He doesn't know why. I don't know why. Cheshire people simply love large things in their yards I suppose.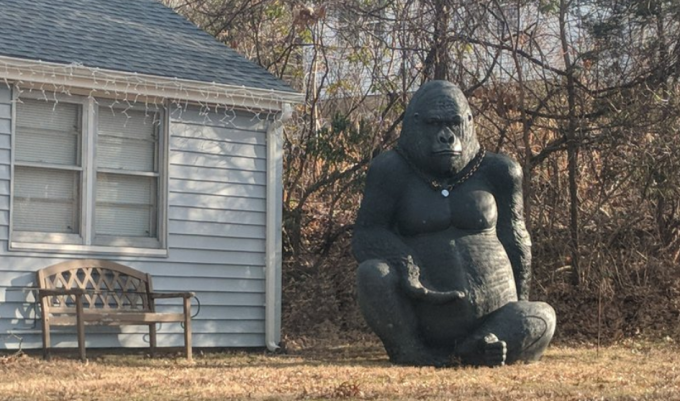 Excited with his moment in the CTMQ-sun, my friend also told me this:
There is also a goose on West Main St near Jocelyn Lane that this lady dressed up in different clothes every week. It became locally famous and then, of course, some stupid kids smashed it. Arrests were made, she replaced the goose, and then she unfortunately died of cancer.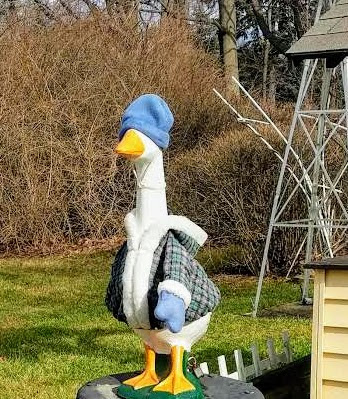 My friend – okay, his name is Kevin and I'm not sure why I've protected his identity thus far – anyway, Kevin sent me this with the note, "Take a… gander. Heyoooo!" And now you know why we're friends.

Groot
Someone on Cheshire Street made a Groot out of a tree stump. It's very well done.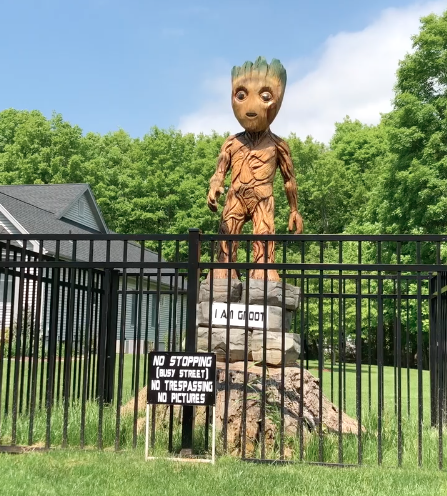 Then they put a fence around it and made a sign that says not to stop or trespass or take a picture. Sorry, I can't wrap my head around the idea of creating a piece of art, putting it 10 feet from the road, titling it, and then telling people not to take pictures of it.
If I'm to be busted for this offense, I'm going to lean on Kevin for help (though he's now retired).

Goofy Giant Chairs
Rocking Chair, Avon
I have no idea where I grabbed this text from many moons ago, but here you are.
Around 1960, Old Avon Village became home to the Giant Rocking Chair. It was no longer needed at a furniture store in West Hartford, so Mrs. Jerry DiBica, then owner of 'The Spinning Jenny', brought it to its new home in Avon, and it has enticed passersby ever since. The 9-foot high Giant Rocking Chair has been an important landmark for Avon Village Marketplace. Directions to Old Avon Village are not complete without'…turn in at the Giant Rocking Chair.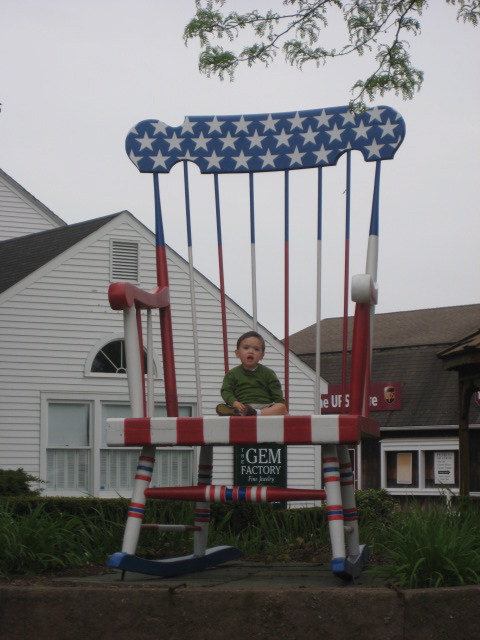 Adirondack Chair, Middletown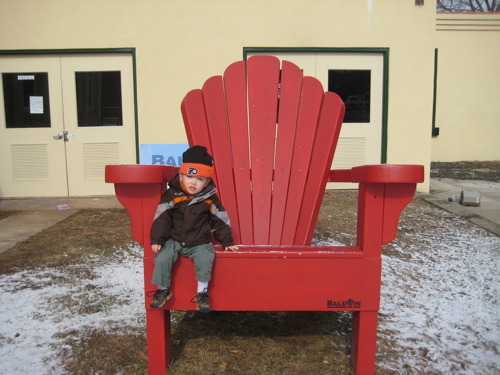 Does Middletown have a weird Giant Goofy Things obsession? Baldwin Furniture is an out-of-the-way furniture manufactory and store, though the store appears to rarely be open. No matter, their giant chair is outside. Damian thought it was rather funny, actually.

Patio Chair, Ellington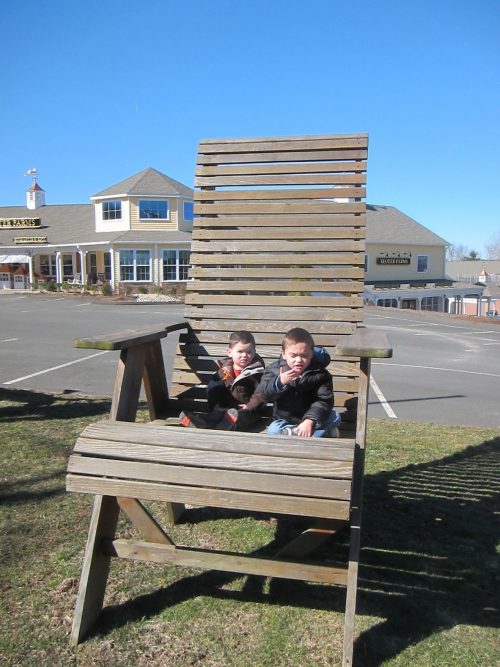 Poor Kloter Farms suffered a big fire in 2012 and lost a ton of inventory. Fortunately, they are huge and occupy 5 other buildings in Ellington. Pro Tip: Take your kids here for an hour and let them play on the 20 or so playscapes on display. They'll love it. (The kids that is, not sure about Kloter Farms.)

Adirondack Chair, Hamden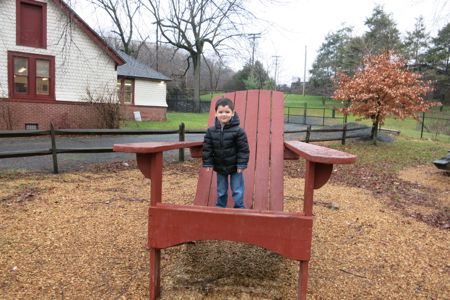 This chair sits in the courtyard at the Eli Whitney Museum in Hamden. It was raining the day we visited, so no one wanted to sit on the chair.


Two Adirondack Chairs, Durham
If my memory serves, these are both located along route 17. One would assume they're both somehow tied to the Baldwin Furniture folks nearby, but who knows. I do know these two chairs have been in front of these same houses for years though. So perhaps that will continue until this dumb page dies.
CTMQ's Painted Roadside Rocks, Public/Outdoor Art/Sculpture, & Goofy Giant Things