I honestly have no idea how many goofy giant things populate our fine state. I know of two giant chairs, and I know I will be exploiting my small child by sitting him in them. I'm sure there are other goofy giant things that I will find on my travels. Some will have stories, some will not.
Without further ado…
Goofy Giant Mystery Crustacean #1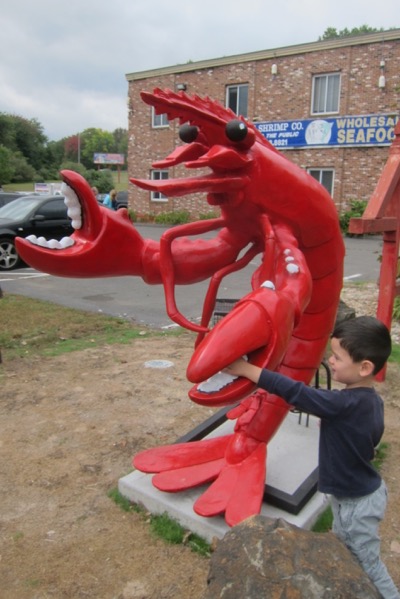 There are at least two goofy giant shrimp/lobster/crawfishes in Connecticut. This one is outside of Gulf Shrimp, Co., in the Plantsville section of Southington. The above picture was from 2014 or so.
I'm sure they call it a shrimp here. And this goofy giant "shrimp" has suffered an injury recently:
For in 2018, it is missing a claw.

Goofy Giant Mystery Crustacean #2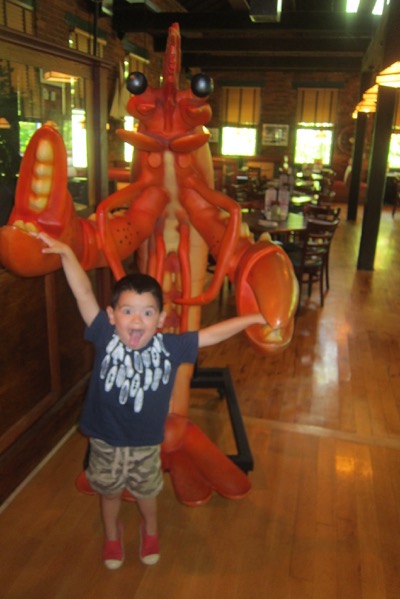 There are at least two goofy giant shrimp/lobster/crawfishes in Connecticut. This one is inside Westbrook Lobster in Wallingford. Which isn't a goofy restaurant at all. In fact, I rather love the place.
I went to the source and asked which crustacean it is supposed to be.
It's "supposed" to be a lobster. But, after years of careful scientific research, I have determined it to look more like a crawfish or a hybrid lobster/shrimp.
And there you have it. It's giant. It's goofy. And it's an amalgam of arthropoda.

Goofy Giant Paper Airplane Sculpture, Putnam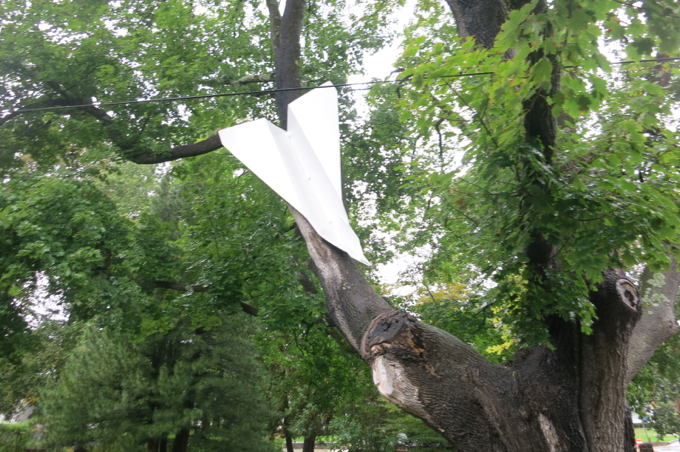 I actually wrote a short little page about this plane and its artist and its place in Putnam.

Goofy Giant Legos, Enfield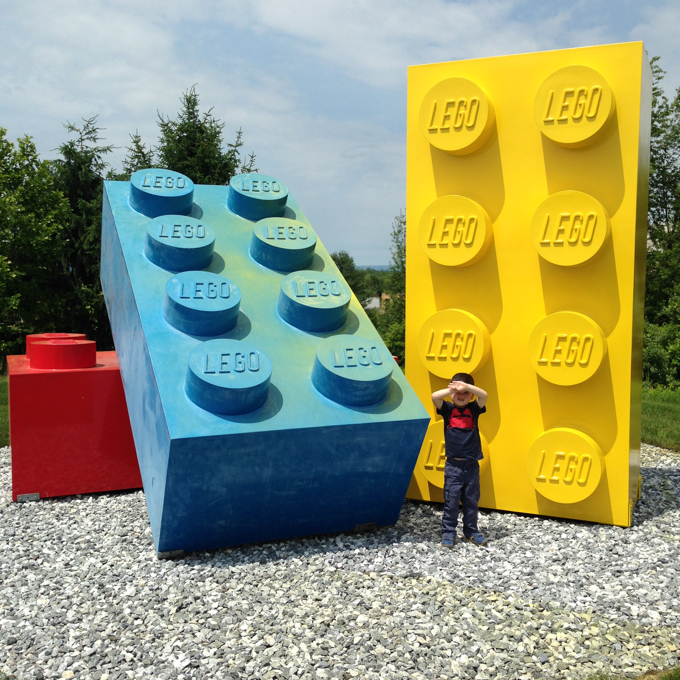 When one considers the fact that LEGO's North American operations are headquartered in Enfield, I suppose this isn't so goofy. In fact, it's incredibly cool. So cool, in fact, that I made a special detour so Calvin could see this. Then I went and got a job there in 2018.

Giant Goofy Rocking Chair, Avon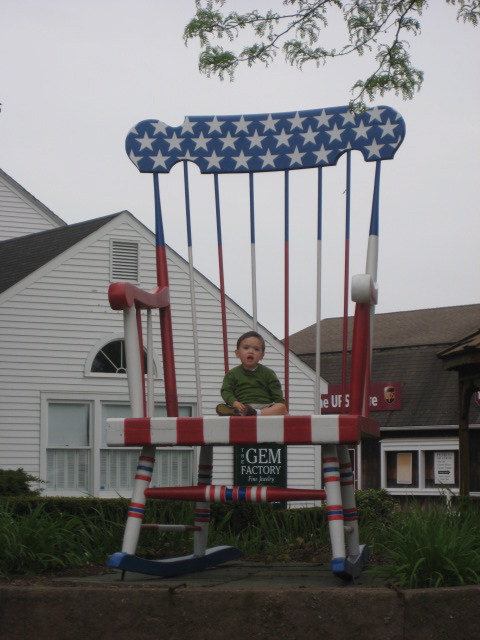 "Around 1960, Old Avon Village became home to the Giant Rocking Chair. It was no longer needed at a furniture store in Elmwood, Connecticut, so Mrs. Jerry DiBica, then owner of 'The Spinning Jenny', brought it to its new home in Avon, and it has enticed passersby ever since. The 9-foot high Giant Rocking Chair has been an important landmark for Avon Village Marketplace. Directions to Old Avon Village are not complete without'…turn in at the Giant Rocking Chair'"

Giant Goofy Jack-in-a-Box, Middletown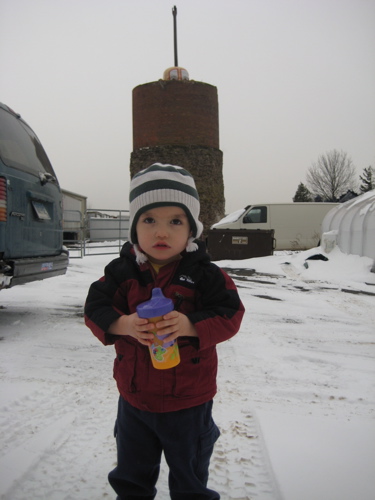 Wild Bill's has closed.
It's amazing to me that there isn't a line to see this attraction – the world's largest, by the way – on a daily basis. It's truly unique, original and yes, goofy. Unfortunately the mechanical part of the operation wasn't operational on the freezing cold January day Damian and I visited, but you'll get the gist from the following piece on Roadside America, which has better pictures too.
Wild Bill's Nostalgia Center store certainly deserves a post of its own, but Damian wasn't feeling like perusing the day we were there. But we'll be back… For as Wild Bill says, "my store also has the world's largest "bobbing head" on the front of the building."

Giant Goofy Adirondack Chair, Middletown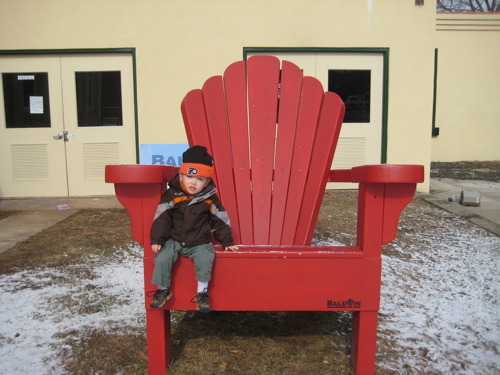 Does Middletown have a weird Giant Goofy Things obsession? Baldwin Furniture is an out-of-the-way furniture manufactory and store, though the store appears to rarely be open. No matter, their giant chair is outside. Damian thought it was rather funny, actually.

Giant Goofy Patio Chair, Ellington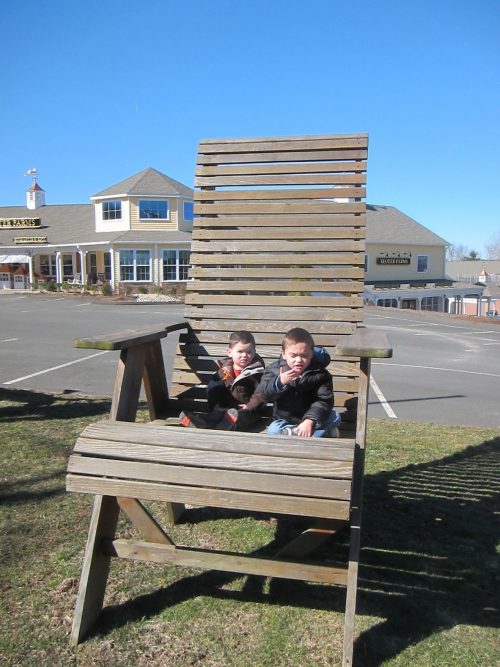 Poor Kloter Farms suffered a big fire in 2012 and lost a ton of inventory. Fortunately, they are huge and occupy 5 other buildings in Ellington. Pro Tip: Take your kids here for an hour and let them play on the 20 or so playscapes on display. They love it. (The kids that is, not sure about Kloter Farms.)
Anyway, they have a giant Adirondack Chair too.

Goofy Giant Cow, Beardsley Zoo, Bridgeport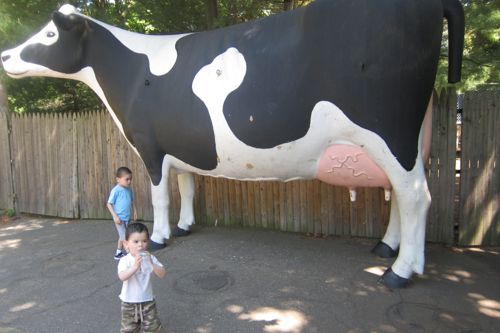 Despite having been to the zoo 4 times now I think, I never thought to capture the magic of their giant cow. So here you are, juxtaposed with my two not-so-giant boys.
The Beardsley carries on, doing what they do, in the face of budgetary woes and such. It's not the greatest zoo in the world and doesn't have that many exotics, but in a way, that's a good thing. No one needs to see a polar bear in a box in Bridgeport.
So I applaud them for having a farm exhibit area with all the animals we see elsewhere around Connecticut (to some degree.) And this cow welcomes visitors to that area.
Giant. Cow.
Another Giant Goofy Adirondack Chair, Hamden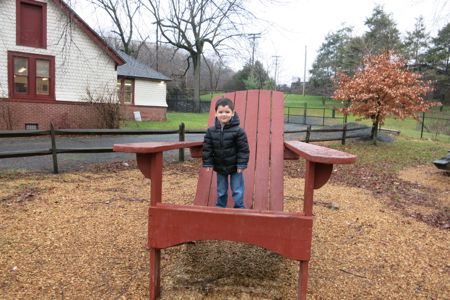 This chair sits in the courtyard at the Eli Whitney Museum in Hamden. It was raining the day we visited, so no one wanted to sit on the chair.