Everything Hamden
I've been exploring and writing about Connecticut since 2006. After a decade, I began compiling CTMQ guides for each town in the state. I plan on "completing" Hamden CTMQ-style… as well as the other 168 towns, cities, and boroughs in Connecticut. After all, that is the ultimate goal of CTMQ.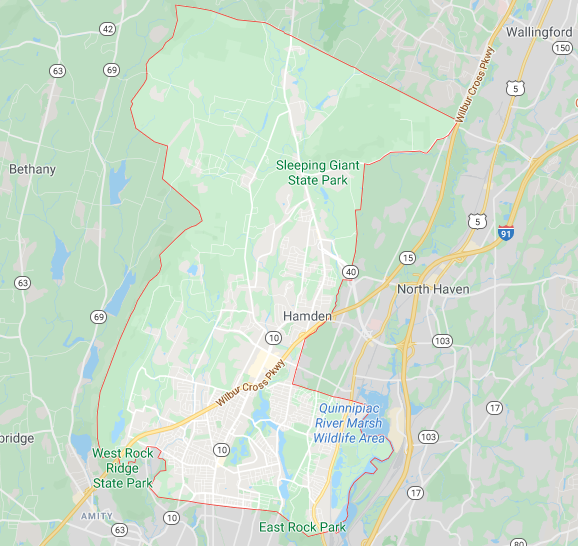 What do you know about the town which is most famous for the Sleeping Giant along its northern border? You can scroll down for my list of things to do in town. Or, as always, you can click on the town's tag to see what I've done.
If I've missed anything in town or if anything has closed or changed, please let me know.

Museums
Best Video Film and Cultural Center
Eli Whitney Museum & Workshop
Ireland's Great Hunger Museum (Closed; moving to Fairfield)
Jonathan Dickerman House
CT Agricultural Experiment Station at Lockwood Farm
Lock Keepers House and Museum
Moira Fitzsimmons Arons Art Gallery
Paier College of Art Gallery
Perspectives Gallery @ The Whitney Center
PLACE Children's Museum
Thornton Wilder Hall/Miller Cultural Complex
Hikes, Bikes, & Paddles
Explore Connecticut's Hamden Outdoor Guide
Sleeping Giant State Park – Intro
West Rock Ridge State Park – Intro
CFPA's Quinnipiac Trail – Intro
Naugatuck State Forest – Intro
Town Trails – Intro
Brooksvale Park
East Rock Park
Edgerton Park
Hamden Land Conservation Trust – Intro
Multi-Use/Rail Trails
Farmington Canal Heritage Trail – Intro
Section 4: Canal Street, Southington to Temple Street, New Haven
Canoe/Kayak Trails
Mill River
Quinnipiac River Marsh WMA/Meadows
Food & Drink
Homemade Ice Cream: Ashley's
Homemade Ice Cream: Kelly's Kone Konnection Cone Connection
Homemade Ice Cream: Wentworth Homemade Ice Cream
CT Cheese Trail: Elm City Cheese Company
Classic Diners: Glenwood Drive-In
Gio Valley Vineyards (Not open to the public)
Counter Weight Brewing Company (Moved to Cheshire)
No Worries Brewing Company
Looking for your favorite restaurant? Here is an explanation as to why it's not here.
Everything Else
National Recreation Trail: Sleeping Giant State Park trails
CT Art Trail: Ireland's Great Hunger Museum
Sleeping Giant Tower
Dead Man's and Spider Caves
Tallman Mine
A Frederick Oberlin Bridge
Satan in CT: Devil's Slide/Chute, Devil's Pulpit
Goofy Giant Things: Adirondack Chair
Gorge Cascade Falls
Wolcott Falls
The Brethren
Edgerton Park Greenhouses
Pardee Rose Garden and Greenhouse
Lock # 13
Downs Road
Brooksvale Park "Zoo"
Magicicada Preserve
Ernest Borgnine Park
Ghost Parking Lot Gone
Completion Celebration Meal & Hamden Wrap-Up
TBD