Gaylord Mt. Road & West Todd Street
Hamden Land Conservation Trust
May 5, 2013
Straight up: I didn't hike here. I drove here and took this picture: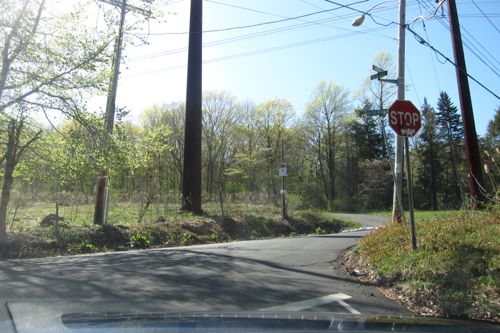 And I drove up into the little lot at the base of that giant power tower, but didn't see any signs or anything inviting, so I left. (I wanted to get ice cream and get home but the ice cream place was closed and I got home one minute before Hoang took the boys to her parents, so this whole trip up here was a waste.)
"This land is held in conservation easement by the Hamden Land Conservation Trust. The land itself is owned by the South Central Regional Water Authority. It consists of 51 acres forest, brush, and ledge, suitable for hiking."
The HLCT does lead hikes here once in a while.
Another reason I didn't bother with this property is because the Quinnipiac Trail runs either through it or along the western edge of it. Brooksvale Park is to the north of it. Those are two areas I'll definitely be exploring someday, so I can pretend I got a feel for this area I think.
By the way, if you've never driven Route 42 between 69 and 10 in Bethany/Cheshire, you should. It's very pretty and fun to drive – and like all these things in Connecticut, surprisingly close to the mess for route 10 for being so woodsy.
Hamden Land Conservation Trust
CTMQ Hikes the HLCT properties