Servoss/Mather Street (165 Mather Street)
Hamden Land Conservation Trust
May 5, 2013
If you have read my HCLT Powder Farm page, then you at least know a little bit about the Olin Corporation's history in this part of the state. (In all honesty, they simply owned Winchester who blew stuff up back during WWII and left all their crap in the ground.)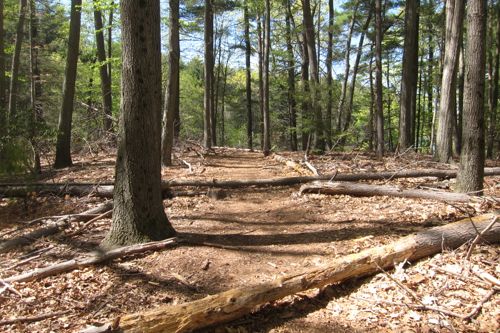 There is a long series of ponds in this section of Hamden that belie the surrounding suburbs and commercial strips. It's a little weird driving around here, as there's a mix of woods (some fenced and off limits) and closely-packed suburbia – all just a couple minutes from traffic and stripmall choked Dixwell Avenue.
Here, at the corner of Servoss and Mather Streets, bounded by Regional Water Authority property, are 2.18 acres of Hamden Land Conservation Trust land. This property is suited for very short and easy nature strolls and for bird watching. The HLCT acquired this property from the town of Hamden in 1989.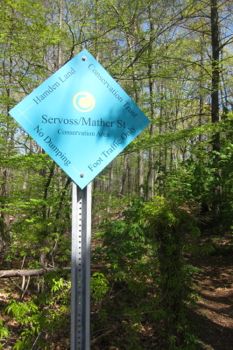 "The property was cleared in Spring, 2007, and HLCT has plans to plant native species here in the future. Planting will be limited to mountain laurel and a few white pines. Black birch seedlings will fill most of the vacant spots naturally. Smaller Norway maple (an invasive European exotic) may be reduced by pulling them up when soil is moist. Squirrels will plant oak acorns."
That's nice. And lo! There's a cool natural glacial kettle here too! I enjoyed my quick little hike down to the pond; a pond which was FILLED with painted turtles. There must be hundreds here, as every single piece of sunning real estate was covered with them. It was a beautiful sight.
Over the hill and below some apartments is that cool kettle. Okay, it's not as cool as the lake but … wait. The HLCT's geology tour guide, Cope McClintock, "has suggested that this might not be a dry glacial kettle, but rather a construction made by the Olin Corporation during World War II."
Man. Olin gotta be Olin. Again.
Hamden Land Conservation Trust
CTMQ Hikes the HLCT properties