Only Been Once? No Worries.
No Worries Brewing Company, Hamden
February 2017
I've always enjoyed the accidental subliminal advertising No Worries of Hamden enjoys. As in, "I'd like to go to a brewery tomorrow, but I can't decide which one."
"No worries."
"Oh yeah? Okay. See you there."
Brilliant.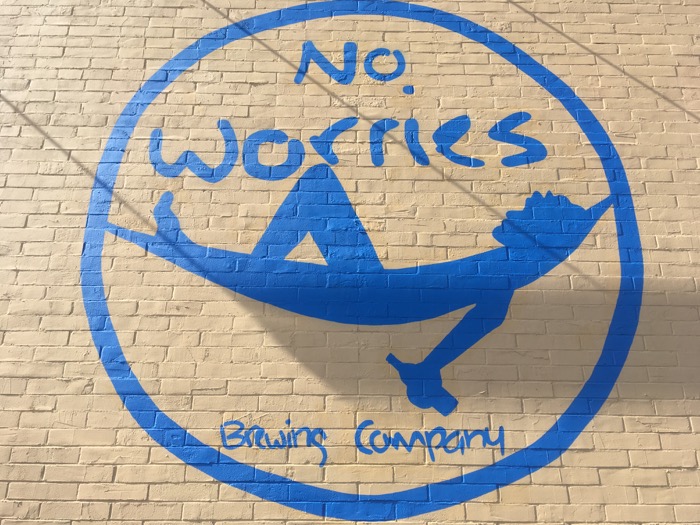 I went there very purposely with my brewery buddy Damian. We just happened to be in Hamden and… okay, I can't lie. We stopped in at No Worries before a meeting across town at the then soon-to-be-open Counter Weight brewing. When my friends were already over there and asking where I was, I texted back, "no worries!"
And they were like, "but dude, we're meeting with Matt about that thing and we need you here, where the heck are you?!"
"No worries!"
They didn't enjoy that. Hey man, Hakuna Matata! Chill out. We only live once. Enjoy the day. Relax. No Worries.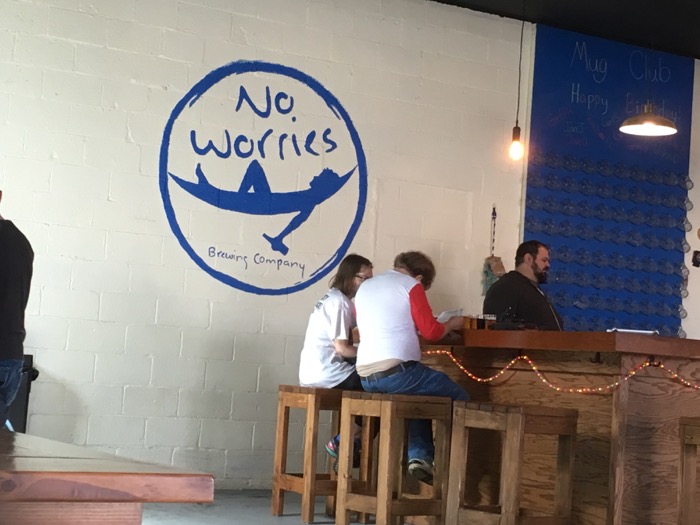 That's their mantra anyway.
In today's day and age, it's easy to get caught up in the hustle and bustle. At No Worries we believe you should enjoy every moment, do what you love, and embrace the world around you. Sit back, relax, and enjoy a hand crafted beer.
That's what I'm sayin'. No worries.
The brewery is housed in what appears to be a warehouse. Not really that old industrial feeling of so many of our breweries; this place is a bit sterile. A large high-ceilinged rectangle with cement floor, wide open spaces, picnic tables, giant cable spools, cinder block walls. I visited right at opening, and therefore the crowd was scant. Please note, No Worries does fine and there are usually many more people here.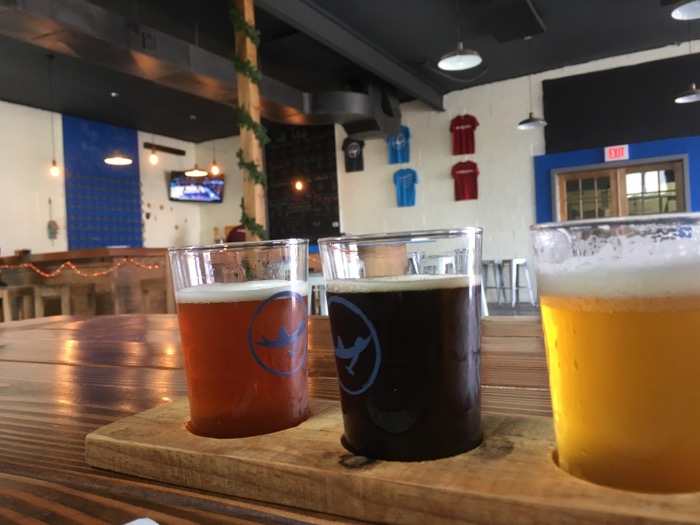 The larger space allows for bands and other events the brewery regularly hosts. Trivia nights, Ken Tuccio hosted events, and all sorts of fun stuff. And speaking of Ken Tuccio hosted events, his annual Blind Beer Awards netted No Worries a top prize for their NEIPA, the Do-Si-Do. I absolutely love when lesser-known (or at least lesser-fanboyed) breweries win blind tastings. And I love that No Worries has parlayed that honorific into more customers and sales. Good for them.
And good for Ken for keeping up the Blind Beer Awards, at least into 2018.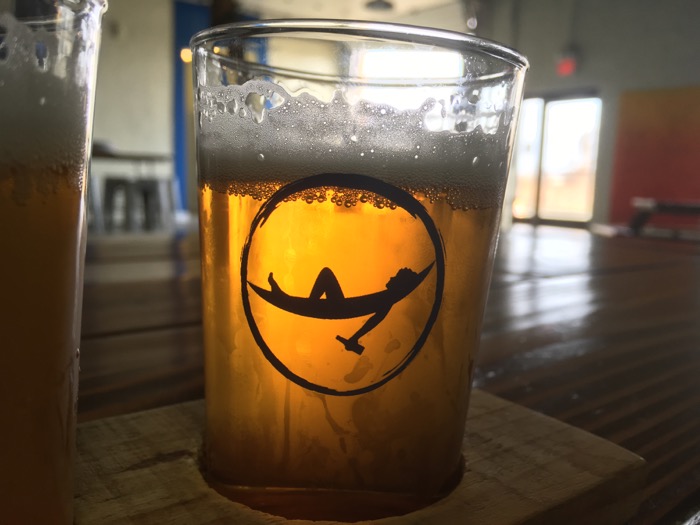 Anyway, I would assume the chill vibe here carries over to the events and during more crowded times. And I'm cool with that. In fact, I'm all about that these days. So hats off to No Worries – if you build it, and almost force a vibe, it'll turn out that way.
We'd like to think our story is unique… where two individuals, Dan and Kevin, both always wanted to start their own small business from as far back as they can remember. Dan and Kevin met in college, became great friends, and discovered a common passion in beer, its subtleties, complexities, and endless variety. As their passion and interest for beer grew, Kevin and Dan began to brew their own beer to learn as much as they could about the brewing process so they could create some awesome brews of their own. In the spirit of "doing what you love," Kevin and Dan decided to make beer their mission and open up a brewery together, allowing them to share their unique creations with the rest of the world. As it was on that fine day…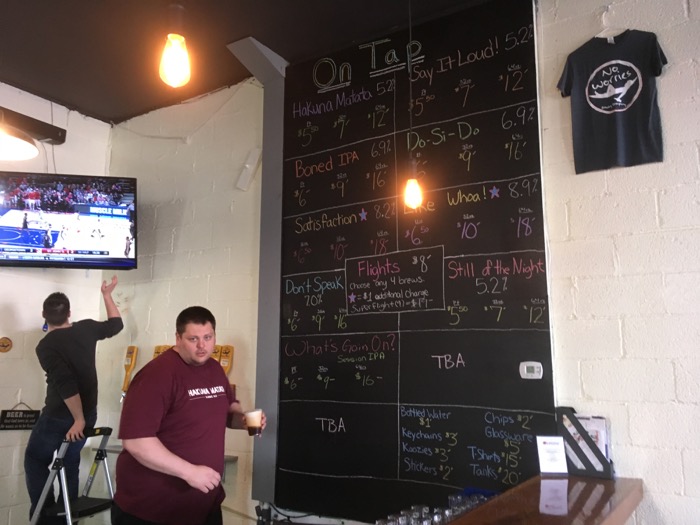 I trust that their first sentence there is sarcasm. Of course it is. I ordered a flight and purposely got a wide range of the 8 beers on offer. No Worries does that thing where they name a lot of their beers with song titles.
I tend to stay away from big beers these days, so I went with their Boned IPA, the world famous Do-Si-Do NEIPA, Don't Speak Apple Amber Ale, and the Still of the Night Oatmeal Stout.
The IPA was fine, the NEIPA was a NEIPA with Mosaic, and the oatmeal stout was a well made oatmeal stout, with flaked oats for that creamy smoothness I've come to expect. I'd had their flagship Hakuna Matata blond previously, which was also well made and very true to style, as they say. ("Hakuna Matata, for those of you – like me – who have never seen The Lion King, means "no worries.")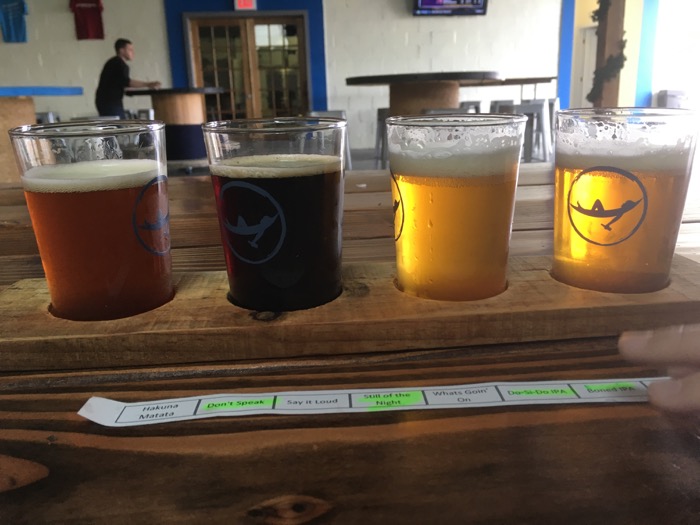 As for the Don't Speak Apple Amber Ale… I'll take the advice of the beer's name and not say anything more about it. Other than… nope… not gonna do it. It just wasn't for me, as it is a apple spiced beer, with cinnamon and nutmeg. But no worries, man, the other 3 were good.
When No Worries opened, I mused that they had some serious gumption; opening very near NEBCO and Counter Weight. The former was the best brewery in Connecticut for several years and the latter may be the best for years to come. But you know? No worries. Good for them. Besides, with beer tourism the way it is now, they'll get tons of customers – and future fans? – in the area for the others. I say that not as a knock on No Worries, but as a good thing.
No Worries pretty much stays within beer-normalcy, and I appreciate that. They seem to stray here and there, but for the most part, this is a no nonsense brewery – both with their space and with their beer. And there's nothing wrong with that.
No Worries Brewing Company
CTMQ's page on CT Breweries and Brewpubs