15 Timberwood (Timberwood Trail)
Hamden Land Conservation Trust
May 5, 2013
The entrance into this neighborhood looks like the road into a park. Wooded and with solid low fencing, I wasn't sure where the .19 acre Hamden Land Conservation Trust property was, exactly.
Here's where it is: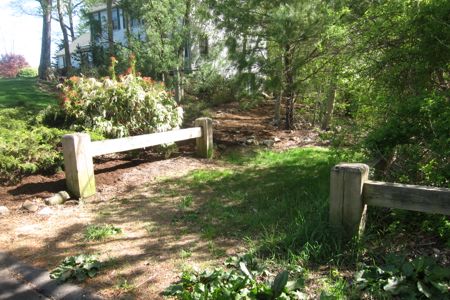 At the end of the fencing on the right hand side. This 2 minute walk is a lovely one along a nice little creek and more-or-less ending at the top of a fairly impressive little waterfall.
I know nothing about this waterfall. But I'm intrigued by the land trust's property, as it's only 20' by 440'. But hey, I'm glad these falls are protected!
A leisurely stroll down a cleared path to a lovely small waterfall, this would make a nice outing on a warm summer day. This hidden patch of woodland is situated just off Shepard Ave. The waterfall is created by an outcropping of balsalt that hasn't been worn away over time. The softer New Haven Arkose, a sandstone and feldspar mixture, has been worn down by the creek. Woolcott Falls is owned by the Town of Hamden, and the Hamden Land Conservation Trust has jurisdiction of the trail leading to the falls.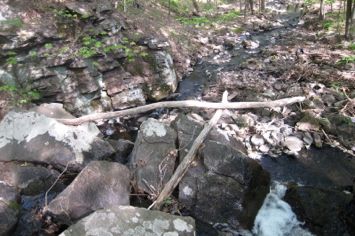 This reminds me… I have a separate page on Connecticut Waterfalls here on CTMQ. Nothing spectacular and no "secret falls" or anything. What's interesting is when I found these falls I remembered that my online friend Russell Dunn is writing a guidebook to Connecticut's waterfalls. I wondered if this falls would be in it.
Well, it's not! It's the only ommision I can find after my skim-through. The book is still an excellent resource, and I've used it to rework my entire section on waterfalls.
If you're following along in order, only two more terrestrial HLCT properties to go!
Up next, my favorite of all the properties: The Brethren.

Hamden Land Conservation Trust
CTMQ Hikes the HLCT properties