Johnson's Pond
Hamden Land Conservation Trust
May 5, 2013
This property's access point is along a residential road where I was impressed by the upkeep of the lawns. It is in the shadow of the Wilbur Cross, but is also right next to this nice little bit of Hamden Land Conservation Trust property which accesses Lake Whitney.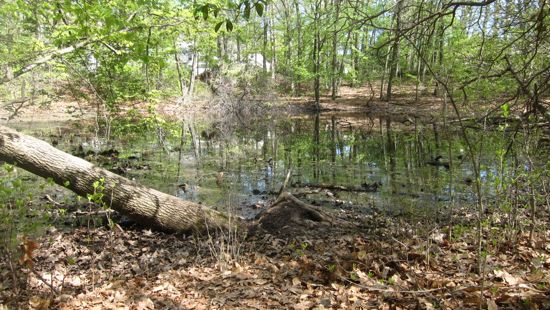 I got burned back at this HLCT property with a fake glacial kettle (which turned out to be an Olin Corporation ammunition test structure). Apparently this place has a real kettle:
"Containing a glacial-kettle pond surrounded by woods, this property was acquired with generous neighborhood support in 2007. This 3.02 acre property in Spring Glen is bordered on three sides by residential properties on Thornton, Greenway, and Ingram Streets and on the fourth side by Regional Water Authority watershed land along the Mill River. The pond itself is shallow. Covered in summer with buttonbush and duckweed, it freezes readily in the winter, making an inviting spot for ice-skating. The woods and pond support a wide variety of plants and wildlife year-round. More than 120 species of birds have been observed here, as well as turtles, peepers, and snakes. This site is open for limited passive recreational use, such as walking and bird-watching, and ice-skating in winter."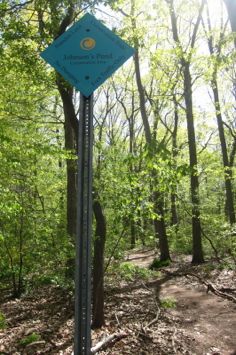 Frankly, I don't know how you'd skate on this thing, but this spring has been desperately dry so I guess my experience is a poor gauge.
I walked around the property for a while and checked out Lake Whitney. I was impressed with the cleanliness of the woods which are, again, a literal stone's throw from a highway and a middle class neighborhood full of kids.
If I wanted to be cynical, I'd say that's because the kids these days aren't venturing into the woods.
And that makes me sad, especially because it's a rather pretty parcel.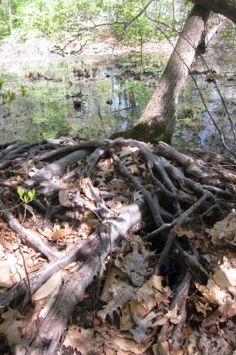 Hamden Land Conservation Trust
CTMQ Hikes the HLCT properties