Everything Stamford
I've been exploring and writing about Connecticut since 2006. After a decade, I began compiling CTMQ guides for each town in the state. I plan on "completing" Stamford CTMQ-style… as well as the other 168 towns, cities, and boroughs in Connecticut. That is the ultimate goal of CTMQ.
If I've missed anything in town or if anything has closed or changed, please let me know.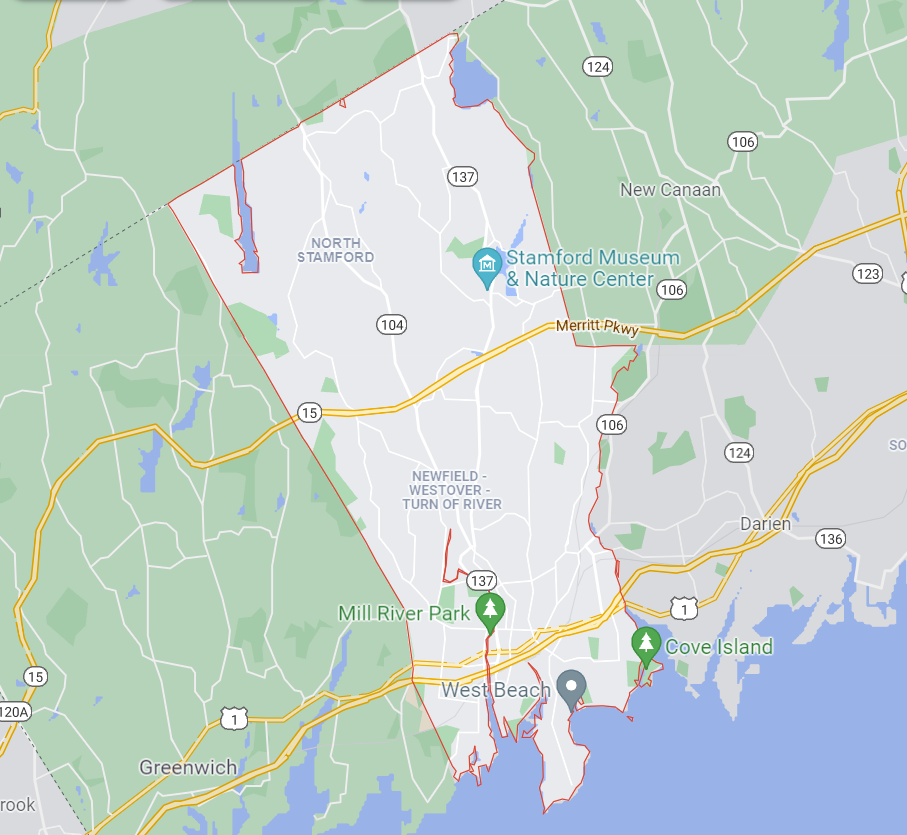 Museums
Bartlett Arboretum & Educational Center
Black WWII History Museum
Danger Gallery, GR Art Gallery, & Mayor's Gallery
Fairfield County Sports Hall of Fame
Fort Stamford
Hoyt-Barnum House (SHS)
Soundwaters Coastal Education Center
Stamford Art Association Gallery
Stamford History Center (SHS)
Stamford Museum & Nature Center
Stamford UConn Art Gallery
UConn Public Art
Ukrainian Museum and Library
Hikes
Stamford Land Conservation Trust – Intro
Birch Meadow Preserve
Grass Island
Helen Altschul Preserve
Mayapple/Tanglewood Preserve (Private)
Squirrel Run Preserve
Stamford's Town Trails – Intro
Bartlett Arboretum
Commons Park
Cove Island Park
Dorothy Heroy Park
Kosciuszko Park
Mianus River Park
Mill River Park
Newman Mills Park
Overbrook Nature Center trails
Rosa Hartman Park
Scalzi Park
Scofieldtown Park
Sleepy Hollow Park
Woodway Park
Food & Drink
Roadfood List: Hot Oil Pizza at Colony Grill
CT World Food Tour, Albania: ÇKA KA QËLLU
CT World Food Tour, Australia: Flinders Lane
CT World Food Tour, Eritrea: Teff
CT World Food Tour, Israel: Tabouli Grill
CT Classic Diner Trail: Curley's Diner
CT Classic Diner Trail: Elm Street Diner
Roadfood List & CT Classic Diner Trail: Lakeside Diner
CT Classic Diner Trail: Parkway Diner
CT Homemade Ice Cream Trail: Longford's Ice Cream
CT Beer Trail: Half Full Brewery & Third Place
CT Beer Trail: Lock City Brewing (Closed)
Looking for your favorite restaurant? Here is an explanation as to why it's not here.
Everything Else
National Scenic Byway: Merritt Parkway
CT Art Trail: Stamford Museum & Nature Center
CT Freedom Trail: Jackie Robinson Park
Stan Pietrzkiewicz's Beer Can Collection
Greenleaf Falls
Rippowam Falls
Greenway/Caritas Island
Cuties/Vincent Island
Stamford Harbor Ledge Light
The Fish Church
The Stamford Cone
Giant Rat Sculpture
The Ferguson Library
Walker Library of the History of Human Imagination
NBC Sports
WWE
Springer, Maury, Wilkos Shows
American Crossword Puzzle Tournament
United Wrecking
Avon Theater Film Center
Mill River Park Carousel
The Night Before, Wendy Walker
Away We Go (2009)
Wordplay (2006)
Completion Celebration Meal & Stamford Wrap-Up
TBD