Lake With a Side of Home Fries
Lakeside Diner, Stamford
April 2022
Lakeside Diner appears on the Roadfood Eat Before You Die List for its donuts.
Recency bias is a very real thing that we all suffer from. Try as I might to fight it, it's impossible to completely disengage from its clutches. If you're not familiar, recency bias gives "greater importance to the most recent event" when comparing things.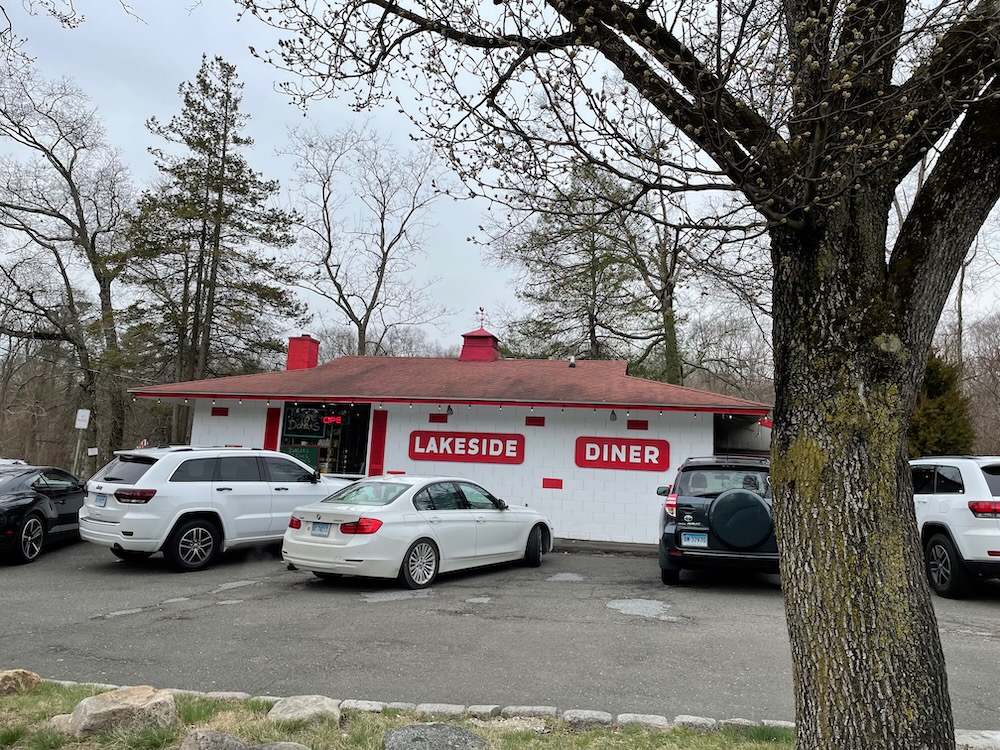 I'm not usually in the business of "best of" anything for a variety of reasons; but mostly because subjective lists are just that – subjective. Sure they're fun, but they're also kind of silly.
But here I am, about to upset tens of thousands of readers. Ready? Good.
The cinnamon sugar donuts at the Lakeside Diner in Stamford are the best donuts in Connecticut. Absorb that hit. Deal with it. And accept it. While you're recovering, let's talk about the diner itself.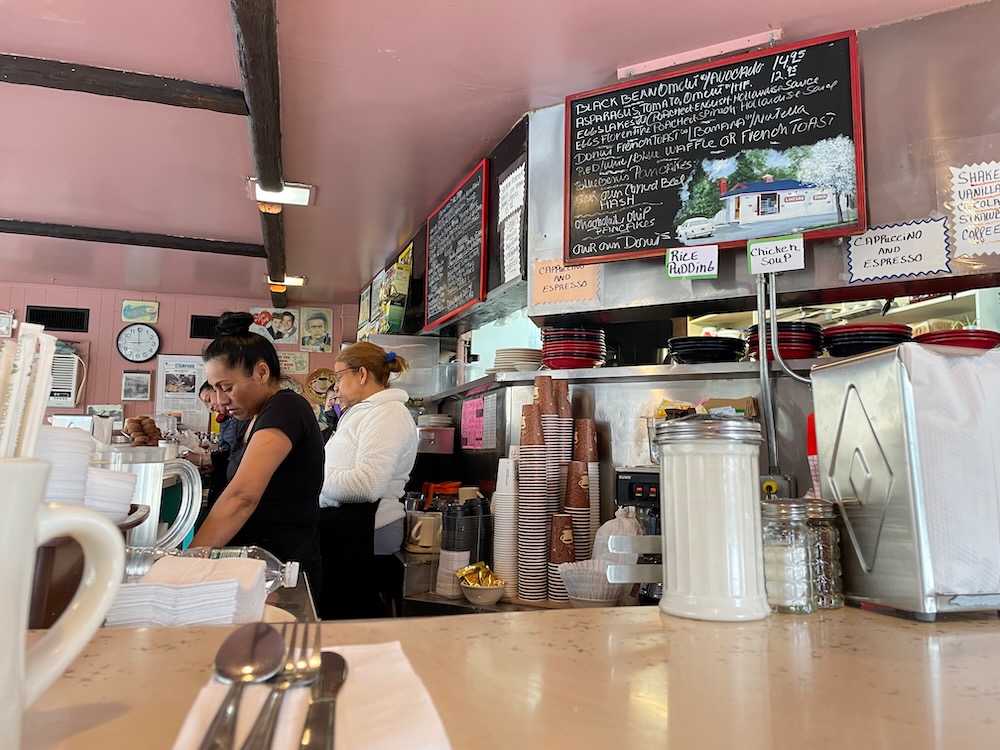 The Lakeside Diner has been around for more than 60 years. It is located at exit 34 off of the Merritt Turnpike on Long Ridge Road. There are swivel stools at the counter and some tables and chairs. The counter and stools have been there since the beginning. It is tiny. And dare I say cute.
Uniquely for a diner, the entire back wall is a series of large window panes overlooking Holts Ice Pond. Someone said somewhere that aside from the usual ducks, a pair of river otters have been known to frolic in the water. I'm not sure I believe that, but if it brings in customers, so be it.
(People. Go here and get donuts. Who cares if there's 100 otters performing Bob Fosse numbers. It matters not. Just get the donuts.)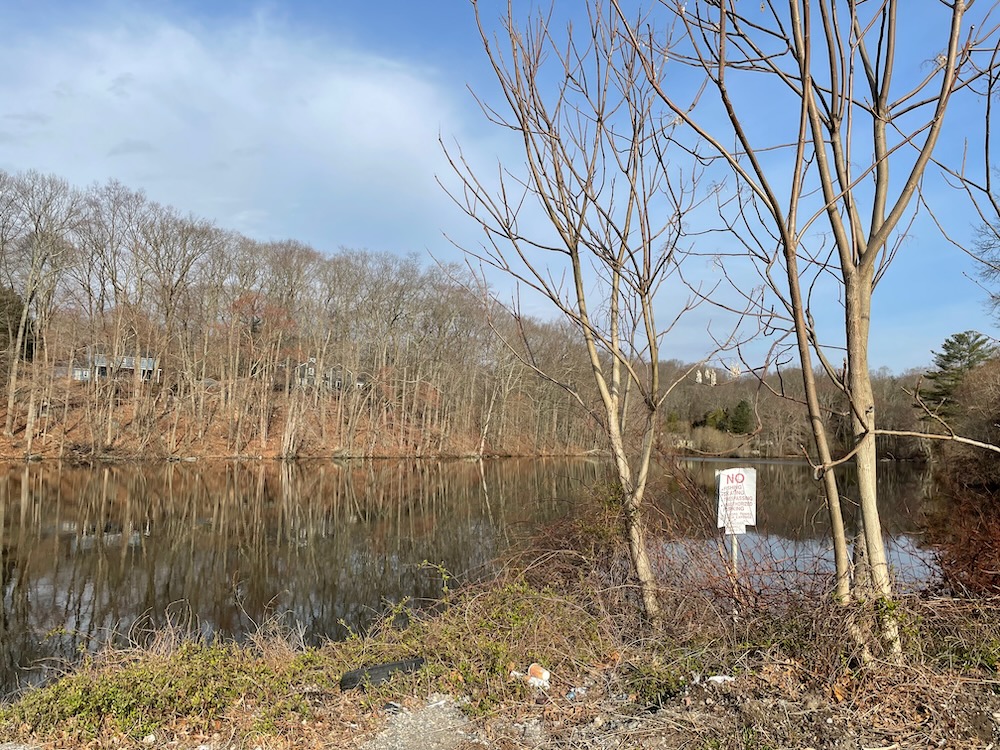 I luckily found a seat at the counter and was immediately served a cup of hot black coffee – the first test of every diner I ever patronize. Hm. The coffee here is not great. It wasn't very strong and didn't taste of very good quality. Diner people often drink several cups of coffee to fend off – or prevent – a hangover, and diner coffee needs to be good.
I perused the large menu and glanced at the extensive chalkboard specials. Man, this place churns out quite the variety from its tiny little kitchen. And it also seems to employ too many people. There were at least 10 women working during my Sunday morning visit between the front and the back.
Maybe they're paying them all from those sweet residual checks they get from the movie scene shot here a few years prior to my visit. Ah, yes, you all remember "College Road Trip" starring Martin Lawrence and Raven-Symoné – with a smaller role played by Donnie Osmond. You don't? Here, let me remind you:
I ordered the Lakeside Special breakfast for $9.95. Two eggs, French toast, some meat, with home fries and toast. That's a darn good deal, especially considering the price of real estate in Stamford. There had to be a catch.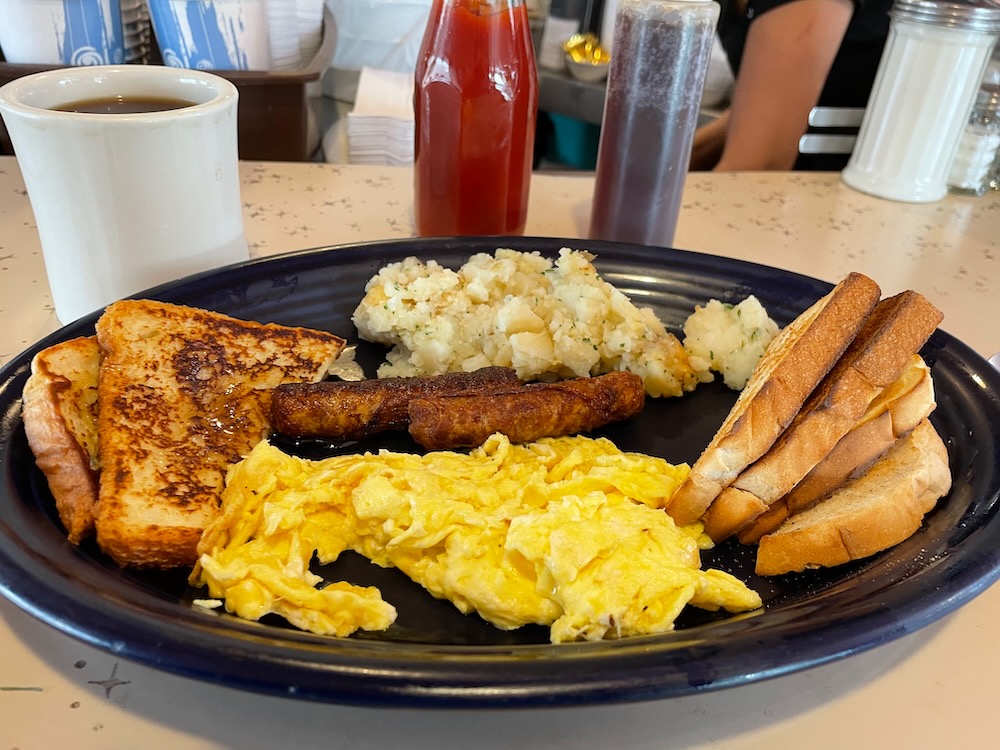 I had recently had the TwinCo Deluxe for the same price at the Twin Colony Diner in Torrington. I remarked in my write-up that I got a ton of food for 10 bucks there.
In Stamford? Not so much. My two eggs must've been two very small eggs. My French toast was one wafer thin slice of bread. Two small sausage links. Some toast. A decent amount of home fries, however. And these were large chunks of soft potatoes, begging for some salt, pepper, and Tabasco, but still good.
Everything tasted good, even if I could have scarfed down the French toast, eggs, and sausage in three bites. "This is how it is in Stamford," I told myself. %#$! is expensive here. So I am okay with the portions. And coffee refills were free, as per diner custom. So my food was fine and really a pretty good deal considering I was sitting mere minutes from multi-million dollar properties.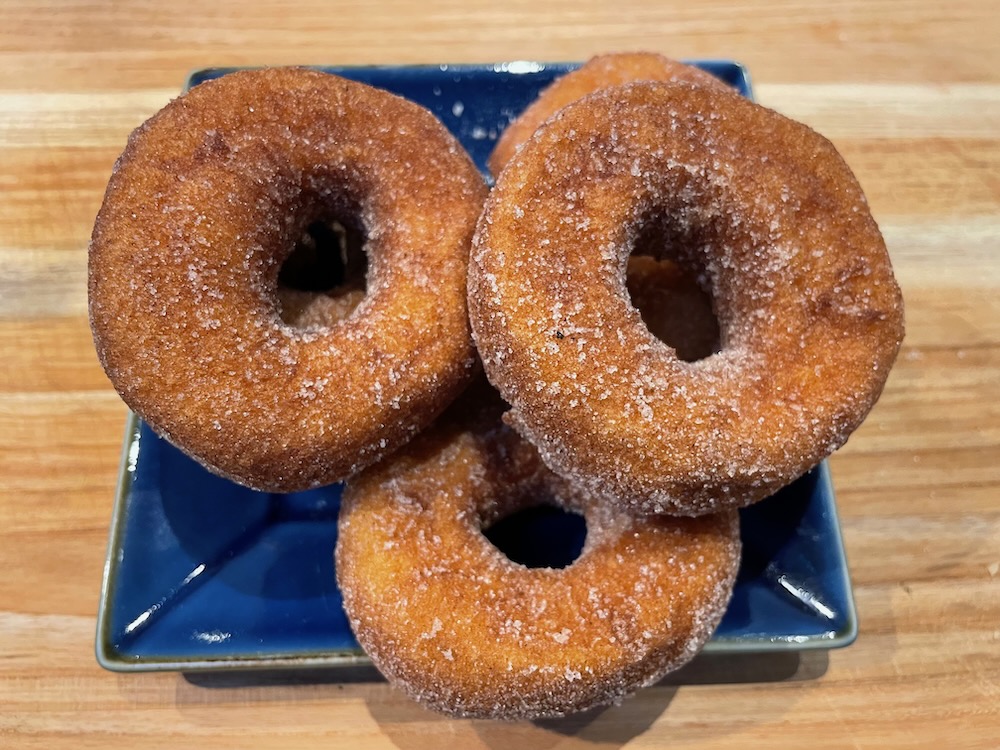 As I ate, a constant stream of customers came in and made the same general order, over and over: Donuts. A dozen donuts. Two dozen donuts. 10 donuts. The beauty of this apparent ritual for hundreds of Fairfield County residents is that the order is simply, "donuts." That's it. Just "donuts."
I'm a simple man. I eat old fashioneds. I like plain glazed well enough, but I love plain, properly fried, light, cinnamon-sugared beauties. Dottie's Diner in Woodbury has been my go-to for their donuts for…forever. And maybe a side-by-side comparison would settle it. Someday.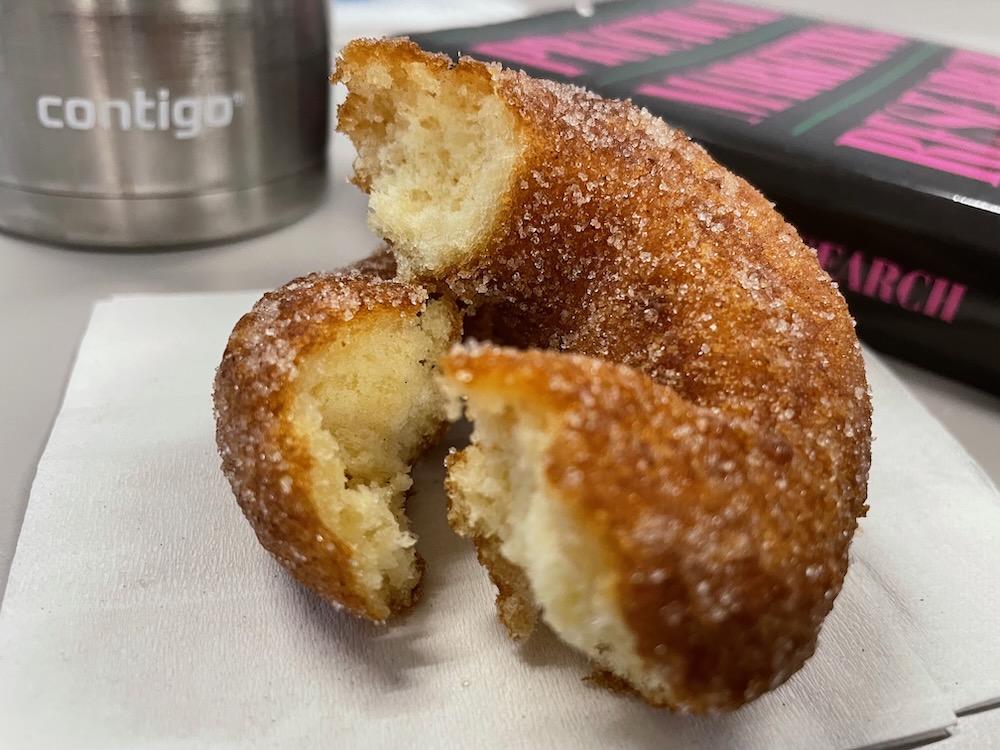 Lakeside begins making their donuts every morning at 5 AM and I assume they keep deep-frying them up throughout weekend mornings. Rolled in cinnamon and sugar, the outer layer of the doughnut has a hint of a crust, which gives way to a soft interior. These are not heavy… you could eat a few in one sitting.
Lakeside is old school The treats are sold per donut, so there's no "dozen discount" or anything like that. The diner is cash only (in 2022)! They have no website. They are wonderful.
I should note that there's a Dunkin' literally across the street which I found kind of funny. If you're buying donuts over there, you're a fool.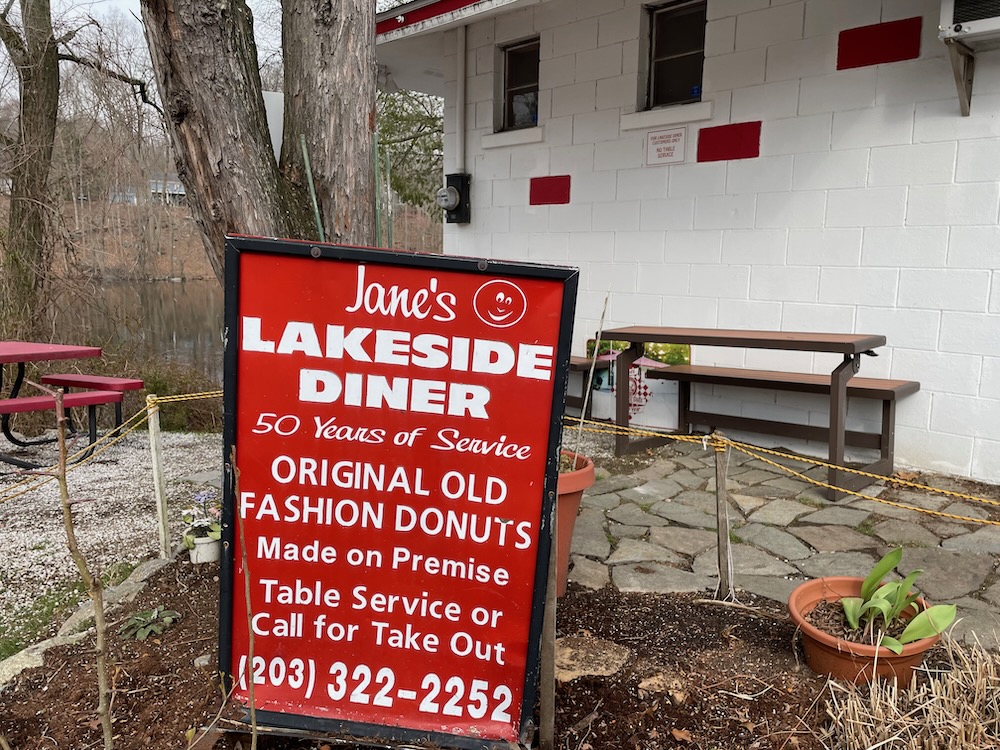 Lakeside Diner
CTMQ's Classic Diners & True Taverns