Everything Woodbury
I've been exploring and writing about Connecticut since 2006. After a decade, I began compiling CTMQ guides for each town in the state. I plan on "completing" Woodbury CTMQ-style… as well as the other 168 towns, cities, and boroughs in Connecticut. After all, that is the ultimate goal of CTMQ.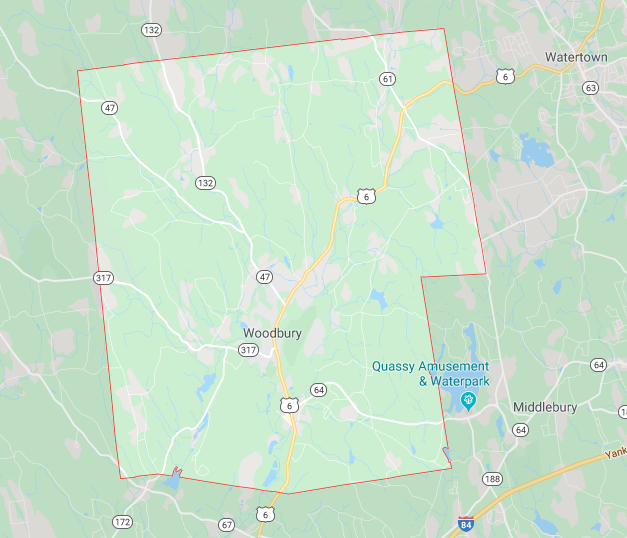 What do you know about the town most famous for antiques… lots and lots of antiques? You can scroll down for my list of things to do in town. Or, as always, you can click on the town's tag to see what I've done.
If I've missed anything in town or if anything has closed or changed, please let me know.


All The CTMQ Woodbury Stuff
Links take you to my reports.
Museums
Buz Russell's Farm & Rural Life Museum
Hogpen Hill Farms Sculpture Park
Flanders Nature Center
Glebe House Museum
High Wire Deer and Animal Farm
Hurd House Museum
Leroy Anderson House
Old Schoolhouse Museum
Woodbury Pewter Museum
Hikes & Bikes
Flanders Land Trust – Intro
Fleming Preserve
Leavenworth Preserve
Manville Kettle
Frederick W. Marzahl Memorial Refuge
Van Vleck Farm and Nature Sanctuary
Whittemore Sanctuary
Woodbury's Town Trails – Intro
Roxbury Land Trust – Intro
Arthur Miller & Inge Morath Miller Preserve (The Greenbelt)
Good Hill Farm Preserve (The Greenbelt)
Food & Drink
The Charcoal Chef
Roadfood's List: Doughnuts at Dottie's Diner
Roadfood's List: Chicken Pie at Dottie's Diner
Roadfood's List: Donut Bread Pudding at Dottie's Diner
Evergreen Inn & Tavern
Stone Silo Farm
Dairy De-Lite
Walker Road Vineyard
Woodbury Brewing Company
Looking for your favorite restaurant? Here is an explanation as to why it's not here.
Everything Else
First American Episcopal Bishop: Samuel Seabury
CT Historic Garden: Glebe House Garden
Canfield Corner Pharmacy
Cadillac Joe's Stone House
Rob Zombie's House
Orenaug Park Fire Tower
Orenaug Park Stone Pillars
King Solomon's Temple
East Meadow Brook Falls
Pomperaug Falls
Nonnewaug Falls
Weekeepeemee River
Woodbury Ski Area (RIP)
ET Progressive Sign
Completion Celebration Meal & Woodbury Wrap-Up
Good News Cafe