Marilyn Monroe… And Me
Canfield Corner Pharmacy, Woodbury
I had some grand romantic idea to visit all the authentic soda fountain pharmacies left in Connecticut. I figure there can only be a few left, but I'm left with the problem of finding them. I knew about this one in Woodbury from some book I'd read, but beyond that… I have no idea. Eh, CTMQ is a lifelong pursuit.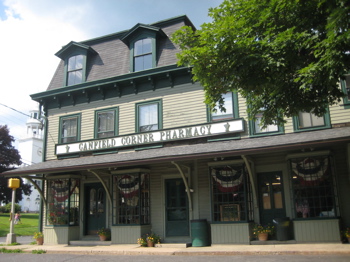 So really, what can I possibly write about this place? For one, it's an impossibly quaint little store in the impossibly quaint antiquing hotspot Woodbury. Once inside, the floors creak, telling of its old age.
Aside from the usual sundries, there is a huge collection of milk bottles and old pharmaceutical bottles high up on the walls. I'm sure they're worth some real money, but I'm also sure the owners won't be parting with them any time soon. They really give the place a Mayberry and Norman Rockwell atmosphere.
The women working there were smiley and pleasant. Whoa? Where was I? Certainly not in any of the ten CVS's or Walgreens near my house.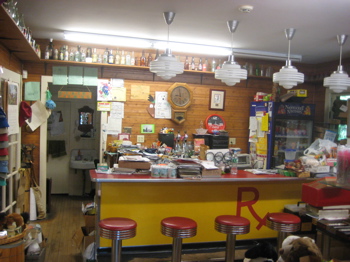 The soda counter is not functional, but it is intact and I'm sure old-timers like to come in here and reminisce about the dates they took to have a malted here.
And perhaps – just perhaps – one of those old timers tells the story of how they came in for some ointments and ran into Marilyn Monroe. She used to live nearby with Arthur Miller and apparently had some prescriptions filled from this very store.
I know, I know… Marilyn Monroe enjoyed a billion prescriptions from a million pharmacies, but here's one of her bottles to prove it, from an online auction site I found:
So that's pretty cool. I guess.