A Place To Chat, Chew, and Drink Brew
Woodbury Brewing Company, Woodbury
June 2019
There's a formula for naming breweries and it's a pretty boring formula. One brewery began by going against that formula. Of course it would be weird if I wasn't talking about this one, Woodbury Brewing Company.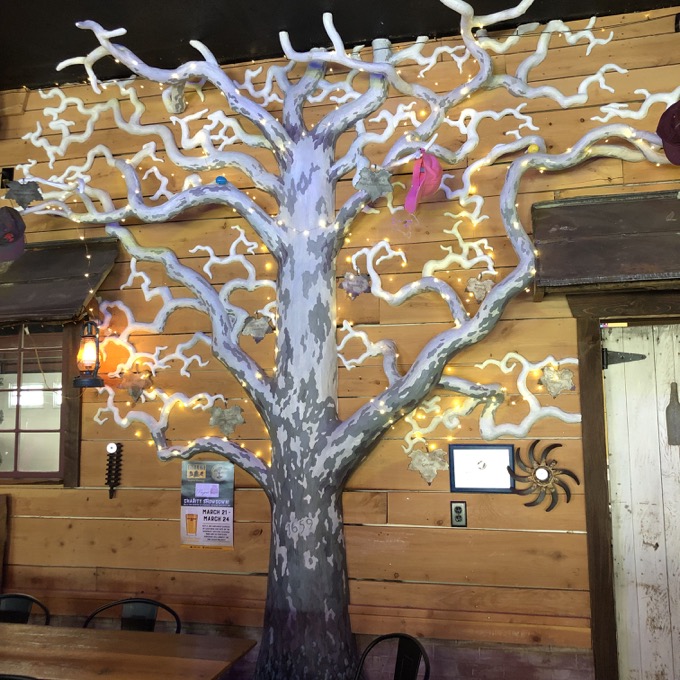 Yes, this boring boilerplate named brewery at the busy route 6/64 intersection in the center of town was Chat Chew N' Brew while in its developmental stages. That. Is. Awesome. In fact, I believe the LLC that was formed is still called Chat Chew N' Brew.
WOODBURY, CT — Chat-Chew-n-Brew, a new brew pub, has been proposed to go into a site formerly occupied by New Morning Market in Woodbury's Middle Quarter, reports the Waterbury Republican-American.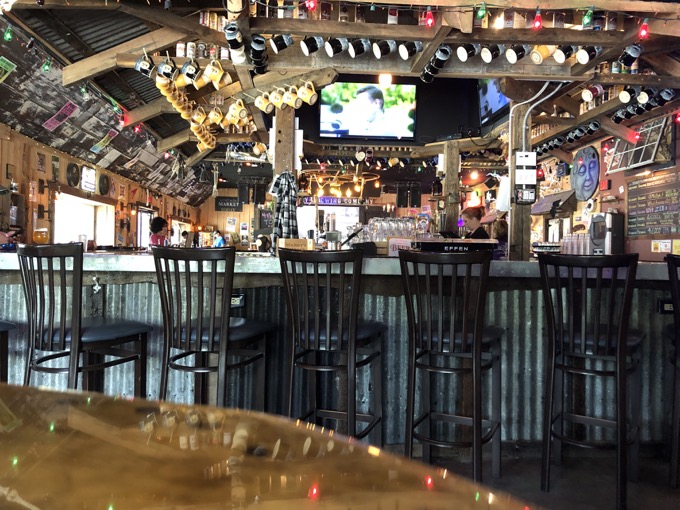 Sadly, for whatever reason, the ownership group decided that Chat Chew N' Brew wasn't good enough so they changed everything to – Yawn – Woodbury Brewing Company. Talk about formulaic.
That's not to say WBC itself follows the script. For one, it's a brewpub as it has a full-service restaurant. Also, they have a stage and a sound system and book bands on the regular. While other breweries in Connecticut have a kitchen and book bands, Chat Chew N' Woodbury Brewing Company seems to push the music first and the beer second. But that's just my perception.
Woodbury Brewing Company has deep roots in the community. When one of our founder's family first settled in the area in 1659, a Sycamore tree grew on the corner of their property. That tree still grows on Sycamore Avenue in Woodbury today, and is the symbol that four friends chose to represent their passion for pushing the bounds of craft beer and sharing with friends. This brewery is an oasis of libations and live entertainment in Litchfield County, but it is made possible by the community that it serves.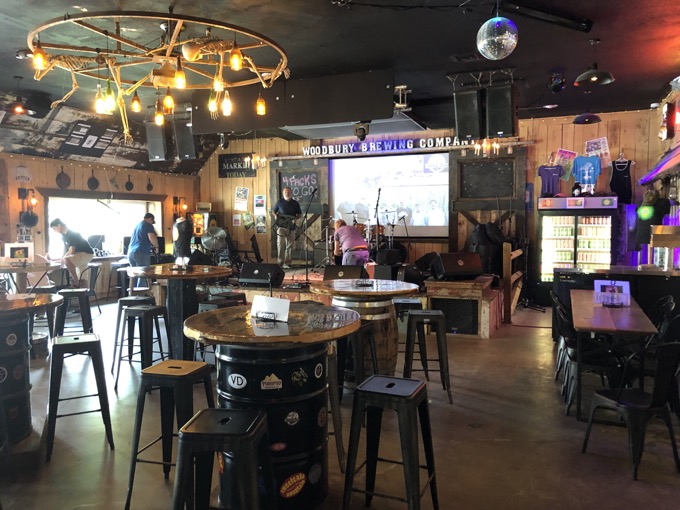 An "oasis of libations," you say? Sweet. "Pushing the bounds of craft beer?" I hope not. I'm comfortable within the bounds – at least with a newer brewery. I practically beg and plead that they know how to make a dang "boring" pilsner and a straight up proper pale ale. In fact, I will always try the classic styles at a new-to-me place and that's essentially how I judge a brewer.
Call me crazy.
Just not as crazy as the decor here. My word. The owners seem to have gone shopping at Eli Cannon's garage sale. Just… a bunch of junk thrown into the room, on the walls, in the rafters. I've never been in a newer place that looked older that WBC.
As I perused the taplist and menu, a band began setting up. Sticking to my above rules, I ordered their "Mexican lager" as it was a warm day and I was about to eat a bunch of greasy, fatty foods.
I ordered those greasy, fatty foods and took a set. WBC has several games for all ages, and – hey, the beer wasn't bad! A little grainy and unrefined, but not too bad. I had heard a lot of negative reviews of early WBC, so I was happily surprised with my choice. I am not sure, but I think that during the first months the beers were brewed by one guy, but that guy was no longer brewing by the time I got there.
My lunch was served and… hold on. "I'm dining in," please and thank you, so I – "what's that? I'm sorry?"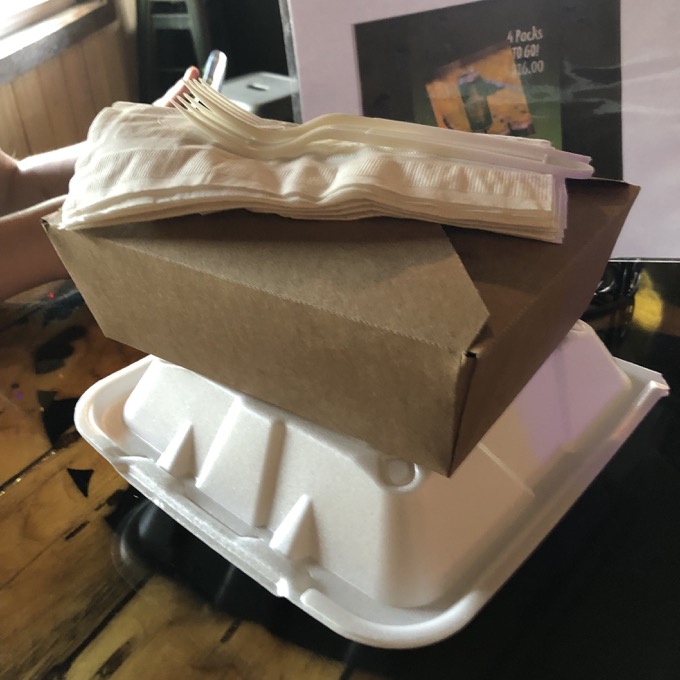 "All food here is served in take out containers with plasticware?" Okay then, points for originality. Can't spring for a dishwasher? C'mon, how am I supposed to Chat and Chew over a grease-stained cardboard box of chicken fingers?
At least the beer was served in proper glassware, and that's really what I was here for. (And truth be told, the food was pretty good as far as standard bar food goes.)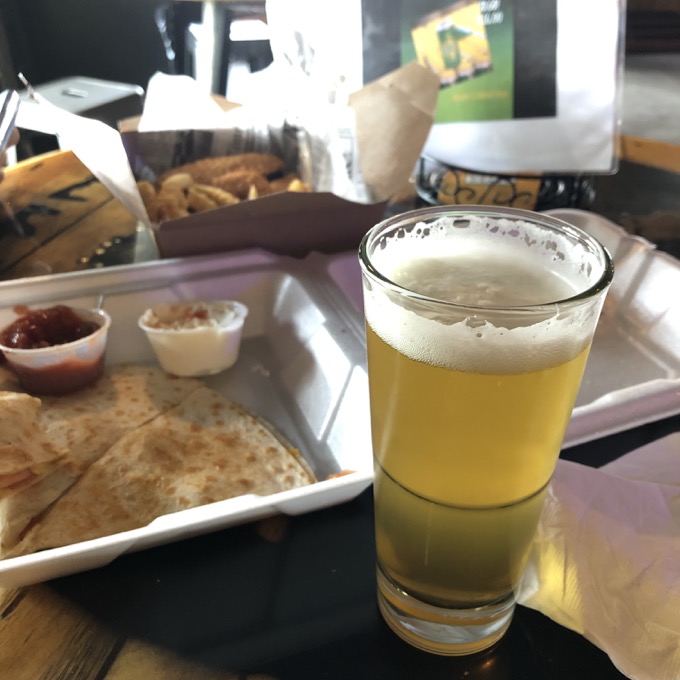 After polishing off my lager, I decided to step it up with their pale ale, called Encore. Brewed with Mosaic and Idaho 7, this would be a true test.
I really liked this one. It even LOOKED like a pale ale – a sad rarity with new brewers these days. Confused by the early negative reviews, I really gave the beer a good taste. It wasn't great or anything, and maybe it was just better than my expectations, so I was feeling it. Good for WBC.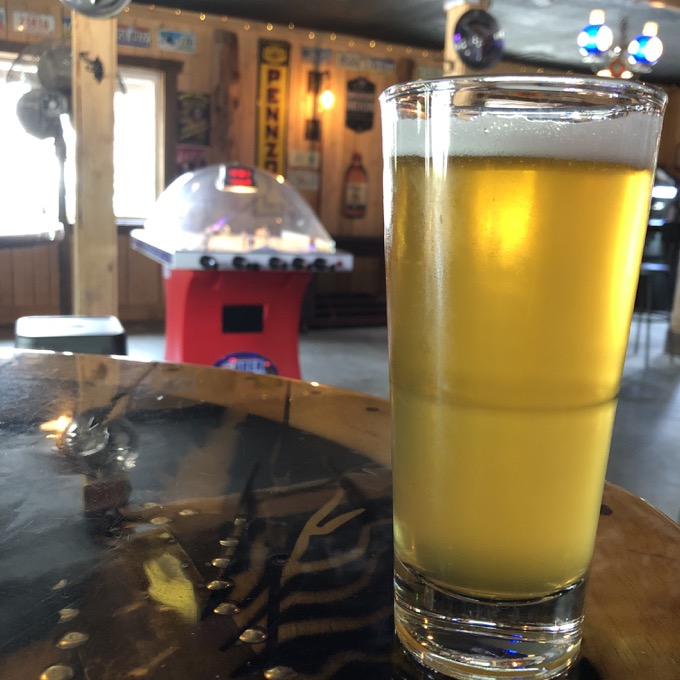 The band kicked into their warmup and holy cow it was loud. Or I'm old. Or both. It was clear that they were about to launch into "Up on Cripple Creek" or god, please go no, "Mustang Sally," so I downed my beer, paid my check, and got the heck out of there.
I've no reason to revisit Woodbury Brewery Company, but I guess if I lived in Woodbury and didn't feel like driving the extra 10 minutes to OEC for whatever dumb reason, I'd go here once in a blue moon.
Just don't play Mustang Sally. Or Sweet Caroline. Or…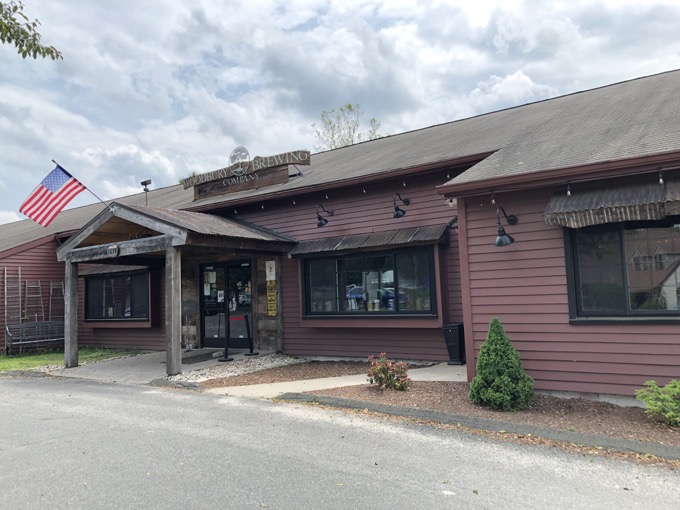 Woodbury Brewing Company
CTMQ's Breweries & Brewpubs