Phone Home… Safely
Points throughout the state
It has been many years since I originally put this page together and I'm happy to report that it has become the go-to place on the Intertubes for those curious about these idiotic signs. I'm so proud.
The only thing that could beat that is if the media recognized this important piece of online documentation. Oh snap! The Day did just that in September 2019!
I get search engine hits on this page way more than you'd think. These signs are definitely curiousities. I've driven many miles around my country and I've never seen one of these signs anywhere else. Nor have I found a non-CT web presence of them either, so until I do, I'm stating that the E.T. The Extra Terrestrial Progressive Car Insurance Buckle Up signs are pretty much unique to Connecticut.*
*This is not true.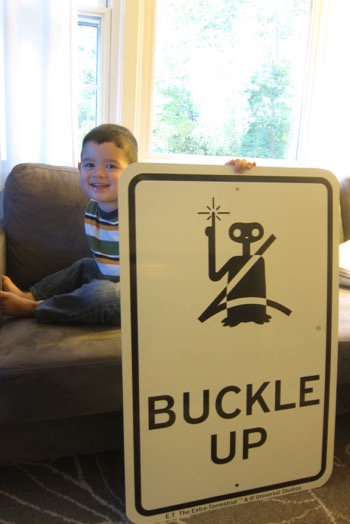 The funny thing is, it wasn't supposed to be that way at all. During the Super Bowl in 1999, Progressive launched a massive marketing campaign with ET as as their spokesalien. Never mind it was about 17 years too late. They blanketed the country with flyers and educational posters and print ads – all to promote safety. And their insurance of course.
So what about the roadsigns? From the US Department of Transortation website:
Progressive provided free roadside signs to organizations that could place them in locations where they are visible to traffic. The signs were made available in a variety of formats, including the familiar diamond shaped yellow advisory signs that are used to warn of hazards ahead. The plan, to place the highly visible signs in communities around the country, is growing. Connecticut was one of the first states to receive signs, where city planners and engineers ordered nearly 4,000 of them.
The article does not mention any other states getting in on the weirdness. And I can sure as heck report that there are nowhere near 4000 of these things in Connecticut. When I started this page in 2007, I knew where two signs were. Since those two, I've collected several more and the comments section provides locations of several more. But not 4000.
Also, over the years I've received a bunch of reader submissions from other states as well. See the comments below and keep them coming!

You want more? Here's more: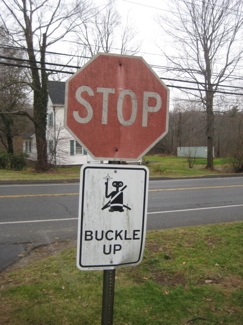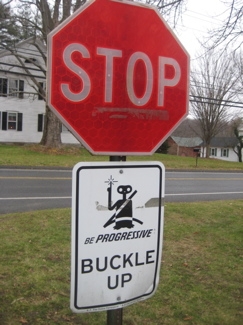 On the two driveways into Bethlehem's Town Hall (Note subtle difference)















Non-Connecticut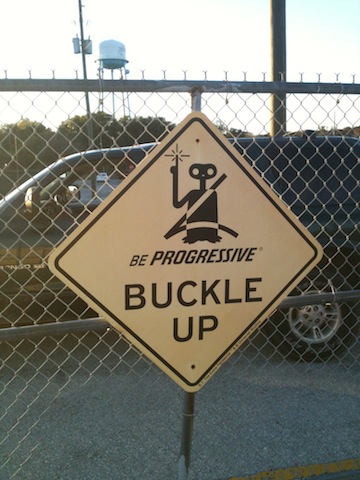 CTMQ's Highways, Roads, & Tunnels