Everything Torrington
I've been exploring and writing about Connecticut since 2006. After a decade, I began compiling CTMQ guides for each town in the state. I plan on "completing" Torrington CTMQ-style… as well as the other 168 towns, cities, and boroughs in Connecticut. That is the ultimate goal of CTMQ.
If I've missed anything in town or if anything has closed or changed, please let me know.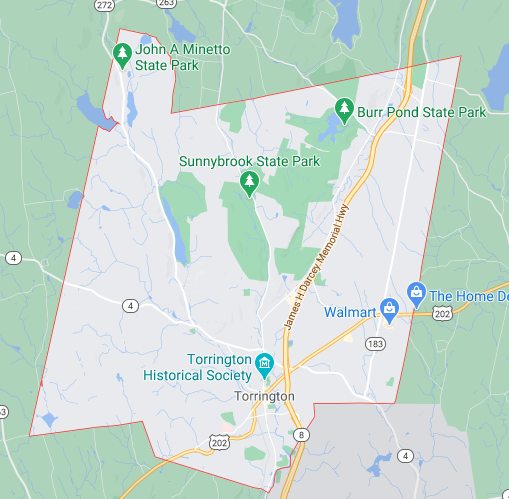 Museums
Five Points Gallery
Hotchkiss-Fyler House
KidsPlay Museum
Northwest Connecticut Fire Fighting Museum
Ritz Crystal Ballroom Lighting Museum
Ritz Crystal Ballroom Style Museum
UConn Public Art Collection (Moved)
Torrington History Museum
Turner Museum
Hikes & Bikes
Burr Pond State Park – Intro
John A. Minetto State Park
Stillwater Pond State Park
Sunnybrook State Park – Intro
Paugnut State Forest – Intro
CFPA's John Muir Trail
CFPA's Walcott Trail
The Heritage Land Preservation Trust – Intro
The Berger/Treiber Refuge
Bowman Gardens
The Oneglia Tract
The Pleasantview Property
The Ronda Burns Tract
Shirer Property
Winchester Land Trust – Intro
Houlihan Woods and Michael Giordano Tribute Area Trails
Torrington's Town Trails – Intro
Beaver Pond Trail (possible future trail)
Buttrick Trail
Charlene Susan Besse Park
John Brown Birthplace Trail
Lakeridge Forest Freeway (private)
Machuga Park
Newfield Road Connector
Red Mountain Trail
Sunnybrook to Stillwater (possible future trail)
Multi-Use/Rail Trails
Norfolk Road/West Branch Trail/Downtown River Walk (possible future trail)
Naugatuck River Greenway (possible future trail)
Sue Grossman Still River Greenway
Food & Drink
CT Chocolate Trail: Nutmeg Fudge Company
CT Classic Diner Trail: Twin Colony Diner
CT True Tavern Trail: Towne Tavern
CT Beer Trail: Bad Dog Brewing Company
Looking for your favorite restaurant? Here is an explanation as to why it's not here.
Everything Else
World's First: Condensed Milk Factory
CT Underground Railroad Trail: 3 Sites
Burr Falls
Madden Pond Falls
Warner Theater
The Yankee Pedlar Inn
Torrington Armory Annual Model Train Display
Carl Bozenski's Christmas Village
Merriman's Christmas house (Gone)
Mount Lakeridge (private)
Foothills BMX
Howard's Bookstore and Noelke Gallery
Cool Library Trail: Torrington Library
A Cry for Help: The Tracey Thurman Story (1989)
The Innkeepers (2011)
Torrington Wrap-Up
Completion Celebration TBD