HO-HO-HO… NO-NO-NO
Christmas Village, Torrington
December 2017
I do not like lines. I avoid them at all costs. If you read everything I ever write on CTMQ, you've noticed that I've done my best to avoid lines at the places in Connecticut with lines: Sally's Apizza, Pepe's Pizza, Lake Compounce, and a few others. Long time readers surely remember my experience with the line at The Witch's Dungeon Classic Movie Museum in Bristol – my third museum visited for this site.
And that line was cold just like this line in Torrington was cold. But I was with my hardy friend EdHill, and not my six-year-old son Calvin.
Now, I knew to expect a line. I'd done enough research to know that. I knew that it would be best to visit Christmas Village on a weeknight rather than a Sunday afternoon, but circumstances brought me to Torrington on a weekend and I decided to go for it. Heck, I scored a prime parking spot right next to the line – a rarity to say the least. I figured my luck was good.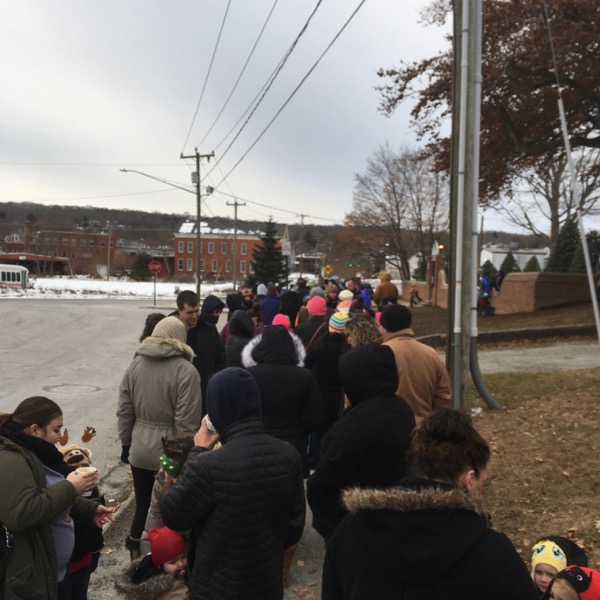 And look! This was a line for kids – young kids! Infants even! With the temperature in the mid 20's, no way parents were subjecting their little ones to such conditions for too long, right?
Yeah, right.
People are crazy. If you ever think for a moment that people actually aren't crazy, I invite you to Torrington's Christmas Village on a weekend afternoon. Spoiler alert: People are indeed crazy.
And that now includes me and Calvin. Sort of.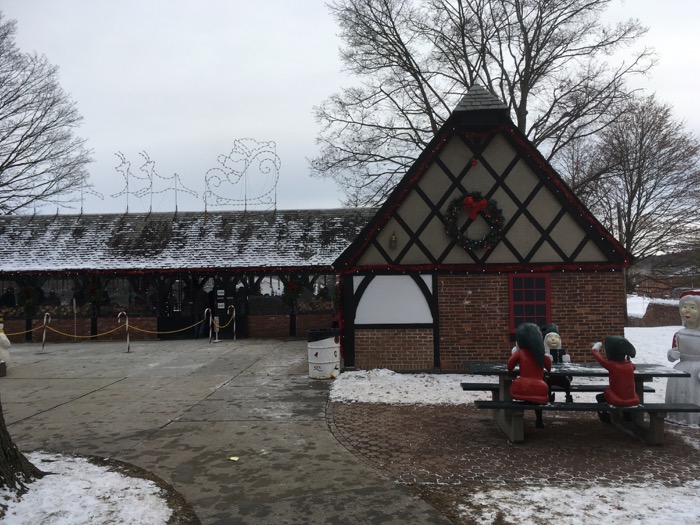 This annual event is much loved in Torrington and beyond. It has been going on for a long, long time and is generally regarded as one of the best Christmas events in the state. And I'm sure it is!
It was begun by one Mr. Carl Bozenski in 1948.
In 1948 Carl Bozenski, Torrington's Parks and Recreation Supervisor, invited Santa Claus to spend the three weeks before Christmas at Alvord Playground. Along for the trip from the North Pole came Santa's reindeer and his helpers. Since that time, Santa has returned here each year. He welcomes his guests while seated on an elaborate throne in his tinsel decorated parlor and gives each of the children a toy.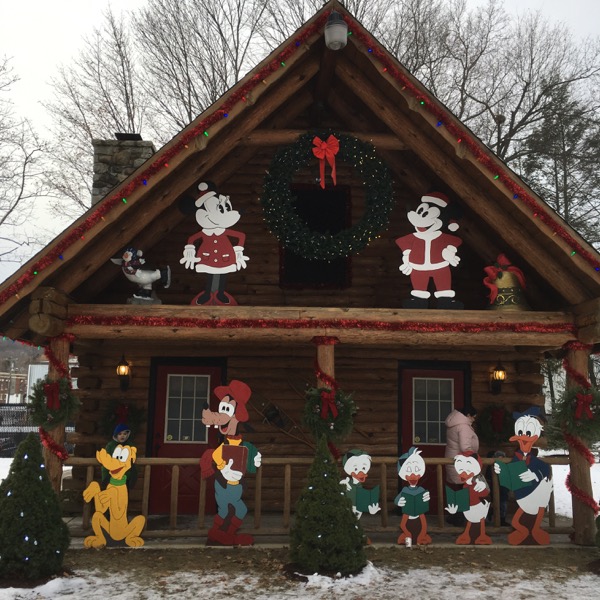 Carl Bozenski was not alone in his dream to keep the spirit of Christmas Village alive. From the Parks and Recreation Commission, Parks and Recreation staff, volunteers, from city officials to representatives of local newspapers and television stations, local merchants, the clubs and fraternal organizations, and from you, the mothers and fathers of "his" kids. But far ahead of them all is this humble and gentle man, Carl Bozenski. He urged them on with his encouragement to continue creating an atmosphere of Christmas Joy for all to treasure.

Carl himself said "I'm just trying to do something good for Torrington because Torrington has always been so darned good to me." Following Mr. Bozenski's death in October 1986, the Village was renamed "The Carl Bozenski Christmas Village" in his honor.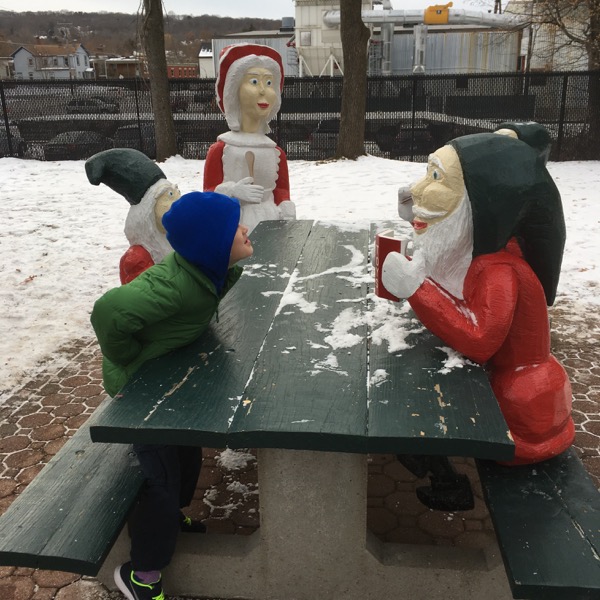 Lovely. The present-day village is truly a village. Lots of people (check), bottomless hot cocoa (check), reindeer (check), elves (check), baby Jesus (check), toy shop (check), North Pole weather conditions (check)…
I figured there were "only" 100 people waiting on line outside when we arrived. I'd never experienced this place before, so I had no idea how quickly the line moved.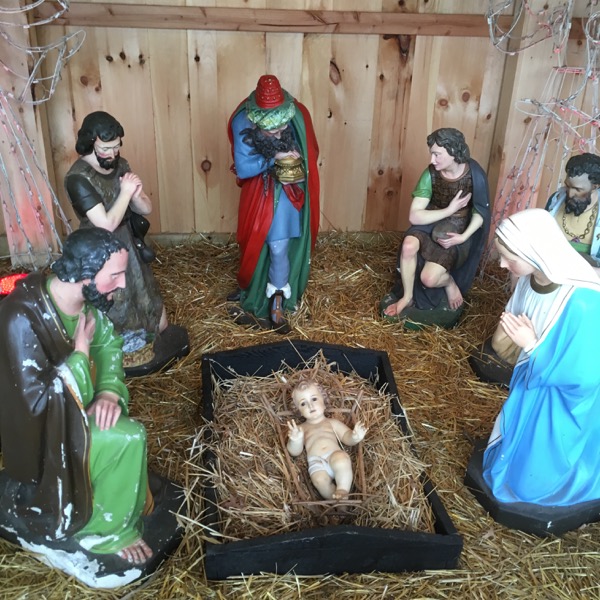 I was soon able to teach Calvin what the term "glacial pace" meant. Heck, I could have walked him through entire college-level geology courses during our wait. He could have maybe even scored an online degree.
"Degree…" that became somewhat of a theme, as the temperature continued to drop and the free hot cocoa stopped doing the trick.
We became friendly with those near us in line and we quickly learned that your spot in line is your spot no matter what you do while waiting. So that was nice.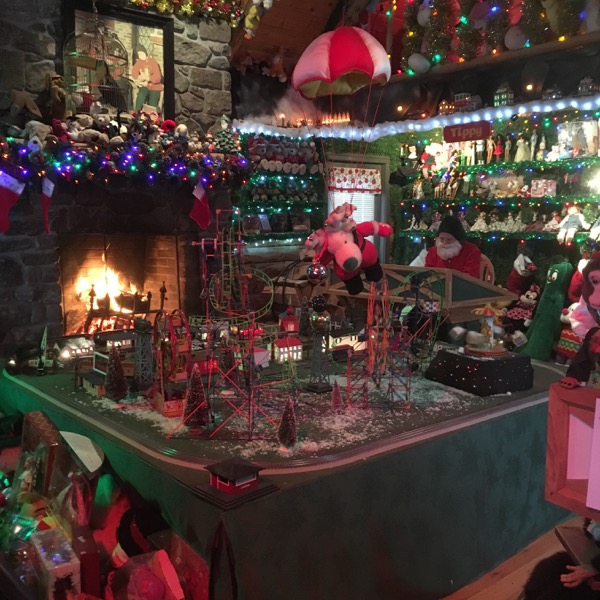 Calvin and I were able to wander the back of the village. That's where we looked upon the reindeer. And the baby Jesus. We were afforded the opportunity to check in with the elves at the Toy Shop.
Wow, they really do go all out here. this little building was decorated splendidly and the elves were like real Santa elves if such things actually were real.
I have no idea what the criteria to become one of these actors is, but what a weird gig. They are silent. They must move robotically while pretending to make toys. For hours upon hours.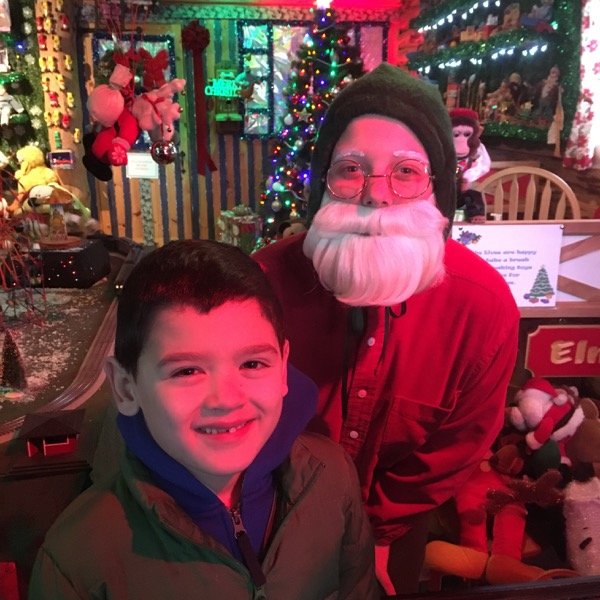 At least the Toy Shop was well-heated. One poor elf had to take pictures with kids over and over and over. Silently. The whole scene was actually pretty weird, but I'm sure kids think it's pretty neat.
But wandering the back alleys of Torrington's Christmas Village occupies only about 20 minutes of time. Upon returning to our spot in line, I noticed we hadn't moved up but a few feet.
After an hour in line I had the first twinges of regret. I continually checked in on Calvin who assured me he was fine. (You'll notice in the pictures that he became more and more bundled up as the day progressed.)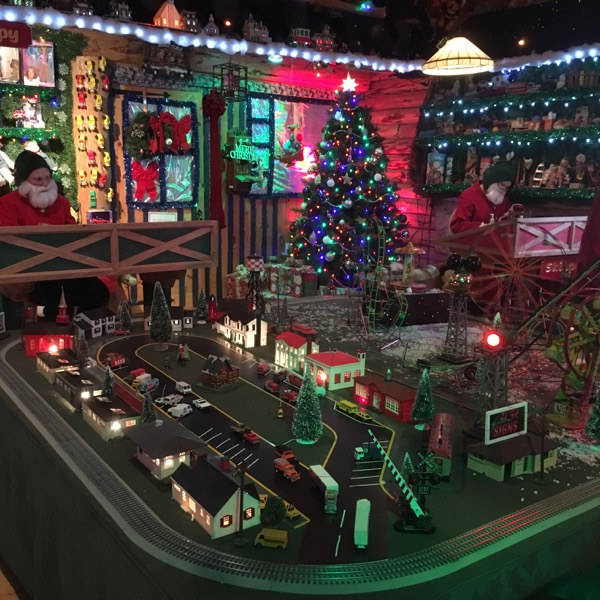 I began doing the math. Noting how many families were let in at a time, estimating how many were still ahead of us, and then calculating how long we'd still be out in the cold.
It wasn't looking good. The funny thing is that Calvin initially had no clue why we came to Torrington. He wasn't looking for Santa Claus and once I told him, he was sort of blasé about the whole thing.
But now that he'd invested, he was all in. He wasn't going to leave. He was fine. Not cold at all.
Unbelievably, over the course of the next hour, I only saw one family give it up. Promises of "Mall Santa" were made to the children as well as "movie night" at their house once they got home. The kids were still kind of bummed. This furthered Calvin's resolve.
I witnessed fathers yelling at their kids for complaining. Like, this was IT, kids. This is EVERYTHING. The kids were cold. I felt bad for those kids.
Now into our third hour of waiting, I got to know the family behind us. We shared snacks and drinks with each others' kids. The mom noted she was a teacher.
"Where are you a teacher?"
"Third grade in Watertown."
"Oh yeah? I'm friends with a Watertown cop and I think his daughter would be in third grade this year."
"What's his name?"
"Dave McDonnell."
"Shut up."
"Why?"
"He's my brother-in-law! The guy you've been talking to is his brother!"
True story. I'd met my friend's brother twice before – years ago – at Dave's wedding(s). So we all had a lovely conversation for a while. That was nice.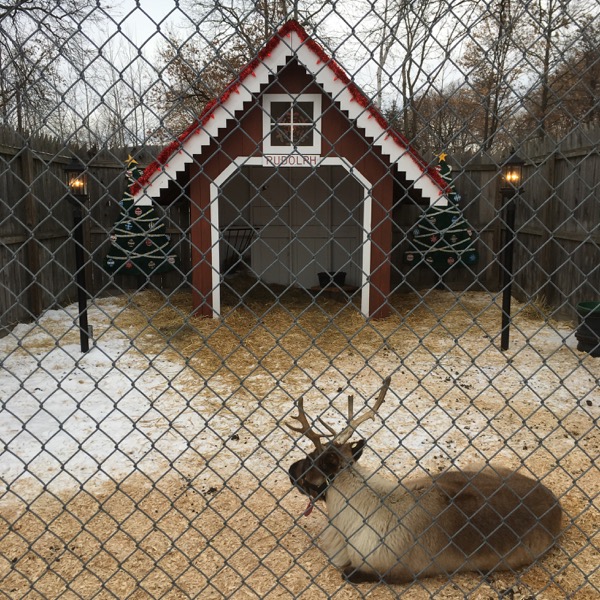 During that conversation, I learned that once we make it to the head of this line and get to go inside Santa's stupid castle or whatever it's called, IT'S SOMETHING LIKE ANOTHER HOUR TO WAIT TO SEE THE MAN.
What?! I was only doing this for CTMQ. My son has very little interest in Santa to be honest. This was beyond ridiculous. People do this year after year? And again, there were INFANTS out there. What is wrong with people?
There were still a good 20-25 people ahead of us when Calvin and I went over to the fire pit. We had a talk. I told him about the wait once we were to get inside. He didn't really process that as I'd hoped he would.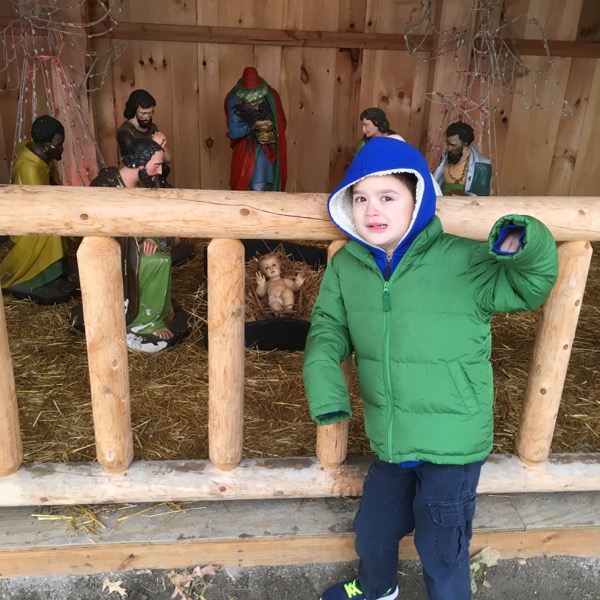 Three hours in and I was beaten. I had taken enough pictures and while I'm sure the inside of Santa's Palace is wonderfully decorated, and sure "the kids" find it magical, but, no way. Sorry Torrington, your big annual thing is not for me.
I appreciate the history (1947!) and the charity and the tradition. But get two dang Santas or something.
As we were getting ready to return to the stupid line, Calvin kicked the brick wall of the fire pit for some reason. It was then that he learned that kicking solid objects with numbed freezing toes in soft-toed shoes is a bad, bad idea.
Pain shot up his leg. A new pain for him. A weird, numbing, sharp, cold, paralyzing pain.
"Oh Calvin, that stinks. It really hurts, huh? Mm-Hm. Wanna go home then?"
"Yes."
And that, my friends, is Torrington's Christmas Village.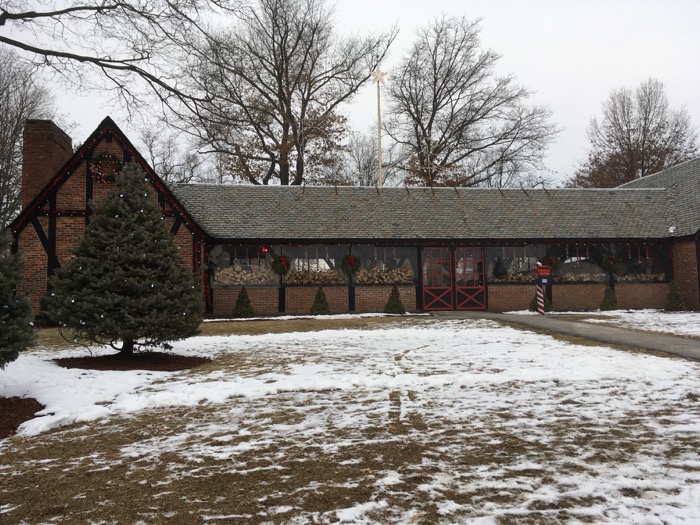 Christmas Village
CTMQ's Sports, Thrills, Cruises, Rails, & Events