The Best Pizza on Earth
Sally's Apizza, New Haven
June 2015
Disclaimer: I love Sally's. I love them more than I love Pepe's and Modern and every other pretender to the exalted throne that lords over the Connecticut pizza kingdom. Unapologetically.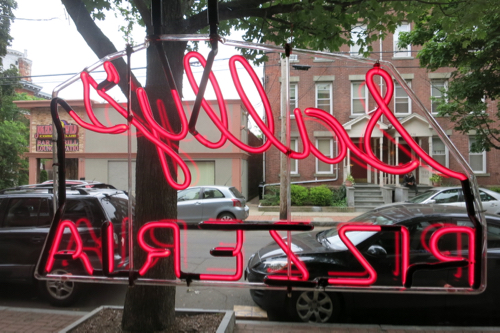 (And you thought that disclaimer was going to be one of those horrid little food blogger disclaimers about how I got the food for free but "all opinions are my own!" Riiiight. As if Sally's, of all places, would ever toy with that nonsense. If you thought that, then you don't know Sally's.
Or me.)
As most of you are all too well aware, arguing pizza in Connecticut is the closest thing to a major league sport we have. Friends are made and lost over this. Families break up over it. It's just what we do.
When a media outlet needs social media hits and page views, they simply ask, "What's your favorite pizza place in Connecticut?" It doesn't matter if they've asked this same question 80 times over the past 4 years on facebook, they'll do it again. And 400 people will respond with passion, curse words, venom, and pride.
Of course, those outlets always need to qualify their queries by saying, "Ignoring Wooster Street joints for the moment…." because everyone knows the Wooster Street joints crush everyone else.
So then the argument becomes Pepe's vs. Modern vs. Sally's. And for me, Modern isn't even in the conversation.
I know, I know… Pepe's and Sally's both get national (if not international) attention. There are often stupid long lines at both. They both got on some list at some point and now appear on every list all the time.
But you know what's funny? Neither asked for that. Both New Haven restaurants are rather dumpy. And until recently, both only operated their flagships on Wooster Street. (Pepe's has gone big time and has opened satellite restaurants – to mixed reviews – all over Connecticut and beyond.)
And dumpy doesn't even begin to describe the full Sally's experience. The relative few workers there don't really care about your problems. They don't care about your comfort in their tiny bathrooms or the view out of the window in there.
Or the fact that you pretty much have to bump into a few employees and storage boxes to even use the dang thing. Or that their FAQ is hilariously useless. Or that they only accept cash. Or that their entire beer list consists of Yeungling, Miller Lite, Rolling Rock, Labatt's, and Corona. Or that they basically offer only 4 types of pizza. Or that the only soda on offer is from the local Foxon Park Beverages whose most famous flavor is something called Gassosa. Or that their hand dryers' and vertical heater's electrical set-up is against some code somewhere.
Breathe.
Or that they probably won't be open when you try to go. Or that they are never open for lunch, ever. Or on Mondays. Or Tuesdays. Or past 9PM most nights. Or that they often open late, randomly. Or that they only bother with one, maybe two, servers on duty. Or that Pepe's down the street gets more publicity. Or that there have been rumors of their sale/closure for years. (They sold in late 2018) Or that people all over the Internet complain about all the secret passwords, handshakes, and clubbiness that are often required to get a Sally's pie any day between 5 and 7 PM because the wait times are often over two hours. Or that take-out orders cost more than eat-in. Or that their website states matter-of-factly, "You may stand in line for a table, and once seated you probably will wait for your pizza." Or that they (of course) don't take reservations.
Sally's cares about only ONE thing: making the best darn pizza in the universe. And when you consistently do that, year after year, decade after decade, who cares about anything else? I mean, look at the guy Sal who started this joint:
You think he gives a [expletive] about your general comfort, let alone free wifi access? No. He cares about dough, sauce, and cheese. And to that, I say, "good on you, Sal, good on you."
Sally's is a pilgrimage. For me, for this visit, I had my whole family with me to celebrate. While eating at Sally's is always a celebration, on this day I actually had something else to acknowledge: This meal was my final "Roadfood Eat Before It's Too Late" meal! Yes, the list of 68 items/meals around the state that I started several years ago was now complete.
2020 Update: A new list has been released with some additions. Sigh.
I saved the best for last.
You got that Modern/Pepe's fanboys? The. BEST. Let's see how my four-year-old's first Sally's experience was:
Pepe's is great. No doubt. A fresh clam pie in New Haven from Pepe's is the best SINGLE pizza one could ever eat. But if you could improve one thing there, what would it be? The overly charred/tough crust (sometimes), right?
Right.
Well, Sally's does that. It's still New Haven-thin, of course, but it's chewy and fluffy and so full of decades of oven char-goodness I can't even put it into words. The crust at Sally's is always perfect. Not sometimes, but always.
And that's why they only need to offer a few varieties. Top quality sauce and some mozzarella cheese and that's it. That's all you ever need to live*.
*Not remotely true, Yalies, don't try this. You'll need some Gassosa too.
(If you're wondering, gassosa is "the classic Italian Lemon-lime soda that Foxon Park's signature soda. It is crisp, refreshing and great on a hot summer day!")
It's 7-Up. And while I hate the 7-Up/Sprite family of sodas, that is indeed a Foxon Park Gassosa you see in the picture above. The Wiki page about it is in Italian, which makes it more legit. Crappy beer and boring (but local!) soda is just part of the Sally's experience.
Go to Sally's. Go when they open so you don't have to deal with the lines and waits. Go hungry. Go with cash in your pocket. Heck, go thinking that everything you've read about Sally's is a bunch of bunk.
That way, your mind will be blown all the more. There are TONS of 1-star reviews of Sally's and almost all are for the stupid-long lines, the rude service, and the general griminess of the place. All those things are avoidable if you get there at opening on a Saturday. (I will not, however, defend their time-honored practice of letting friends cut the line and getting preferential service. That is a bunch of nonsense and if that happens on the regular, as I've read it does, then forget everything I wrote and go to Pepe's.)
2020 Update: I'm a bit concenned that there are some recent reviews saying the pizza itself isn't that good after the ownership change. Hm.
Oh – one last thing – When you leave, be sure to do an embarrassing song and dance to embarrass your kid:

Sally's Apizza
CTMQ's Best, Unique, & Historic Restaurants & Foods>
Pizza, A Love Story documentary