(It's Sally's. The Answer is Sally's)
Pizza, A Love Story (2019)
This is a very important movie. Even though it took over a decade to complete and required some crowd-sourced funding, it is a movie that had to be made. Yes, it's a documentary about New Haven Pizza. Year after year, The Daily Meal ranks the top 100 pizza places in America and the Holy Trinity of New Haven is almost always in the top 10.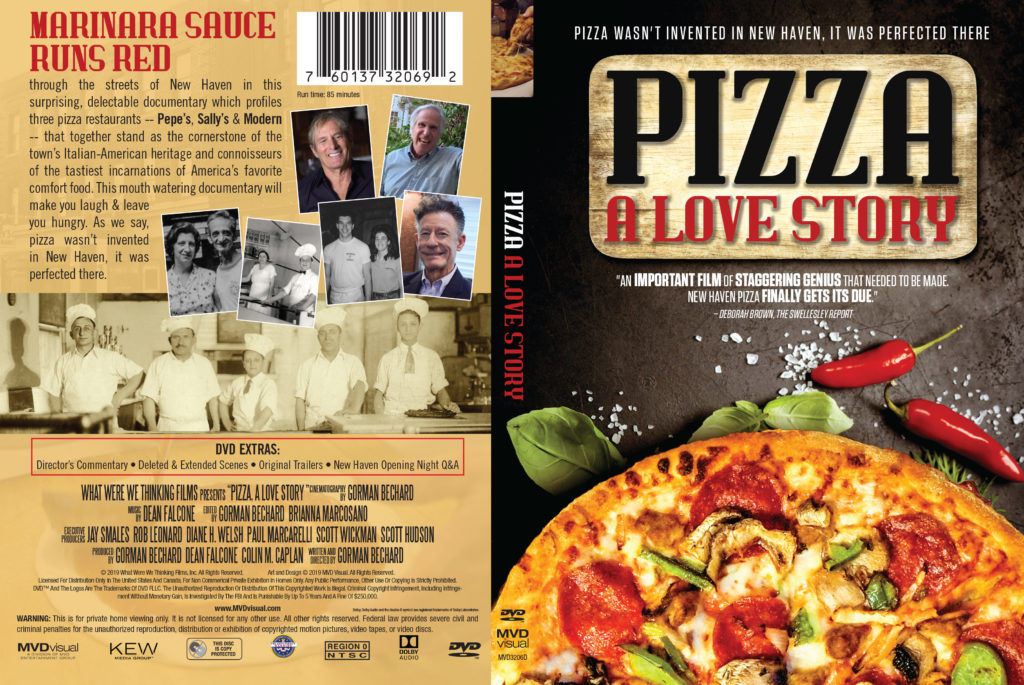 And Frank Pepe's Pizzeria Napoletana has been Number 1 almost every year for a decade. New Haven has 1 percent of the population of New York City, yet 30% of the top 10 pizzas in the entire country. As Lyle Lovett says in the film, "If you haven't been to Sally's and Pepe's and Modern, you cannot speak authoritatively on pizza." It's true.
Over the years, I've come to enjoy famous chefs and food writers come to the realization that they'd been missing out all along. Sure, Connecticut's Michael Stern says he wants a Pepe's clam pie for his last meal, but others like David Chang and… okay, he went to Trinity College but he's traveled the world. There are many more.


And god help any non-New Haven devotee who chimes in with some Chicago ("horrible casserole, according to Senator Chris Murphy in the film), Oregon, or Californian nonsenes. Note, New Yorkers are almost always given a pass in these discussions, as there is respect for their entries. But only their entries. If it's not New Haven, it's New York or nothing. Full stop.
The documentary, directed by Gorman Bechard, tells the history of New Haven pizza through the immigrant experience, urban renewal, local experts, and celebrity fans. All of that surrounds the construct of the Seven Rules of New Haven Apizza:
1. It's not burned, it's charred
2. It's not pizza, it's apizza (ah-beetz)
3. Plain means not mozzarella
4. It's not mozzarella, it's mozz (mootz)
5. It's all about the oven – 600-650, but 700 at Sally's
6. There's maybe something in the water here
7. Great apizza is worth the wait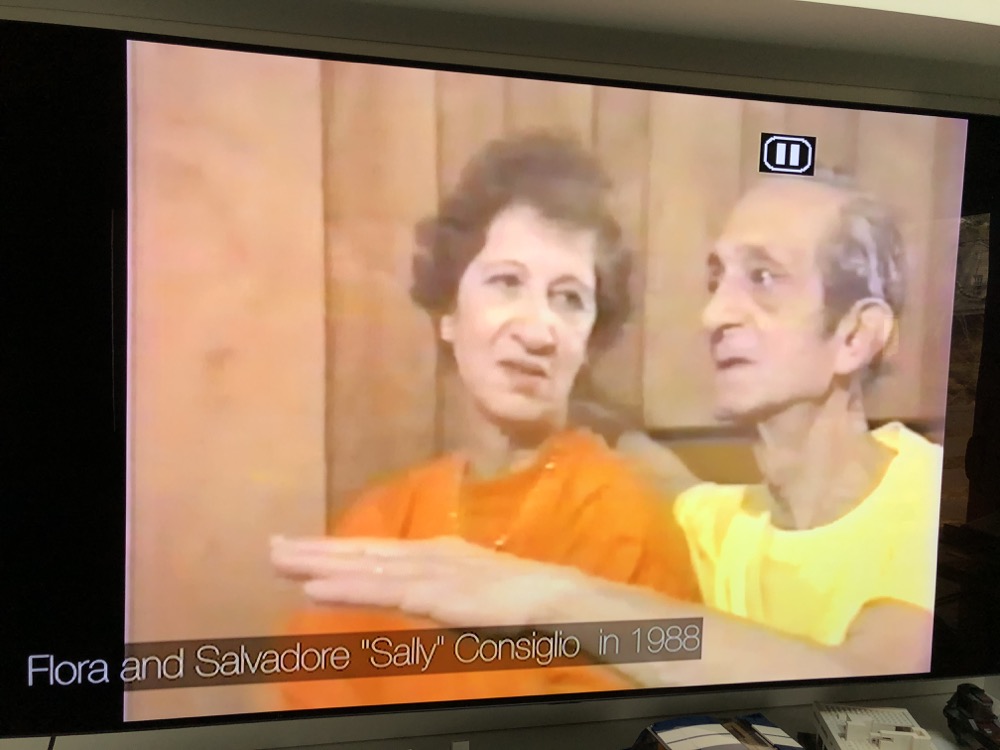 I've never said "ah-beetz," but more people do than you'd think. Non-Italians even. Lots of them. Apizza is apparently the Neapolitan pronunciation of the word, and the early artisans in New Haven kept it when they began making and selling it.
"Pizza, A Love Story" begins not in 1925, when Francesco "Frank" Pepe and his wife and brother opened their first pizza restaurant on Wooster Street, but rather several decades earlier, when an influx of Italian immigrants from the Amalfi Coast came to New Haven in the 1890s and found work at one of the many factories in the city at that time.
Someone had to feed the immigrant workers, so other immigrant workers opened bakeries with massive coal-fired ovens making charred crusty breads. Carbs for the boys, as it were. Many of these new bakeries were helmed by Italians. You can see where that led to a few decades later…
One of the films writers and backers is Colin Caplan, one of Connecticut's current leading historians. He's written a book or two on the history of New Haven pizza and let me tell you, he goes deep. I think it's fair to say Caplan is obsessed not just with the pizza and the local restaurants, he's obsessed with the history of them as well. Which, I suppose makes sense.
That "apizza" was borne from these early bakeries also makes sense. Frank Pepe wasn't the first pizza maker in town, but he was certain up there. He and others would put toppings on their flatbreads and sell them from carts to the factory workers. This led to Pepe opening his joint on Wooster Street in 1925 and, well, a century later it's still there and still making pizza.
Modern followed in 1934 with Sally's opening four years after that – yes, as a result of a family squabble over at Pepe's that lasted decades. Both were opened shortly after the repeal of Prohibition, at which time they could suddenly serve alcohol and stay open to the wee hours of the next morning. Yalies, I'm sure, were delighted. Pepe's was the largest pizza restaurant in the United States for a spell with 136 seats. They also were the first to put their name on pizza boxes.
The film features interviews with the founding family members (including Sally's wife Flora, and Frank Pepe's grandson), lifelong fans (both famous and not), and food critics. Of all the celebrities, politicians, and food critics featured in the film, my favorite is none other than the effervescent Amy Kundrat.
I cannot believe the filmmakers misspelled her last name. When I reached out to Amy about this, she admitted that she'd never watched the film… which I totally understand. If I ever appear in a movie, there's just no way I'd watch it.
Besides Amy, there's Henry Winkler (Pepe's), Lyle Lovett, Michael Bolton (Sally's), former New Haven mayor John DeStefano, Chris Murphy (Modern), Patrick Stewart (Pepe's), a bunch of Italian guys from the old neighborhood, and that idiot Dave Portnoy (Sally's) from Barstool sports. Which, I must say, though he is an idiot, he's a New Yorker who went to New Haven with a very skeptical palate and came away declaring the Elm City the Pizza Capital of the World – much to the chagrin of New Yorkers. I'll give him that.
DeStefano was tasked with explaining Sally's secret phone number which allowed local muckity mucks to skip the hours-long lines. The absolute best story about the secret number – which was a very real thing – was its appearance in The Simpson's "Caper Chase" episode, which only needs this one frame to explain:
The film has tons of archival photos and does a good job going through the decades, notably the "urban renewal" years when the I-91/I-95 interchange plowed through New Haven, barely missing the Holy Site of Wooster Street.
The film covers it all, except one thing: They don't really explain the "charm" of Sally's (it's a bit of a dump with notoriously rude waitstaff and archaic rules), or the ridiculous lines at Pepe's. But they were sure to get a Foxon Park soda guy, as their Gassosa or Birch Beer is almost as important as the pizza. Regarding the actual pizza, while I haven't spent too much time on it here, the film certainly goes deep. On the ovens, the dough, the water, the char, and of course, the clams. Sally's had the first claim pie, but Pepe's perfected it over the 1960s' and 70's. (Although I'd choose Sally's over Pepe's overall, Pepe's clam is the better of the two.)
David Chang (best pizza city in America), Frank Sinatra (sent his driver from Hoboken to New Haven to pick up pizza), Steven Spielberg (waited in lines, later sent a jet to Tweed Airport in town to bring Modern to California), Hillary and Bill Clinton (Flo at Sally's once told Clinton that no, they weren't open for lunch and that was that)… on and on.
Pepe's now has satellite restaurants all over, but I've never patronized one – despite having one in my hometown. Sally's has changed owners recently and they have also branched out. Modern is still kicking along. BAR nearer Yale, Zuppardi's in West Haven and Roseland in Derby has crept into these conversations more and more, making up "The Six" now. Progress is great, but change often isn't.
And that's the thing. The classic pies at the classic Holy Three are the same as they were when you were a kid and they are just the best. Their story is interesting and truly historic – and worthy of a a film-length documentary.
I'm happy it was done really well.
CTMQ Rating: 5 out of 5 thumbs up
Connecticutness: 168 out of 169 Nutmegs
Filmed in Connecticut? Yes
Wealthy Caucasian with a Big House? Yes, but not shown