Grazing the BAR
BruRm @ BAR, New Haven
April 2019
If you weren't reading a page about the horribly named BruRm @ BAR right now and I asked you, "hey, what's the longest running brewery under the same ownership in the same space in 2019 Connecticut?" what would you guess?
Don't even front and tell me you'd say BAR. You know you're lying. Less than 20 people in the world know that that's the correct answer. Surprised? You're not alone. But it's true. The terribly named BruRm @ BAR has been brewing and serving its own beer since early 1996 – a few months before City Steam was producing beer.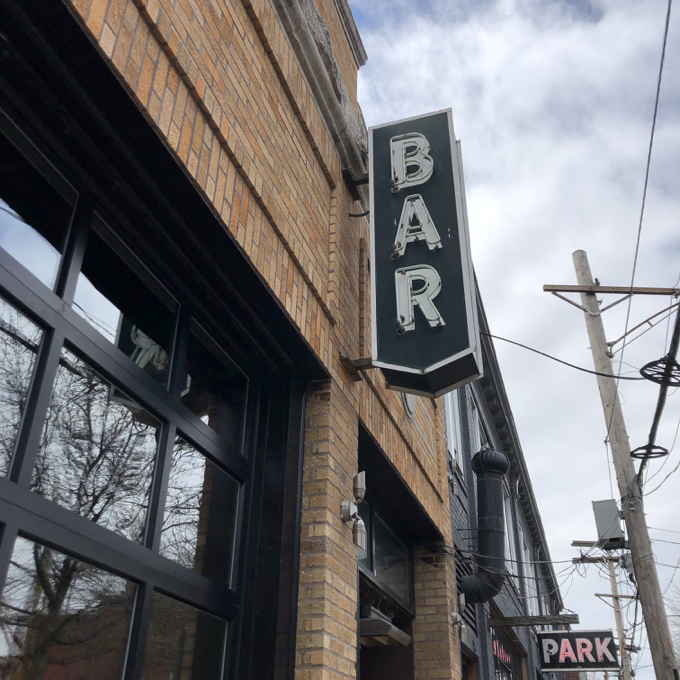 Crazy, right?
Like everyone else on Earth, I'm just going to call this place BAR from now on if that's okay with you. In one way, BAR's historic standing in the Connecticut beer scene makes perfect sense – it's located in downtown New Haven – orders of magnitude the state's most vibrant and interesting city. BAR is literally surrounded by Yale and all sorts of cool places to visit.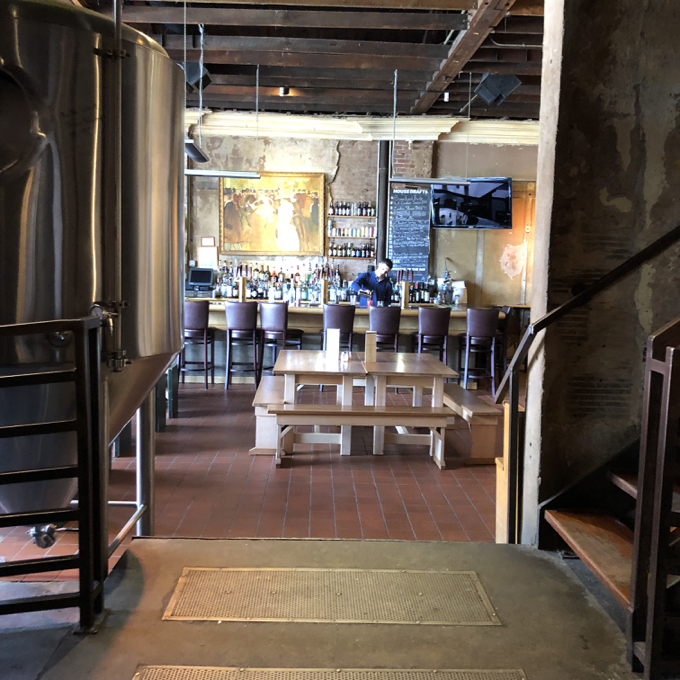 That said, BAR's standing is still somewhat odd. It's a brewery that is never mentioned on Connecticut brewery lists. It's a nightclub during a time when nightclubs are very few and far between. And it's a top tier New Haven style pizza place that is almost always overlooked on those endlessly recurring "best pizza" lists.
Bear in mind that when people talk "best pizza" around here, it's not "best in New Haven" or "best in Connecticut," or even "best in the US"… No, around here we're talking "best in the world." So BAR has some tough pizza competition within a small radius. As for me and this website, the only way BAR makes it onto CTMQ is because it's a brewery, for better or for worse.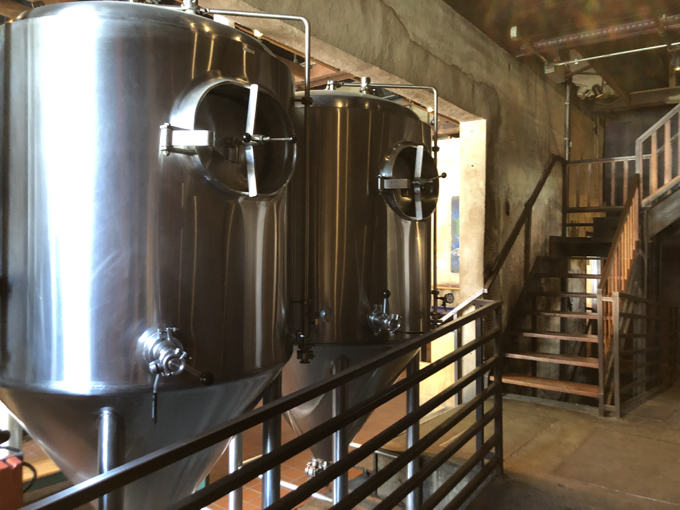 Calvin and I ordered our pies and I went for BAR's Lil' Crusher Session IPA. Our server was attentive and friendly – so much so that I'll ignore the misplaced apostrophe in this beer's name. "Easy drinking is the name of the game with this one. Not overly intrusive or heavy. Nice citrus, pine and floral aroma from dry hopping with Citra, Mosaic, Simcoe and Chinook." Sounds good and at a nice 4.9% ABV, I was looking forward to it.
It wasn't too good. Not sure why they dump all those hop varietals into it. BAR needs to chill out with all of that and focus on flavor rather than darling hops. The beer was way too sharp, acidic, and probably needed time to develop before being put on tap.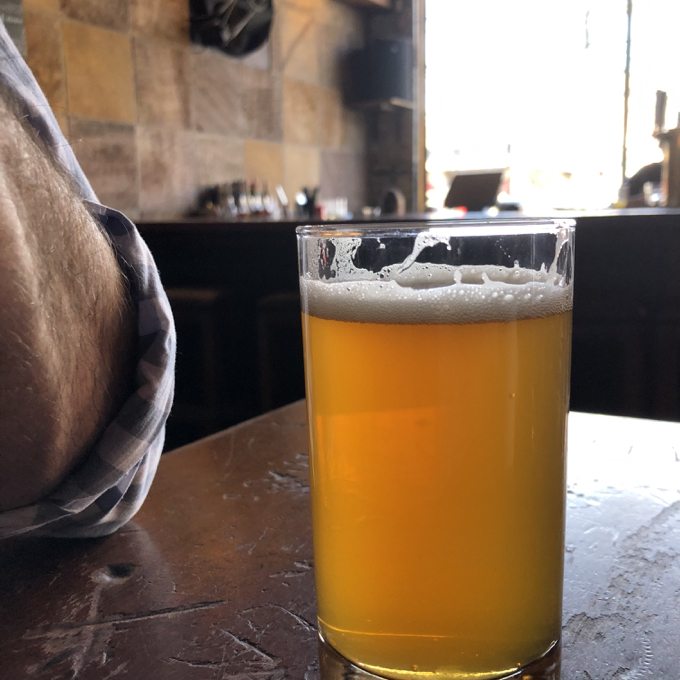 Again, BAR is a brewery that is just not on the tip of people's tongues when they talk Connecticut breweries. Focus on doing things well, not "cool." As Calvin and I did a word search together, our pizzas came. Wow, that was quick! It looked perfect.
That's right, I got anchovies. What of it? It was pretty late during lunch service, so we were both pretty hungry. One bite into my slice and I immediately forgot about the beer's shortcomings. Every time I have these perfect New Haven pizzas, I actually feel really, really sad for the rest of the country. They just have no idea how good pizza can be.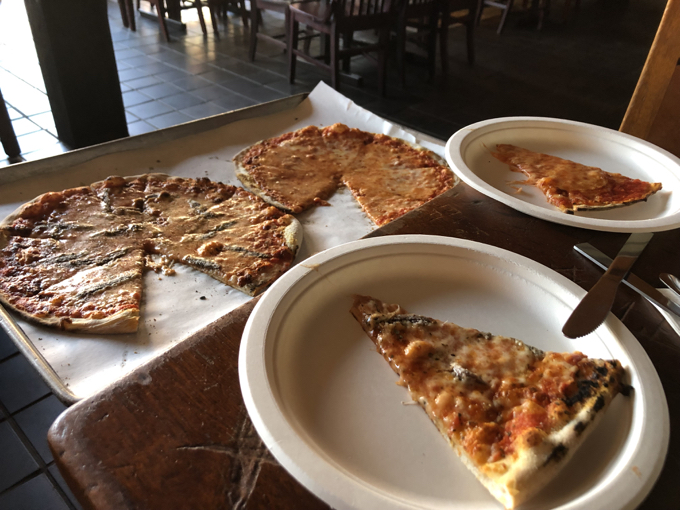 And BAR's is really, really good. The crust here is even thinner than the big 3's I think, and definitely softer. I taught Calvin how to properly fold a slice and eat, so as to not have the cheese slide off. The boy is 8 now, and certainly must know the important things in life.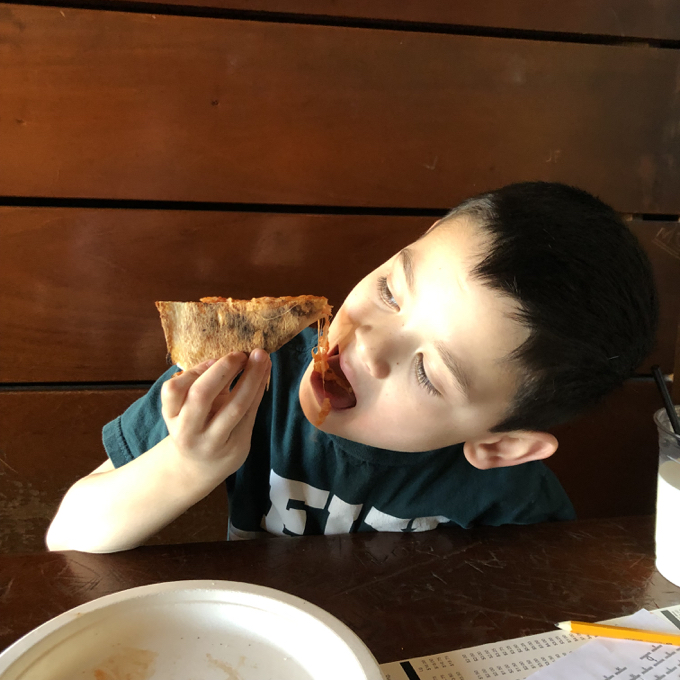 Important things like how BAR has been brewing beer since 1996? Yeah. For the bulk of its life, the head brewer here was Jeff Browning. He's since moved on to partner and brew at Brewport in Bridgeport. Jeff elevated BAR's beer program for a decade, and many people came here for the beer as well as for the pizza and the dancing.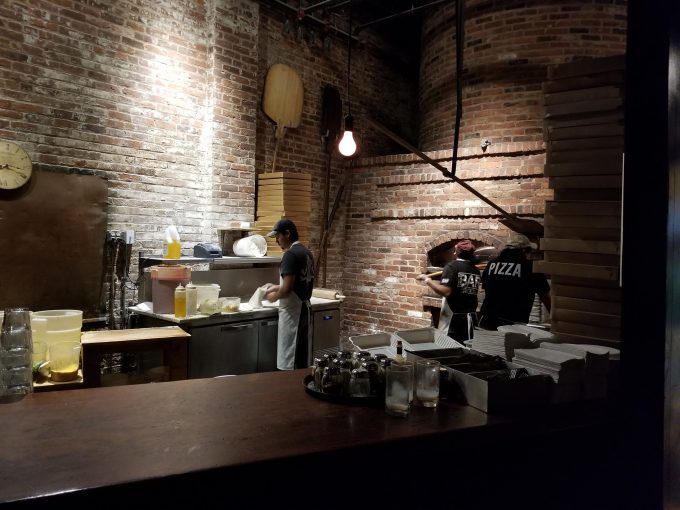 Since he left, I think the beer program has perhaps slipped a bit and has definitely taken a back seat to the old building's other pursuits. (Quite honestly, everything here will always take a backseat to the pizza.) I ordered the Brown Eyed Beauty, a straight-forward brown ale. I like how there were only 5 in-house offerings here and that 4 of them were "boring." Brown, amber, blonde, pale. That's what you need with pizza.
They had a DIPA on as well, but who wants that when you're shoving 10 slices of perfect pie into your face? The brown was fine; classic, simple, properly balanced.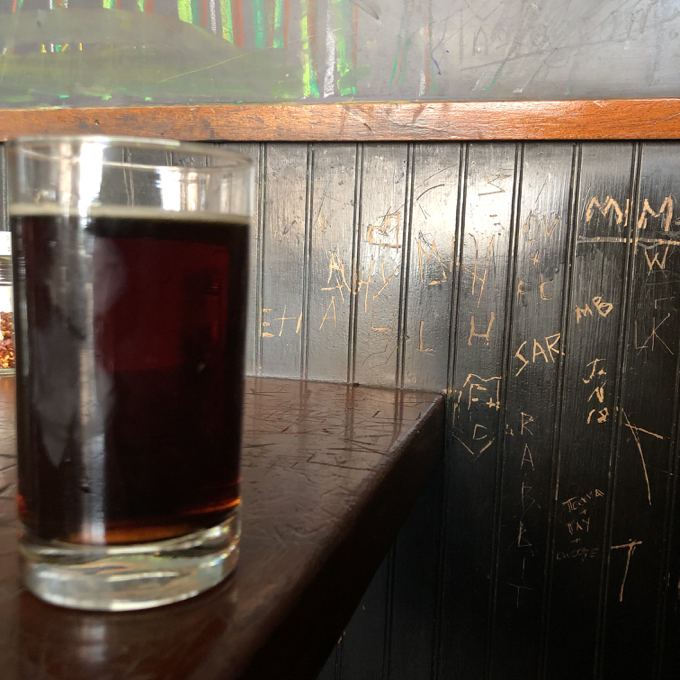 In the end, I can't see BAR putting too much stock in the brewing program. There's really no point. Fix up the pale ale a bit and just keep brewing standard ales "well enough." You'll continue to get the eclectic crowd – Aging Yalie hippies, young Yalie hipsters, wealthy hospital surgeons, not-so-wealthy dads with sons on school vacation… Everyone is welcome at BAR – and I assume the nighttime crowd is pretty diverse as well.
I wasn't looking for beer perfection, and at BAR, it doesn't matter. I still love it and will continue to return for years.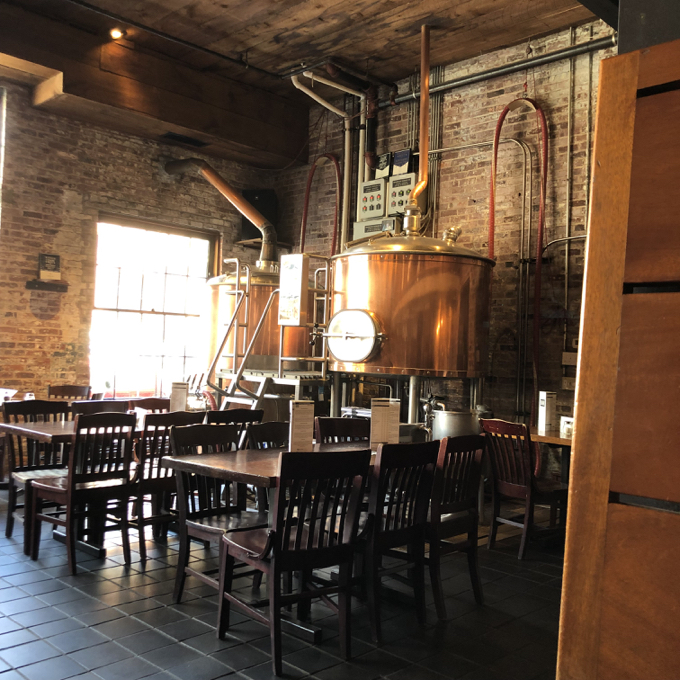 BruRm @ BAR
CTMQ's Breweries & Brewpubs