How Long Would You Wait?
The Original Frank Pepe Pizzeria Napoletana, New Haven
December 2007
Note: Pepe's is part of the Roadfood 500 Thing to Eat Before it's Too Late and is ranked as THE "National Best" pizza. This page was written well before the book came out. It was also written before Pepe's expanded, as it now has outposts all over Connecticut as well as in New York and Massachusetts.
The Impossible Dream… We did it. We successfully took a two-year old to Pepe's Pizza on a Saturday. In a sense, when all is said and done with CTMQ, this may go down as the greatest feat of all. Even if we reach the highest point in all 50 states and do go to every single museum in CT and hike every inch of every trail. Those of you familiar with Pepe's know why – those who aren't, I am not exaggerating.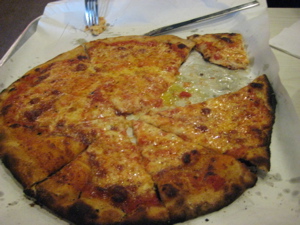 New Haven is home to some great restaurants – both historically and gastronomically; people like to wait in line in New Haven. From Louis' Lunch to pizza on Wooster Street in New Haven's Little Italy. There are a few pizza joints and other assorted Italian bakeries and coffee shops. Connecticutians will debate on and on about which restaurant serves the best pie – Modern, Sally's, or Pepe's, but there is no debate about which one has the most buzz: Pepe's.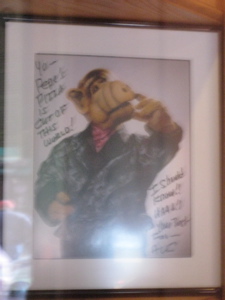 Pepe's features on every cable travel/food show about pizza. Presidents, dignitaries, and ALF have all visited. It makes almost every "Best-of" list nationwide. There are fan clubs, websites, and devotees willing to drive hours for its famous pie. And, most notably, the fact that people are willing to stand in line for (quite literally) up to 3 hours for pizza speaks volumes. Volumes about the pizza itself or about how stupid people are who fall prey to mob mentality? Especially since there are other, very similar pizza joints on the same block? I had to find out for myself.
Hoang and I had taken Damian shopping at IKEA in the morning, in an effort to find him some cheap Swedish furniture that we won't care about when he destroys it. Contrary to normal IKEA trips, this one went quickly and smoothly so I decided to tempt fate: "Let's go to Pepe's for lunch." It was about 11:40 AM so I figured we'd be okay. Plus, it was a beautiful day anyway and Damian seemed content.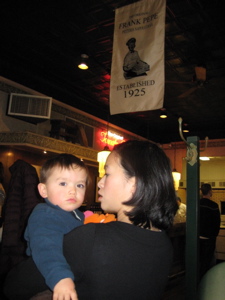 We parked and there was no line! Outside. The little vestibule was packed with people waiting but we decided to stick it out outside as long as Damian allowed. There is no such thing as a waiting list at Pepe's. You just sort of wait and police yourselves. Cutters would probably be knifed and the infirm do seem to get preferential treatment, at least on cold winter days. Once the line moved us into the warm vestibule, the seating strategy takes on a different tact.
A guy comes out and asks "Who's next" and gathers the party numbers of the next few groups. Groups whisper and make deals, friendships are forged and two parties of two quickly become one party of four. That's how it works at Pepe's. Just as Damian was getting a little fussy, we were seated in a little pleather booth. Since the menu is so simple (it's just a sign on the wall), the waitress hardly gave us any time to decide and took our order: One small "mootz" and one small clam.
That would be just a cheese pizza and a white clam pizza. Clam?! Oh you poor, poor souls ignorant to the ways of New Haven style pizza. The origins of the clam pie are said to be that Frank Pepe himself came up with the idea as a lark. The local fishermen in New Haven always had bushels of clams on hand, and Mr. Pepe had the idea of putting them on pizza. After baking one up, he was surprised it worked and hence the clam pie was born. I happen to love it – the clams are fresh and not rubbery and not "clammy" at all. A little olive oil, garlic, oregano, and a dash of grated Parmesan – perfect.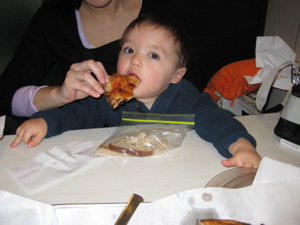 Don't believe me? Michael Stern from Roadfood says the Pepe's clam pie would be his last wish meal.
The crust is what makes NY/CT-style fantastic, in my opinion. Thin, slightly charred, the perfect chewiness… And Pepe's does it right in their massive coal fired ovens. I can't really eat pizza with thicker crust anymore and as far as that monstrosity known as Chicago deep dish, well, that's not even pizza.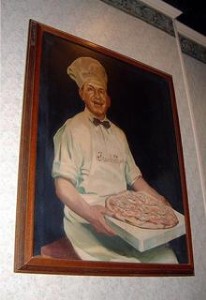 Damian was great throughout, chowing down on the plain pizza with reckless abandon – high praise indeed. Between the three of us, we almost polished off both small pizzas before leaving to buy a couple cannoli at the world's slowest Italian bakery down the street. By the time we left, the infamous line was a block long (about two hours) but orderly as usual. I would never wait in that line – it's just pizza after all – and the fact that this scene plays out all day and night every day and night is just crazy to me. Crazy I says.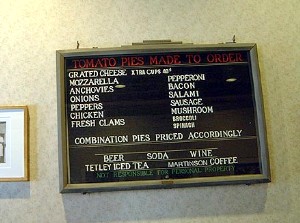 2020 Update: Man, I can't believe how old this page is. Now that I've eaten at most of the best pizza places in the state, I'll still say that Pepe's clam pizza is my favorite – but that I'd give the "best" award to Sally's overall.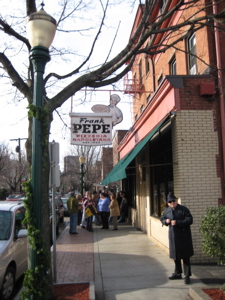 Pepe's Pizza
CTMQ's Best, Unique, & Historic Restaurants & Foods
Pizza, A Love Story documentary