Everything Colchester
I've been exploring and writing about Connecticut since 2006. After a decade, I began compiling CTMQ guides for each town in the state. I plan on "completing" Colchester CTMQ-style… as well as the other 168 towns, cities, and boroughs in Connecticut. That is the ultimate goal of CTMQ.
If I've missed anything in town or if anything has closed or changed, please let me know.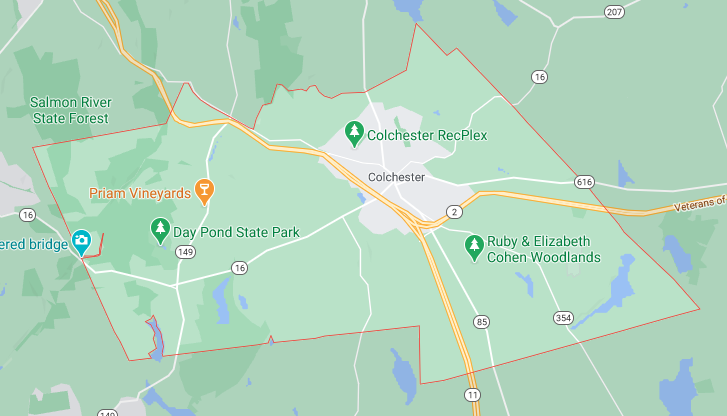 Museums
Bacon Academy Museum
Hayward Fire Museum
Colchester History Museum at The Hayward House
Nathaniel Foote House
One-Room Schoolhouse for Colored Children
Zagray Farm Museum
Hikes & Bikes
Explore Connecticut's Colchester Outdoor Guide
Air Line Trail State Park Trail 2017 TSTL Hike
Day Pond State Park
Babcock Brook WMA
Meadow Brook WMA
Salmon River State Forest – Intro
CFPA's Salmon River Trail
Colchester Land Trust – Intro
Bulkeley Hill Preserve
Ruby and Elizabeth Cohen Woodlands
Whispering Winds
Colchester's Town Trails – Intro
Ruby & Elizabeth Cohen Woodlands
Multi-Use/Rail Trails
Air Line State Park Trail – Intro
Section 2: East Hampton & Colchester
Section 3: Colchester & Hebron
Section 4: Colchester Spur
Food & Drink
Roadfood List: Harry's Place
CT Cheese Trail: Cato Corner Farm
CT Homemade Ice Cream Trail: Scottie's Frozen Custard
CT Wine Trail: Priam Vineyards
CT Beer Trail: Hop Culture Farms
CT Beer Trail: Stranger Tides Brewing (Closed)
Looking for your favorite restaurant? Here is an explanation as to why it's not here.
Everything Else
W3R Site: Colonel Henry Champion House
Concept of Freedom Trail: 2 Sites
Day Pond Brook Falls
The Colchester Ginkgo Tree
Lyman Viaduct
Comstock Covered Bridge
Hilltop Marine
Consumer Reports Test Track
Lincoln Lake Lodge
Colchester Wrap-Up
Completion Celebration at TBD