Everyone's Wild About Harry's
104 Broadway (Route 85), Colchester
August 2009
Although I haven't had but two burgers in about ten years (both for the purposes of this website), I think I still have a pretty good idea of what makes a delicious one. However, my lack of beef consumption certainly hampers my ability to review the Roadfood burger joints passionately and perhaps fairly.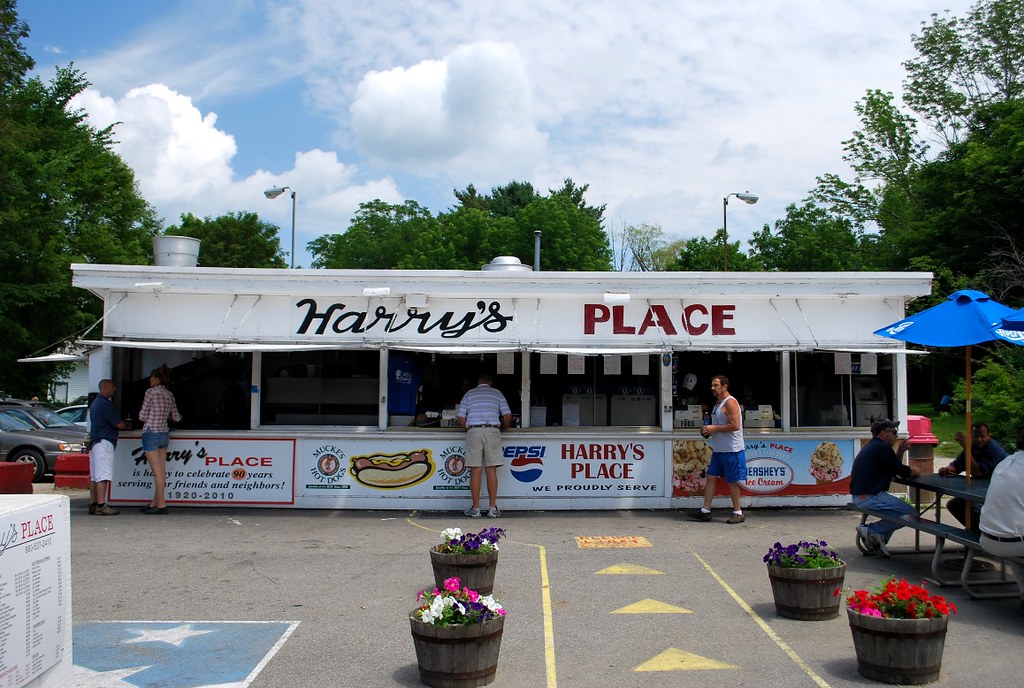 Oh well. Roadfood made a list and therefore I must complete it. Onward to Harry's.
I sped down Route 85 after a couple hours hiking over at Gay City State Park. Romantic visions of the juicy pink burgers of my youth danced in my head as the miles ticked by. I was pretty darn hungry after the hike, so eating the dead cow wouldn't be difficult at all – especially since Harry's is said to make one of the state's best burgers.
Roadfood isn't the only media outlet singing Harry's praises; not at all. Kitschy as much as it is good, Harry's has been featured in every food column from New York to Boston. Heck, they even scored a blurb in Gourmet Magazine as the best roadside drive-in in the country. Read it for yourself: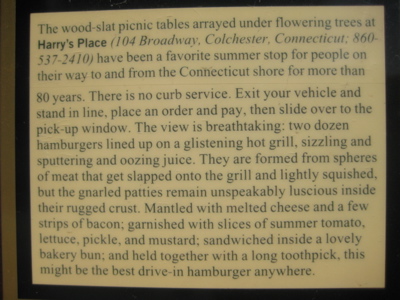 Okay, so it's one of America's best "Drive-In's" but not in the classic sense. You must park your car (in a rather discombobulated lot), get out and wait in line. And there's almost always a line. Perhaps because they cook your order as you order it – a definite plus as long as you have a while to dine.
Here are some choice excerpts from another article. Update: in July 2015, the author of the Associated Content piece I had here contacted me and accused me of a "crime." Of course, I linked her article and put the excerpted 72 words in quotations – which covers me under the Fair Use Doctrine, but she seemed very upset. The original article is long gone from Associated Content. Anyway, she talked about how Harry's burgers and buns are just the best. Oh, and Associated Content has stolen from me so many times I've lost count. Her article is now available on something called "Yak Jam" and is posted without a byline. This is funny to me.
Anyway, the burgers. That's why we're here. Let's get to 'em.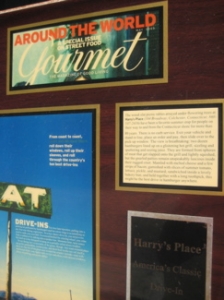 Roadfood says:
My girlfriend and I are great fans of your books and of roadfood.com," wrote Fred Arazan. "We find the service you provide invaluable, especially when traveling to new places. However, having both lived in Connecticut, we are in agreement that there is one gleaming omission from your reviews. It is Harry's in Colchester. In summertime, Harry's is to local burger fans what Abbott's is to lobster lovers. There is no fresher, juicier, tastier burger in the state, if not in all New England." Mr. Arazan simply could not understand why we have not sung hosannas to this place, asking, "Do you have a vendetta against Harry's?"

The answer is, no, we have nothing against Harry's. The embarrassing fact is that we had never been there before. But after reading his endorsement, we were on our way. And sure enough, we found ourselves at a drive-in where the hamburgers are superb and the cheeseburgers are proof, once more, that Connecticut is where the cheeseburgers are fast-food perfection.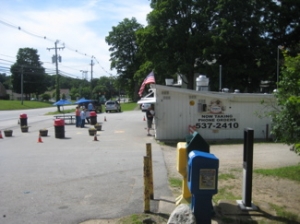 Standing at the pick up window (which is where you go after you have placed your order and paid at the other window), you have a great view of the grill on which the hamburgers are cooked. They are put on the hot, oily surface as a round patty a little smaller than a baseball, then they are flattened out with a spatula. Despite getting squished, the hamburgers remain thick enough to be overwhelmingly juicy.

Hot dogs are cooked on the same grill, and they're plump and tasty ones, especially satisfying when bedded atop some of Harry's chili sauce. And you can get good fried clams, too. But it's burgers on which Harry's reputation is built, and rightfully so.

Seating is strictly outdoors on picnic tables along both sides of the capacious parking lot. Mr. Arazan's note contained one extra tip for those who are waiting for their hamburgers to be cooked. "Look for the plaque outside," he said. "Harry's is listed on the National Register of Historic Places."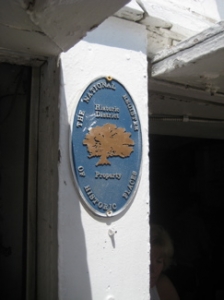 The CTMQ experience:
Harry's is not impressive looking in the least. It's a glorified shack with hand painted signage. I believe that's called "charm." I went to the "food order" window, ordered a plain ol' burger and waited. I went to the pick-up window, slathered on some – gasp! – mustard and found a suitable picnic table to dine. Note: There are a ton of tables scattered all over the place here. Some are in the middle of the parking lot out by the busy Route 85; not what I call ideal.
Yes, the burgers are juicy. I chewed and swallowed… the verdict? Harry's burgers taste just like the ones my mom made when I was growing up.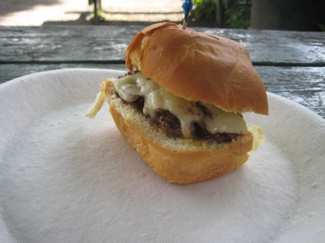 And now that I've written that, I'm not sure what that means, exactly. My mom is a good cook, sure, but one of the best in America? On the other hand, how often does one get a grill fried hamburger that tastes so… So… homey? I'd guess pretty much never, which is why Harry's gets all the props.
As you can tell from the pictures, I devoured the thing. It was good. Will I be driving all the way out to Colchester to have another one? No. But again… My opinion means nothing when it comes to ground up cows.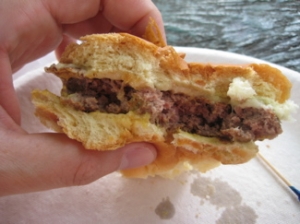 I have heard from many people over the years regarding how wonderful the owners here are. I don't know how many owners there have been, but its been open for over 100 years.
Harry's Place was opened in 1920 under the namesake Harry Schmuckler, and was located in Crestwood Plaza on Main Street, across the street from the Colchester Town green. In the late 1920's, the restaurant was moved to the corner of Lebanon Ave and South Main, also across from the town green. Rubin "Ruby "Cohen, a teenage employee of Harry Schmuckler, quit school and bought Harry's Place in the 1930's. Cohen went on to become one of the longest serving members of the Connecticut General Assembly, a 40-year run lasting into the 1970's. He operated the seasonal restaurant between legislative sessions, while also politicking from behind the counter. His reputation as a fierce political power broker lives on to this day.

In the early 1940's, Harry's Place was relocated yet again, just down the street a couple hundred yards, to the present location. Ruby and his children operated Harry's Place for several more decades. In 1978 Ruby sold Harry's Place to John and Romilda Garet, and a new chapter for Harry's Place had begun.
the Garet family has operated and continues to operate the restaurant today and they are certainly doing something right.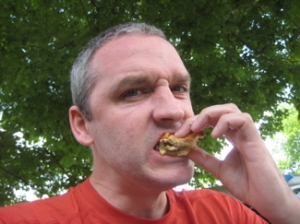 Harry's Place
CTMQ's Best, Unique, & Historic Restaurants & Foods