Everything New Haven
I've been exploring and writing about Connecticut since 2006. After a decade, I began compiling CTMQ guides for each town in the state. I plan on "completing" New Haven CTMQ-style… as well as the other 168 towns, cities, and boroughs in Connecticut. That is the ultimate goal of CTMQ.
If I've missed anything in town or if anything has closed or changed, please let me know.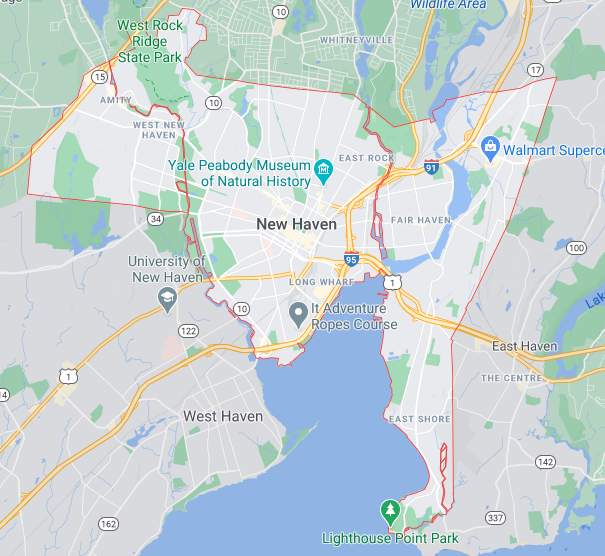 Museums
Arts Council of Greater New Haven Galleries (Closed)
ArtSpace New Haven
Barnard Nature Center
Buley Library Art Gallery (SCSU)
City Gallery
City Hall
Coast Guard Station New Haven
Common Ground HS Outdoor Museum
Connecticut Children's Museum
Creative Arts Workshop Galleries
Edgerton Park Greenhouses and Library
Ely Center of Contemporary Art
Ethnic Heritage Center (SCSU)
Fort Nathan Hale
Fred Giampietro Gallery
The Hill Museum of the Arts
The Blessed Michael McGivney Pilgrimage Center
Lighthouse Point Lighthouse and Touch Tank
Lost in New Haven Museum
Lyman Center and Earl Hall Art Galleries (SCSU)
MacDonough Art Gallery (AMC)
The NewAlliance Foundation Art Gallery (GCC)
New Haven Cocktail Museum
New Haven Library Local History Room
New Haven Museum
New Haven Public Art/Museum Without Walls
Pardee-Morris House Museum
Second Company Governor's Foot Guard
Shubert Theater Tour
Trowbridge Environmental Center
Urban Museum of Modern Architects
West Rock Nature Center
Young Men's Institute Library & Gallery
Yale
ArtPlace at Yale Physician's Building (Closed)
Battell Chapel & Amistad Collection
Beinecke Rare Book and Manuscript Library
Hume Furniture Study and the Bass Sack Family Archive
Irving S. Gilmore Music Library Exhibits
Leitner Family Observatory and Planetarium
Marsh Botanic Gardens
Native American Cultural Center
Payne-Whitney Gym
Peabody Museum of Natural History
Sterling Memorial Library Exhibits
U.S. Squash Hall of Fame
Whitney Humanities Center Gallery
Wurtele Study Center
Yale Art & Architecture Galleries
Yale University Art Gallery
Yale Center for British Art
Yale Collection of Musical Instruments
Yale Collection of Public Art
Yale Institute of Sacred Music
Yale Medical Library Cushing Center
Yale School of Art Galleries at Green Hall
Yale Visitor Center
Hikes, Bikes, & Paddles
West Rock Ridge State Park – Intro
Gather New Haven – Intro
RWA Trails – Intro
New Haven's Town Trails – Intro
Beaver Pond Park
Bishop Woods Bird Sanctuary
East Shore Park
Edgerton Park
East Rock Park
Edgewood Park
Fort Nathan Hale/Forbes Bluff/Pardee Seawall/Fort Wooster
Lighthouse Point
West River Memorial Park
West Rock Nature Center
Multi-Use/Rail Trails
Farmington Canal Heritage Trail – Intro
Section 4: Canal Street, Southington to Temple Street
Section 5: Temple Street to Long Wharf Nature Preserve
Kayak/Canoe Trails
Mill River Paddling Trails
Morris Creek Paddling Trails
Quinnipiac River Paddling Trails
West River Paddling Trails
Food & Drink
Roadfood's List: Modern Apizza
Roadfood's List: Pepe's Pizzeria Napoletana
Roadfood's List: Sally's Apizza
Roadfood's List: Burger at Louis' Lunch
CT World Food Tour, Belgium: Atelier Florian
CT World Food Tour, Cuba: Soul de Cuba Cafe
CT World Food Tour, Ethiopia: Lalibela
CT World Food Tour, Korea: Seoul Restaurant
CT Classic Diner Trail: Cody's
CT Classic Diner Trail: Tandoor
Unique & Historic: Mew Haven Cat Cafe
Unique & Historic: Miya's Sushi (Closed)
Unique & Historic: Mory's
Unique & Historic: Richter's Café (Closed)
CT Ice Cream Trail: Ashley's Ice Cream
CT Ice Cream Trail: Gelato Giuliana
CT Beer Trail: Armada Brewing
CT Beer Trail: BruRm @ BAR
CT Beer Trail: East Rock Brewing Company
CT Beer Trail: Erector Brewing at NOLO
CT Beer Trail: The Stack/Bear's Smokehouse
Looking for your favorite restaurant? Here is an explanation as to why it's not here.
Everything Else
US First: Planned City
US First: Public Tree Planting Program
US First: University Art Gallery (Street Hall, Yale)
US First: Hamburger at Louis' Lunch
US First: Holocaust Memorial on public land
US First: State agricultural experimental station
US First: College Mascot, Handsome Dan
US First: Burial ground with plots at Grove Street Cemetery
US Best: Pizza
US Oldest: Yale Daily News
US Oldest: Yale Crew
World's Largest: Suspended Natatorium
World's Largest: Tandem Van de Graaff Accelerator (Gone)
World's First: telephone exchange, telephone directory, & public phone
World's Oldest: Humor Magazine, The Yale Record
Oldest in Western Hemisphere: Yale University Art Gallery
NHL: CT Agricultural Experimental Station
NHL: Connecticut Hall
NHL: Grove Street Cemetery
NHL: Lafayette B. Mendel House
NHL: James Dwight Dana House
NHL: New Haven Green Historic District
NHL: Othniel C. Marsh House
NHL: Russell Henry Chittenden House
NHL: Yale Bowl
National Planning Landmark: Nine-Square Plan
Connecticut Freedom Trail: 11 Sites
Connecticut Amistad Trail: 9 Sites
CT Art Trail: Yale Center for British Art
CT Art Trail: Yale University Art Gallery
CT Dino Trail: Othniel C. Marsh House
CT Dino Trail: Yale Peabody Museum
Judges Cave
Wintergreen Falls
Grannis Island
West River Fishway (Gone)
Greenbrier Greenhouse and Crosby Conservatory at Edgerton Park
Baker Hall Archway
Skull and Bones & Other Yale Secret Societies
Newberry Memorial Organ
Harkness Tower
Winchester Shot Tower
East Rock Park Soldiers and Sailors Monument
Heroes Tunnel
Heroes Tunnel Air Tower
Secret Yale Tunnels
Pitkin Street Tunnel
Center Church Crypt
The Taft Chair at Woolsey Hall
Carnegie Library – New Haven Library
Young Men's Institute Library
Gravesites of Edward A. Bouchet, Midnight Mary & Sarah Winchester
Lighthouse Point Carousel
Five Mile Point Lighthouse
Southwest Ledge Lighthouse
Chairigami
The Game, Yale vs. Harvard football
Southern Connecticut Owls football
#1 Yale Hockey vs. Union
It Adventure Indoor Ropes Course
Powder House Day
ET Progressive Signs (2)
1,000 Places to See in the United States and Canada Before You Die List (9)
God and Man at Yale by William F. Buckley, Jr.
Hidden history of New Haven by Robert Hubbard & Kathleen Hubbard
New Haven Guide to Architecture and Urban Design, by Elizabeth Mills Brown
New Haven Noir, Edited by Amy Bloom
Pizza in New Haven, by Colin M. Caplan
Who Governs?: Democracy and Power in an American City, by Robert Dahl
CT Movies: Pizza, A Love Story (2019)
New Haven Looks Like a Wallaby
New Haven Wrap-Up
Completion Celebration TBD