A Safe, Good, and New Haven
New Haven (Google Maps Location)
July 21, 2007
My friend Rob and I arrived at the New Haven Colony History Museum still full of energy – despite having already been to five places already on our full CTMQ New Haven day. This would be our final museum of the day and the large banner out front looked promising: "The New Haven Bar: From the Colonies to Today." We had certainly worked up a thirst and couldn't think of a better way to end the day; perhaps some mead or Caribbean rum from the 17th century.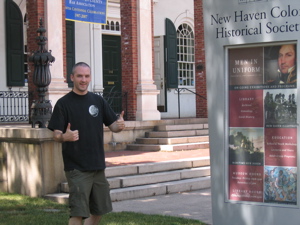 But first, we learned about the history of the town itself. After paying the entry fee and noting the "No Photographs" sign (hence the bad, illegally taken photos below), we entered a fairly large room which was set up like every town museum "History of the town" room is set up. That's not a criticism at all, I'm just painting the scene; from the original colonists to today.
New Haven is located on a strategically important inlet on the Long Island Sound – known as the New Haven Harbor. The area was home to the Quinnipiac Indians who welcomed the 550 new folks (350 settlers and 200 servants) to their land in 1638. Why? Because the rotten Pequots from the East were a violent band of marauding warriors and the Puritans offered guns and perhaps some future protection.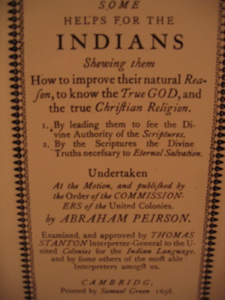 Of course, the Quinnipiacs would have to come to know Jesus if they were going to get help from what was to be a "Puritan Village," and a "Christian utopia" for wealthy Europeans from the Massachusetts Bay Colony up north. Led by John Davenport and Theophilius Eaton, the Puritans were dissatisfied with the theology they left behind so they created a new haven to practice their beliefs. Hmm, what to call this new haven? How about "New Haven?" Brilliant!
Neat, huh? Here's something else you didn't know (Ok, many of you probably knew that, but I didn't); New Haven is considered to be the oldest formally planned community in the United States due to the original grid of four streets by four streets. This created what is now now the center of downtown New Haven. Also, the city instituted the first public tree planting program in America, eventually producing a canopy of mature trees (including some large elms) that gave New Haven the nickname "The Elm City."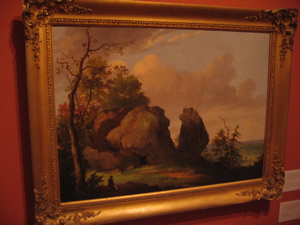 Later, as the nascent colonies were finding their identities (Connecticut wasn't "Connecticut" yet), and the British were starting to exact some revenge, there was a defining moment in New Haven history. Two Judges who had signed the death warrant for King Charles I were sought but King Charles II for hanging. Edward Whalley and William Goffe fled to New Haven to hide. I guess they were taken in by the name too – "New Haven, safe haven, same thing." They were joined by a third judge and they hid out in the hills north of town to escape death. Now, one can hike the blue-blazed Regicides Trail and check out "Three Judges Cave." CTMQ, of course, will tie all this together at some point. – like I need to tell you that
Like how this sentence is from the future and here's a visit to Judges Cave and here's my hike of the Regicides Trail.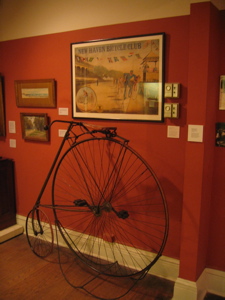 The museum itself is housed in a large brick building replete with a rotunda. The permanent areas contain the town history room, an Amistad room, "New Haven and the Sea," and the Whitney Research Library. I never bother with the libraries, but I'm sure this one is extensive and lovely. During our visit, there was also a large temporary collection of art from the "Federal Art Project" (part of FDR's New Deal sponsored programs) as well as the much anticipated History of the New Haven bar. Knowing Yale's prolific history in the town, Rob and I were eager to check out some of the post-colonial tavern and pub memorabilia.
The museum is New Haven's only civic museum, which is interesting only because there are so many museums in town. So let's get to it, shall we? "New Haven Illustrated" is what the museum calls it's town history collection – and it's very nice. Walking through the exhibit took us through the first settlers and their hardships that I've already touched on. Of course they have everyone's favorite 4th grade invention, Eli Whitney's cotton gin. There it was, live and in living color right in front of me – and this one was made by the hand of Whitney himself!
Whitney was an interesting guy, and his two most famous inventions a) created the need for more slaves and b) helped the north win the Civil War. I'm not going to spend time writing a treatise on Mr. Whitney, but it is pretty fascinating that he never saw the after-effects of the cotton gin and/or the gun with interchangeable parts. I'm sure I'll spend more time on this when I visit the Eli Whitney museum up in Hamden, just north of New Haven.
But alas, Whitney also invented something called the "Stone Crusher/Marble Carver." Here's a bad picture of that: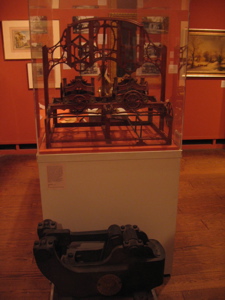 I can only assume it does what its name says it does, even if it sounds like a WWE tag-team. (Though Marble Carver is a bit less imposing, it could work.) Along a wall was a series of late 19th-century factory photographs which prompted Rob to blurt, "Old pictures are my favorite parts of these places; it's weird. Like look here, this woman is really pretty and yet she's now dead."
I thought about that for a second and tried to find some deep philosophical meaning behind it and found none. So I replied, "I'm going to quote that on CTMQ just because." So there you have it.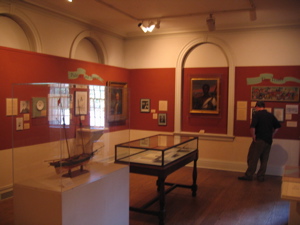 (Let it be known that Rob is a very smart guy and it's fair to assume that other very smart people are as fascinated by this as he is.)
The town history room did what all town history rooms do – take visitors from the town's beginnings up to the 21st century in one or two little rooms. On to the Amistad exhibit. Admittedly, I've been Amistad-ignorant my whole life. I haven't seen the movie, visited the Amistad ship that comes around every few years, or really ever read anything about it. And that's my own personal failing, as the story is quite incredible.
As YOU all know, on 2nd July, 1839, the slaves, led by Cinque killed ship captain Ramon Ferrer, and took possession of his ship. Cinque ordered the navigator to take them back to Africa but after 63 days at sea the ship was intercepted by Lieutenant Gedney, of the United States brig Washington, half a mile from the shore of Long Island. The ship was towed into New London, Connecticut and the Africans were imprisoned in New Haven.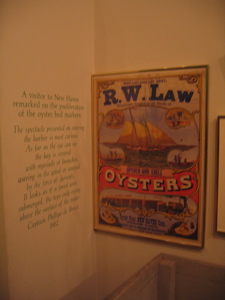 The Spanish government insisted that the mutineers be returned to Cuba. President Martin van Buren was sympathetic to these demands but insisted that the men would be first tried for murder.
Lewis Tappan and James Pennington took up the Africans' case and argued that while slavery was legal in Cuba, importation of slaves from Africa was not. The judge agreed, and ruled that the Africans had been kidnapped and had the right to use violence to escape from captivity.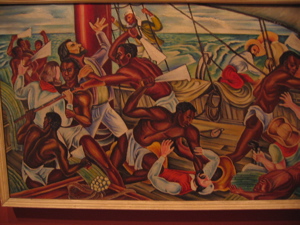 The United States government appealed against this decision and the case appeared before the Supreme Court. The former president, John Quincy Adams, was so moved by the plight of Joseph Cinque and his fellow Africans, that he volunteered to represent them. Although now seventy-three, his passionate eight-hour speech won the argument and the mutineers were released. Cinque ultimately returned to Africa a hero – he is also believed to be the first non-slave African to have his portrait painted in the US. Here it is: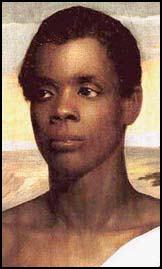 There is a fancy room in the museum – an early 19th century rich person's parlor room. The room is bright green, just like the "small dining room" at Mt. Vernon, and there's apparently a good reason for it. Both bright red & green paint were in fashion at this time, but shiny green paint was felt to help reflect candlelight better at night. Green paint was also quite expensive at that time, indicating that those people were wealthy to their visitors. So they say.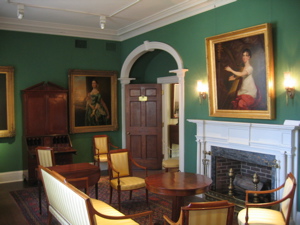 Let's go upstairs – and get that much closer to the bar stuff. When were kegs invented? What's the oldest tap handle beer brand on display? Did George Washington drink here? Soon! In the rotunda area at the top of the stairs is a fairly substantial display of paintings of military people. Over in the first room was a very nice collection of sea art; ship paintings and New Haven harbor watercolors. I've always had an affinity for stormy weather sailboat paintings for some reason, and there were several here.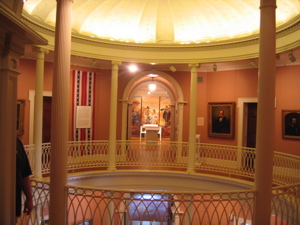 There was also a maritime history display exploring the fishing and shellfish industries throughout New Haven's history. There used to be a viable oyster population here, but not really any more. I relived the good old days of oyster farming with some of the interactive displays.
Crossing the rotunda – and practically smelling the hops and barley from the bar room exhibit, Rob and I tested our resolve by first exploring the Federal Art Project of New Haven. This exhibit uses original documents, artwork, and photographs to demonstrate New Haven's participation in the work relief program known as the FAP from 1933-1943. Most of the art produced across the country during this time has been lost, but New Haven has been fortunate that many of the murals and other works have survived. And some are really pretty cool.
Like this one: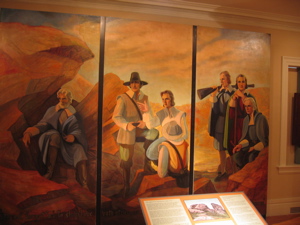 Yes friends, there are those 3 judges again and their cave! Public art is a good thing, but so are taverns with historical significance… how many more rooms until we get there?!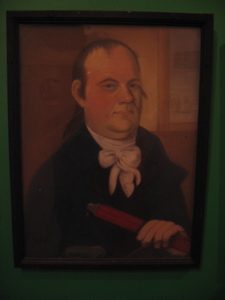 And a room with all sorts of tercentenary celebration bric-a-brac. Great, here… look, a poster from back then, whenever. Can we get to the good stuff?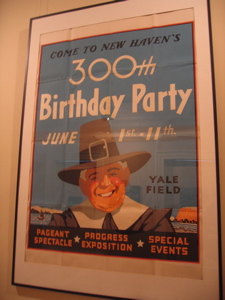 We walked around the rotunda again and made our way to the "History of the New Haven Bar" room – we'd saved the best for last. We crossed the threshold, rubbing our palms together…
"Um," I said.
"Uh," Rob replied.
Crickets chirped mockingly. Looking for historic beer bottles and colonial recipes for port and maps of rum running routes, we gazed upon a room full of, er, of lawyer stuff…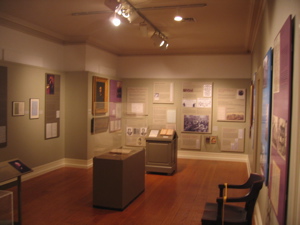 Are you kidding me, New Haven Colony History Museum? Apparently not. We'd been duped… the room we had so highly anticipated explored the fascinating history of law, the practice of law, and the studying of the practice of law in New Haven since the beginning of New Haven. Great.
No offense to my lawyer friends (yes, they exist), but I think I found the first CTMQ subject I thought I really, really didn't care about. And since we had worked ourselves up for something far, far more interesting, we blew through the room barely taking note of what it had to teach us. Then I found some colonial law displays, and was instantly mesmerized: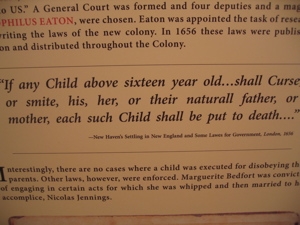 Ah yes, the good Christians who settled New Haven in order to better practice their theology felt that murdering those over 16 who "curse or smite" their parents was a good idea. We spent a good deal of time in the law room after all. But still, Rob and I simply had to find a historic taproom of some sort. Is that even possible in this dusty ol' town?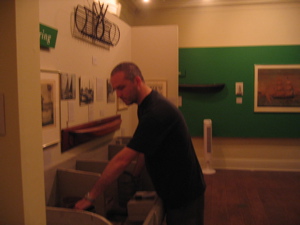 New Haven Museum
CTMQ's Museum Visits