A Rare Bit of CTMQ
Mory's, New Haven
October 2013
Greetings! You have found your way to another of the very few, very rare CTMQ pages where I write about something I didn't really experience. As you see from the pictures, I was definitely in Mory's at Yale, but I must come clean: I didn't eat or drink anything here. This is a "rare bit," if you will.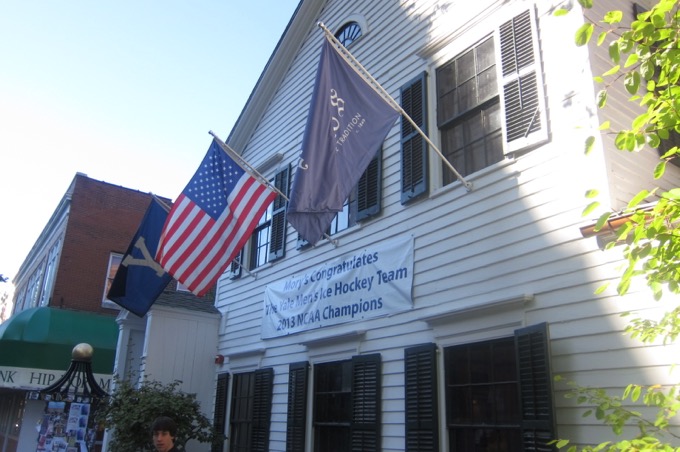 And I'm probably never going to, so this is the best I can do. I'm okay with that. Are you okay with that? We're all okay with that? Good. Let's get to it – after all, what is so special about a restaurant that I deem it worthy of writing about without ever eating the food?
Y'know… that's a good question. Why am I writing about Mory's?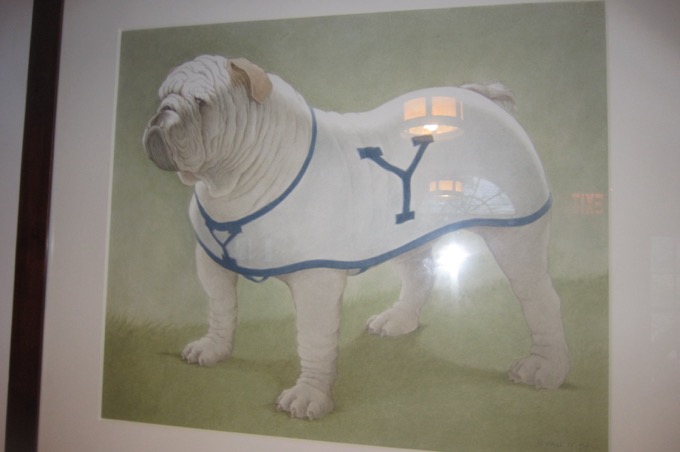 Mory's began in 1849 as an unpretentious alehouse on Wooster Street. Wow, that's really old. That's a good start. The Yale Crew teams would stop in after training and enjoyed the place.
In those days it was run in the style of a homey English pub, offering pints and simple fare like Welsh Rarebit and sardines on toast. Over the years ownership and location changed, with the business moving ever closer to the Yale campus.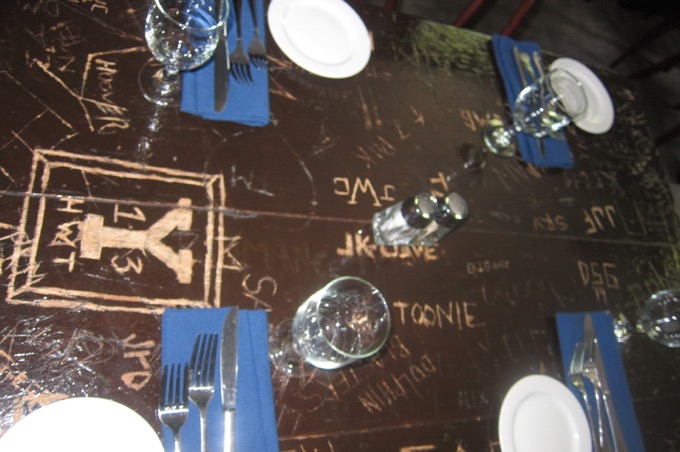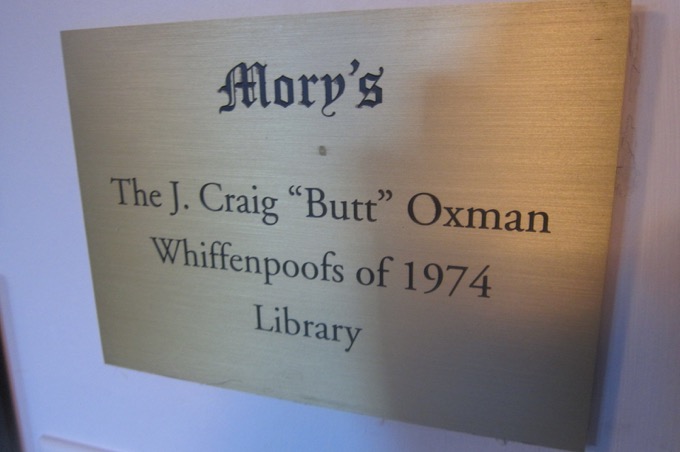 Some people like to front on Yale for various reasons; liberal indoctrination! Socialists! The weird secret societies! The expense! The pretension! The privacy! The fact they pay almost nothing in property taxes to New Haven! … and most of those criticisms have merit.
But Yale is an incredibly good school and has an amazing history. It's campus is beautiful, chock-full of CTMQ-worthy stuff. I could easily spend several full days on campus and probably not see everything I aim to see there.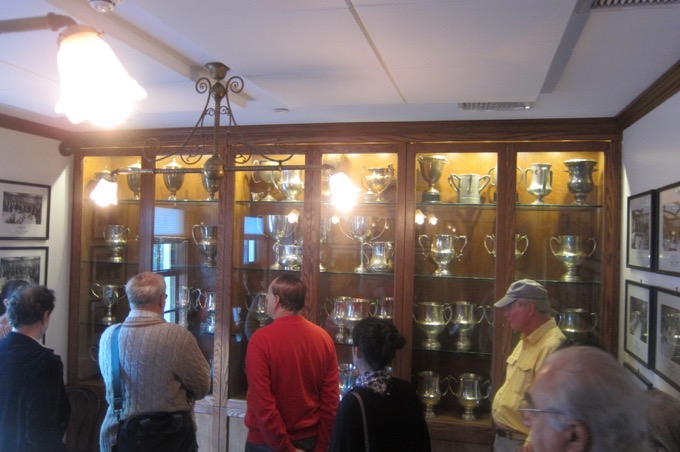 But I did manage to see Mory's during a random campus tour one day. This wasn't the "campus tour" offered all the time to prospective students or curiosity seekers. This was a special tour on some sort of special day. Anyway…
In 1898, the lease was purchased by Louis Linder, who had come over from Germany as a cabin boy on an ocean liner and worked his way through the grand hotels of New York City. He landed finally at Luchow's famous beer garden restaurant in New York. As the new owner of Mory's he brought new life to the place and oversaw its relocation to its present site at 306 York Street, in 1912. It was at this time that Mory's transitioned from a public house to private club catering exclusively to the Yale community.
(If you're wondering, Louis Linder is not Louis Lassen, who opened the historic and nearby Louis' Lunch that same decade.)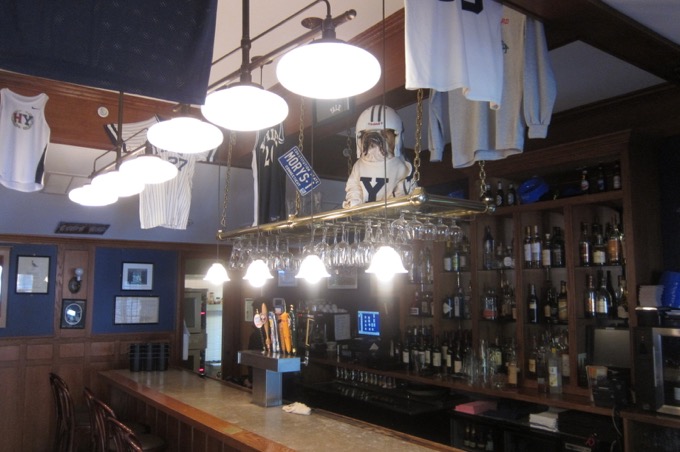 So this place had been private for over a century when I visited. Stepping inside, you can almost feel the history of this place. So many presidents have hung out here. (One would suspect George W. Bush was dragged out of here more than once.) Captains of industry! Pictures of people who make more money in a day than we do in a lifetime adorn the walls! Mory's! Yale!
Louie loved music and encouraged the patronage of Yale singing groups. One of these began to meet here every week, to raise a foaming glass and sing for the sheer joy of it. In February 1909, they adopted the name "Whiffenpoofs." Cole Porter was a Whiffenpoof while at Yale, and he penned their signature song, which begins, fittingly enough, "To the tables down at Mory's- to the place where Louie dwells…." To this day the Whiffenpoofs continue the tradition of appearing at Mory's most Monday nights during the academic year, singing through dinnertime to the delight of their fans. Many other of Yale's superb singing groups visit on other nights of the week as well, making Mory's a haven for a cappella fans.
Well, come on Mory's. If, say, my wife and I were huge a capella fans, Mory's is not a haven for us. Your strict privacy rules sort of keep us – and the tens of millions of a capella fans around the world – away.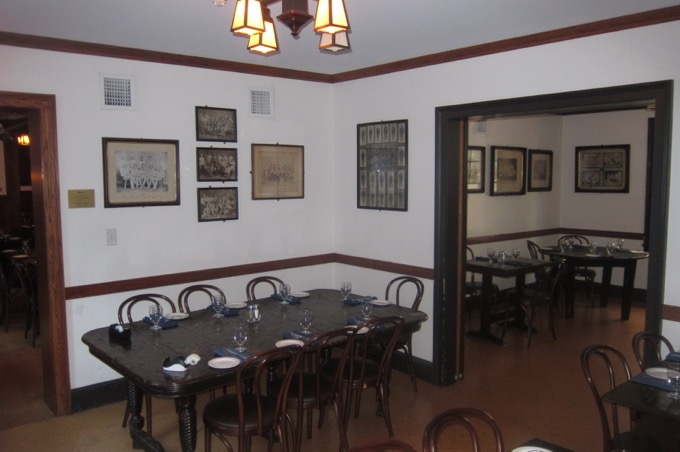 I've sometimes wavered on whether or not to try to keep up with writing about Connecticut's "historic" restaurants. They are often tough to define and often have apocryphal histories that only serve to annoy me. But Mory's? Heck, you can buy a book about the history of Mory's. (I'd include a link so all you Mory's fans can purchase it, but there is no link. You, a member, must email a person there who will charge it to your membership account.)
I spent a good twenty minutes inside, looking at the pictures and listening to some of the guide's stories. And I promise, I didn't spend all twenty minutes looking at the random Yale Women's Volleyball team picture: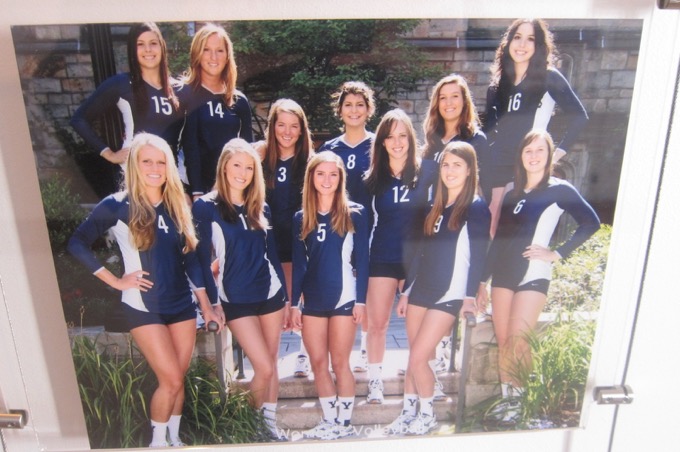 Mory's gives out an award every year or so to the person who has shown "Conspicuous Service to Yale" and it's a whole thing. Prescott and George HW Bush have won it, as has Wilbur Cross, James Gamble Rogers, Paul Mellon, Carm Cozza, Bart Giamatti, and others. George W. Bush has not won it.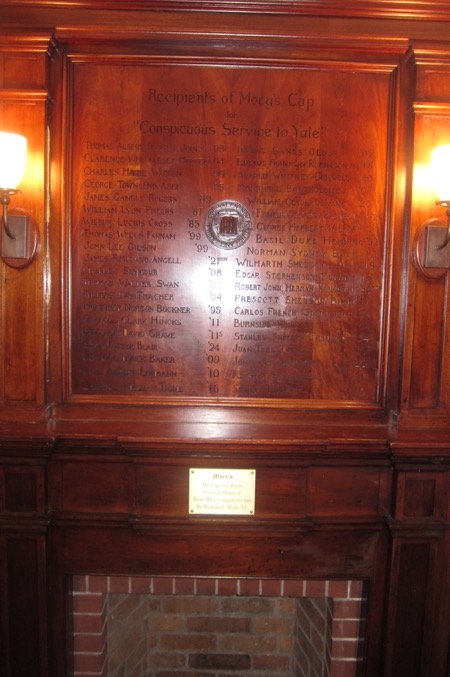 If you're wondering about the food here, it seems rather standard, slightly overpriced fare. They do retain a bit of tradition and still serve Welsh Rarebit. (If you're not familiar, rarebit is simply a melted cheese sauce over toast. Worcestershire sauce and mustard must be added to the cheese to make it legit – and I love it.) I'd probably order it every time I dine at Mory's, but alas, I cannot.
Which… may be okay. I reached out to a friend (with a palate I implicitly trust) who dines here. I asked how tight the club is with membership rules and if I should hold off on writing this page until I actually eat there. She offered this:
I thought they loosened it but I don't see it online. When I go, it's usually with a student or Yale hosted group.

The food is legitimately horrid so you're not missing much.
And there you go.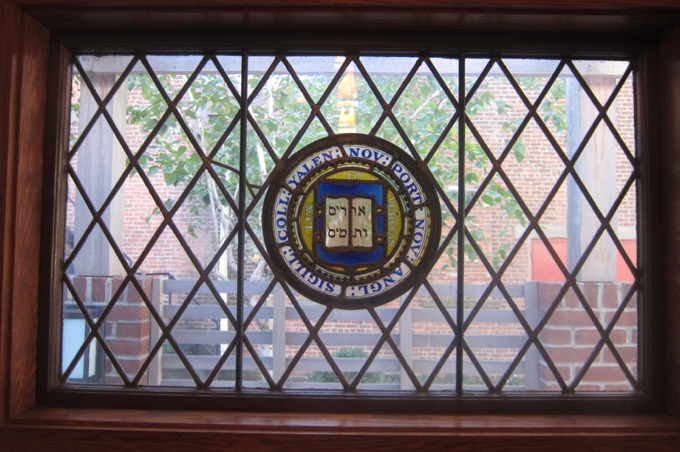 Mory's
CTMQ's Unique & Historic Restaurants & Food