The Real "History of the New Haven Bar" Bar
Richter's Cafe, New Haven
July 21, 2007
Richter's closed June 25, 2011 but has been reopened under a different name and ownership since.
After a full day of traipsing around New Haven, taking in several museums and more, friend of CTMQ RobC and I finished up at the New Haven Colony History Museum.
There, we were eager to check out the "History of the New Haven Bar" exhibit, only to later learn it was a room full of lawyer artifacts and antiquated laws scrolled on parchment paper. Such a let down.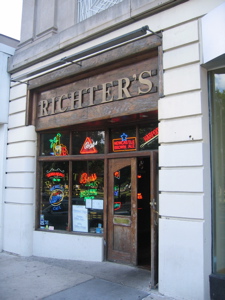 So we were in the mood for a real historic bar – and we found one. Right on the New Haven green, very near Center Church with the cool Underground Crypt: Richter's Cafe (aka, The Taft Tap Room).
Richter's dates back to 1858, when the New Haven House Hotel was built at the corner of College and Chapel Streets. The building was designed by Henry Austin, who also designed City Hall. Hmm, that'll work for us.
We sat at the bar – the original bar, mind you, and ordered one draught each. "Here's to CTMQ," I toasted. We clinked glasses and I took a look around. The paneling (also original) was covered with photos nearly dating back to the invention of the photograph. There were lots of Yale crew pictures from pre-WWI. I started learning about the history…
During prohibition, the Taft Room allegedly served as a speakeasy. After that was repealed, the pub was THE place to be in the 30's, 40's, and 50's. Then the building was sold and by 1980, the whole place was boarded up and forgotten about.
In the fall of 1981, Richter Elser, a recent Yale grad, accidentally discovered the boarded up Tap Room, restored it, and re-opened the historic bar in 1983. After our beers, we exited out into the bright sunshine and just before going our separate ways we noted a plaque on the sidewalk right out front (below).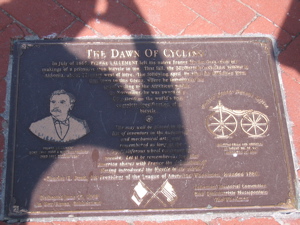 Essentially, what you can't read, is a statement about Pierre Lallement – arguably the inventor of the bicycle. Lallement built his prototype in the Paris carriage-maker's shop where he worked in 1862 and practiced riding it in a long corridor, then in the streets. Two years later, perhaps aware that others were tinkering with the same idea, he gathered the makings of an improved bicycle and traveled to America. He completed the vehicle at a machine shop in Ansonia, Conn.
Legend has it that while careening downhill (brakes were not developed until later), Lallement nearly collided with a horse-drawn wagon, sending its drivers fleeing to the nearest tavern telling wide-eyed tales of being chased by a "devil on wheels" with a human head and a body that was half-snake and half-bird.
Nonetheless, Lallement got the backing of an investor, James Carroll, and their patent application was granted in 1866 — the world's first public record of the pedal-powered two-wheeler. A subsequent owner of the patent, Albert A. Pope, made a fortune manufacturing Columbia bicycles, while Lallement died poor and unrecognized at his home in Roxbury.
Now I'm bummed out again. Vive Lallement!

CTMQ's Unique & Historic Restaurants & Food