Right, Then. Jolly Good.
New Haven (Google Maps location)
November 9, 2012
The Yale Center for British Art is a Connecticut Art Trail site.
Spoiler Alert: When coupled with the neighboring Yale University Art Gallery, you simply can't find a better day of art in Connecticut. Oh yeah, both are F-R-E-E, free, free, free. All you have to pay for is parking. And lunch I guess.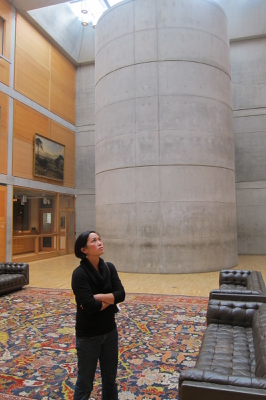 It was (and is) great for many reasons. Here's the big one – and this may come as a surprise to many of you:
The Yale Center for British Art houses the largest collection of British art outside of the United Kingdom.
Whoa. Think about that for a second. And then realize that this collection is in our very own New Haven. The best pizza in the world AND the largest collection of British art outside of the UK?! No joke, this sort of blew my mind.
And about that collection? The collection of paintings, sculpture, prints, drawings, rare books, and manuscripts reflects the development of British art and life from the Elizabethan period onward. Works on view include masterpieces by Joshua Reynolds, George Stubbs, Thomas Gainsborough, J. M. W. Turner, and John Constable, as well as major artists from Europe and America who lived and worked in Britain.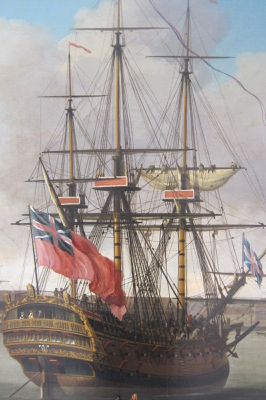 This is a big time museum in Connecticut's biggest time city. Unfortunately, I'm not a big time art critic, so I must apologize for a few things regarding this page:
My pictures are, as always, fairly terrible.
My pictures are, for the rare time, exceedingly lacking in quantity.
My knowledge of which artists created the works in my pictures is embarrassingly scant.
While picture-taking is allowed in the Center, there's just something about taking a million of them while guards follow your every move. (And they should, I'm not suggesting otherwise.) For certain exhibits, notably the Damien Hirst one, pictures were outright banned.
"So," you think, "since you didn't take a billion pictures, I would have hoped that you'd have jotted notes regarding the paintings you did capture."
That's cute. Clearly, you are unfamiliar with how I operate.
In truth, I so enjoyed visiting this place on a day off with my wife that I didn't really feel like spending my time jotting notes about this painting or that. Just know this: The Center is a beautiful, huge, important museum. And you should absolutely go there, lose yourself there, and figure out which eras and paintings you enjoy the most.
For Hoang, perhaps, her top draw is the building itself. As a modern architecture fangirl, this Louis Kahn building is a treasure. The Center was Kahn's final work and was completed after his death. (The Yale University Art Gallery across the street was his first major commission, so there's some poetry at play here.)
Not so poetic, but sort of interesting: it was the first museum in the United States to incorporate retail shops in its design.
You can read more about Kahn's masterpiece here. The design's reliance on natural light makes The Center just a beautiful and peaceful place.
It would be silly for me to "walk you through" the museum since I'm pretty sure it will be quite different when you visit in the future – especially after a big 2015 update. It would also be boring, but I've never been accused of not being boring.
Ok, so let's focus on the painting and sculptures. The Center maintains a collection of approximately 2,000 paintings and 200 sculptures. Whoa. That's a lot. What are they particularly strong in, you ask?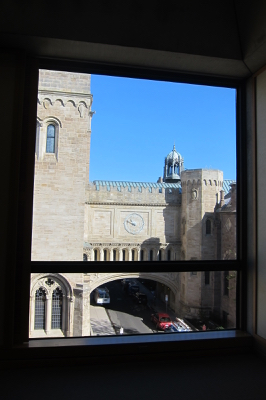 They are particularly strong in the period from 1700–1850. But the collection ranges from a medieval Nottingham alabaster to works by contemporary artists. Ah! But you are more of a British sporting and animal painting fan. Don't despair! Thanks to the special interests of founder Paul Mellon, the Center also has one of the greatest collections of British sporting and animal paintings in the world.
No clue how they quantify that, but I believe them. This is Yale after all.
One of the temporary exhibitions during our visit was a bunch of art acquired through some convoluted means. You can read about it if you want, as I'm not going to explain it.
At this point, I think it's best to just go through some pictures and anything I can add to them. Cool? Cool.
There is a ton of information for some reason about this pallid lady and the weird name of the painting.
She will haunt your dreams…
Moving on. If that lady wasn't British enough for you, how about this party. Study this painting. The dude sitting down is tiny. I don't care how big his fancy wig is, he's a tiny, tiny man. In fact, all the guys at this party are sort of lame looking. What's up with all the women though? Some are kind of hot. Are they waiting for someone else to show up?
Turns out, they are. Lord Harrington himself wasn't at this party. Perhaps that explains why it looks like the most boring party ever. No one seems happy.
Hmm, what else do we have… How about Bill Clinton and a dog saying hello?
And here's a painting of Stonehenge.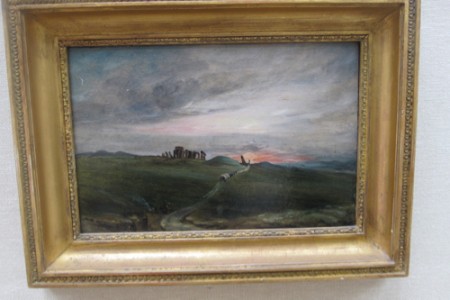 And a beautiful one of some tall ships.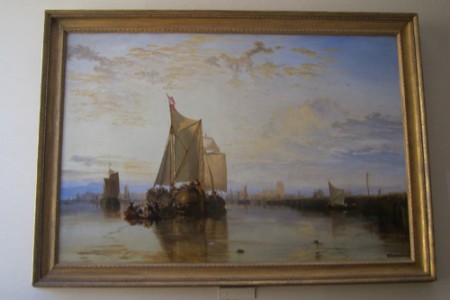 Besides all the expected paintings of wealthy aristocrats and their aristocratic aristocraticiness, there are some really cool and dark paintings as well. I don't know what it says about me, but I'm more drawn to them by far.
It took us a long time to work our way through the "old timey" galleries. Not only because they are extensive, but also because they are wonderfully curated and contain a trove of beautiful and fascinating paintings.
During our visit, the more modern British art seemed to have been given a bit of a smaller focus. (Of course, there are less modern paintings because the modern era contains fewer years than the three centuries of "classics." I figured this out on my own.)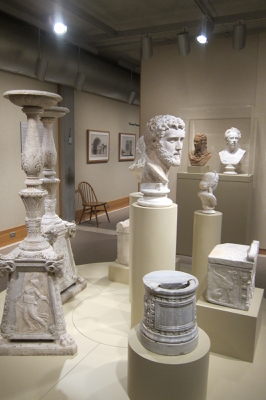 As mentioned, there's a Damien Hirst exhibit. I want to give a special shout out to the guard in that room, for she was on her game. Strong.
After being admonished by her, and showing her that I didn't take any pictures, I was then emboldened to really try to take a picture of the exhibit.
I'm a jerk.
I guess Hirst protects his stuff well, because the museum's page about the In and Out of Love (Butterfly Paintings and Ashtrays) Hirst room contains tiny photos of essentially nothing.
Well, here's what it looked like.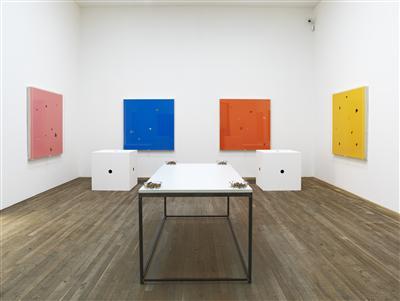 Thanks Tate Modern! Here's what it is: "Eight paintings, household paint on canvas with butterflies; four boxes; one table, formica top on steel base; four glass ashtrays filled with cigarette butts."
Rad.
For me, I was infinitely more excited by the Francis Bacon stuff. He's one of my favorite artists of all time, so I was rather giddy to see some originals here.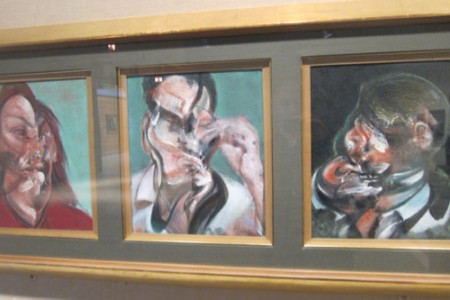 Another temporary exhibit during our visit was called "Caro: Close Up." Sir Anthony Caro is Britain's most acclaimed living sculptor.
It was the first exhibition of his work organized by an American museum since a retrospective at the Museum of Modern Art in New York in 1975. Focusing on early drawings and small-scale sculptures in a range of media, the exhibition brought together more than sixty pieces from the 1950s through the present day. Although Caro is best known for his large, brightly painted abstract sculptures, he has always also worked on a small scale.
I rather enjoyed his whimsical pieces, and was glad my older son wasn't with us. Too many of the works looked like kinetic fun for him to break. Phew.
Look, I'm sorry I don't have much more to say about this museum. For once, I was able to enjoy a large, beautiful, intelligent museum without my kids. Enjoying a day out with only my wife is a rare treat for me. And I'm happy to say that the Yale Center for British Art was an escape for both of us.
I was far more focused on learning stuff about British art, spending time with Hoang, and engaging in good conversation with my best friend then with taking a billion pictures for a CTMQ post.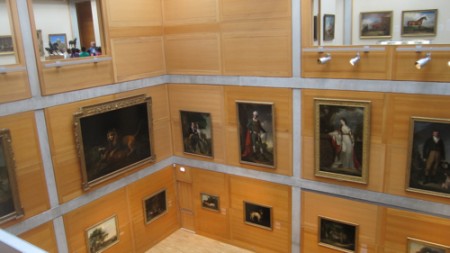 The bottom line is this: Go here. It is a Connecticut treasure and it is free. I don't care if you're "not into art." That may very well be the point! You SAY that you don't care about this sort of thing, but when is the last time you actually immersed yourself in this sort of thing?
Seriously.
One could spend a four-day weekend in New Haven going to museums, taking tours, hiking, going to breweries, eating great pizza, and having fun. It is our best and most culturally rich city by far.
I promise.