Things are Going Swimmingly
Yale Practice Pool, New Haven
I spent a wonderful day in New Haven recently doing a few tours of unique and interesting buildings around Yale's campus. There are so many ridiculously cool things of note around Yale that I came away thinking I could do an entirely separate site called YQ (Yale Quest). Now sure, some of the things I'd rate as CTMQ-worthy you may find silly, but when taken in aggregate, I think I'd win my case.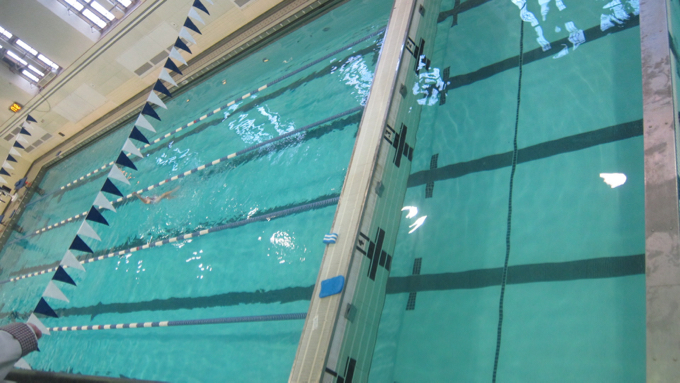 Take this single bad picture of a pool. It's just a pool. Not even a big pool. in fact, it's rather small. What is that? Five lanes of 50 meters? Whoopdee doo.
Aha! It's where this "little" 330,000 gallon, 2.75 million pound pool is located that makes it CTMQ-worthy.
It's on the THIRD FLOOR of the Payne Whitney gymnasium! Let that sink in: It is three floors above the street.
And that's rather insane. Especially when you realize it was built in the early 1930's. Why? Who knows, this is Yale and they like to do things a bit extravagantly there sometimes.
Supported by massive concrete and steel columns, and encased in 8" thick shell of 380 cubic yards of concrete and 42 tons of reinforcing steel, the pool posed a tremendous engineering problem for the architects. Foundation footing had to be designed to distribute the weight evenly over a wide area. In fact, when the pool was filled, engineers recorded a slight settlement of the entire structure. For fear that the supporting columns would break through the pool's bottom when relieved of their burden, the water was not drained from the shell until 1954. Needless to say, the fear was unfounded.

The pool is partitioned by a moveable bulkhead, which can be set to different lengths to allow for water polo and various lap distances. It can also be moved to the far end, allowing the full 50-meter long course to be used; the pool itself is actually 55 yards long, accommodating the divider for 50-meter competition.

Until 1978, the pool contained a stainless steel bulkhead, which had weighed seven tons. Over the years, the copper air tanks, which were used for a ballast, gradually filled with water, and the bulkhead became increasingly difficult to move. By the late 1960s, it took over twenty people to move it. When it was finally dismantled, it had to be cut into sections with acetylene torches in order to be removed from the building.
It's used as the practice pool for Yale's swim teams, but several city swimming organizations, and I believe any one who's a member of the gym, can swim three floors up in the massive building.
The Payne Whitney gym itself holds several other cool things, but those are for another page on another day. I'm not joking when I say that having the world's largest suspended natatorium is one of the neatest things in the state. Poola-Poola