Bearly Beer
The Stack/Black Hog Brewing at Bear's Smokehouse, New Haven
June 2019
I was trying to sort something out for this page and came across the perfect Yelp! Review:
Bear's Smokehouse New Haven or The Stack, which is it? Cafeteria-style service or waited tables, which is it? Should I get a drink at the bar or will you bring it to me, which is it? Why are there so many restaurants adopting multiple names or concepts under one roof? So generally this was a confusing affair. where was I and how much of my service and I personally responsible for? The best part of this restaurant is the aesthetic which is really nice. Particularly the outdoor areas.
Honestly, I could end my own review right here. That guy nailed it.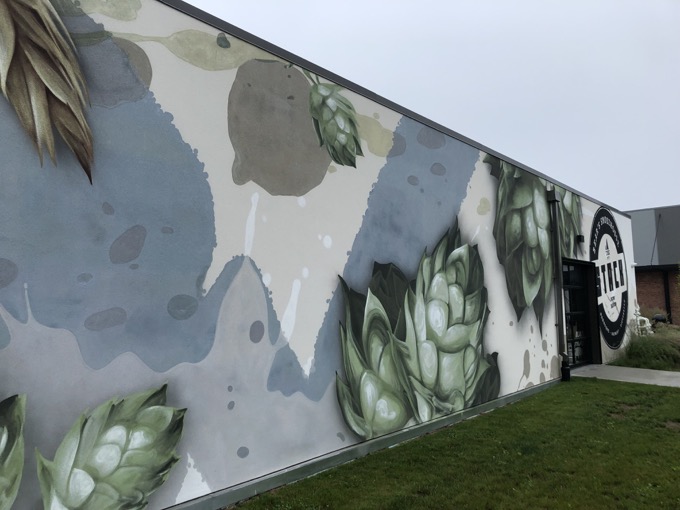 It appears that – in early 2020 anyway – this place refers to itself as "Bear's Smokehouse New Haven." That wasn't always the case, though, as when it was in the conceptual stage through opening, it was called The Stack. It's located in District. Just Distict.
District is a fab new co-working space. Slash office space. Slash school. Slash Athletic club. Slash The Stack. Slash Bear's Smokehouse. The Stack's URL is just bearsbbq.com/new-haven, and it's licensed with the state as such, so we'll just called it "Bear's" from here on out. Probably.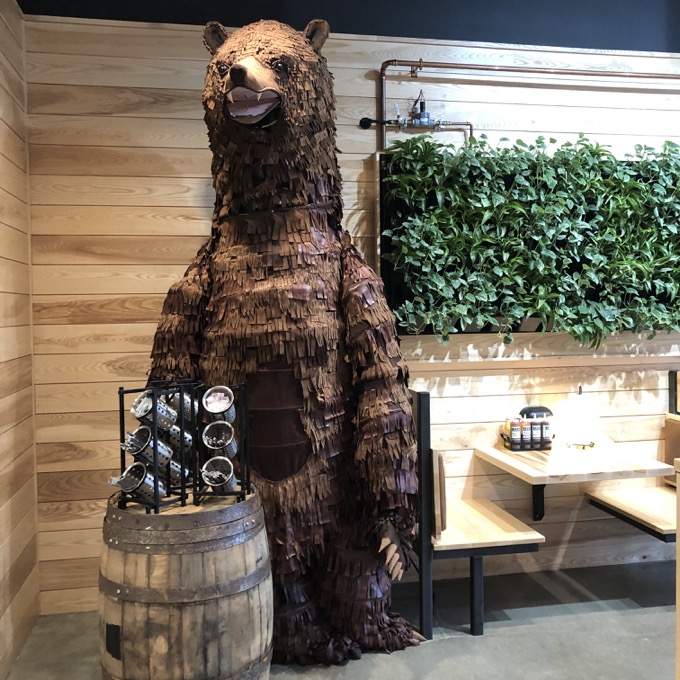 Bear's is becoming ubiquitous with "Connecticut Barbeque," which… isn't really a thing barbeque people get too excited about. I'm not a big fan of Bear's, but that opinion should mean nothing to you as I don't eat red meat. However, I've still been to various Bear's outlets in Hartford, Windsor, and now New Haven and while this page is about the brewery and not the restaurant, it's impossible to separate the two.
Call me an elitist or whatever, but I've never been a fan of being served lunch on a metal cafeteria tray in messy piles. I know this is a messy cuisine, but I just can't get down with that. The food I've had has always been incredibly salty and somewhat overpriced. Again, I don't eat the "good stuff" Bear's serves, so you can just ignore me on this score.
Bear's is an ever expanding restaurant empire owned and run by Jamie "Bear" McDonald, a former(?) competitive eater and entrepreneur. My man seems to open a new restaurant every year – and not just barbeque either. He's got a pizza joint in Hartford too. For a while, Bear could do no wrong. Then his Chango Rosa taco venture in Hartford closed. Then his partnership with Tyler Anderson at The Cook and the Bear in West Hartford closed after a short run. But still, he's got prime real estate at Dunkin' Donuts Park and the XL Center in Hartford. And a food truck. And people love his food.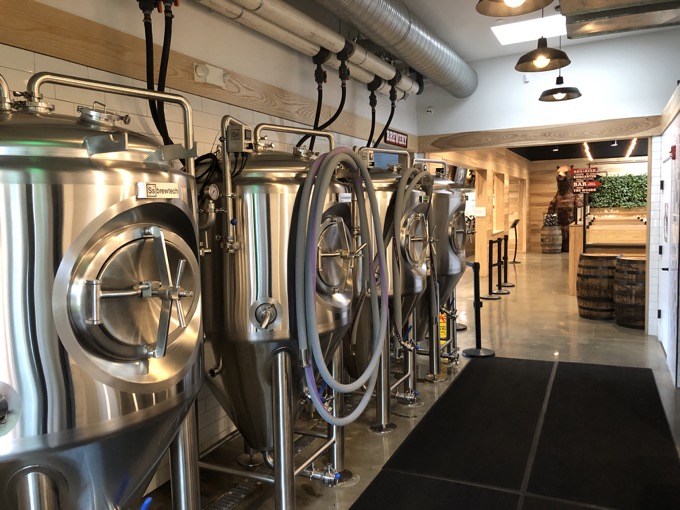 As for the 5-barrel beer part of this place, that's overseen by Jason Sobocinski – another Connecticut superstar on the eating and drinking front. Along with his brother and others, Sobocinski owns and/or runs Black Hog Brewing in Oxford, the Caseus Food Truck, Olmo (which is in the space of his defunct Caseus restaurant), Haven Hot Chicken (which seems to be a pop-up restaurant), and Ordinary, a bar in the historic Richter's Bar in New Haven. He is also behind Continuum Distilling which is opening in Waterbury in 2020, and has something to do with Mystic Cheese. Sheesh. Bear and Jason make me feel so lazy.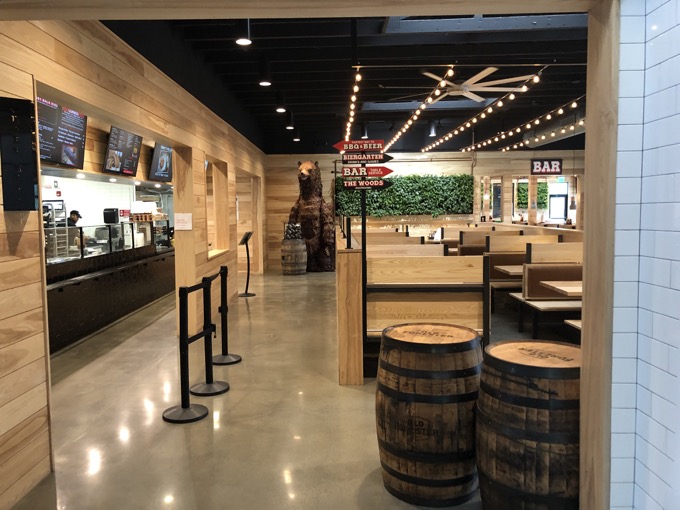 So two highly successful guys in Connecticut who have been getting residents drunk and fat for years teamed up to create this brewery-smokehouse of indeterminate name. Who wants to bet that they decided "Bear's" carries more marketing weight than "The Stack?" I mean, that's not even a competition. Thus, the name was changed at some point in mid/late 2019. Bear's New Haven, which in District, is not in one of the typical walkable areas of the city. Most people have to drive there, so having name cache matters more here I would think.
The building is stunning. Just beautifully executed. Is there a more attractive hallway to restrooms than there is here?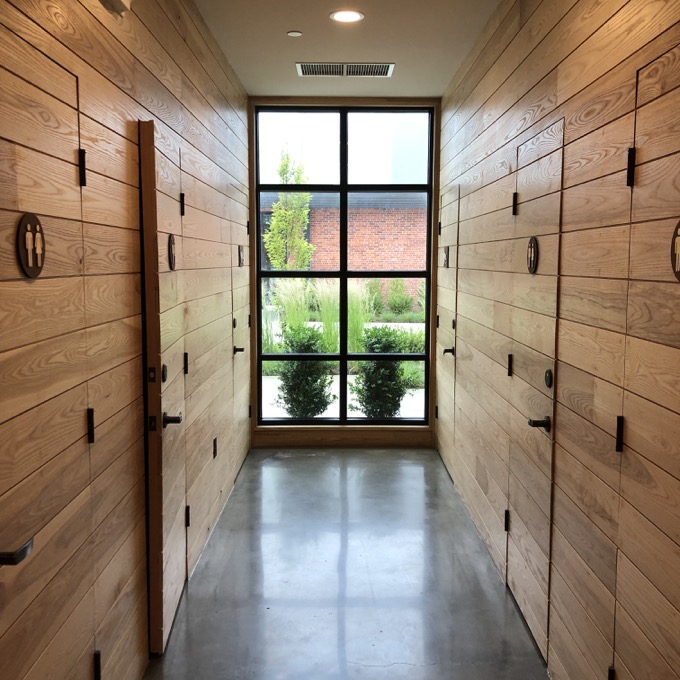 And the outdoor patio is as inviting and expansive as any in the (non-coastal) state: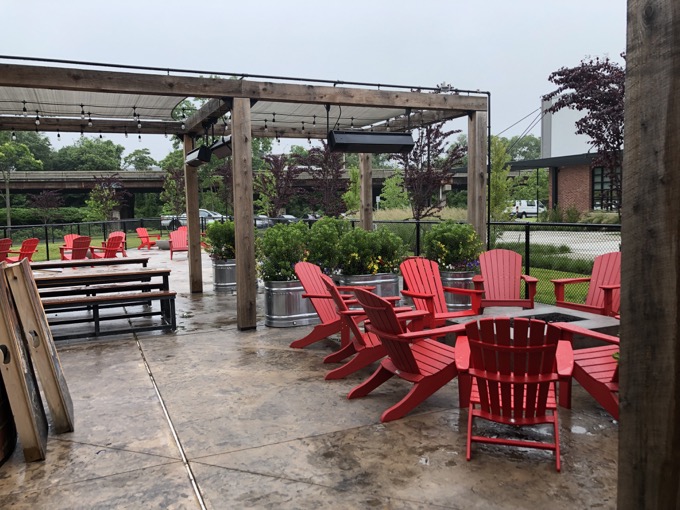 Calvin and I hit this joint up on a rainy summer day, just looking for a quick bite to eat before moving on to some other stuff. And that's where it all went a bit sideways. Not being a Bear's veteran, I was initially confused as to how this place worked. Ah, okay, cafeteria style.
I stood in line behind a family ordering an entire barnyard, waiting patiently. Once they were done, I went with a giant pretzel and some mac n' cheese for Calvin. Nope, sorry, I had to order that from the next person down the line.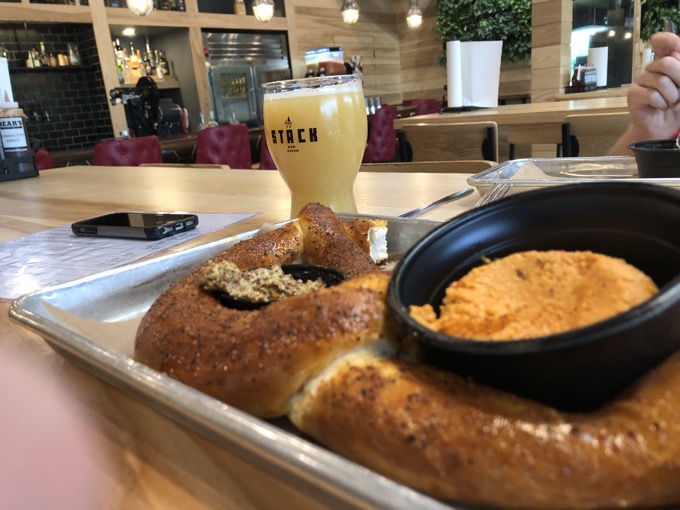 "But… but that dude is now ordering 50 things from that person, can you just – "
"No, sorry."
I waited another 5 minutes and placed our order. I moved over to the bar/brewery section and ordered a pale ale that was said to be brewed in-house. (As opposed up in Oxford at Black Hog Brewing.) I waited at the bar only to have the bartender tell me that he'd bring it to me. 10 feet away at a table. Um, okay. Really? This place is weird.
I watched the guy pour my beer and then walk all the way around the bar and to our table. Thanks, dude. Really necessary. Despite being told that four beers on the menu were brewed in-house, the menu stated "Oxford." Sigh. These second-location breweries are always playing games – and that's the main reason I removed them from my "official brewery count" in Connecticut. Anyway, the Get on the Bus pale ale wasn't bad. (District is a former bus depot, by the way.)
The wait for our food was bad though. A stupid pretzel and what surely was mac 'n cheese from a big pile of them "on the line." After a long wait, we finally got our food. Calvin was displeased with his portion size: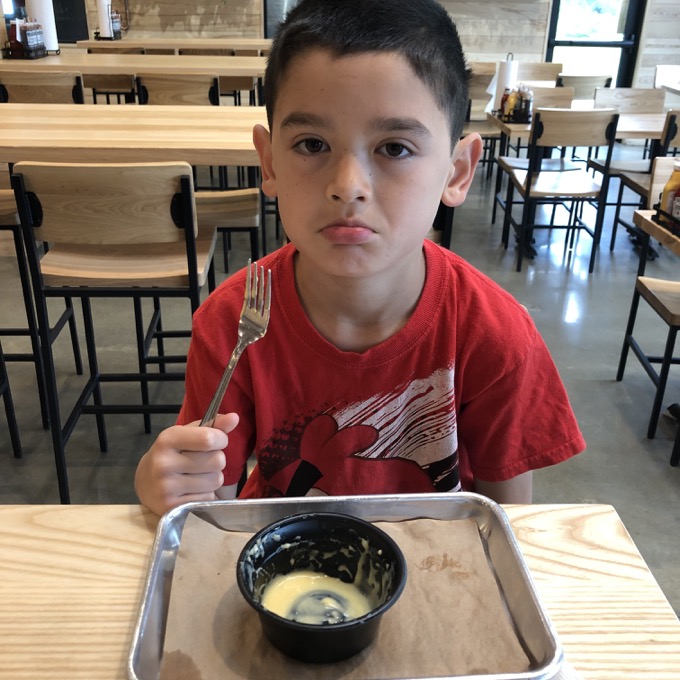 I was displeased that this cost $3.25. There's honestly like 12 macaroni noodles in there. Ridiculous. As for my $9(!) pretzel, it was so salty and just… borderline inedible. While Calvin ate his WHOLE serving, I threw half of mine in the garbage. The family who had ordered a mountain of food was overheard complaining about their "ice cold pork" and other issues. My visit was somewhat early in the restaurant's lifetime, so one can assume things are better now.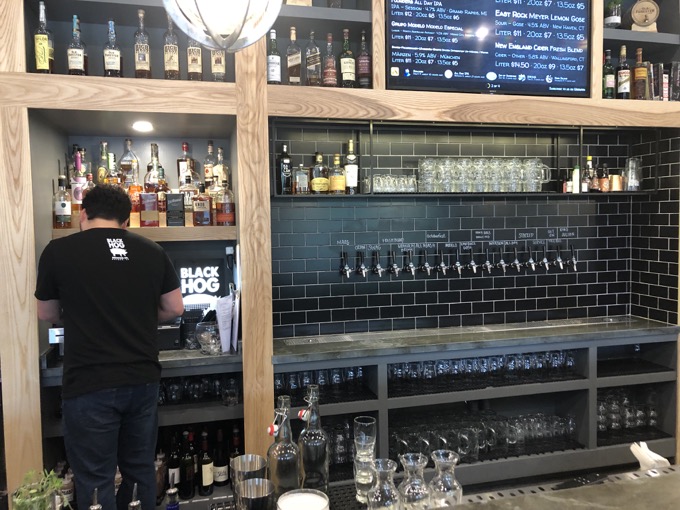 Hey, maybe that was the impetus behind the name change. The Stack was terrible? but Bear's Smokehouse New Haven is good? Maybe. That would make some sense.
A friend of mine is a Bear's fan and has added some more to the confusing aspects of this place:
I'm there once a month at least and after more than a dozen times it's still confusing. Dogs are allowed on the patio, but not past the plants or on the grass. Sometimes it is seat yourself in the bar even though the sign says wait to be seated. Trivia starts at 7:30 prompt. Unless it starts at 7. or 6:30 like on this night…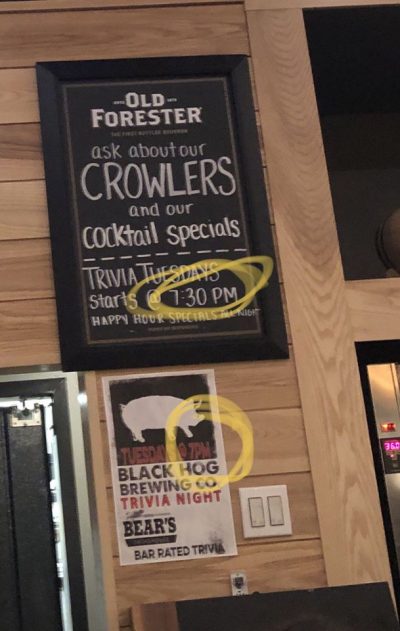 Sort it out Stack/Bear's/Black Hog! Sheesh. Before we left, I had one of the indistinguishable IPAs in an attempt to wash the salt out of my mouth, and it was fine.
Black Hog is a decent enough brewery and people love Bear's. This location is beautiful and I would guess it will succeed. As for me and Calvin, we've no reason to return.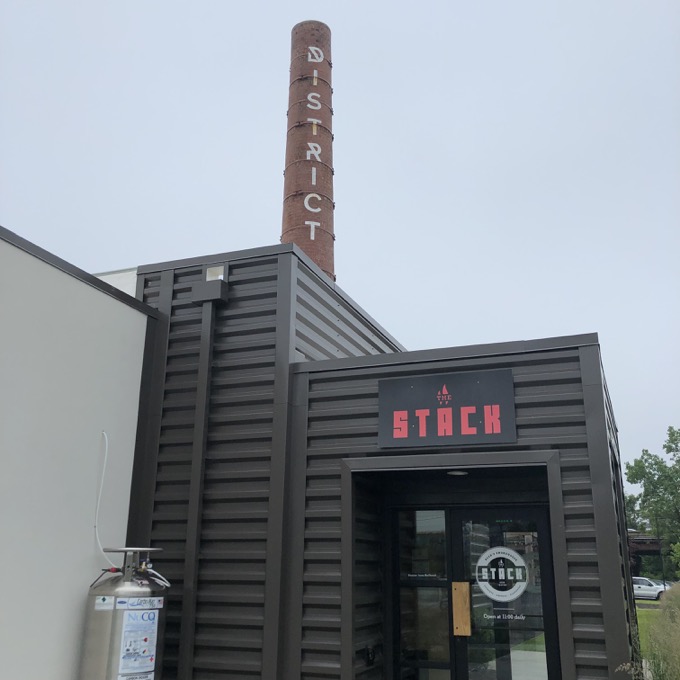 Bear's Smokehouse New Haven
CTMQ's page on CT Breweries and Brewpubs